Enhance Your Patio or Pool Deck to Capture Daylight Saving's Extra Hour in the Sun
Who doesn't like fun in the sun? Daylight Saving Time is here and we magically get more sunlight in our day by moving the clocks ahead one hour. Sunday, March 10, marks the day when we'll have more time to enjoy outdoor activities with family and friends. This also means that it's time to be sure your patio or pool deck is ready for spring and summertime relaxing and entertaining.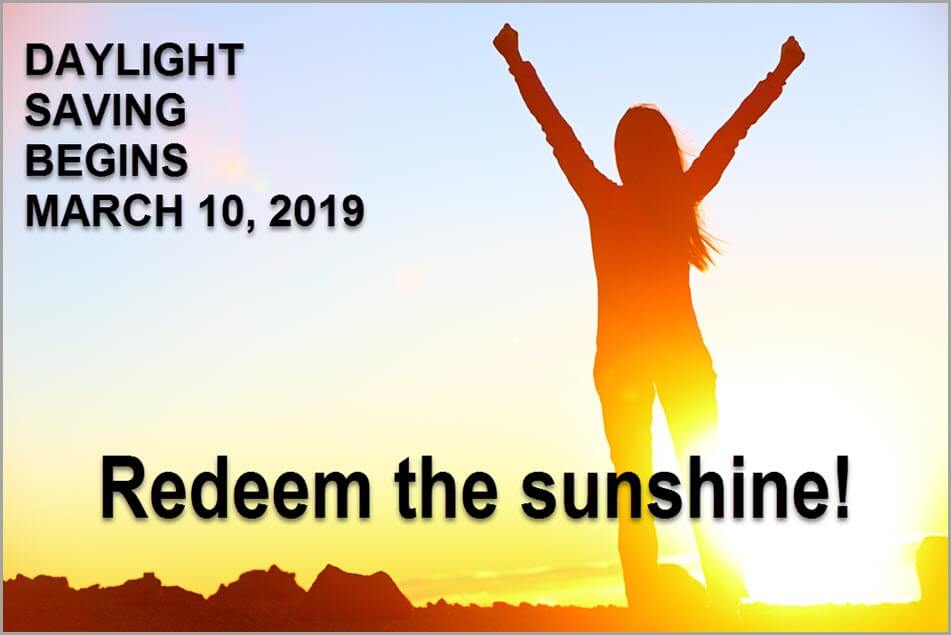 Concrete Craft® can give a new, fresh finish to your patio or pool deck, with a durable decorative concrete overlay of stained, stamped, or hand-cut faux stone designs so you'll be ready for anything.
Kids having friends over after school
Put your feet up and read a favorite book on the patio
Dinner gets postponed for more swim time and you eat alfresco around the pool
Unwind watching the sunset while sipping your beverage of choice
However you spend that extra hour of sun every day, versatile, durable decorative concrete will make everything better!
The highly-efficient stained concrete patio
A stained concrete patio will make all your outdoor activities more fun. You don't have to worry about damage to the sealed surface, our industry-tough sealers protect the surface from chips, cracks, or peeling and our MasterProTM stains have built-in UV protection against color fading. The surface is easy to keep clean, unlike regular concrete that grabs dirt, dust, and cobwebs. A quick sweep whisks away any debris. Custom seat walls, also by Concrete Craft (vertical concrete resurfacing), add intimacy to the space and additional seating for large groups. Set up the barbeque grill, tables, and chairs, and release the kids and dogs! This patio will be the favorite hangout for the whole family.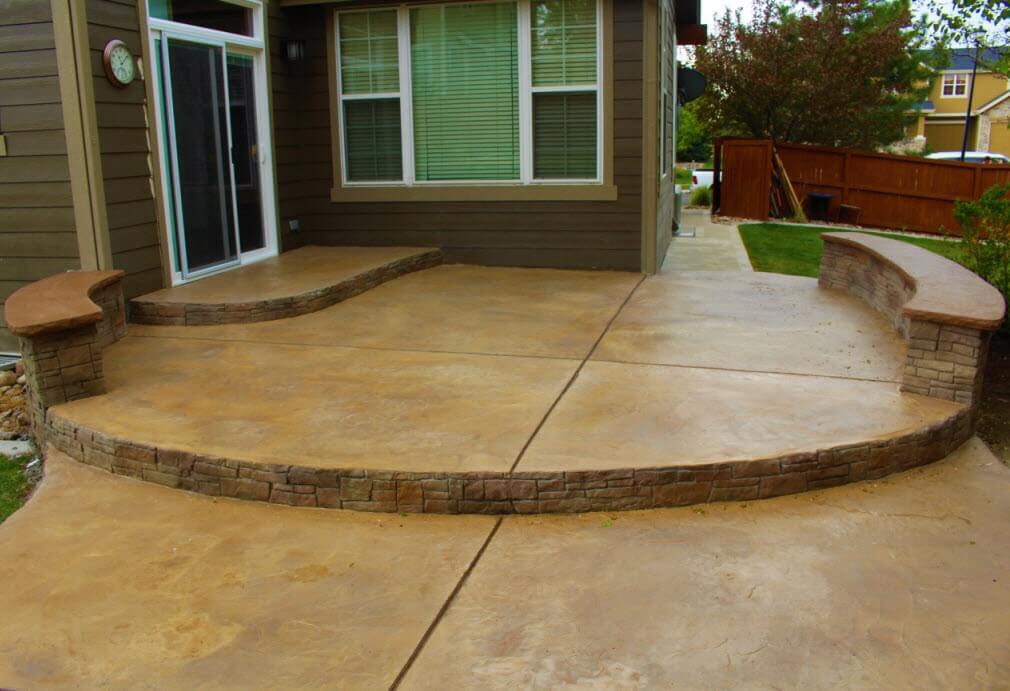 Mix and match decorative concrete designs
One concrete overlay can accommodate more than one finish style, such as on this patio/pool deck combination. The overlay around the pool and on the walkway has a simple broom finish for the look of freshly-poured concrete. The adjoining patio sports an upscale hand-cut and custom-colored large tiles design. Despite the look of grouted tiles, the entire area is one continuous surface, creating a moisture-resistant backyard that can stand up to hours of water play both in the pool and out. Outdoor chairs, tables, and poolside games will not mar the surface and no amount of spilled sodas, Kool-Aid or food will stain the finish. This pool surround and patio will give years of easy-care maintenance and will never show the wear and tear of regular concrete.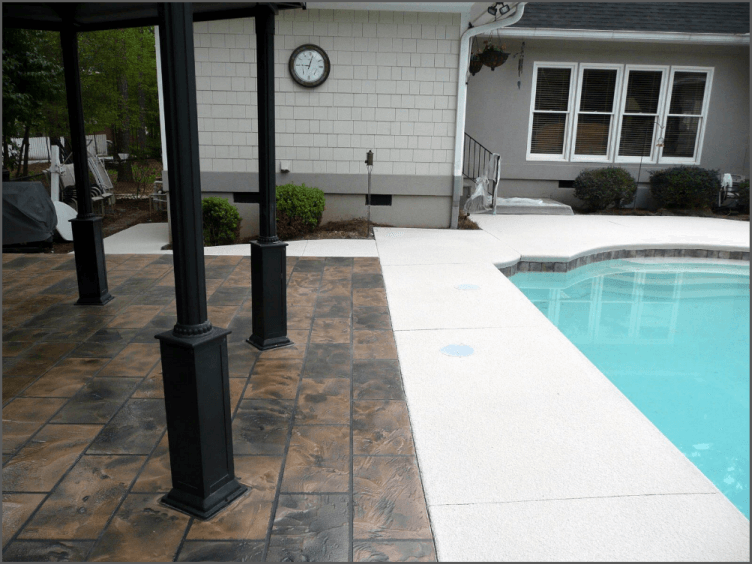 Extend your living space with a new stamped patio
Combining indoor and outdoor living is easy with a beautiful patio right outside the door, continuing the inside comfort to the outside. This cobblestone stamped concrete overlay sets the stage for entertaining at its best, anytime. The sealed surface resists dust and dirt buildup, inhibits mold and bacteria growth, and repels stains and moisture so it's very easy to keep clean. Your patio will always be ready for a kids' playday or an impromptu lunch when friends drop by. All the comforts of home—furniture, rugs, patio cover, and lights—will make your patio highly functional for day or nighttime activities. Seat walls define the space and increase seating capability, and the fire pit can warm up a cool evening and keep fire-roasted hot dogs and S'mores coming. ( How To Make S'mores)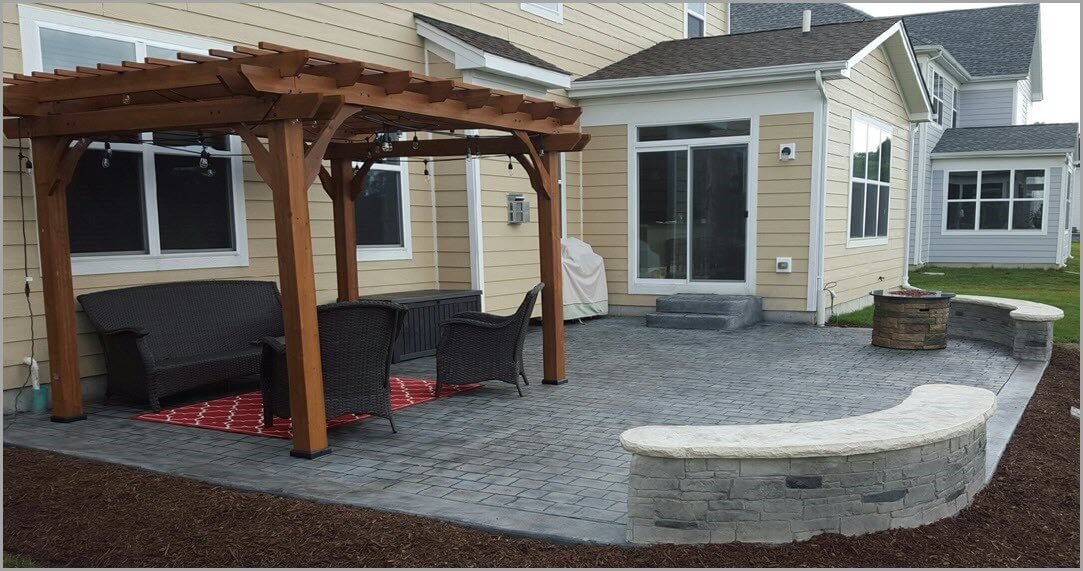 Elegant and economical faux stone designs
The look of real rock and stone is not out of "budget reach" with resurfaced decorative concrete overlays that can replicate natural flagstone, Ashlar slate, Roman slate, European cobblestone, and popular stone tile styles, like Travertine. Even large areas like this patio and pool deck concrete can be completely restored with the elegance of stone at a fraction of the cost of the real thing. Hand-carved and custom-colored flagstone borders and accents complement the overall stamped slate texture and custom stain, creating a luxurious backyard. With lounge chairs, side tables, and portable awnings, this pool area can become a resort-quality oasis for a busy family, creating lots of outdoor living space to enjoy.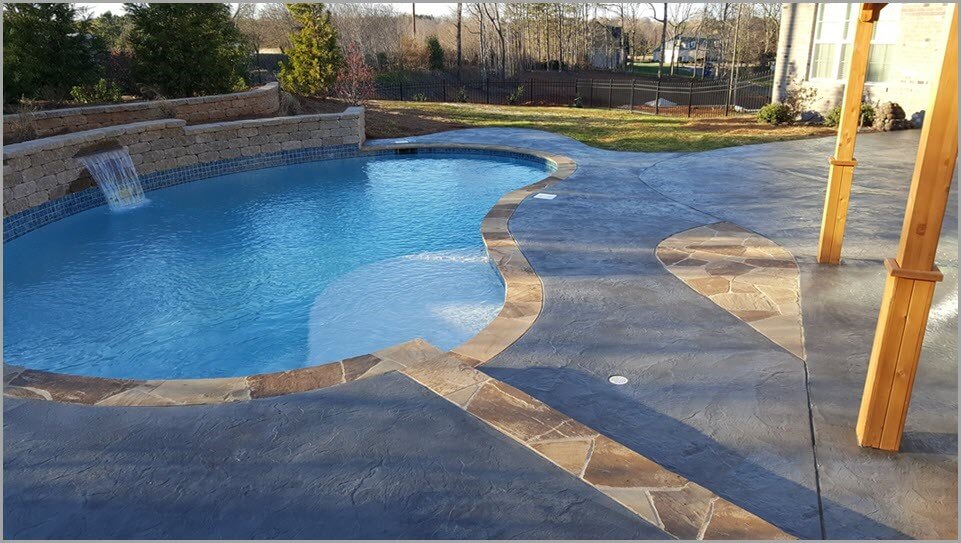 Redeem your outdoor spaces with decorative concrete
Don't let another spring and summer slide by without getting your yard in shape for your family's enjoyment. Concrete Craft can help you restore and enhance all your concrete surfaces to make the outdoors appealing and highly useful. Decorative concrete overlays can transform patios, walkways, pool decks, driveways, and porches, while vertical concrete resurfacing can restore outdoor fireplaces, chimneys, pillars, seat walls, siding, and more.
Contact us today or go online to www.concretecraft.com to find the Concrete Craft location nearest you and request a FREE design consultation and estimate to turn your yard into the yard you've always wanted. Check out all the spaces where decorative concrete can make life sweeter.
Fun fact: No one knows for sure who invented the s'more. However, the first published recipe for "some mores" was in a 1927 publication called Tramping and Trailing with the Girl Scouts. Loretta Scott Crew, who made them for Girl Scouts by the campfire, is given credit for the recipe.