Everything You Need To Know About Repairing Damaged Concrete
While it may not be a hot topic at dinner parties, most people at one time or another have discussed whether or not their concrete surfaces can be repaired. This includes scaly, worn driveways, faded pool decks, cracked patios, pitted walkways, crumbling porch steps, and ravaged interior floors. Concrete demolition and replacement are expensive, time-consuming, and disruptive. It's certainly not the solution of choice, but how can you know when to repair and restore damaged concrete?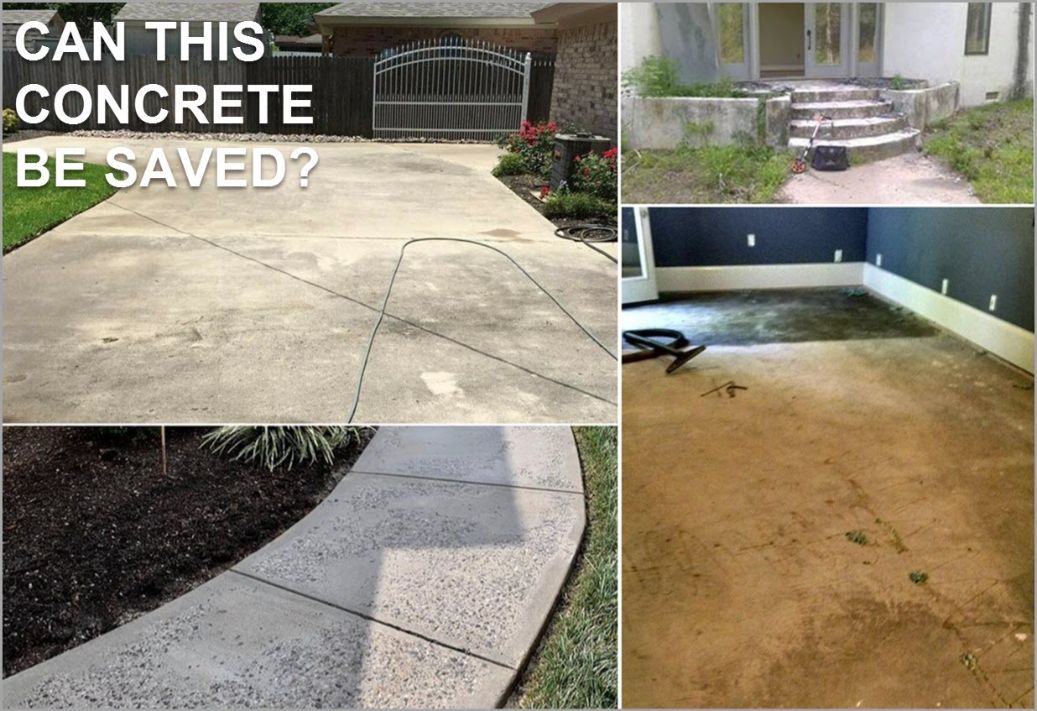 If you recognize your own concrete issues in the images above, know that all is not lost! Each of these "before" pictures is of an actual concrete repair project completely restored to a new, beautiful decorative concrete finish by Concrete Craft®. Chances are that if the concrete slab is not in pieces, the repair is possible. Concrete Craft's exclusive MasterProTM concrete resurfacing system and proprietary products can truly work wonders on damaged concrete.
Reasons why concrete goes bad
Although concrete is the most durable flooring you can have indoors and out, concrete will eventually show wear. Especially if it's au 'natural—a bare, untreated surface. Concrete is porous and, therefore, susceptible to many factors, like moisture and temperature. Here are some of the reasons that concrete can begin to show deterioration:
Untreated concrete absorbs water and stains from anything that touches the surface.
Freeze/thaw temperatures can cause cracks from the concrete contracting and expanding.
Surface cracks and chips and exposed aggregate can result from extended use.
Concrete slabs, including Interior floors, can become uneven from settling or just normal wear and tear.
De-icing salts mar the surface and penetrate concrete and weaken its structure.
Vehicles can wear away the surface of a concrete driveway by weight and ground-in dirt and gravel.
Stains on driveways, patios, walkways, and pool decks result from things like auto fluids, tire marks, food and drink spills, pool chemicals, and wet leaves.
In snow country, shovels, pushers, and rakes can scratch and chip the surface of the concrete.
Moisture promotes the growth of mold and mildew on concrete that never gets to dry out.
Old concrete finishes can wear away, leaving a dull, scaly appearance.
Options to repair and restore damaged concrete
With Concrete Craft, we don't have a one-size-fits-all-problems solution, our MasterProTMproducts are designed for concrete repair and restoration from a dull surface to a versatile repair mortar (RestoreKoat by Concrete CraftTM) for serious cracks and complete resurfacing. Different products do different things to repair damaged concrete and create new, durable surfaces. Our professional craftsmen can evaluate your situation and suggest your best options to get the result you want. To demonstrate some of the decorative concrete products we offer, we'll revisit the opening "before" images and show the stunning "after" results.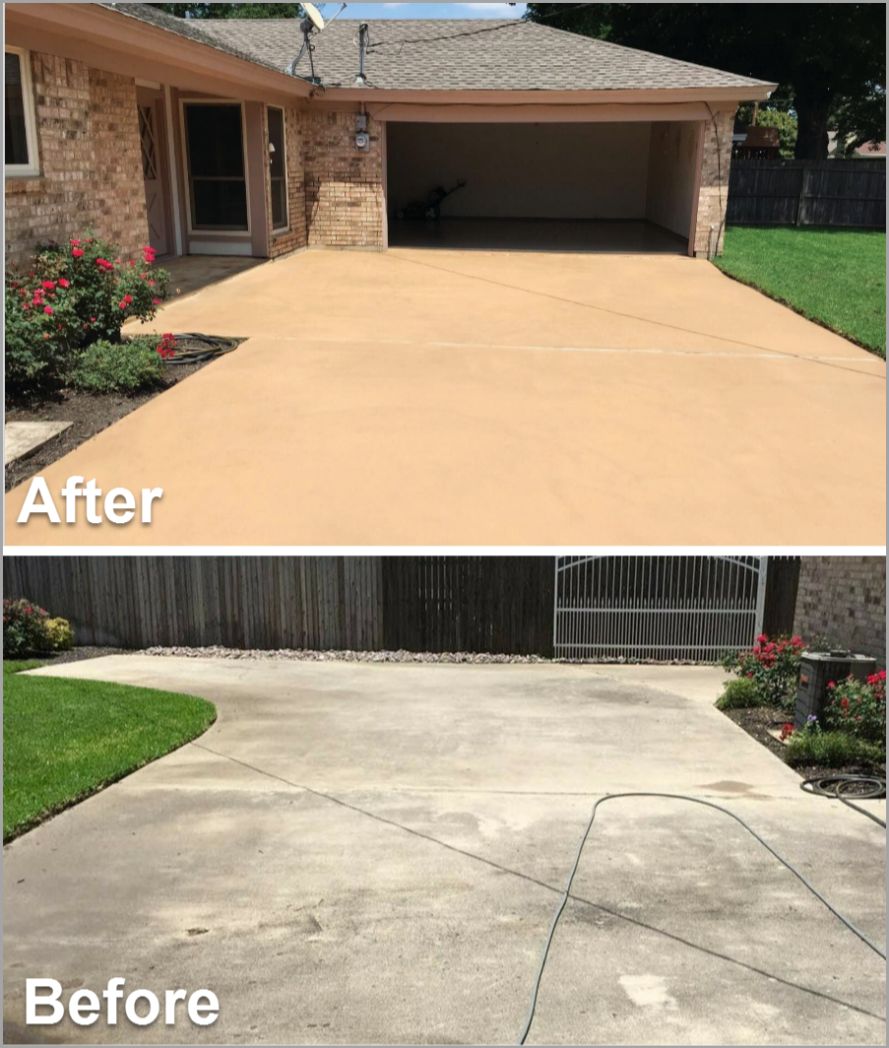 This driveway pretty much had every problem a driveway can have, including stains, spalling, scaling, surface cracks, exposed aggregate, and mold, and was bringing down the overall look of the home. Concrete Craft® Color RestoreTM System (CRS) completely restored this driveway to better than new with a durable finish that does not require a sealer. The non-hazardous, water-based stain penetrates the surface of the concrete, forming an opaque, breathable colored concrete surface. CRS makes it easy to rejuvenate colored surfaces or plain gray concrete without altering surface texture.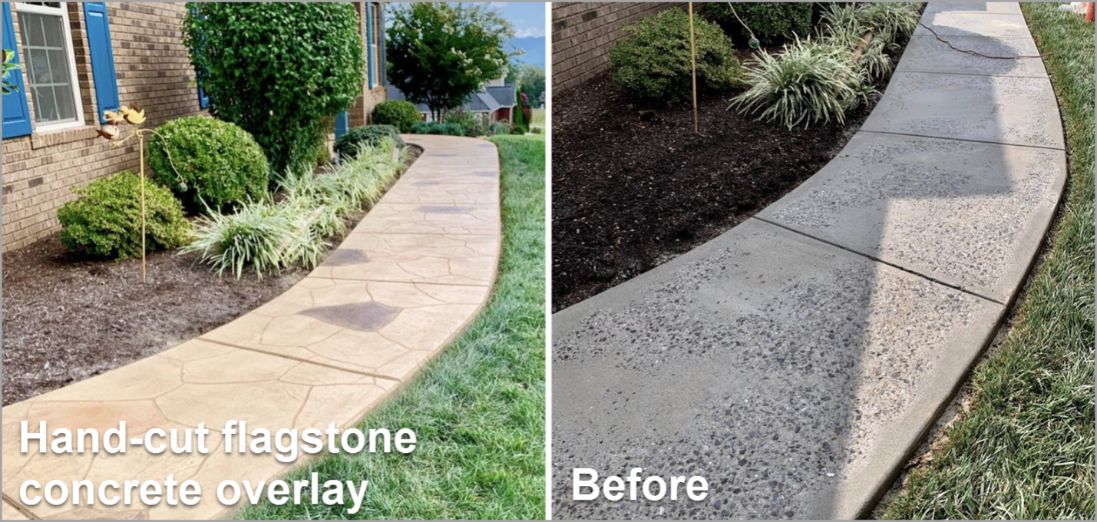 This walkway has held up structurally, but the well-traversed, broom swept original surface is worn away, exposing aggregate and creating cracks and an uneven surface. Not only is it unsightly, but it can trap lots of dirt and grime and absorb water, further damaging the concrete. The sidewalk was cleaned and prepped, and a decorative concrete overlay was applied to eliminate years of wear, leveling the surface and covering all damage. The new overlay was hand-cut into a flagstone pattern and custom-colored to coordinate with the home's brick siding, creating an authentic-looking faux stone walkway. The final sealer creates a finish that is resistant to moisture, spills, stains, abrasion, and cracking or peeling.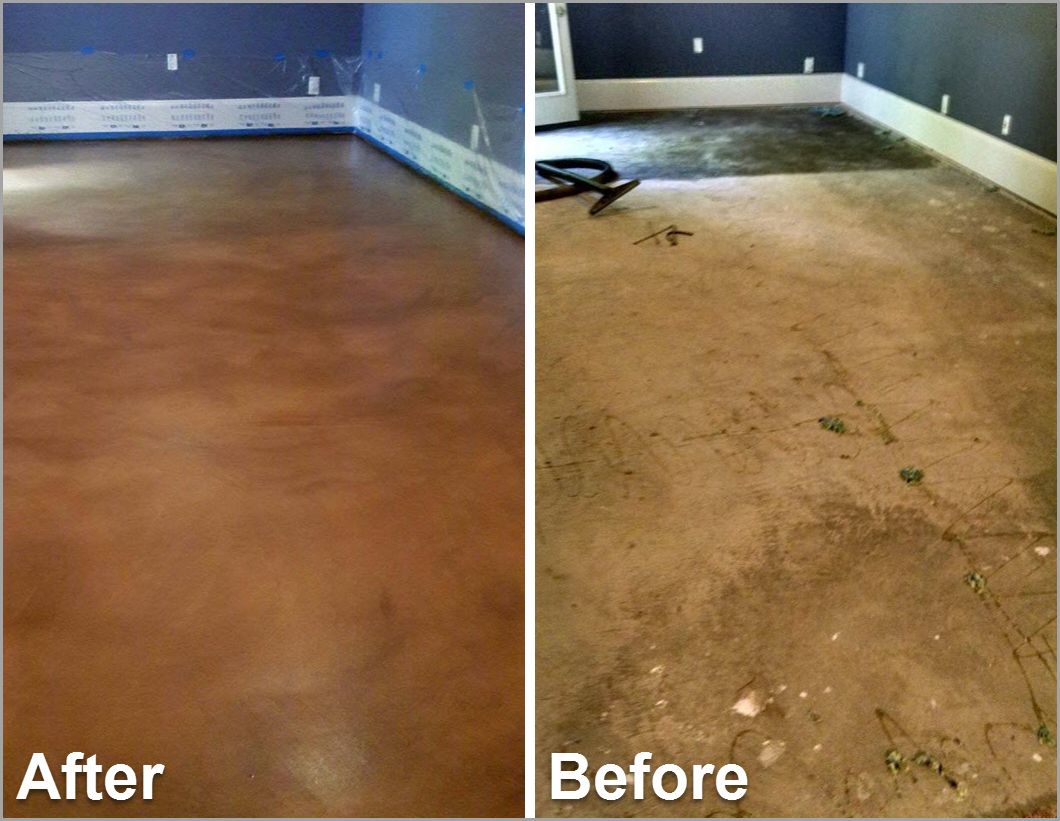 This interior floor had the carpet removed, exposing a very rough, very damaged concrete floor underneath. Resisting the urge to cover it up quickly with more carpeting, a decorative concrete overlay gave the floor a fresh, new finish with a custom concrete stain. Unlike carpeting and padding which can hold dirt, allergens, stains, and smells, this sealed, decorative concrete floor resists all those things and cleans up with a dust mop. This stained concrete floor will give years of worry-free service for a busy living room or family room without requiring replacement every few years or looking "lived-on."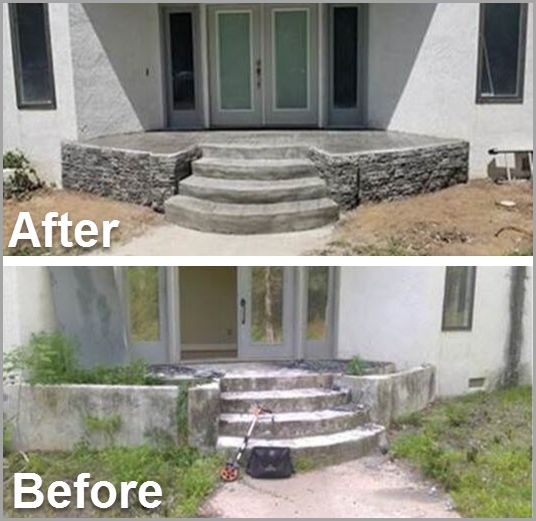 This very sad porch would make anyone reach for the phone to call the demolition crew. Instead, Concrete Craft cleared away years of grime, broken tile, and glue, and gave a more modern design to this entryway porch with no demolition required. Planters were filled in and the porch floor expanded with a stamped concrete overlay in an Ashlar slate pattern and custom stained an elegant gray. The vertical planter walls received a moisture seal and vertical concrete resurfacing with a stamped and hand-carved stacked stone design. The overall sealed surfaces will give years of beauty and functionality with minimum maintenance to keep the porch and entryway looking like new.
Benefits of decorative concrete
Decorative concrete is more than just a beautiful finish. The proprietary processes and exclusive products used by Concrete Craft mean that your decorative concrete overlays can last for decades, with benefits you'll love:
No demolition is required to restore your damaged concrete to like new.
Our finishes can withstand any weather conditions without deteriorating.
The non-porous surfaces resist spills of all kinds and won't fade, chip, or peel.
Industry-tough sealers are stain, water, and chemical resistant and don't trap mold, mildew, or bacteria, making cleanup a breeze.
Our concrete overlays cure to just over 5000 psi, making them tough enough to support cars, trucks, SUVs—any vehicles you have.
You can have the high-end look of authentic stone, tile, and wood plank designs for far less cost than the real materials.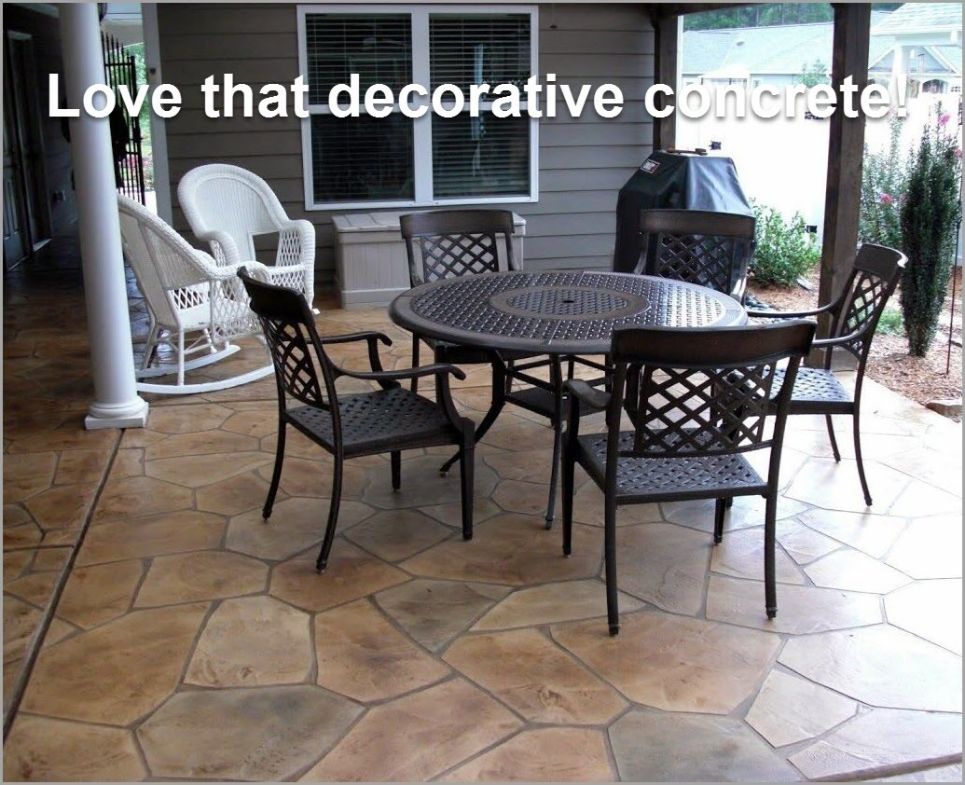 This is just a sampling of what Concrete Craft can do for you and your ugly concrete. Within our MasterProTM product line, there are even more options for repairing and restoring damaged concrete. Our concrete repair and resurfacing systems are the result of over 12 years of testing performance-grade resurfacing mixes for a superior product. When compared side by side, the quality of our concrete mixes is simply better than anything else on the market.
So, if you're discouraged by the state of your concrete floors, walls, and other vertical surfaces like a fireplace, Contact us today or go online to www.concretecraft.com to find the Concrete Craft location nearest you and request a free consultation. You'll be amazed at the versatility of decorative concrete!