Expand Your Living Space By Converting The Basement Into Functional Space
If you only use your basement for storage and a haunted house at Halloween, you're short-changing yourself! An unfinished basement has potential for awesome living space, such as:
TV/media/game room
Home office or craft room
Playroom for the kids
Another bedroom
Man cave or wine cellar
The stained concrete floor reflects the great taste of this basement makeover into an upscale home entertainment area
If life changes and family needs have you craving more space in your home, Concrete Craft® can help you convert your basement into living space for the way you live today, giving teens space to hang out and entertain friends, mom or dad a home office, or another bedroom if the kids have outgrown sharing a room. Whatever you need the space to be, a decorative concrete floor is the firm foundation for making it happen.
Decorative concrete: the perfect floor for any basement
With a decorative concrete floor, you can have unlimited style options from a simple stained concrete finish to concrete overlays that can be stamped or hand-cut to replicate natural materials like stone, rock, brick, slate, wood plank, tile, and even polished marble. If the basement floor is cracked and rough, Concrete Craft can repair and restore the surface, add a moisture barrier, and finish the floor with a number of decorative concrete resurfacing systems. Whatever style you choose, you're guaranteed the exceptional durability of seamless, sealed decorative concrete that is resistant to cracks, chips, UV fading, moisture, scarring, and spills. You'll have the toughest floor possible that will withstand any activities that take place in your new, enhanced space.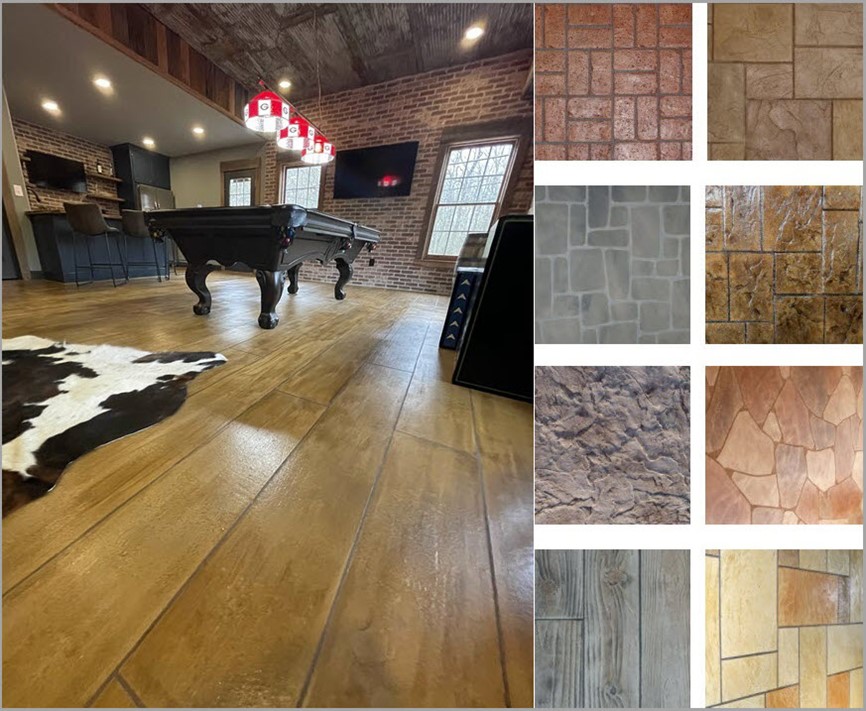 Stamped and resurfaced decorative concrete overlay styles with vibrant colors or nature's neutrals can transform any space
"Real stone" stamped concrete molds create authentic-looking faux stone floors.
Wood plank stamp patterns range from smooth, sanded finishes to reclaimed and rustic textures.
Nothing sticks to the sealed finish, so your new basement stays clean with very little effort, a dust mop and occasional wet mopping.
Neither furniture, feet, nor excessive fun will mar a decorative concrete floor.
Additional tips for remodeling the basement
An unfinished basement is going to require more than a new floor to turn it into safe and functional space. Depending on the degree of need, this could mean insulation, drywall, paint, lighting, internet, A/C, sound insulation, and storage to keep everything neat and tidy. This sounds like a lot but gaining valuable living space for your home is worth the effort, especially if you have a large basement that can be divided into multiple-use areas, like a full-service laundry, a home gym, and an alternative entertainment spot. Mix up the space however you choose, there are no rules here!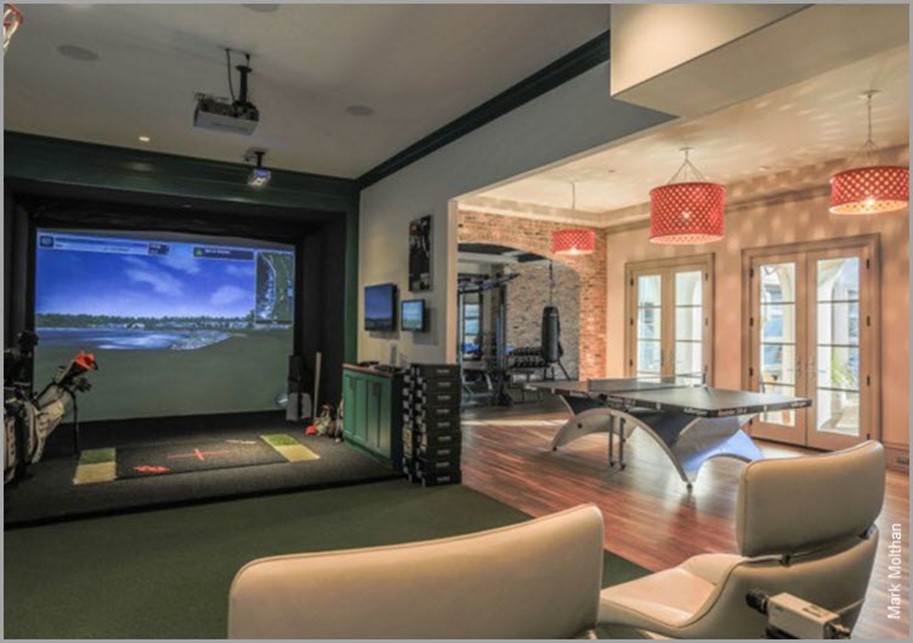 A home gym, game table, and media center fill this large basement with all the fun one family can handle
Tackle the plumbing and wiring first before you begin refinishing walls or flooring to avoid possible conflicts.
Address electrical and technology issues of internet access, connectivity, bandwidth, and equipment requirements to be sure you're all powered up.
If the basement isn't hooked up to the home's A/C, look into expanding your current system or add an additional system for the basement only.
Consider adding sound insulation to keep the noise from going into the space above and to insulate the basement from the noise above and outside.
Install sufficient lighting so there are no dark corners.
For an extraordinary impact, vertical concrete resurfacing can transform walls with the look of faux stone and wood.
Bump up your home's value with a new basement bedroom
Converting the basement into a bedroom, suite, or apartment is a very common strategy to expand functional living space. A suite or apartment will involve the addition of a bathroom or kitchenette, making it ideal space for when friends or family visit or college kids return home. Separate but together strikes the perfect balance for solo and together time. Move the kids downstairs with one or more bedrooms and, depending on ages, an adjoining playroom or game and media center.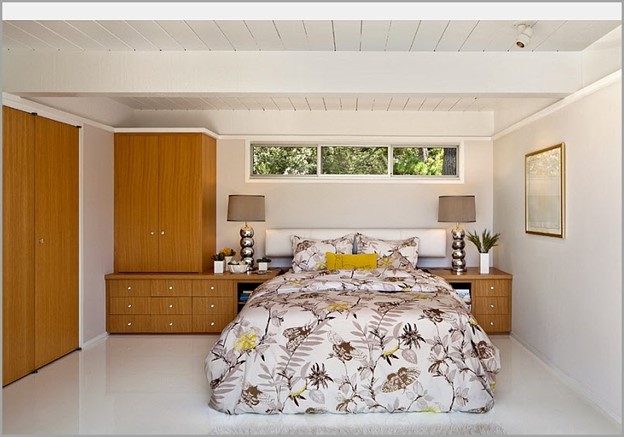 Realize the dream of an elegant basement bedroom, starting with a beautiful stained concrete floor
A Murphy bed can expand sleeping capacity even more when needed, especially for a single bedroom.
Decorate with lighter colors to make a small space feel more spacious.
If natural light is limited, supplement with lamps and wall sconces.
In place of a built-in closet, you can use a free-standing wardrobe or armoire and drawers, shelves, and cabinets.
For decorating ideas, check out Easy Tips To Help Create The Perfect Basement Bedroom
Get ahead of holiday congestion now by maximizing your home's space by converting your basement into functional living space that gives the whole family a bit more breathing room. Whether a game room, man cave, extra bedroom, or studio apartment, Concrete Craft can help you select the ideal decorative concrete flooring for your needs and aesthetics. Call 888-852-9244 today or go to www.concretecraft.com to find the Concrete Craft location nearest you and request a free in-home or virtual* design consultation. Check out our Digital Catalog for inspiration on new decorative concrete flooring and vertical concrete resurfacing options for anywhere in your home.
*Virtual consultations may not be available at every location