Faux Stone Designs to Update Your Kitchen
Today's home design trends look to textural contrast, natural beauty, and refreshing originality. Stone floors, walls, and countertops have moved from the outdoors to stunning indoor displays, creating inviting environments in all areas of the home. Kitchens, especially, can benefit from the enduring elegance of stone to modernize and enhance floors, accent walls, backsplashes, and more.
This small basement kitchen is big in style with a dark gray stained concrete floor and a faux stone accent wall and backsplash. The light and dark contrasts and varied textures create an interesting, attractive space, compatible with any style of dining furniture from a rustic table and bench to a trendy counter-height table with tall bar stools or chairs.
If your kitchen could use a style update and you love the look of stone but don't want to break the bank to get it, Concrete Craft's® custom concrete overlays can replicate authentic stone for a fraction of the cost of the real thing with resurfaced decorative concrete floors and vertical surfaces. You can get a "new" kitchen look with beautiful, faux stone enhancements without the expense and inconvenience of overhauling the entire kitchen.
An anything-but-ordinary kitchen floor
Kitchens are highly trafficked, and the floors can take a beating from spilled food and dropped pans, utensils, and dishes. The durability and versatility of stained, stamped, and resurfaced decorative concrete make it the ideal first step for updating your kitchen. You can replace faded linoleum, cracked tile, and scarred hardwood with the look of authentic stone like flagstone, cobblestone, Ashlar slate, Roman slate, or limestone.
With our "real stone" stamp molds and hand-carved and custom colored designs, you can have a one-of-a-kind kitchen floor in nature's neutrals or any color you choose. Generally, faux stone designs incorporate multiple colors to get a realistic effect so that only you will know it's not the real thing!

Not just surface color, our concrete stains seep into the concrete, forming a permanent bond so the color will never chip or peel.
Built-in UV protection ensures consistent color on the floor, there is no fading from sunlight over time; even by large, sliding-glass doors, the colors will stay true.
Despite the look of grouted stone, the floor is one continuous surface, there are no cracks or crevices to trap dirt.
The industry-tough top sealer repels moisture and resists damage like chips or cracks from dropped items, hot food spills, and foot traffic, including being impervious to your pet's nails.
Spills wipe right up and cleanup is a snap with regular dust mopping and occasional wet mopping with a neutral-pH cleaner.
Vertical concrete resurfacing for backsplashes, accent walls, and island updates
You can create a striking accent feature on vertical surfaces with vertical concrete overlays, designed to look like real stone, including limestone, mountain drystack, cobblestone, and random sandstone. The overlay can be applied over drywall, plaster, wood, or brick, transforming walls, backsplashes or kitchen island surrounds with the authentic look of stone.
Faux stone is appealing for a three-dimensional backsplash design. The durability of the concrete overlay can withstand heat, steam and moisture so the backsplash can be around both sinks and stoves. The sealed surface means grease and food residue will wipe right off, making it easy to keep your new backsplash spotless.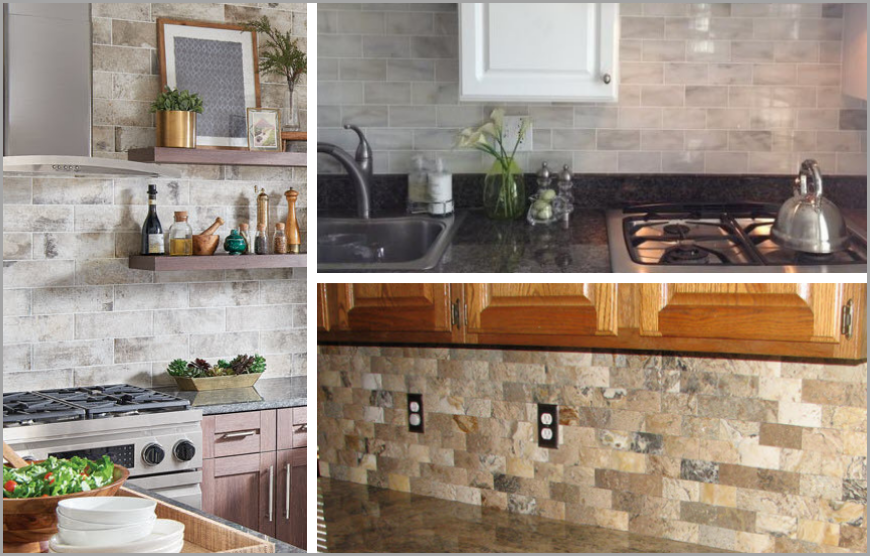 For accent walls, the faux stone overlay can cover a whole wall or just a portion for an integrated design with other architectural features. Advantages over real stone masonry include:
No concern for excessive weight as can happen with real stone.
No problem getting the color and type of stone you want, our unlimited concrete stain colors, custom stamp patterns, and hand-carved designs assure you'll get exactly what you want.
The continuous sealed surface means no "stones" will ever come loose or dislodge.
Budget-conscious kitchen updates
In addition to the transforming power of faux stone finishes to update your kitchen, there are lots of other ways to refresh your kitchen without spending a lot of money. Small changes and stylish upgrades can go a long way to making your kitchen feel fresh and new.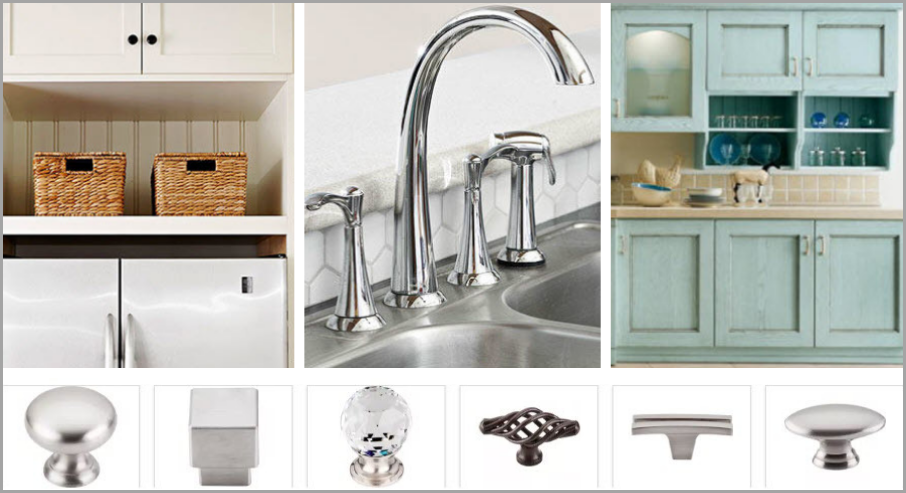 Remove cabinet doors (like above the fridge) and change to open shelves in some portions of wall-to-wall cabinets.
Replace solid doors with glass-inset doors.
Repaint the walls, with a lighter ceiling color for the illusion of height.
Update your dark cabinets by painting them white or gray to brighten up the kitchen or be daring with blue or green.
New decorative hardware such as vintage-look glass, matte nickel, or burnished bronze can completely change the look of the cabinets.
Replace the old faucet with a new modern design.
Add LED lighting strips beneath cabinets to light up the countertop workspace.
Install new window coverings like window blinds or shutters to replace old-style curtains.
Extend the new flooring into the pantry and give it a fresh coat of paint as well, with new storage systems and custom spice and wine racks.
According to Home Advisor, the average cost for a kitchen remodel is $21,751, with lavish projects running to $50,000. That's enough to scare anyone off updating the kitchen! With Concrete Craft and some DIY touches, you can have an updated kitchen for far less money, time, and mess than replacing cabinets, countertops, and appliances. Your local Concrete Craft can help you acquire a brand-new look with custom faux stone designs that will transform your kitchen.
Contact us today or go online to www.concretecraft.com to find the Concrete Craft location nearest you and request a FREE design consultation and estimate. Check out our online digital brochure to see what else we can do with decorative concrete to beautify and restore driveways, walkways, patios, pool decks, interior floors, and more.