Five Different Looks for Interior Decorative Concrete Floors
Decorative concrete floors are fast becoming the go-to floor for homeowners and business owners alike. And it's no wonder! The versatility of design and color as well as the ability of custom decorative concrete to replicate other high-end flooring options for less money makes decorative concrete flooring the smart choice. For 15 years, Concrete Craft® has been helping customers realize the truly endless possibilities to create beautiful concrete floors to perfectly complement their lifestyle and interior spaces with concrete floor designs from traditional to modern.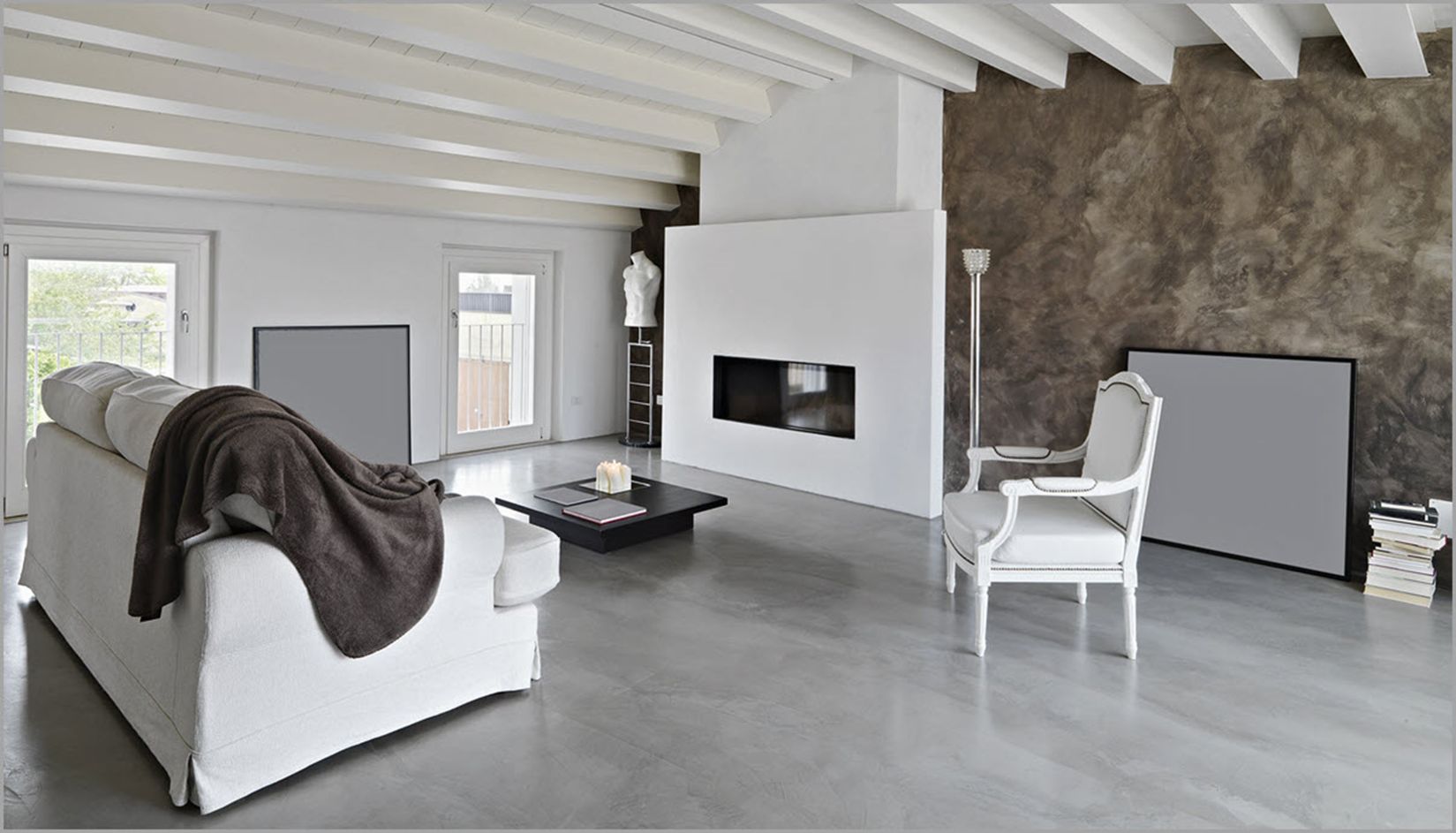 Additionally, the attributes of decorative concrete perfectly align with 2021's current flooring trends that go beyond just looks to accommodate the growing number of people who now use their homes as entertainment centers, office space, and school and need more from their floors:
The expectation of value as well as floors that look chic and on-trend.
The demand for durable and enduring finishes that are easy on the budget and easy to care for.
The focus is on ease and practicality; the new flooring buzzwords are "antimicrobial" and "antibacterial."
Here are five different looks you can achieve with decorative concrete from Concrete Craft to update your home for the new year that tick off all the boxes of value, beauty, low maintenance, hygienic, and easy on the wallet.
Budget-friendly stained concrete
Stained concrete is one of the easiest and most economical ways to transform your indoor floors. From staining an existing surface to resurfacing damaged concrete with a decorative concrete overlay and stain, your existing concrete can become better than new. Where a different floor covering is removed, revealing a damaged floor, the concrete overlay will hide cracks, fill in uneven spots, and cover discoloration to present a fresh surface for staining. Browns and grays are popular floor colors for 2021 and our MasterPro StainTM products offer a wide range of colors and techniques for beautiful, custom stained concrete finishes that produce vibrant, long-lasting color and shine.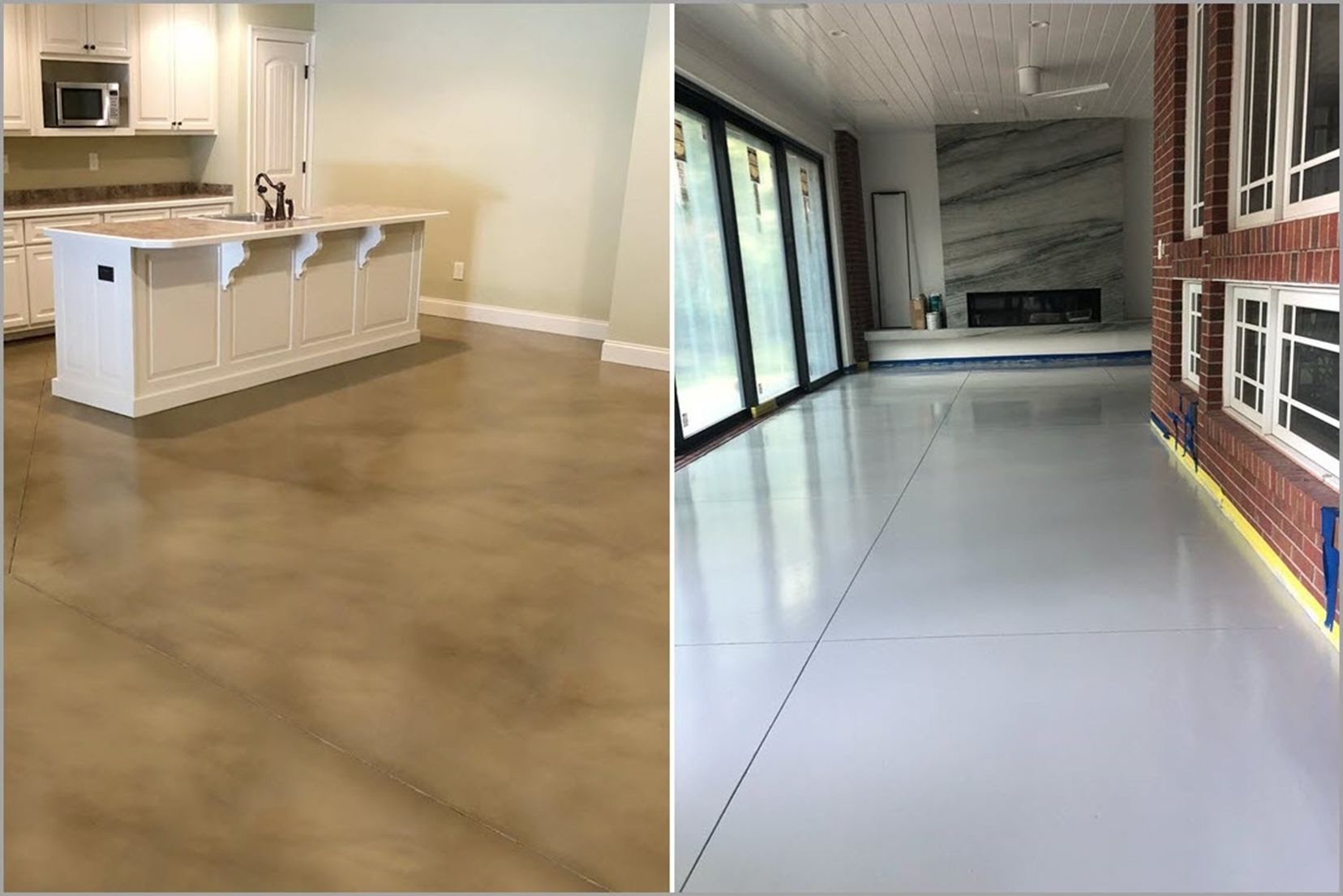 Combining or layering colors can create depth and dimension, intensifying texture and design.
Acid-based concrete stains react chemically with the concrete to form translucent color and marbling effects, mirroring the look of elegant marble.
Non-reactive water-based stains produce a more consistent color and are low in VOCs (volatile organic compounds).
Multiple colors can be used within the same project for a one-of-a-kind floor with decorative borders, stenciled designs, or a contrasting color pattern.
Stamped and stenciled wood plank
If you've longed for wood flooring but shied away due to cost and upkeep, Concrete Craft's stamped concrete or stenciled faux wood floor designs can make your dreams come true. The authentic look of wood can be yours without any of the inherent problems of real wood, customized in style and color to exactly what you want. Trending floor styles lean to a more rustic appearance with fumed, reclaimed, distressed, and barn wood, including wider panels and lighter floor colors like bleached oak or ash and "greige," a combination of brown, gray, and beige, for a modern twist on classic wood flooring.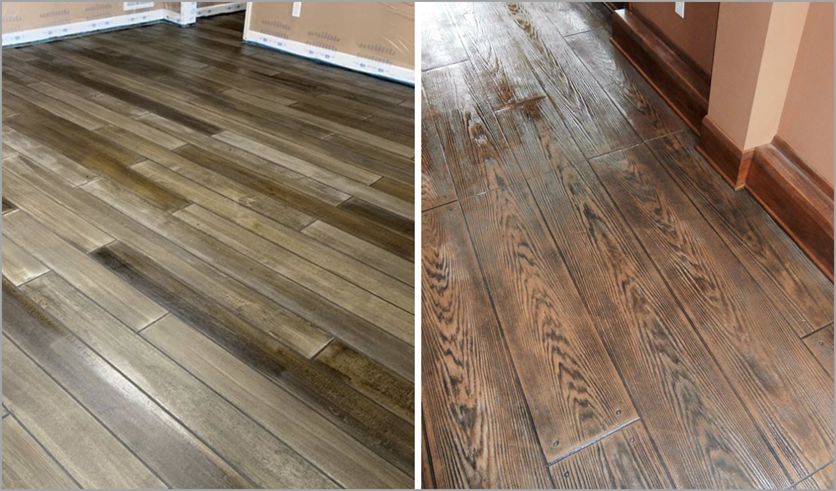 Rubber stamps are designed from real wood plank molds for more realistic-looking finish options, including smooth, textured, and engineered wood.
Moisture-resistant sealer makes the faux wood flooring impervious to weather and humidity, and the "planks" won't warp, splinter, or tear like real wood.
Hand-applied custom stains ensure an overall, even coloring throughout the space which real wood can't always provide.
Since stamped concrete goes over existing surfaces, the installation goes a lot faster and with less mess than laying real hardwood.
Textured, stamped faux stone designs
If your dream floor is stone, stamped or imprinted concrete can deliver a textured faux stone finish that looks and feels like real slate, brick, cobblestone, or flagstone at about half the cost of the real materials. Just as our concrete stamps for wood patterns are molded from real wood planks, we use real stone molds to create authentic faux stone designs. Concrete stamps can be applied to freshly poured concrete before it dries or imprinted into a concrete overlay applied to an existing floor. If you love the look of weathered or aged stone for an entryway, kitchen, or basement, stamped concrete can create natural-looking depth and dimension that comes with age.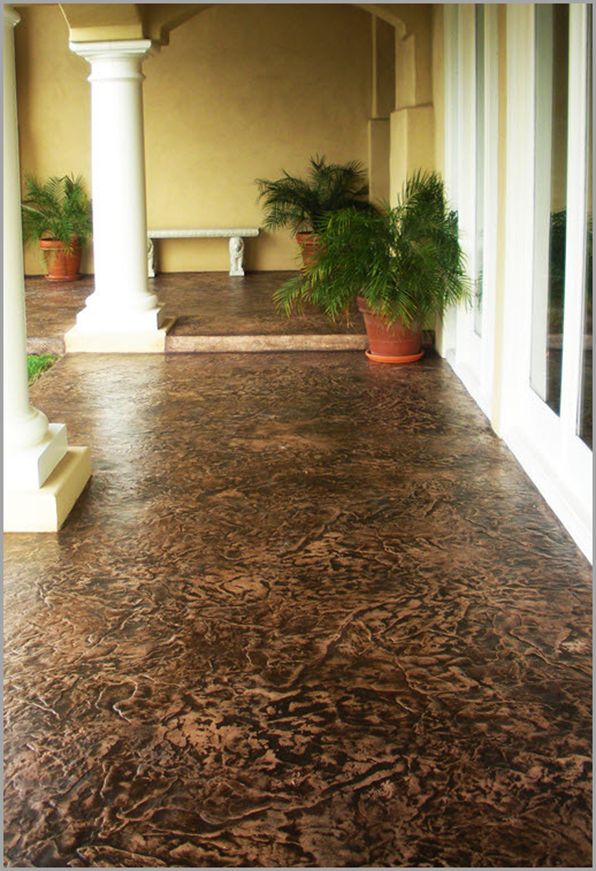 Decorative concrete overlays can be stamped and stained to emulate tile, stone, or wood with a high-intensity shine to transform your floors.
Stamped impressions make shallow indentations that won't trap dust and dirt, making the sealed surface easier to clean.
Matte finishes are available where shine is not desired or to improve traction where water spills could make the floor slippery.
Hand-applied multiple stain colors give authenticity to the natural variegated look of rock and stone.
Timeless tile looks to love
Tile floors can present incredible designs with bold, graphic patterns or they can be one color for a more seamless appearance. Popular tiles include ceramic, porcelain, luxury vinyl, and concrete tiles in finishes from high gloss shine to matte and textured. Custom decorative concrete overlays can duplicate any tile beautifully with stencils, stamp patterns, and stain colors for an endless variety of tile patterns that can be replicated from simple designs to complex. You're never limited to the size, shape, and color of available tile at the local hardware store. Any size tiles can be stamped and custom stained for exactly the look you want from pearlized shines to hand-cut stone.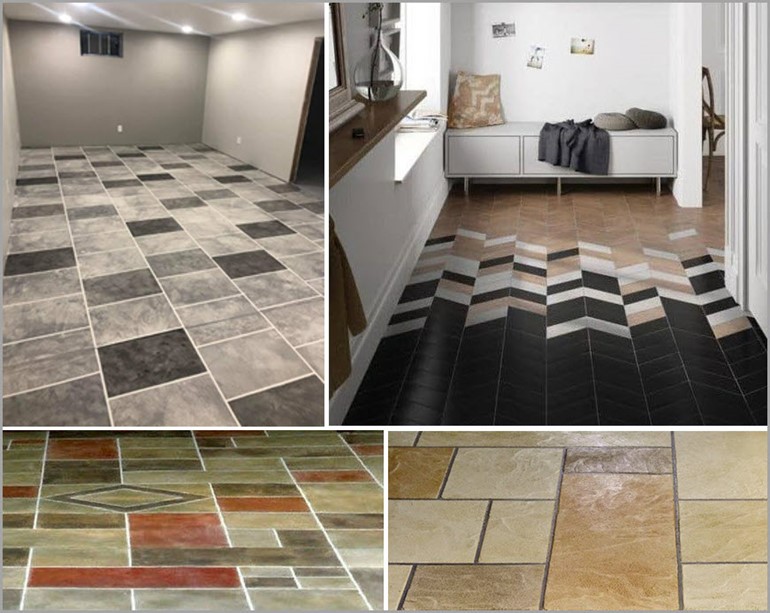 Mosaic tile designs like subway tiles, herringbone, chevron, and geometric patterns can be stamped or stenciled for the look of real grouted tile.
Large format tile designs can be trickier and more expensive to install, but with stamped concrete designs there are no problems of handling and installing, tiles are created onsite.
Mix and match different tile shapes and sizes for custom inserts and borders to further customize your spaces.
Decorative concrete will never chip or crack like real ceramic or porcelain tile and the faux grout lines will never discolor or crumble.
Stenciled designs and logos
Stenciled decorative concrete is a way to bring unique and stunning impact to stained concrete floors. With the right combination of patterns and colors, a stenciled floor can be all you need to add a designer look to your space. Add a rug design or medallion in the entryway or liven up a kitchen or bathroom floor with stenciled patterns and textures for a dazzling effect. Stencil effects include applying color directly to the concrete, creating a raised, embossed pattern with a thin concrete overlay, or etching designs into the concrete. Your Concrete Craft professional can determine the best process for your desired result. Popular stencil designs are medallions, latticework, herringbone, flowers, lace, and geometric patterns.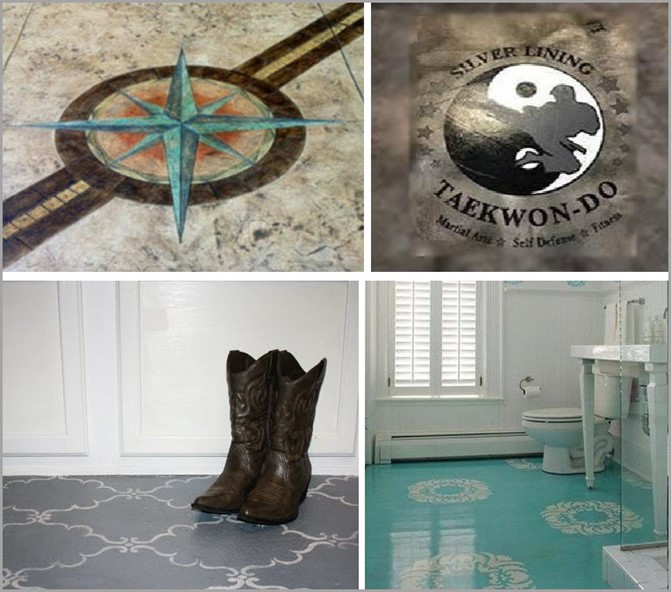 A stenciled concrete floor can help hide imperfections, create a lovely focal point in your home, or just add a dose of beauty to your space for very little cost.
As part of the overall floor treatment, the sealed stenciled design becomes a permanent element and will retain its color and beauty for years.
Be as style-specific as you like by mixing and matching complementary motifs to create new and unique patterns.
Stenciled borders are an easy way to dress up any room with contrasting colors and designs that become an integral part of your overall style statement.
Treat yourself to beautiful, new floors
As you can see, Concrete Craft can be your one-stop shop for any flooring style that you desire. Our artisans can replicate any flooring style you choose and at a cost far below the original materials. All our decorative concrete floor finishes are sealed to be moisture, stain, crack, and UV-fade resistant, with properties that prevent the growth of mold or bacteria even in very humid environments. Contact us today or go to www.concretecraft.com to find the Concrete Craft location nearest you and request a free in-home or virtual* design consultation. You'll love what our innovative design, exceptional quality, and professional installation can do to enhance your home!
*Virtual consultation may not be available at all locations.