Four Before And After Pool Deck Makeovers You Need To See
This is the time of year when pool decks take center stage with pool owners. Either you're loving your pool and its stylish deck or you're lamenting the shape it's in now that summer is here and it's not very user-friendly. If your concrete pool deck is too ugly or damaged to be a major summer attraction at your house, Concrete Craft® can help you transform it with one of our decorative concrete solutions that can quickly transform pool decks so that there is still plenty of time to enjoy the summer!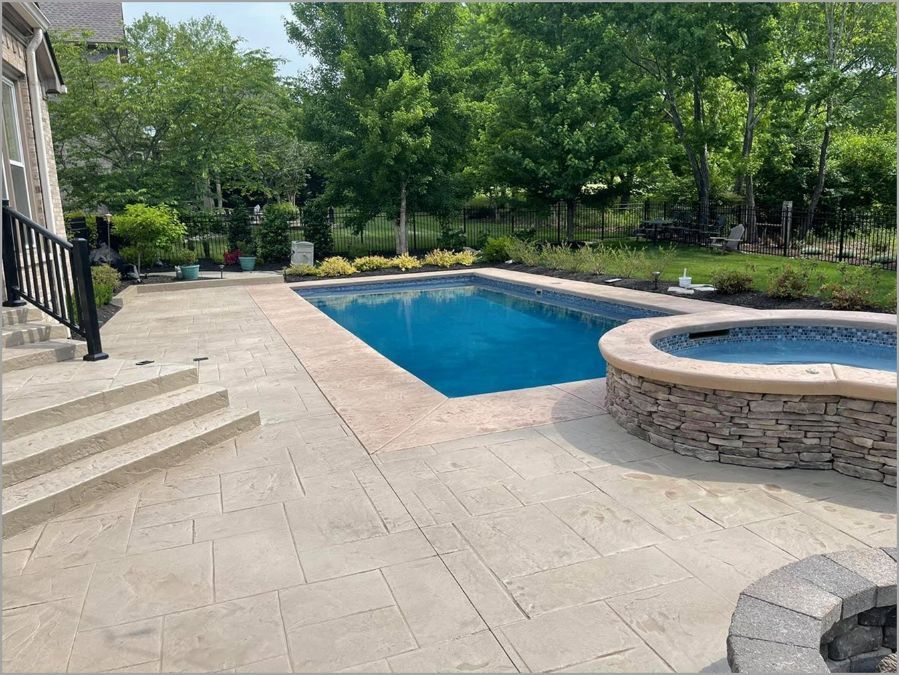 It's easier than you think to get your pool deck updated and ready for summer fun (pictured is RenewKoat in Sandstone)
Repair, restore, and renew any concrete pool deck
Concrete Craft has a full line of resurfacing products that can save a damaged pool deck, so you don't even have to think about demo and replacement. All our MasterProTM repair and restoration systems are quicker, less messy, and more budget-friendly than replacing bad concrete since our decorative concrete pool overlays go over your existing pool deck. One of the best ways to demonstrate what we can do for a pool deck gone wrong is with before-and-after pictures, so here are four pool deck makeovers you have to see to believe!
Repair severe damage with RestoreKoat by Concrete CraftTM
Pool decks take a beating from constant water and year-round weather exposure. A concrete pool deck can develop deep cracks, eroded surface, discoloration from pool chemicals, and spotty repair patches over the years, as evidenced in the before picture below. It certainly doesn't look like an "easy fix," but our RestoreKoat repair mortar can cover all that damage with a one-coat overlay that creates the look of new concrete. The seamless surface has built-in strength that is resistant to abrasion, impact, pool chemicals, food and drink spills, lotions and oils, and weather extremes. It's the last pool deck repair and resurfacing you'll ever need for endless summers of fun.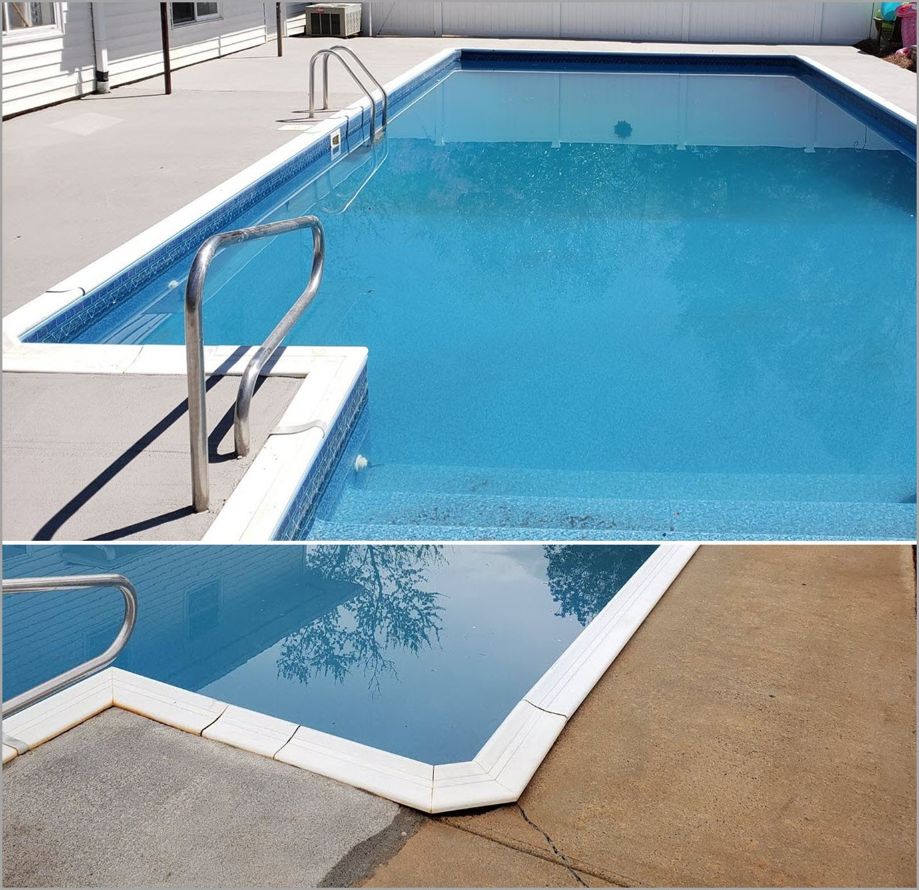 No more reassessing your pool deck every season to see how it survived
Fast curing time has your pool back in service in a matter of a few days.
The slip-resistant surface is an added safety feature around water.
Bring on the tables, umbrellas, lounge chairs, and potted plants without the worry of damage to the durable surface.
Resurface with a natural stone river rock overlay
PebbleKoat by Concrete CraftTM is another one-coat overlay that can fill in cracks and level out uneven areas, creating a beautiful, real stone coating for your pool deck. The 100% natural river rock in an exclusive non-epoxy-based concrete overlay comes in a range of colors from the lightest color blend, Frost, to a dark Espresso, so you'll be able to complement any landscape design. Use more than one color to create patterns and borders for a one-of-a-kind pool deck. PebbleKoat is all-weather resistant, unaffected by stains, spills, UV light, and pool chemicals that can discolor actual stone or bare concrete.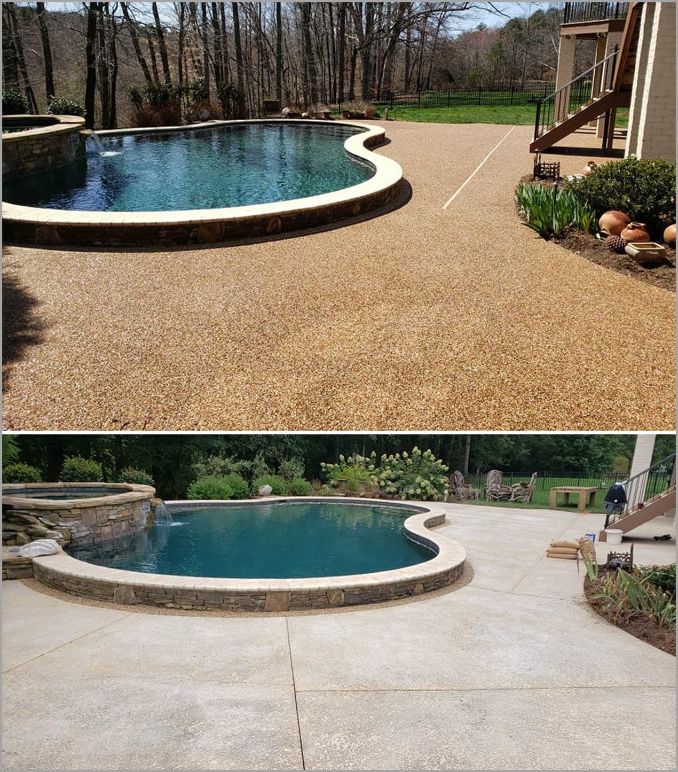 PebbleKoat takes your backyard from ordinary to extraordinary with real rock color and shine
Existing concrete is cleaned and prepped to ensure permanent adhesion of the overlay.
Banish the "well-used-pool-deck" look with a river rock overlay that creates an even surface of beautiful stone.
The surface is easy to keep clean without the need for harsh concrete cleaners, just hose it off or scrub stubborn dirt with a push broom and mild detergent like Dawn dish soap.
Get creative with decorative stamped concrete overlays
If you want to make a unique design statement with your pool deck makeover, a resurfaced concrete overlay is your answer. Resurfaced concrete overlays can be stained for vibrant color and stamped or imprinted with faux stone designs like flagstone, cobblestone, and slate textures. One concrete overlay can accommodate more than one-style finish, such as smooth borders around a faux stone pattern or stone borders around stained concrete. Minor imperfections like discoloration, chips, and cracks on the concrete patio below are completely hidden with a fresh concrete surface that was hand-cut and custom-stained for an authentic-looking flagstone finish.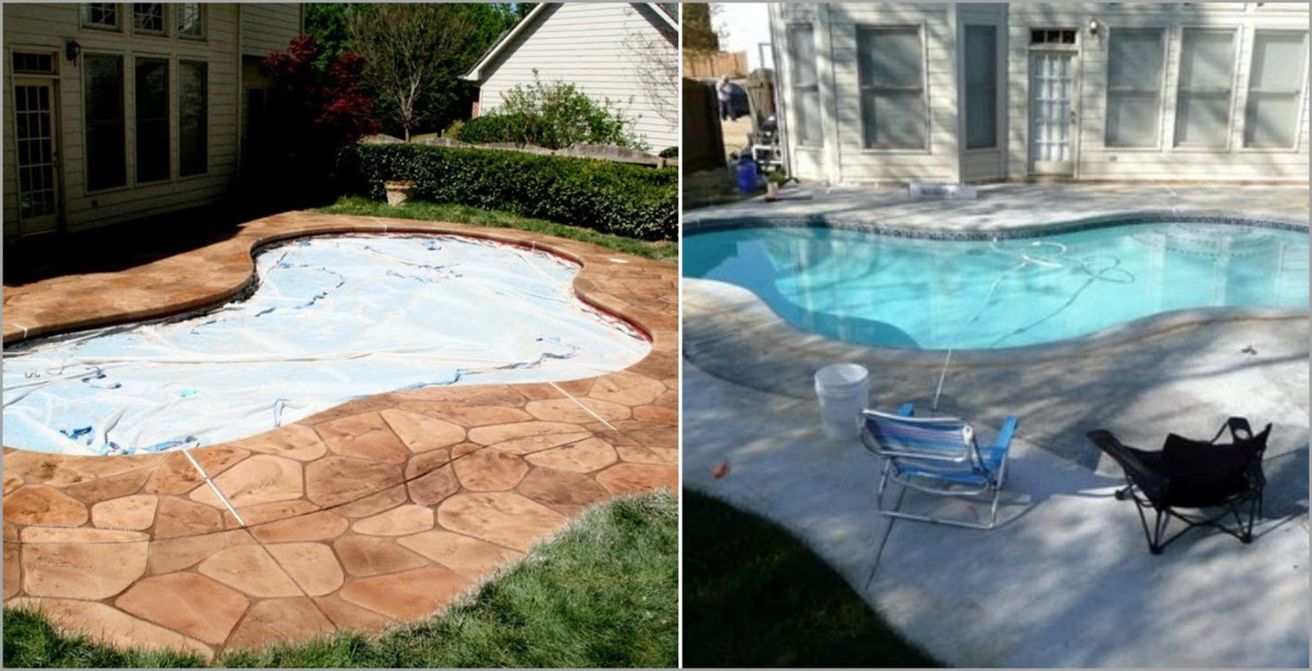 Enjoy realistic, beautiful faux stone finishes for a fraction of the cost of real stone
Grout lines are carved into the design so they will never crumble and deteriorate like real grout and stone.
Our extensive styles, patterns, and concrete stain colors mean unlimited design potential.
Concrete slabs of different colors, such as new and old concrete, can be unified with a decorative concrete overlay that ties it all together with one design.
Revive a faded, worn finish
Sometimes all a concrete pool deck needs is a cosmetic update for a surface that has lost its color and shine. For concrete with a stamped pattern that is intact, but the finish is worn away, RenewKoat by Concrete CraftTM can restore the surface to its original beauty and make it better than new with an industry-tough, durable finish. RenewKoat is a rolled-on cementitious overlay that restores color and shine without impacting the character of the original design. You can revive the original color or choose something completely different from our 10 standard RenewKoat colors.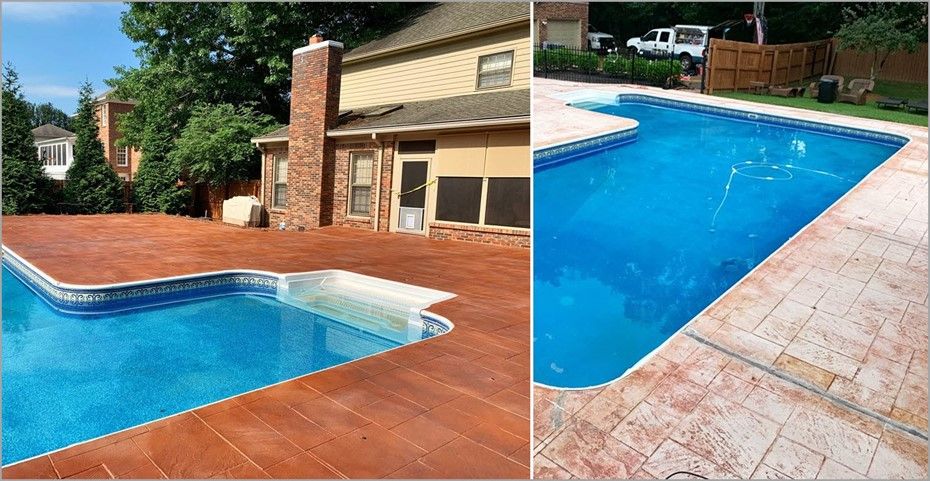 The ideal entertainment spot for summertime fun — swimming, water volleyball, sunbathing, hosting friends, and enjoying family
The sealed surface resists spills, stains, and cracks, and eliminates poolside moisture problems like mold and bacteria growth.
Love your pool deck once again by restoring it to its former glory without breaking the bank.
Click here to see how quick and easy the RenewKoat process is as we transform a faded cobblestone walkway.
Make your pool a central focus this summer
If your time-worn and ugly pool deck is putting a cramp in your summer, Concrete Craft can help to get your pool in shape for safe, non-stop summertime fun with a restored pool deck in a luxurious decorative concrete finish. Talk to the craftsmen at Concrete Craft who can evaluate your concrete and make recommendations for the best way to upgrade your pool deck. Contact us today or go to www.concretecraft.com to find the Concrete Craft location nearest you and request a free in-home or virtual* design consultation. Check out all our MasterProTM Finishes in our online product catalog, including restoration and repair for both interior and exterior floors and vertical spaces.
*Virtual consultation may not be available at all locations.