Four Concrete Floor Options For Any Commercial Business
Seeing is believing, so to illustrate all we've been saying about Concrete Craft decorative concrete floors for business, here are four processes that will give you a crash-course in what Concrete Craft® can do for your business. Decorative concrete floors have features and benefits that can enhance any commercial enterprise, regardless of its size or industry, from the day-to-day interaction with your floors to a healthier bottom line! If you have a flooring dilemma, Concrete Craft has solutions, including:
Stained concrete
Polished concrete
Stamped concrete
Repaired and restored concrete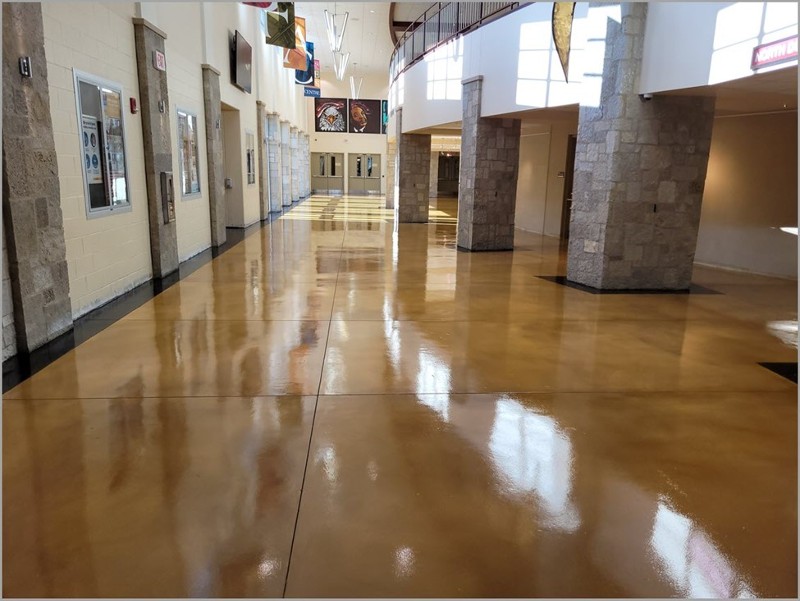 Transform troublesome floors with beauty and durability you can count on to never let you down
Stained concrete is a nice reflection on you
Stained concrete can turn any concrete floor into a masterpiece of color and shine. Having concrete stain applied directly to the existing surface or hiding cracks and damage with a resurfacing concrete overlay before applying the stain, will result in an amazingly beautiful floor. This Chicago elementary school's floor will last for decades despite the thousands of little feet that will trample it every day. The UV-resistant color will not fade since the stain penetrates the concrete surface for permanence and longevity. The seamless, sealed surface resists moisture, dust buildup, cracks, and peeling so maintenance is minimal to keep the floors clean and sanitary. Practically indestructible, resealing every few years if it starts to show wear will keep the floor looking like new. Additional benefits of stained concrete include:
A very economical solution for updating especially large areas, indoors or out, including showrooms, courtyards, and driveways.
Choose from a high gloss shine to a matte look, with one or more colors and integrated graphics or logos for unique branding opportunities.
Create a marbled effect with acid-based stains that chemically interact with the concrete for added depth and design.
Polished concrete is one-and-done for durable floors
The process of polished concrete creates beauty from dull, gray floors by mechanically grinding in stages from coarse to fine to remove the top surface of the old concrete, creating a harder and stronger finish, independent of any additional product, waxes, or other topical coatings. You can choose your desired degree of shine and smoothness for exactly the look you want to achieve just through the grinding process, but you can also make a style statement by incorporating color or custom designs with vibrant concrete stains. Polished concrete can replicate the look of high-end flooring like marble, terrazzo, granite, and porcelain tile for the ultimate in high-luster, no-wax flooring that saves on cost and maintenance.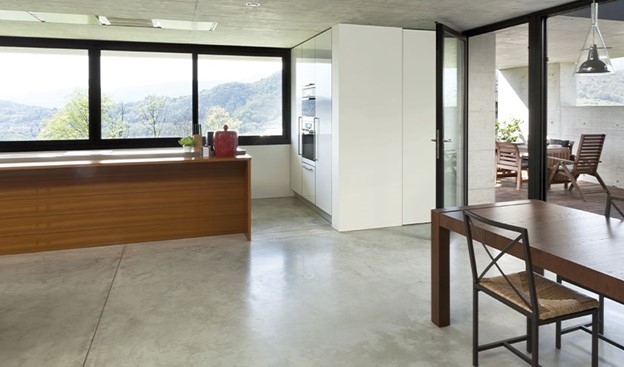 Polished concrete floors contribute to better air quality with easy to clean surfaces that resist dust and dirt buildup, mold, and bacteria growth
Polished concrete is less expensive per square foot than other types of flooring, including carpet, tile, and wood, and will never need replacement. Cha-ching!
The dense finish of polished concrete increases the floor's impact and abrasion resistance making polished floors suitable for every space from warehouses to boardrooms.
Safety and security for both clients and employees are important, and polished concrete has a more slip-resistant surface than other flooring types, giving added value anywhere in your facilities.
Stamped concrete for realistic stone and wood textures
If stone or wood flooring is the foundation you prefer for your business, but the costs are prohibitive, decorative stamped concrete can bring these upscale looks at a price your can afford. Rather than replacing worn carpet, tile, or hardwood—again—a resurfaced stamped concrete overlay will give lasting beauty with realistic faux finishes such as flagstone, cobblestone, slate, tile, brick, or wood plank designs. For both interior and exterior concrete surfaces, stamped concrete can transform floors into authentic-looking stone and wood textures so you can have a memorable entryway or rustic wood floors to stylize your business.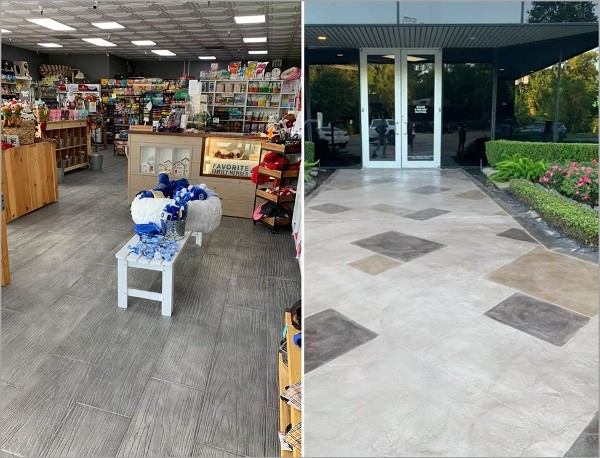 Real stone and wood plank molds guarantee natural looking finishes, along with custom concrete stains to match the surroundings
There's no need to deal with complicated installations and expensive shipping costs to have the stylish look of stone or wood, our custom floors are created right on the spot with less mess and in much less time.
The continuous, sealed surface is industry-tough and resistant to moisture, chips, cracks, dirt, and stains, making all your stamped concrete floors low-maintenance and easy care.
Individual offices, community work areas, breakrooms, and restrooms will be cleaner and more inviting with the stain-resistant finish that keeps floors looking like new.
Repair and restore rather than replace bad floors
In any busy business enterprise, floors can take a beating from customers, employees, production activities, and more. Replacing worn out floors every few years gets expensive in replacement cost as well as downtime. Decorative concrete floor finishes like those mentioned above can eliminate this problem for your business since these floors will last for decades. Stained and stamped concrete, polished concrete, and other concrete resurfacing systems can repair and restore even damaged concrete without the need for replacement. Spaces where utility is more important than aesthetic, such as in warehouses or storage facilities, a damaged floor can be restored to a fresh concrete look that can withstand the toughest work demands. Severely worn or damaged concrete can be repaired and resurfaced with RestoreKoat by Concrete Craft™, a versatile repair mortar that creates a permanent bond to the surface and will not fade, chip, or peel over time.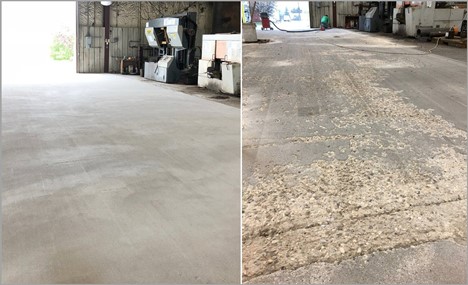 Heavy-duty workspaces can be repaired with a durable concrete surface that will protect your equipment, your facility, and your employees
The durable finish is resistant to freeze/thaw cycles, salt scaling, abrasion, impact, and spills such as gas, oil, and chemicals.
Most concrete repairs and restoration take from one to three days to complete and you're back in business.
Large work areas that need durability and presence, but not necessarily design, can be renovated and enhanced to create attractive and functional spaces.
A rock-solid foundation for your business
For interior floors or its exterior spaces, you can have a whole new look for your business for far less expense than you would expect by enhancing existing concrete floors. Plain surfaces can be transformed with beautiful decorative concrete overlays, concealing damage and creating beautiful, durable finishes for restaurants, retail spaces, office buildings, schools, hospitals, manufacturing plants, condos, apartments, and independent small businesses. Call 888-852-9244 today or go online to www.concretecraft.com to find the Concrete Craft location nearest you and request an onsite or virtual* consultation to determine the best concrete solutions for your business and bottom line.
*Virtual consultations may not be available at every location