Get Your Driveway Ready for Summer Fun with Durable, Decorative Concrete
It may be a throwback to the days of southern mansions and big wrap-around verandas, but still today in places like Lexington, Kentucky, and Charlotte, North Carolina, you'll see families entertaining in their front yards. Front porches, grassy yards and driveways set the stage for family and friends to gather to enjoy the lazy, hazy days of summer with games, picnics and barbeques with homemade Big Daddy's Carolina Style Barbecue Sauce.
It's the embodiment of old-fashioned hospitality with the modern twist of stylish surroundings, including stainless steel barbeques and smokers, colorful patio furniture and party-ready driveways and landscaping. Imagine this beautiful stained concrete driveway (a.k.a. dance floor) hosting your next get together. Throw open the garage door for easy access to the house and kitchen for food and drink, making entertaining a breeze!

Durable decorative concrete
Concrete CraftTM artisans can turn any driveway and garage into a showplace with stained, stamped or resurfaced concrete to add to your summer fun. Decorative concrete is tough enough to withstand basketball, soccer, roller skates, skateboards and all the spills and messes of outdoor eating. You can plan your next get together with complete confidence that your new driveway will beautify your yard and provide a safe surface for entertaining.
A non-slip surface gives good traction for running kids
The tough surface resists spills and stains, and cleans off with mild soap and water (a brush and a hose will wash away every trace of the party)
Decorative concrete will not chip, peel or color fade
You can set up tables and chairs without worry of damaging the driveway
The cost of decorative concrete is so much less than other materials, you'll have money left over to fund your summer fun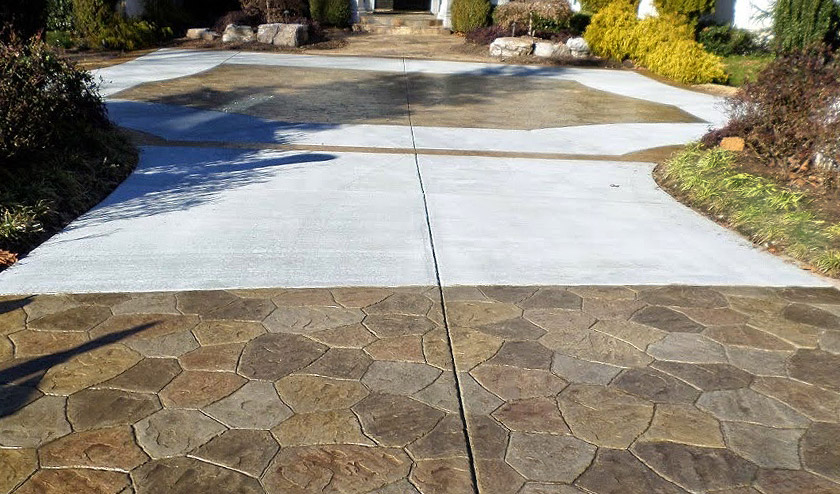 This stamped concrete Flagstone pattern creates an inviting arena for summertime activities. Stamped concrete can replicate the look of stone, brick, and wood planks. Some of our most popular designs are Ashlar Slate, Roman Texture Slate, Brick, Wood Plank, Cut Cobblestone, Sandstone and unique stamps like compasses, medallions, Geckos, Sea Turtles and Kokopelli designs.
Stamped concrete installs in half the time of real pavers, and there are no spaces between for weeds to grow
Colors and patterns are authentic and easily blend with surrounding landscape colors and textures
Your beautiful driveway is now easy-care and low-maintenance, with a two-year warranty*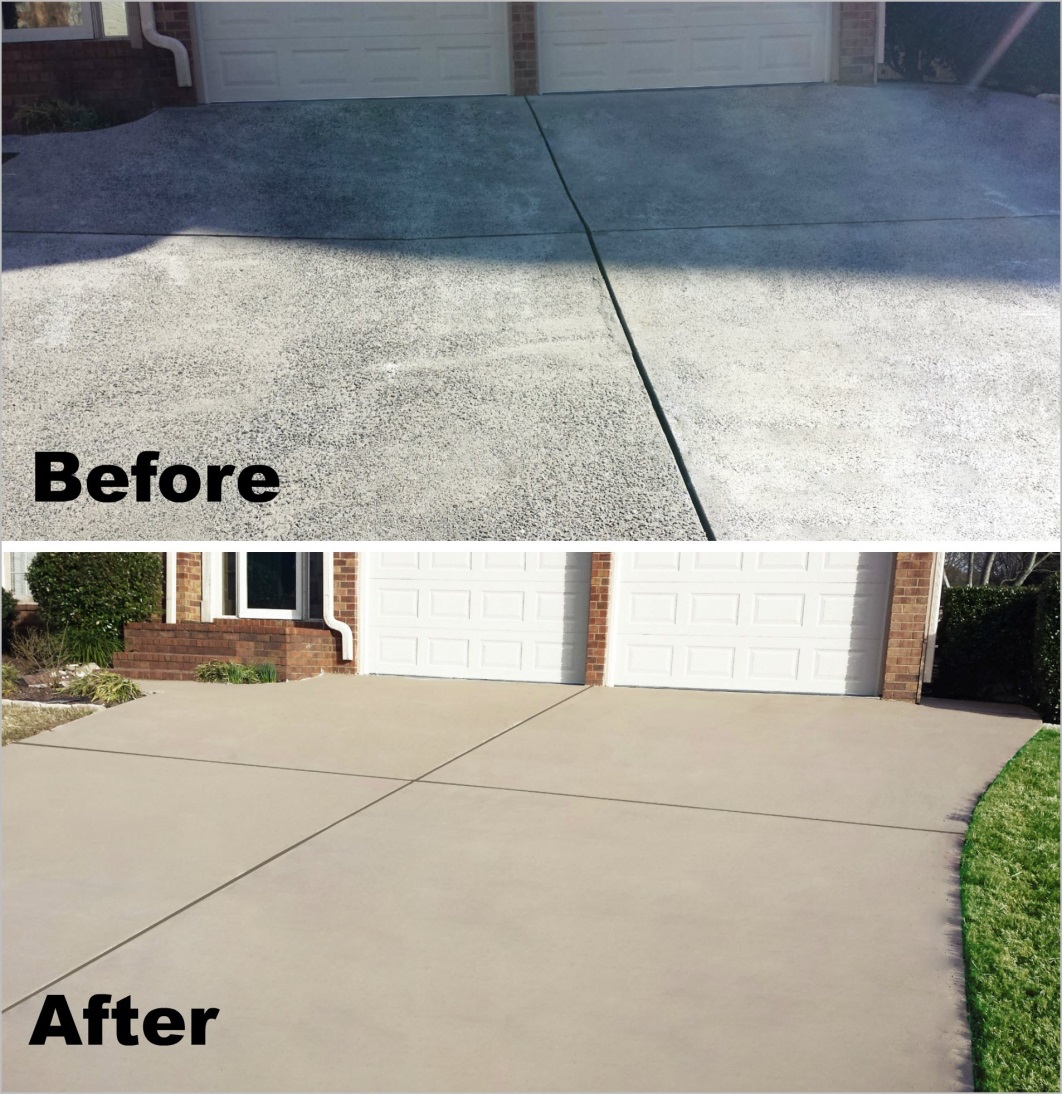 If your driveway is pitted and discolored as in this before picture, it may not be appealing enough to entertain guests. You can revive your driveway with resurfaced concrete without having to demolish the old slabs and pour new ones. Concrete Craft's proprietary methods and quality overlays will cover and conceal stains and cracks and make your driveway look like new. This gorgeous renewed driveway is a traditional broom finish in rich suede that complements the home's exterior brick colors, creating a dramatic impact with the stark white trim.
So while you're making all those summer plans, don't discount at-home entertaining even if your yard isn't all you want it to be. Concrete Craft can turn any concrete surface into an elegant design for less cost and time than you would imagine, whether patio, driveway, pool deck and more. Call 866-813-3699 today or go online to www.concretecraft.com to find the Concrete Craft location nearest you and request a FREE estimate.
Discover how new, custom decorative concrete can enhance both your indoor and outdoor living spaces. Check out our online photo galleries for patios, driveways, walkways, pool decks, as well as commercial spaces and vertical surfaces that can be enhanced with stained, stamped and resurfaced concrete.