Get Your Pool Deck and Patio Ready for Summer with Decorative Concrete
In some parts of the country the changing seasons do indeed bring change. In Florida, mild temperatures are pretty much standard all year long so residents don't necessarily alter their activities that much. But in snow country like Lexington, KY, or the windy city of Chicago, the advent of spring and summer means dust off the patio…uncover the pool…and let's enjoy the warm while it lasts!
Harsh winter weather can take a serious toll on patios, pool decks and other exterior surfaces like walkways and driveways. With spring and summer right around the corner, now is a good time to assess your patio and pool deck to be sure they're ready for the onslaught of summer fun. You'll want your outdoor concrete surfaces to not only be attractive, but in good repair so safety is not an issue for your family and friends.
Concrete Craft to the rescue
Concrete Craft is the premier decorative concrete franchise in the nation. Their trained and professional artisans can help you select the perfect designs for your patio or pool deck from endless possibilities with stained, stamped and resurfaced concrete.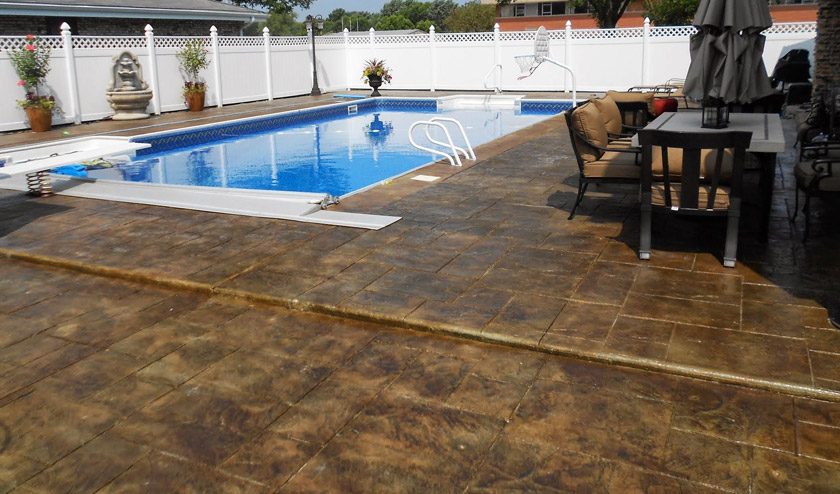 This patio and pool deck in stamped and stained decorative concrete provides an inviting atmosphere, encouraging people to pull up a chair and stay awhile or take a dip in the pool. The textured surface is slip-resistant so safety is not an issue. The tough, durable surface repels harsh pool chemicals, food and drink spills and the wear and tear of many feet, so your deck will stay beautiful for years. The mottled brown tones create a brilliant contrast with the white fence for a captivating setting for pool parties or lazy afternoons lounging around the pool.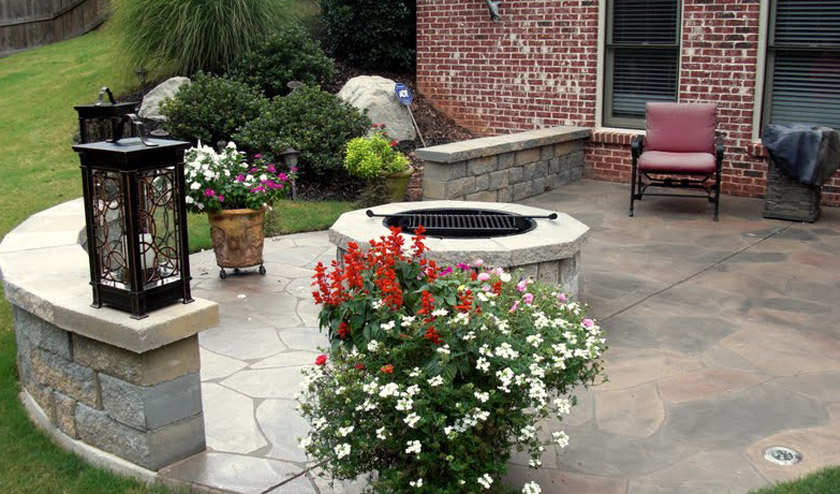 This hand-cut and custom-colored Flagstone overlay is so pretty you may never leave the patio. With a fire pit for cooking, this just might become the favorite hangout for the whole family! Half the cost of real Flagstone, this decorate concrete patio will stay beautiful for years, with a tough polymer overlay that resists UV exposure damage and freeze-thaw conditions. It stays clean with just a quick sweep, and its water-repelling surface means no moisture pockets for mold to grow, and the continuous surface means no weeds (since there really are no grout lines).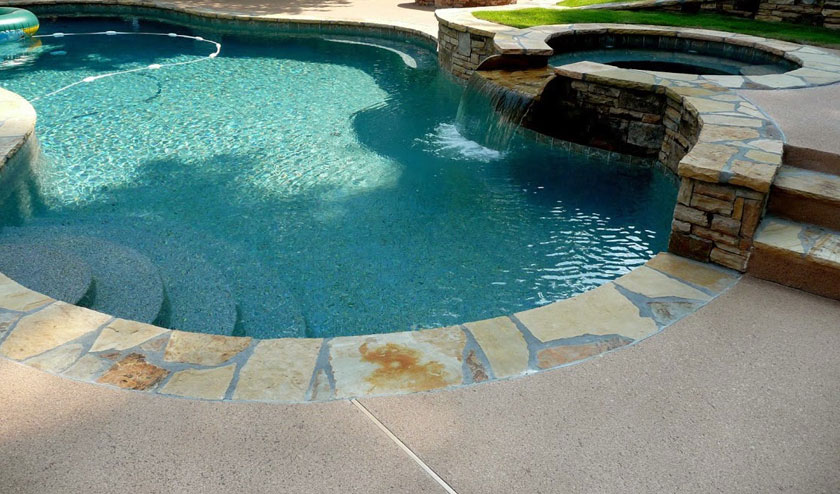 If your pool deck needs a facelift, decorative concrete resurfacing from Concrete Craft will save the day and your budget. The overlay goes right over your existing pool deck without the time and mess involved with replacing what's there. You can have a "new pool" in less time than you would imagine. The resurfaced concrete is augmented with simulated natural stone pavers around the edge of the pool, hand cut to look authentic. This surround in decorative concrete will not have the sharp edges of real stone, presenting a much more comfortable pool-side experience.
Concrete Craft can also dress up your patio walls and surroundings with resurfaced concrete vertical designs, adding beauty and dimension to your vertical spaces with the same durability and value as our floor treatments. Our flexible polymer overlay product can be applied over wood, drywall, brick and concrete for the rustic, timeless beauty of a rock wall. Our process gives 100% contact to the vertical surface, so there are no gaps where water, dirt or insects can intrude. In addition to patio walls, our vertical designs can adorn indoor accent walls, fireplaces, home siding, bathroom shower stalls and more.
You can trust the professionals at Concrete Craft to help you make the best decision for what suits your needs. Whether you choose stained concrete, stamped concrete or resurfaced concrete, your new outdoor spaces will delight you with the beauty, economy and durability they provide
Call 866-813-3699 today or go to www.concretecraft.com to find the Concrete Craft location nearest you and request a FREE estimate.
For more information on decorative concrete, check out our FAQs and see which style is right for you.
Commercial properties can benefit from our extensive variety of colors, finishes and design options with custom stained, stamped and resurfaced concrete.