Give Dad A One-Of-A-Kind Decorative Concrete Driveway For Father's Day
Every Father's Day, dads everywhere wake up with anticipation for what the day will bring. From the hand-drawn card in bright Crayola® colors to breakfast in bed, "greatest dad" coffee mug, tee-shirt, or tie, dinner out, and maybe an amusement park, it's a day of fun surprises. This year, why not give that greatest dad a Father's Day gift that will last long after bedtime – a new decorative concrete driveway from Concrete Craft®?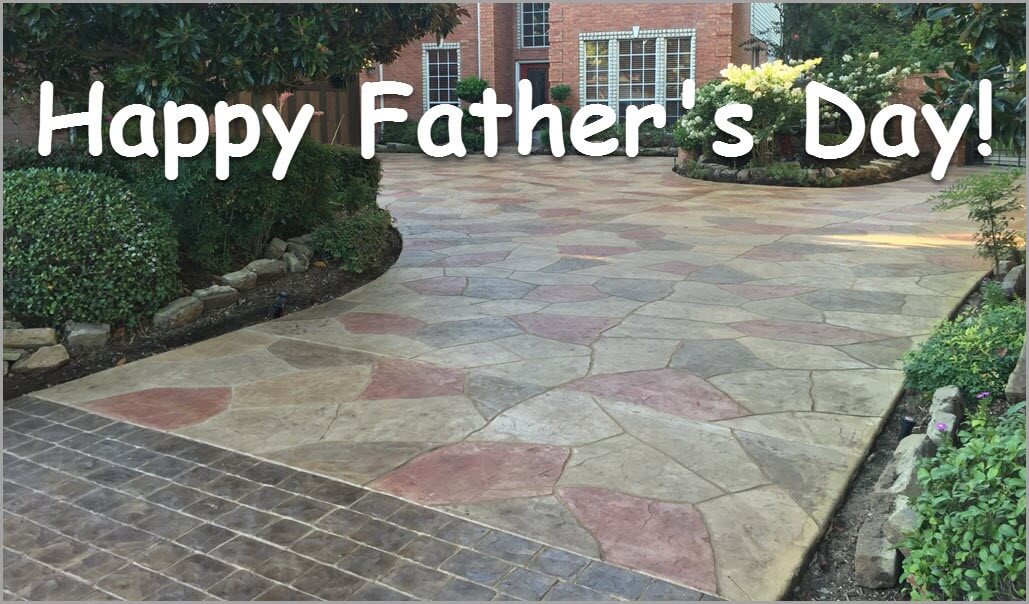 Dads love garages and driveways and all the cars, trucks, and motorcycles that live in, and on, them. A new refinished driveway will give him a sense of pride in his home and a stunning showcase for his beloved vehicles. Here are four driveway designs from Concrete Craft that say, "We love you, Dad!" and will have him inviting his friends over to show off a little. Or a lot.
Color up with a stained concrete driveway
The quickest and most economical way to update a dull, gray driveway is with a vibrant concrete stain. For a driveway in good condition, the concrete stain can be applied directly to the cleaned and prepped surface, giving the driveway an immediate upgrade. Even a driveway with mild cracks, spalling, and discoloration can be saved with a concrete overlay to hide the flaws and imperfections, creating a smooth surface for a stained concrete finish.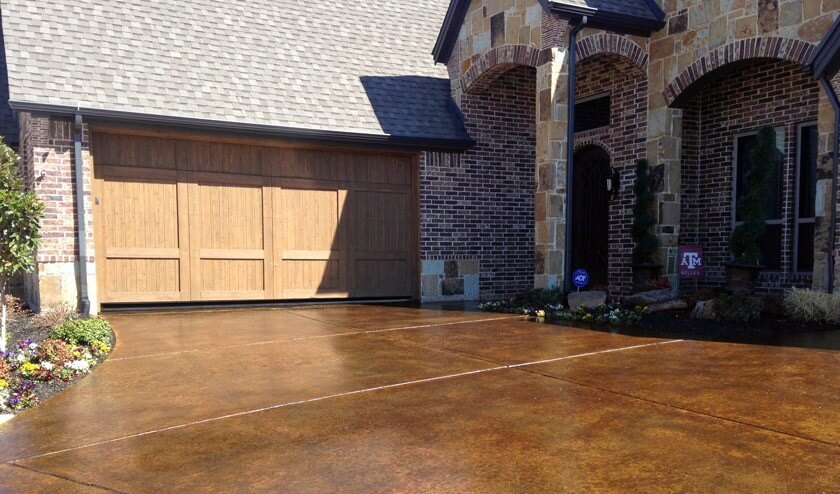 Choose water-based acrylic or acid-based stains for unlimited design potential.
Get creative with multiple colors, borders, and stenciled designs.
The sealed finish resists spills and stains, including auto fluids, dirt and grime, and UV fading.
Revitalize worn concrete
If dad's driveway is wearing a once-loved finish or design that has faded from extended use and unrelenting weather, that finish can be restored to its original beauty with RenewKoat by Concrete CraftTM. A revolutionary overlay made with real cement rolls on like paint, leaving an industry-tough finish that enhances the original design. With 10 colors to choose from, you can opt to restore the original color or create a completely different look with a new color.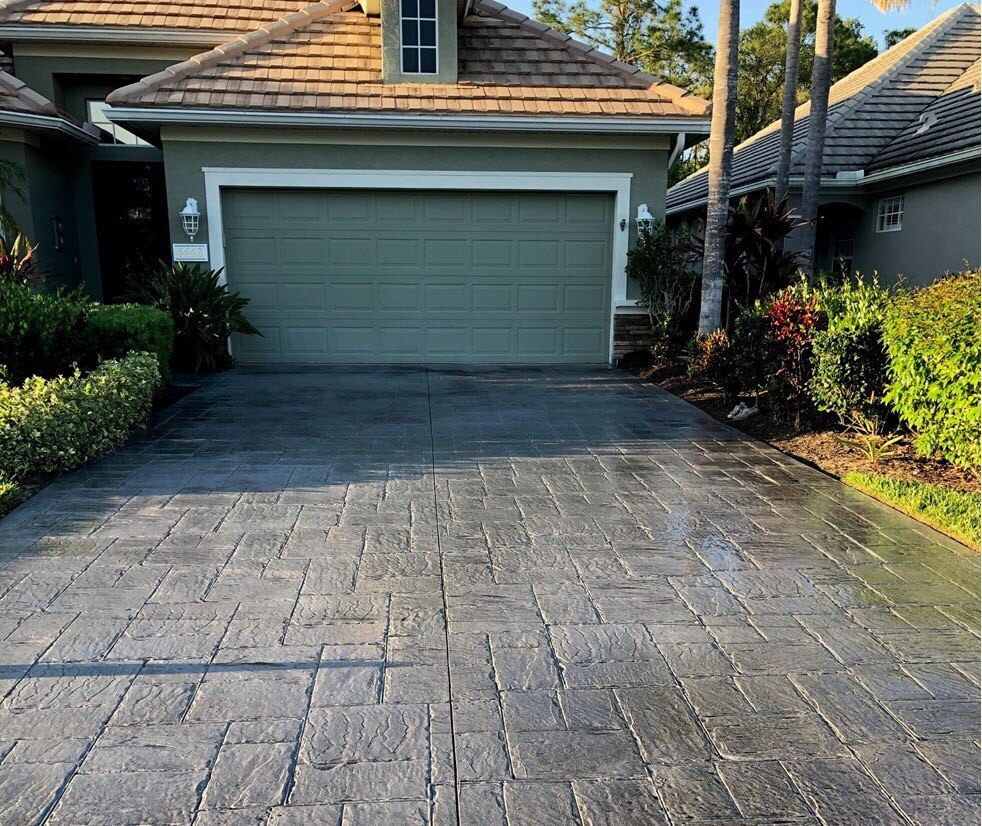 Clean application with very little mess or dust and quick cure time.
The continuous sealed surface is low-maintenance and extremely durable.
Color match your home or surrounding landscape features.
Faux stone stamped and hand-carved concrete overlays
If your dad's dream has always been a rock or stone driveway, you don't have to wait until someone wins the lottery to give him a real treat. A resurfaced concrete overlay can be applied to the existing driveway and then enhanced with a stamped concrete pattern or a hand-cut design to produce a faux stone finish that looks like authentic rock or stone, including flagstone, Ashlar slate, Roman slate, sandstone, brick, and more.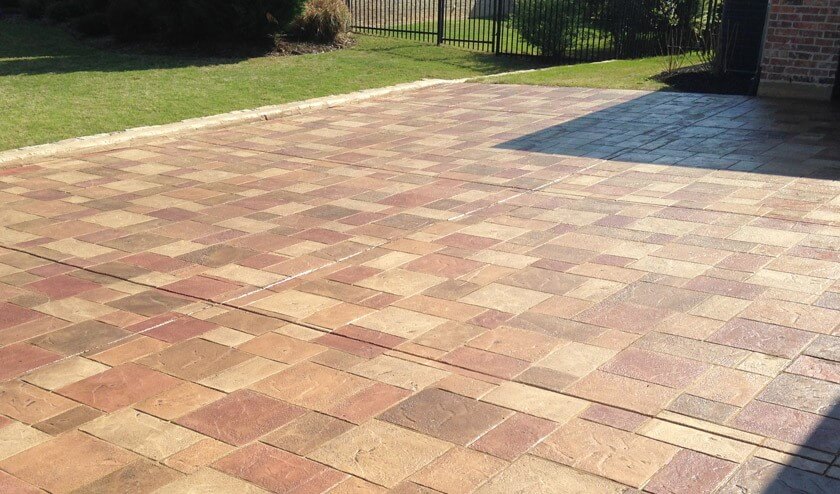 The concrete overlay hides imperfections in the concrete so replacement is not necessary even for an ugly driveway.
Achieve the look of real stone for about half the cost of the true materials.
Designs are stamped, hand-cut, and custom-colored to exactly what you want so you're never limited to styles and colors of available stone.
River rock is not out of reach
River rock has long been a coveted look for driveways and our river rock concrete overlay will bring the natural beauty of colorful river rock to your home. StoneKoat by Concrete CraftTM is an exclusive non-epoxy-based river rock concrete overlay that can fill cracks, cover damage, and even out irregular surface heights in one application for an exceptional driveway. Use different color combinations to create borders or integrated designs for your one-of-a-kind dad.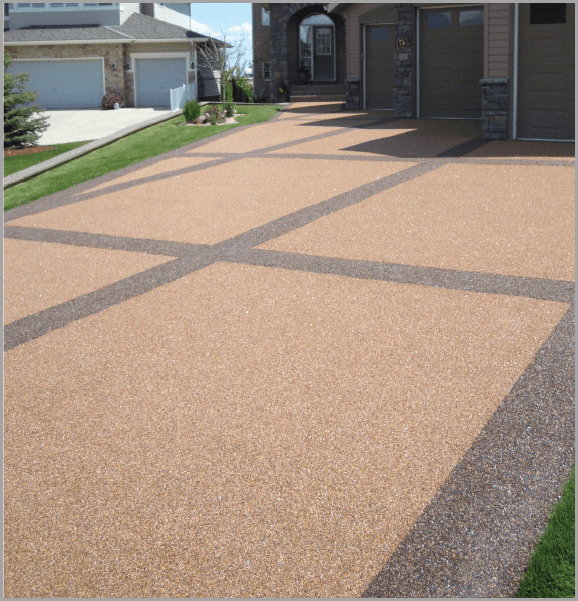 Available in a range of colors to coordinate with your home's design.
Resistant to freeze/thaw, salt scaling, UV light, abrasion, impact, and mechanical damage.
The textured surface is easy to keep clean and repels stains, moisture, and mildew.
Decorative concrete: a solid investment
A decorative concrete driveway is the gift that will keep on giving, year after year, with enduring beauty and functionality. Your dad will save hours of time every week since all our solutions have a final, sealed surface that protects the design and makes them stay cleaner than other driveway finishes and practically maintenance-free. Exceptional benefits of decorative concrete include:
Enjoy the high-end look of authentic stone at a reasonable price.
Installation by Concrete Craft trained professionals, no outsourcing to subcontractors.
Sealed finishes can withstand any weather conditions without deteriorating.
The non-porous surface resists spills of all kinds and doesn't fade, chip or peel.
Curing to at least 5000 PSI, meaning our concrete overlays are tough enough to support cars, trucks, SUVs—any vehicles you have.
Driveways hose off to keep clean or use a mild biodegradable cleaner if especially soiled.
Eliminate years of wear from the appearance of your home and add beauty and value.
If you know your dad would love a new driveway but aren't comfortable choosing the style, a Concrete Craft gift certificate lets him do the designing. He'll work directly with the local Concrete Craft artisans to design his dream driveway. Contact us today or go online to www.concretecraft.com to find the Concrete Craft location nearest you to request a FREE estimate or to purchase a gift certificate. If your dad is distant, you can find the location nearest him and purchase a gift certificate for the Concrete Craft in his area. Go to Concrete Craft's website and do a ZIP code search for his location and they'll take care of everything for a Father's Day he'll always remember.
We can also repair and restore concrete patios, entryways, walkways, pool decks, and interior floors with custom decorative concrete finishes, as well as vertical surfaces like fireplaces and accent walls with hand-crafted vertical concrete overlays. Check out our digital brochure to see the many options for beautiful, versatile decorative concrete for every area of your home.