Give Dad the Ultimate Driveway for Father's Day
Father's Day is the perfect time to show Dad how much you love and appreciate him. And although dads are content with "classic" Father's Day gifts like funny ties and tee shirts, personalized picture mugs, grilling tools and home brew kits for beer, why not push the envelope to extreme dimensions and get him a custom decorative concrete driveway from Concrete Craft®?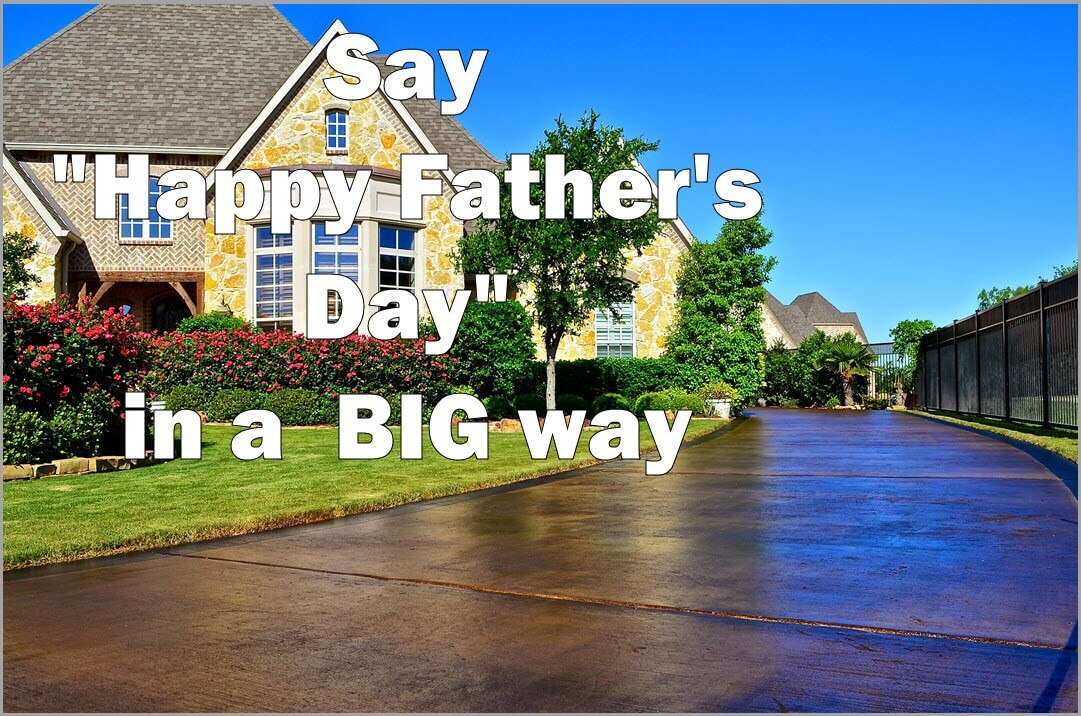 With stained, stamped and resurfaced concrete, Concrete Craft can quickly transform driveways that show years of wear and tear with a concrete overlay that hides imperfections like oil stains, chips, cracks and spalling. This fresh, new surface can be stained, as in the picture above, or stamped with natural stone patterns like cobblestone, flagstone or slate, and hand-carved and custom-colored for authentic-looking stone finishes.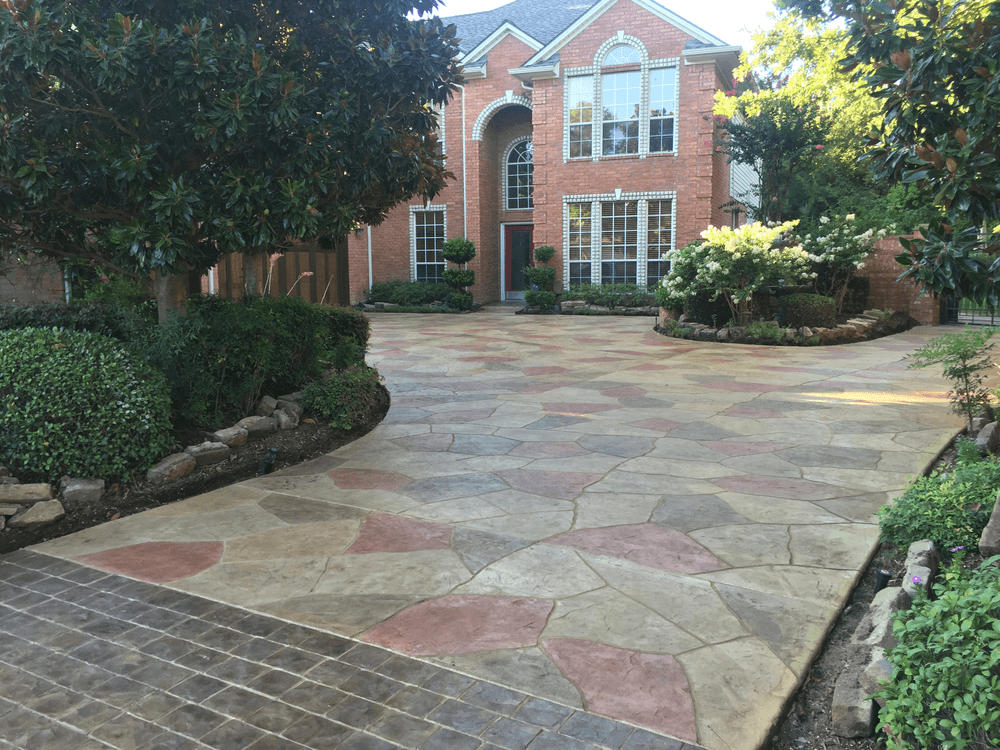 This driveway has two combined designs, multi-colored flagstone is bordered with gray cobblestone for a unique driveway. The seamless, sealed surface will never crack, chip or peel and UV protectors in the stain mean the colors won't fade. And since the grout lines aren't real, but part of the overall continuous surface, no grass or weeds that require back-breaking removal will grow between the stones, giving dad more leisure time. Every time he comes home, he'll be greeted by his fabulous care-free driveway and feel just like the lord of the manor!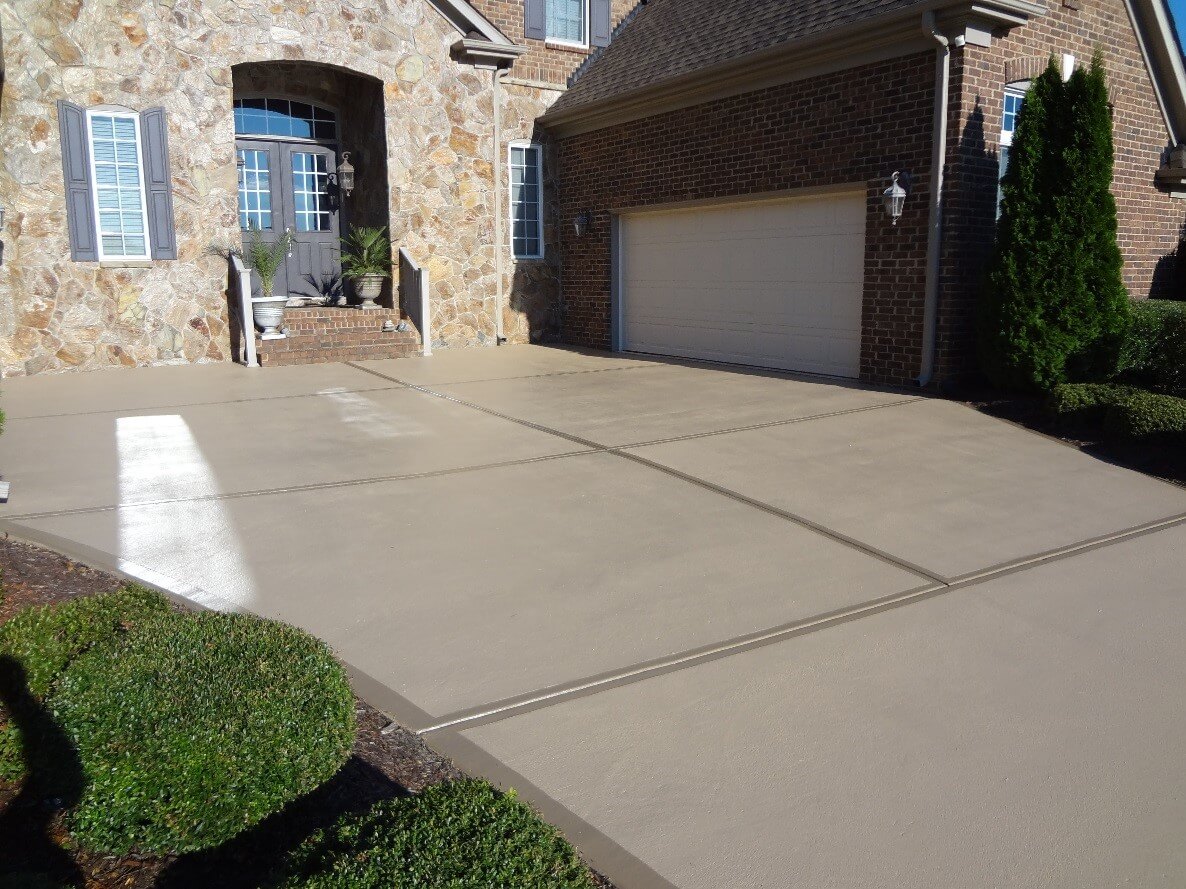 For a minimalist style, a simple broom finish to a concrete overlay makes the driveway look like freshly-poured concrete, only better. The continuous sealed surface repels spills of all kinds, including auto fluids like gas, oil and transmission fluid so that stains will never set and discolor the driveway again. Spills wipe right up and the easy maintenance of sweeping and hosing off will keep dad's new driveway looking good year after year.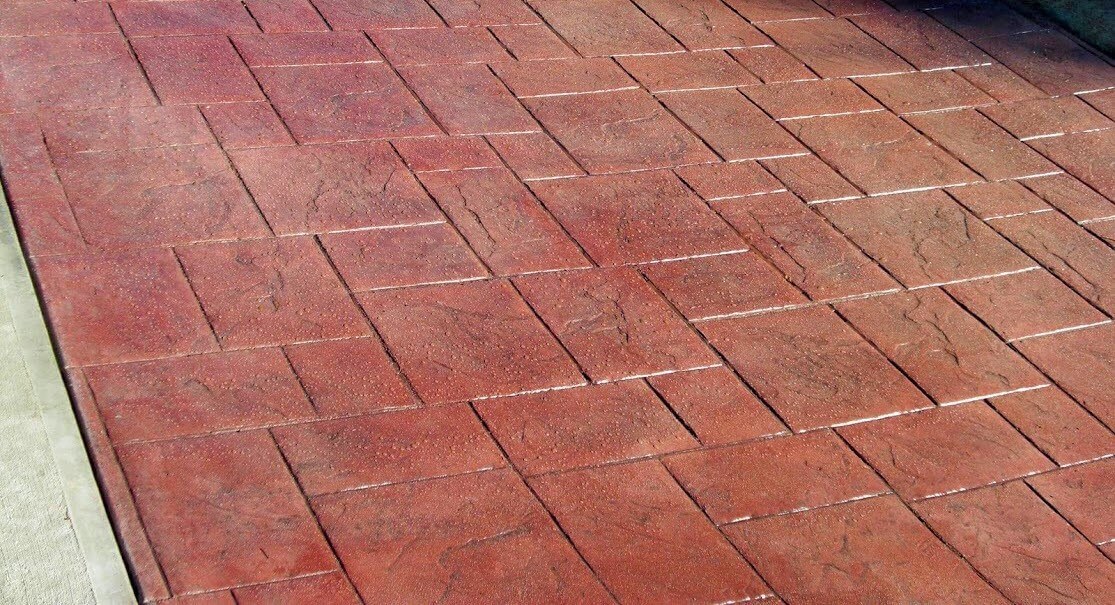 A colorful driveway can make your home a standout in the neighborhood. This Ashlar slate driveway in red will definitely make people stop and take notice. The hand-cut stones give the look of real stone, at about half the cost. You can increase your home's curb appeal and your dad's pride in one easy step. The sealed surface can stand up to all kinds of weather, is resistant to outside concrete plagues like mold, mildew and rust, and can even repel deicers that damage regular concrete. Nothing sticks to the surface, so hosing off or power washing keeps the whole driveway like new.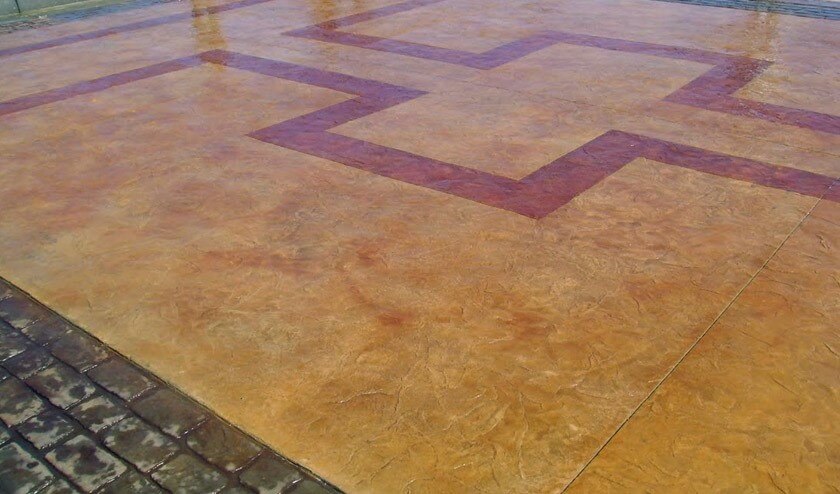 Concrete staining and stenciling open up unlimited design potential for a creative dad. Borders, logos, and custom designs like a family crest can be integrated into the creation of a one-of-a-kind driveway. He could even have a basketball court to be the coolest house on the block. The sealed finish protects our proprietary stain colors that penetrate the surface for true and lasting color. For a driveway in good condition, you can skip the concrete overlay step and have stain applied to the existing surface. This is the most economical decorative concrete design and it has the same durable, sealed finish for years of worry-free functionality.
You can trust Concrete Craft
Concrete Craft is the only national decorative concrete franchise in the country. With over 10 years of creating beautiful decorative concrete, our tried-and-tested processes and products are the best you can find anywhere.
The most durable surfaces you can have; our unique rubberized polymer overlay mixes cure to a compression strength of just under 5000 psi
Concrete overlays create a finish that looks and feels like natural stone, but at half the cost
Unlimited options to customize with color, design, and finishes
Easily blend styles and colors with any existing hardscape designs
Concrete overlays mean projects go quicker with less mess; no demolition and replacement required
Seamless, sealed surfaces resist mold, bacteria, and allergens for a healthier environment
All designers and installers are owners or employees, expertly trained and committed to your satisfaction
A two-year warranty* on all our work
If you know your dad would love a new driveway but aren't comfortable choosing a style for him, a Concrete Craft gift certificate lets you present the gift and he gets to do the designing. He'll work with the local Concrete Craft professionals to design the perfect driveway for a Father's Day he'll always remember.
Contact us today or go online to www.concretecraft.com to find the Concrete Craft location nearest you to request a FREE estimate on a stained, stamped, or resurfaced decorative concrete driveway for Father's Day or to purchase a gift certificate. If your dad lives far away, you can find the location nearest him to purchase a gift certificate for an awesome new driveway. Go to Concrete Craft's website and do a ZIP code search for his location and they'll take care of everything for you.