Have a Bang-up Fourth of July with Fireworks, Food and Fun
All across America people celebrate July 4th, Independence Day, with festivals, pool parties, barbeques, parades and fireworks. We celebrate independence for all, but not everyone can celebrate with fireworks, at least not those you light yourself. Individual states and cities control the legality and availability of fireworks, whether for permitted fireworks spectaculars at public venues or for at-home use to liven up a Fourth of July party.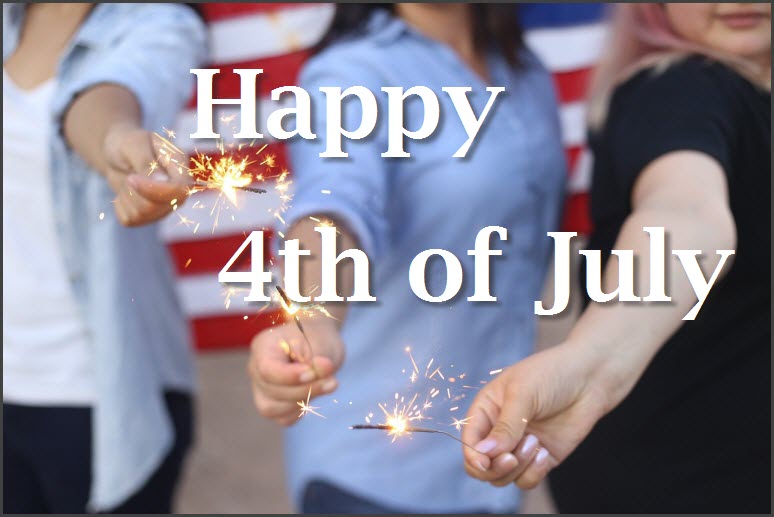 Most states allow some form of "consumer fireworks" (weaker in explosive power than professional display fireworks), but the folks in North Shore have to travel to see fireworks at public shows and events because even consumer fireworks are banned in Massachusetts. And in the Windy City, Chicago, the only legal fireworks are sparklers and novelty items like snaps and ground bloom flowers. If part of your Fourth of July festivities includes setting off fireworks, be sure to check for what is legal in your area to avoid getting fined or having your party crashed by the local police.
Celebrate in style with stained, stamped and resurfaced decorative concrete
Pools and patios are made for summertime entertaining, and hosting a Fourth of July party in your backyard can be great fun. And if your patio has been updated with a decorative concrete overlay from Concrete Craft®, it's the perfect Fourth of July venue. A stained, stamped or hand-cut and custom-colored resurfaced patio finished as flagstone, cobblestone, Roman texture slate, brick or wood plank lets you show off just a little with a beautiful, easy-care space that will impress your guests.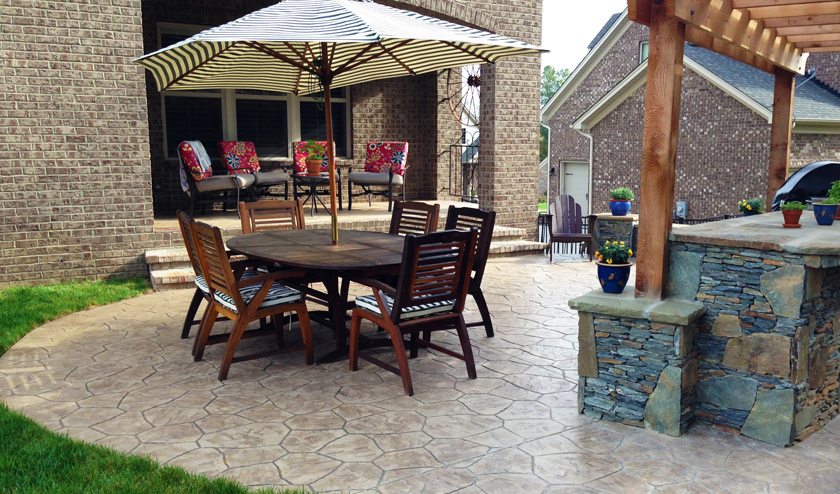 A sparkling pool is even more inviting with a pool deck that is slip-resistant and seamless so there are no lifting stones or tripping hazards. Concrete Craft can rejuvenate a well-used pool area with a resurfaced concrete overlay made to replicate real stone but with a sealed surface that resists stains, spills and even pool chemicals that can discolor actual stone or bare concrete. Defining the pool area with seat walls or knee-height walls helps to keep the area clean while providing additional seating. Concrete Craft's seat wall and fire pit system can customize steps, retaining walls, and more, with realistic faux stone finishes in custom colors to match your surroundings.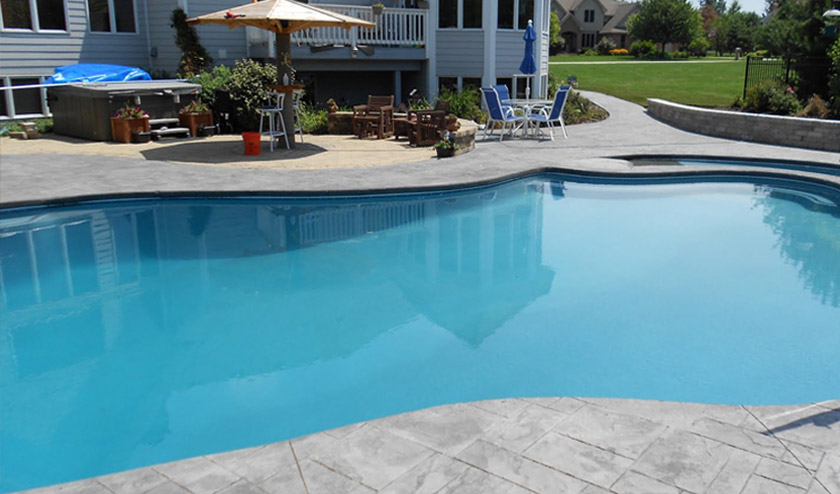 Food, fun and fireworks
Any Fourth of July party will have people who want non-stop activities as well as those who want a chill-out kind of day. Consider your guests and be sure to accommodate everyone's needs by having a variety of foods and things to do. Awnings or shade umbrellas are a good idea for sun-worshippers and shade lovers alike to ensure comfort all day long. Here are a few ideas to make your Fourth of July party a big summer success:
Plan a menu with fresh and feel-good foods to make everyone swoon with delight. Fire up the grill for BBQ chicken, ribs, burger sliders, grilled double cheese sandwiches, flank steaks, hot dogs and roasted corn and vegetables.
Keep everyone fully hydrated with sparkling waters, iced tea, wine coolers, beer, lemonade, soda of all kinds and frosty blender drinks, including smoothies, Daiquiris and Pina Coladas.
Keep the sweet-and-salty-favorite-snack-foods rule with bowls of salty snacks like chips and nuts, and then top off the menu with tasty sweets: fresh fruits, red, white and blue desserts and platters of cookies, brownies and lemon bars.
Have board games set up on card tables, lawn games like Bocce ball and horseshoes to get people moving, and high energy fare like volley ball, Badminton and touch football. Ask your guests to bring their favorite outdoor games.
With a backyard pool, swimming will be a main attraction, including games like Marco Polo, dive sticks, submarine races and chicken fights. Check out more pool games here: 17 Swimming Pool Games for Kids this Summer.
Provide plenty of lounging and comfortable relaxing with patio chairs, poolside chaises, benches and beach blankets on the grass.
As it gets dark, the fireworks finally come out for the grand finale to the day and everyone adjourns to the driveway for the at-home fireworks show. Whether you light fireworks on your driveway or in the street, be mindful of the dangers and keep everyone safe, especially small children and pets who can sneak in where they should not be, such as next to dad when he's lighting the fireworks. Courtesy of the International Association of Firefighters, here are safety tips to ensure a safe and sane Fourth of July for your family, friends and neighbors.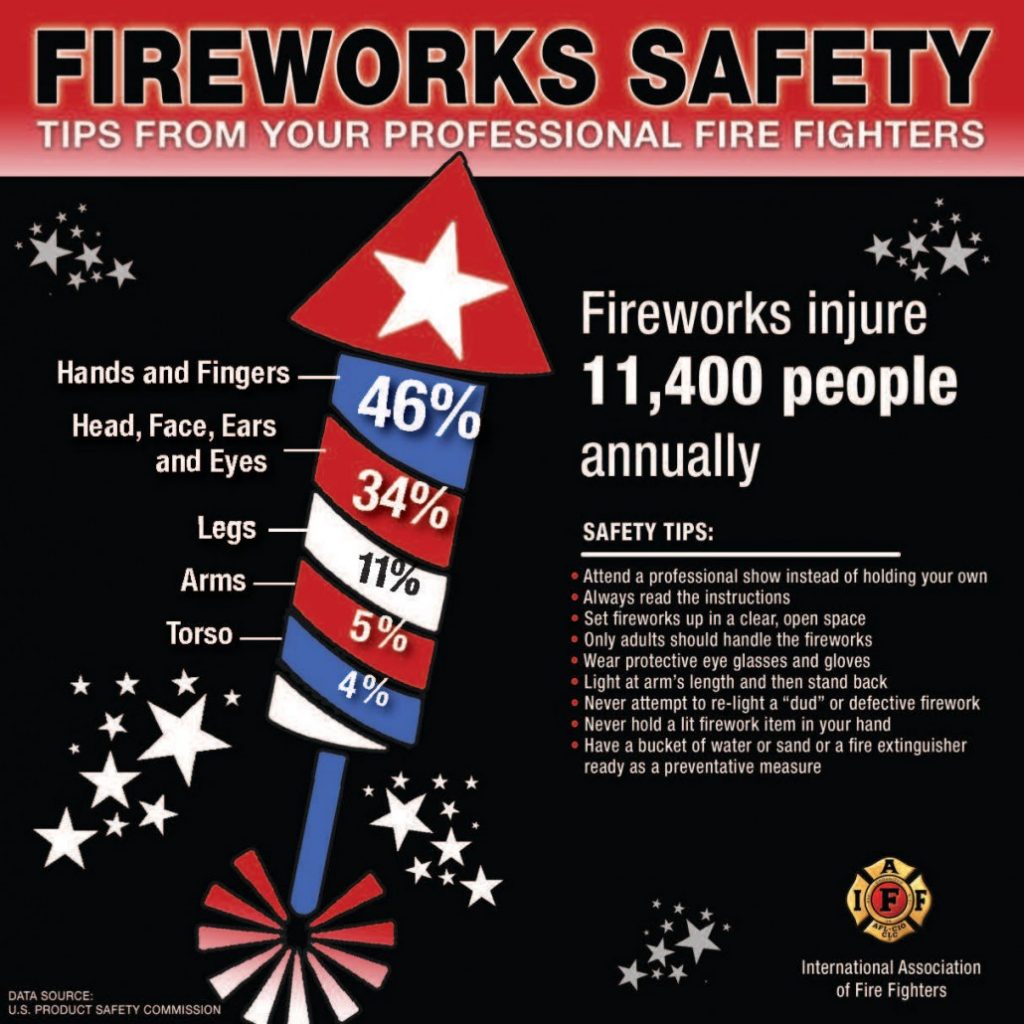 Concrete Craft wishes you a fabulous Fourth! We are available to help transform your outside concrete surfaces into ideal entertainment spots, including patios, walkways, pool decks, entryway porches and driveways. Interior floors like basements, laundry rooms and bathrooms and vertical surfaces like accent walls and shower stalls can also be enhanced and upgraded with resurfaced concrete overlays. Now is the perfect time to upgrade your home to more fully enjoy the summer before the back-to-school madness starts. Call 866-813-3699 today or go online to ConcreteCraft.com to find the Concrete Craft location nearest you and request a FREE estimate.
To learn more about stained, stamped and resurfaced concrete, check out the FAQ section for our most commonly asked questions.