Have a Care-Free Summer with Beautiful, Low-Maintenance Decorative Concrete Floors
Summer is a major season for remodeling, coming right on the heels of National Home Improvement Month in May. People start lining up projects they want to get done before the end of the year. Kitchen and bathroom remodel, basement conversions, and replacing worn flooring are popular summer renovations.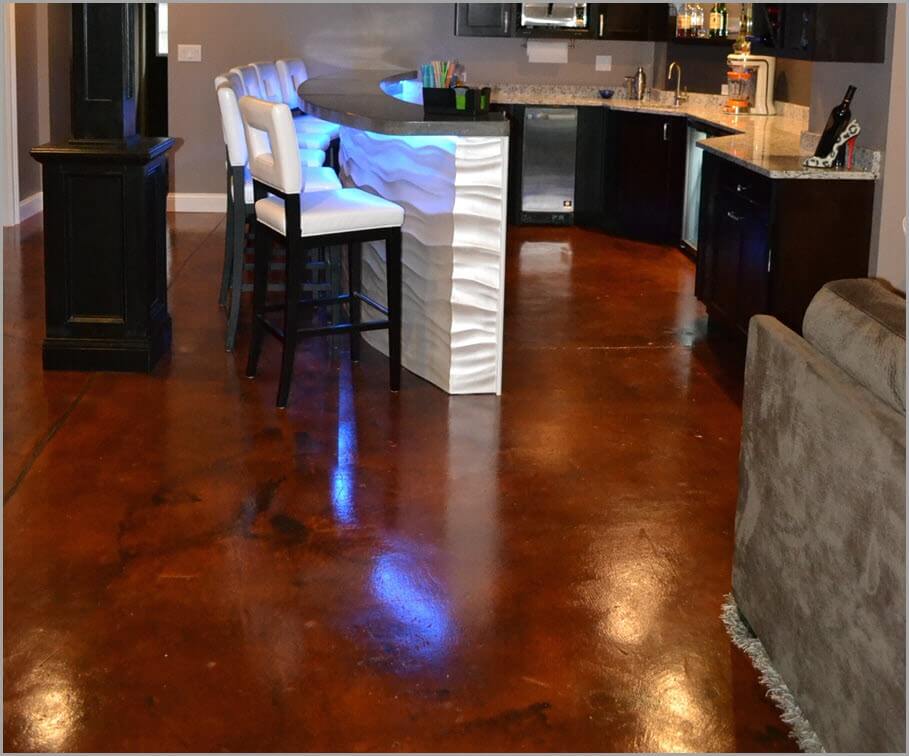 If new floors are your summer project and you've been running all over town to check out what's available in flooring, you might end up discouraged and putting it off for yet another year.
Contractors are already booked up
Stone finishes, tile patterns, and hardwood colors you like are in short supply
Prices give a bad case of sticker shock
Don't give up! Concrete Craft® can save you lots of aggravation, time, and money with stained, stamped, and hand-cut decorative concrete designs that can replicate real stone, tile, and hardwood floors. You can enjoy new interior floors and outdoor surfaces like patios or pool decks quicker than you'd imagine, at about half the cost of real materials, and still have summer left to enjoy!
Free in-home consultation beats driving all over town
With Concrete Craft, you can do all your shopping in the comfort of your home. Our craftsmen come to you with real samples of patterns, finishes, and colors so you can consider all your options. It's easier to envision different styles and colors when you're right in the rooms where they'll be. Since every floor is customized to style and color, you're not limited to what manufacturers decide is trending, the sky's the limit with style, finishes, and color.
For example, this purple floor by Concrete Craft of McLean is definitely one-of-a-kind and probably not one you'd see in a showroom, but it's exactly what the customer wanted. A musician that teaches special-needs kids how to play guitar, he wanted to create a happy, safe environment for his students to learn and play. The stained concrete floor is tough enough for games like pool and shuffleboard, as well as supporting a stage so his students' families can come and watch their children perform.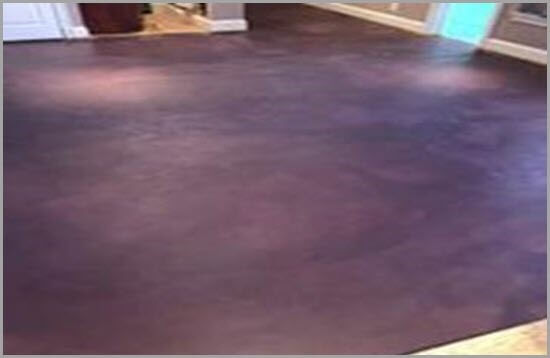 Concrete overlays revive damaged floors
If pulling up carpet or removing tile or old hardwood flooring leaves you looking at a disastrous mess, don't panic. A concrete overlay can restore the surface of the floor with Concrete Craft's special blend of cement and high-strength polymers to create a fresh, new surface, hiding imperfections.

This overlay can be finished with stained, stamped, or hand-carved realistic stone designs for an exquisite new floor. Flagstone, cobblestone, wood plank, tile, and more can transform your interior floors as in the image below.

Wood plank stamp patterns can be smooth or whorled for a more rustic ambiance
Concrete stains can bring lively color to small spaces for a big impact
Faux flagstone can be customized with small stones or large stones for the look you want
The same process is applicable to outside surfaces like patios, pool decks, walkways, and driveways. Even with evident damage and stains, your outdoor concrete surfaces can be revived with concrete overlays and authentic-looking faux stone finishes like this Ashlar slate patio by Concrete Craft of Chicago. The step, patio, and seat wall (vertical concrete resurfacing) present a beautiful setting in stone, but every surface is durable easy-care decorative concrete.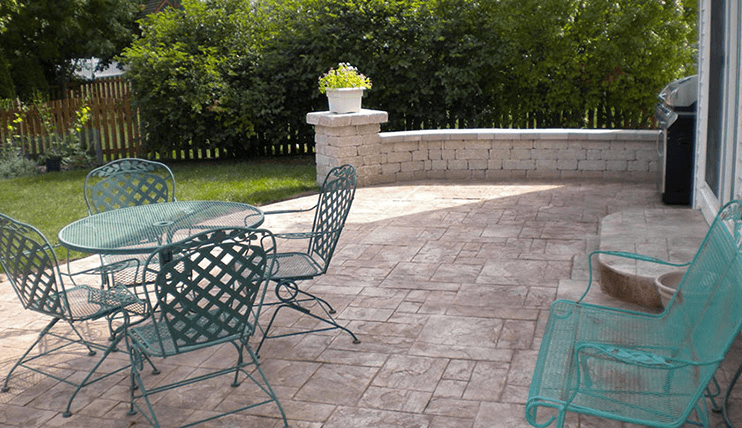 Low-maintenance floors provide health benefits
Beyond being beautiful, decorative concrete floors are low maintenance to help make your summer truly carefree. You'll have more time for family, friends, and fun instead of endlessly cleaning up. Whether it's inside games and dining or outside barbeques, you don't have to worry about spills and activities taking a toll. This flagstone pool deck will come through many summers without showing wear and tear. You can have the coveted look of grouted stone without the hassles of real grout that can deteriorate and stain over time. Our sealed "grout lines" are part of the continuous, sealed surface for years of beauty and functionality.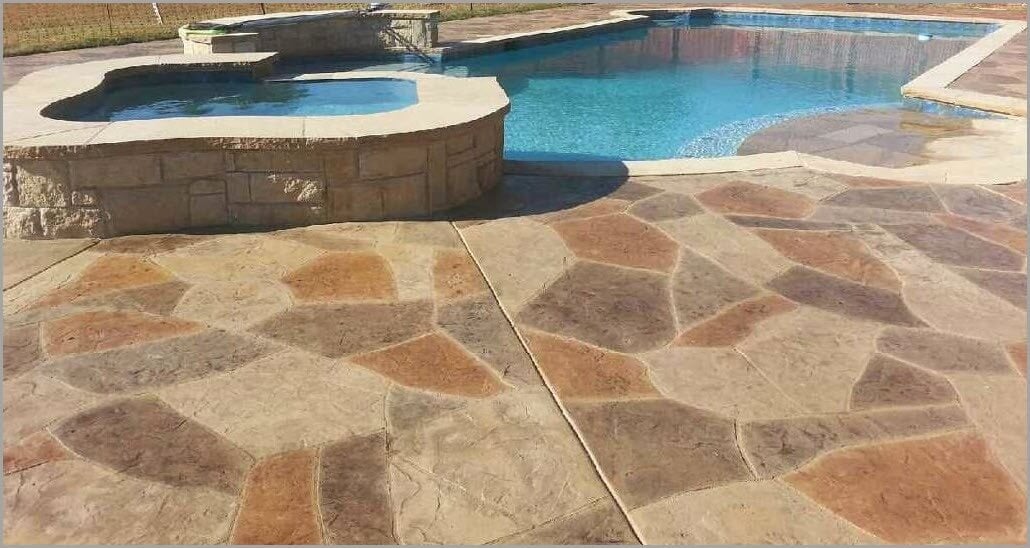 Industry-tough sealers are resistant to spills, chips, peeling, or fading.
The sealed finish repels moisture, mold, bacteria, and dust buildup so your home is more allergen-free and healthy.
In high moisture areas like laundry rooms, bathrooms, and kitchens, you won't see pockets of mold in corners or around cabinets.
Cleanup is a quick sweep or dust mopping with an occasional wet mopping for inside floors.
Exterior surfaces sweep clean or you can hose away from any debris.
Professional installation for exceptional results
At Concrete Craft, we consider ourselves craftspeople who bring artistry to the world of concrete, with experience and precision to deliver unequaled quality.
Proprietary products and techniques place us out in front of the competition.
Innovative, custom designs and colors can satisfy any design style.
Proper surface preparation ensures a lasting overlay and/or concrete stain.
Trained employees do all the work, we don't subcontract any jobs.
From start to finish will be only a few days, depending on the complexity of the design.
All our work comes with a two-year warranty*.
So, don't resist updating your home's concrete Contact us surfaces this summer, either interior floors or outdoor spaces. Concrete Craft can have you summering on new floors in record time! today or go online to www.concretecraft.com to find the Concrete Craft location nearest you and request a FREE estimate. We can replicate the look of flagstone, cobblestone, Roman slate, tile, natural stone, sandstone, wood plank, and more, for interior and exterior floors, including patios, walkways, driveways, and pool decks. Vertical concrete resurfacing can give new life to shower walls, fireplace fronts, entryways, retaining walls, and seat walls.