Have More Time For Outdoor Fun With Easy Care Decorative Concrete
There are certainly more enjoyable things to do in the summertime than clean house, but with the heightened awareness of home sanitization, it's easy to feel the need for more cleaning. But how much is enough? Even after a thorough spring cleaning, 78% of adults would still like their homes to be cleaner (American Cleaning Institute), and another survey reveals that 50% of women and 22% of men do some type of housework every day. Housecleaning can take up lots of time, and Concrete Craft® has the perfect solution to get you back to summer fun in record time without sacrificing a sparkling clean house—decorative concrete.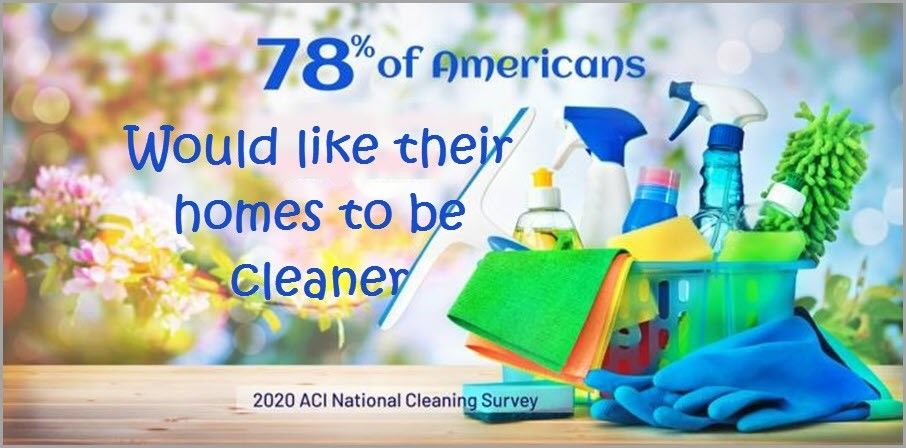 The ease with which you can clean any decorative concrete finish, including floors and vertical surfaces, frees you from time-intensive cleaning of all your spaces. You can replace carpet cleaning, hardwood floor maintenance, and grouted tile scrubbing with low-maintenance, versatile decorative concrete that cleans up with soap and water.
Durable decorative concrete
Interior and exterior, decorative concrete flooring, and vertical surfaces stay cleaner and are quicker to clean than other materials. The spill- and stain-resistant surface eliminates the need for chemical stain removers since spills wipe right up with a cloth. This includes spilled grape juice, barbeque sauce on the patio, food spatters on the kitchen backsplash, or an oil leak on the driveway.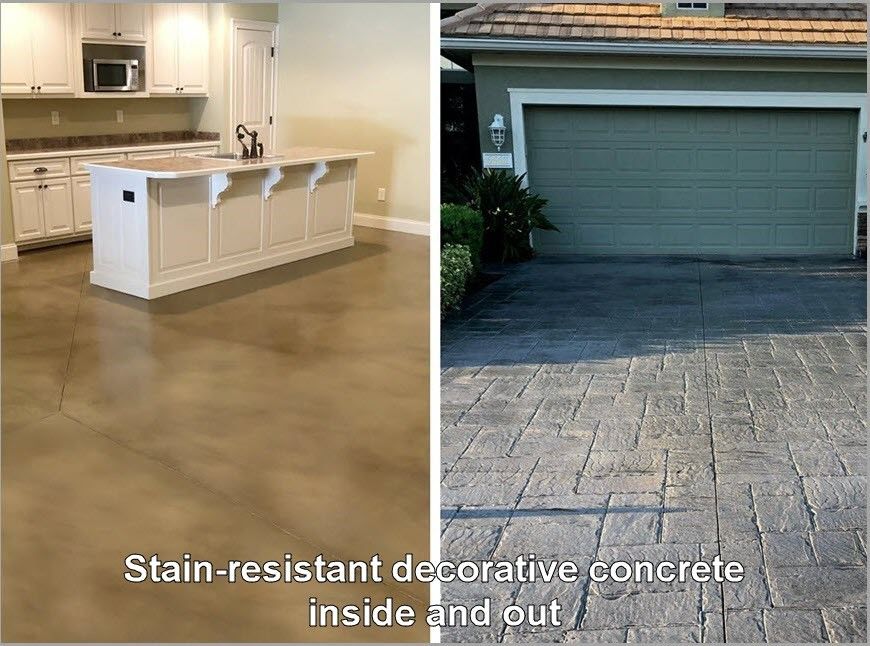 Stains cannot penetrate the sealed surface.
Oily and sticky substances are easily cleaned up with a damp cloth.
The continuous, sealed surface is texturized to look like real grouted stone.
Easy-care interior decorative concrete floors
Custom decorative concrete floors open up a world of design possibilities from stained concrete to faux stone and wood plank patterns. You can enjoy the beauty of cobblestone, tile, brick, hardwood planks, or reclaimed wood without the complicated cleaning requirements for the real materials. With decorative concrete, you can have different floor styles but only one cleaning regime to keep all your floors looking new. The non-porous, moisture-resistant sealed surface resists stains, spills, and dust, and inhibits the growth of mold, bacteria, and allergens so your home stays cleaner.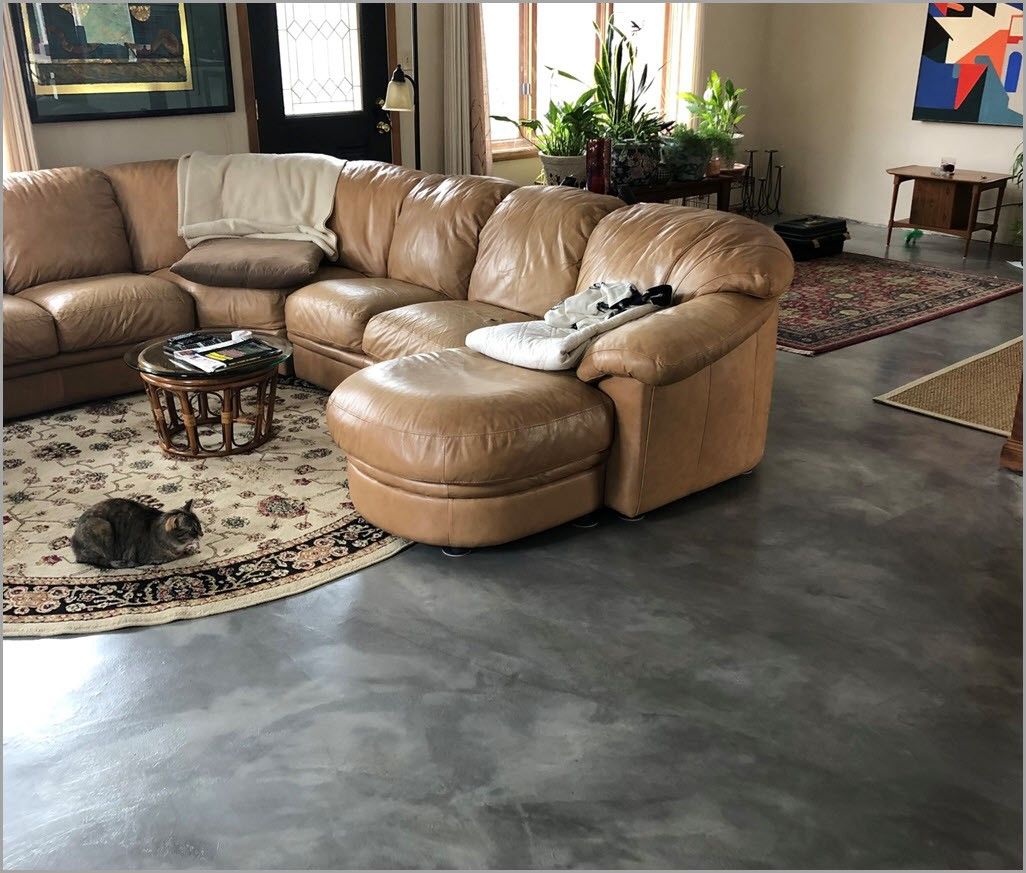 Regular dry dust mopping will keep your floors clean and shining. Your lifestyle (kids and pets!) will dictate whether this is a daily routine, once a week, or …?
Microfiber dust mops create static electricity to grab dust and dirt, removing it from the floor's surface, not just moving it around.
Swiffers are great for cleaning concrete floors with disposable dry sweeper pads or washable microfiber covers, and vacuuming is always an option.
Occasional wet mopping for a deep clean only requires a neutral-pH cleaner like mild dish soap; never use bleach, ammonia, or harsh detergents. (DIY solution: mix one-gallon hot water with one-quarter-cup liquid dish detergent.)
Low-maintenance exterior floors
Decorative concrete is also the solution for outdoor surfaces, requiring less maintenance than conventional surfaces like bare concrete, tile, brick, or stone that require ongoing maintenance. Stamped concrete and hand-cut resurfaced concrete overlays can provide the authentic look of elegant stone or rustic wood finishes, but with the durability and low maintenance of a sealed surface. Patios, driveways, walkways, and pool decks can be enhanced with custom designs that are resistant to weather, moisture, cracking, peeling, staining, and UV fading so you can focus on summer fun, not cleaning!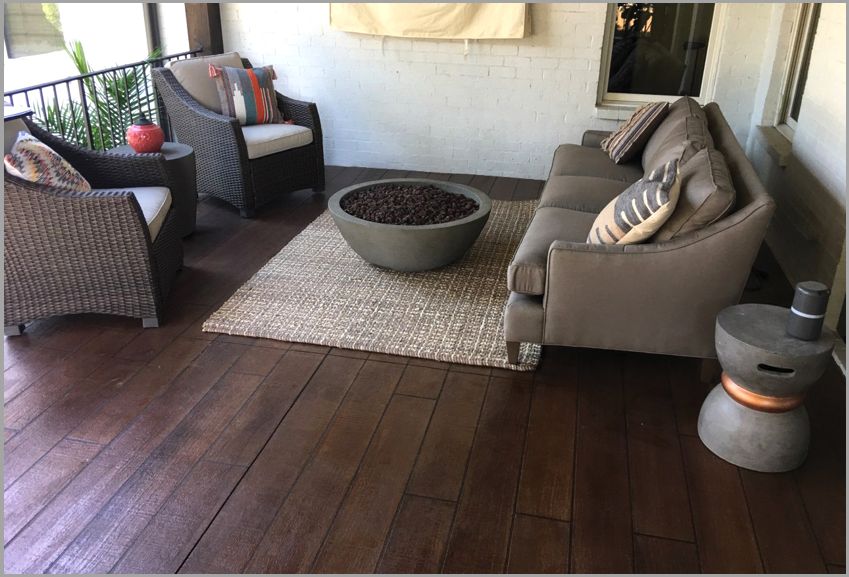 Decorative concrete finishes sweep clean of dust, dirt, and debris without clinging in cracks and corners like with regular concrete or stone.
Industrial-size dust mops or brooms (18" to 36") are ideal for driveways, patios, garages, or very large areas to make quick work of cleaning.
Exterior decorative concrete can be safely washed with a medium bristle push broom for especially dirty surfaces, or pressure washed with a mild detergent to keep them spotless.
The moisture-resistant surface prevents mold and bacteria growth from taking hold under outdoor furniture, planters, and rugs.
Durable, vertical concrete resurfacing
Vertical concrete resurfacing may be a new idea to you, but our exclusive vertical concrete overlays can be applied over brick, drywall, wood, and plaster to transform indoor and outdoor vertical surfaces into stylish faux stone or wood finishes. Outdoors, this could be a fireplace, chimney, seat walls, fountain, home siding, or pillars. For indoors, a fireplace surround, backsplashes, accent walls, and shower stalls. Have the look of real stone or wood throughout your home at a fraction of the cost of the real materials and without the maintenance headaches for stone and wood.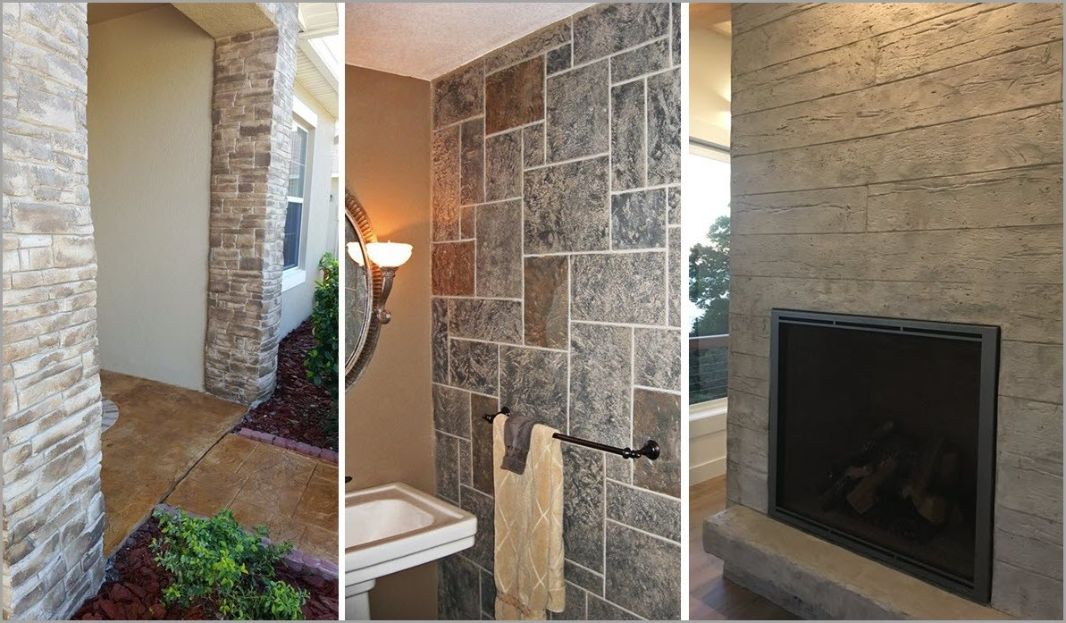 Vertical decorative concrete surfaces have an industrial-grade sealer that provides lasting beauty and easy cleaning because nothing sticks!
Shower walls and backsplashes wipe clean with a mild soap solution for heavy soiling and the moisture-resistant qualities keep surfaces drier.
Both in-home and outdoor faux stone and wood finishes won't crack, chip, lift or peel as can happen with pre-fab stone or wood veneers.
Don't let summer slip away while you're cleaning. Decorative concrete finishes from Concrete Craft will help your home stay cleaner with less effort, letting you focus on more important things like enjoying the great outdoors! Contact us today or go online to www.concretecraft.com to find the Concrete Craft location nearest you and request a free in-home or virtual* consultation to repair, restore, and enhance all your concrete surfaces with easy-care decorative concrete finishes. For peace of mind, we can provide this service remotely on your mobile phone or through a web conference—design, order, and schedule an appointment to install when the time is right for you.
*Virtual consultation may not be available at all locations.