How To Choose The Best Flooring For Your Home
Choosing new flooring is a decision that you'll be living with for a very long time so it's important to get it right. There are lots of things to consider since new flooring is a substantial investment and it will completely transform the look and feel of your home. Concrete Craft® professionals have helped thousands of people through the maze of selecting new flooring and are ready to help so you'll end up with the perfect floors that look good and feel good!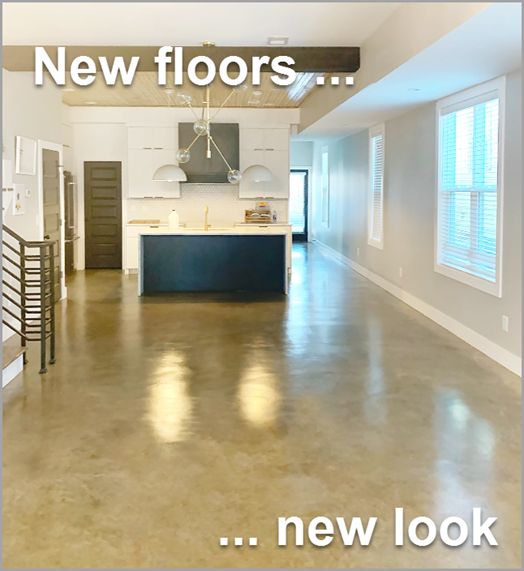 Live your best style
Most of us know what we like even if we can't put a name to it. Not sure if you're traditional, eclectic, country, or modern? Not to worry, you'll know what you like when you see it. Keep in mind your home's architectural style and interior color palette and feel free to investigate the myriad offerings of carpet, hardwood, tile, laminates, vinyl, and decorative concrete flooring that's available and see what sparks your interest. Eliminate what you know you don't like, such as high gloss finishes, grout lines or seams, heavily textured surfaces, dark floors/light floors, etc., and get down to the nitty-gritty of what you do like. Then spend time exploring the options for getting the floors you want, considering some essentials beyond just appearance such as durability, cost, and maintenance.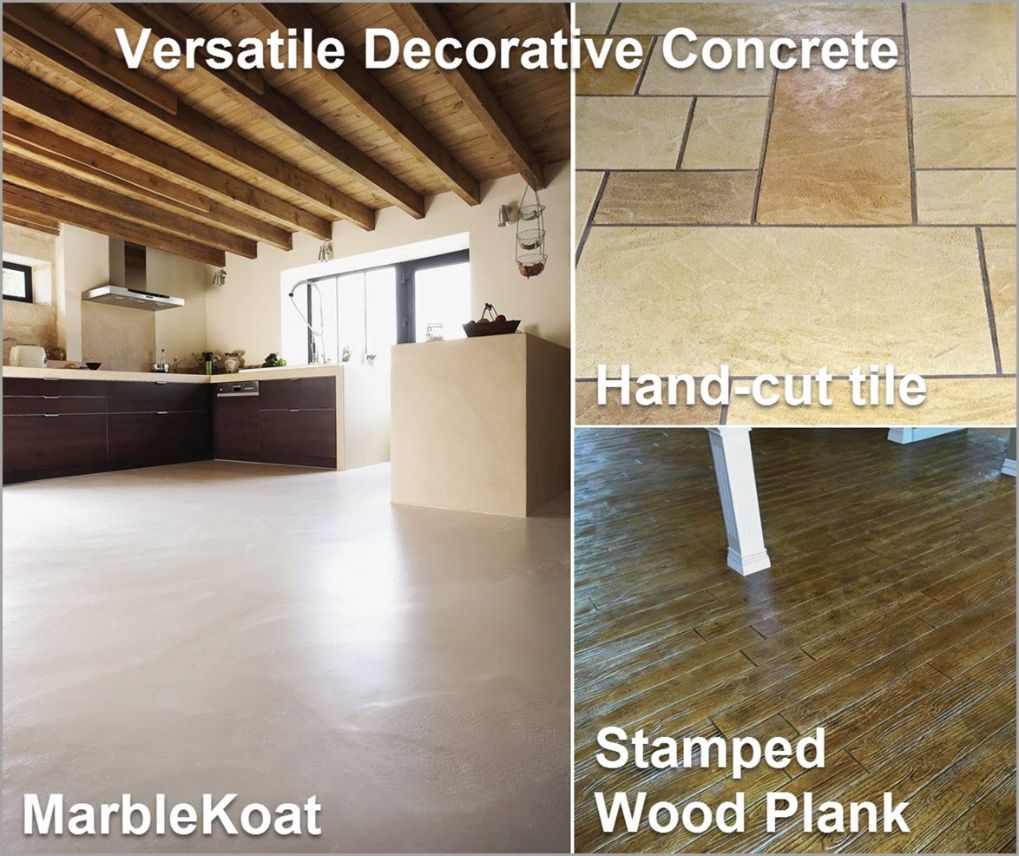 Choose one-floor style throughout to create a more expansive appearance.
Select several floor styles but adhere to the "Rule of Three" and see no more than three different flooring styles from any point in your home.
Popular faux hardwood can enhance any style depending on the color and texture you choose, from a smooth, classic finish to textured reclaimed wood.
Flooring options include carpet styles and hard finishes with sleek, smooth, high gloss, textured, matte, and satin surfaces.
Tiles range from tiny mosaics to grand oversized tiles; patterned or solid colors and textured or smooth.
Helpful hint: Custom decorative concrete floors can replicate the authentic look of wood plank designs, stylish tiles, brick, slate, marble, and granite for exactly the look you want. Show us your dream floor and we can create it with stained concrete, stamped concrete, and resurfaced concrete.
Durability you can trust
While the aesthetic is important, durability is vital! A beautiful floor that deteriorates with everyday use isn't going to be a valuable addition to your home. Lots of things can impact a floor's durability from its manufacture to local climate and level of use. As you consider flooring options, you should factor in what you need from your floors and the environment they'll live in. Do your floors regularly take a beating from non-stop activity with kids, pets, cooking, tracked-in dirt, and rainy weather? Not all floor finishes are created equal, and you need to check the durability of the flooring styles you like and see how they stack up to your family's lifestyle.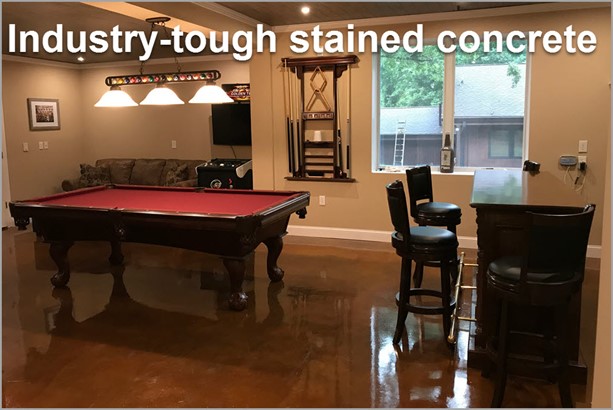 Damp and humidity will shorten a floor's lifespan; hardwood warps, carpets mildew, and tile grout crumbles.
Tiles can crack and the edges chip from impact, including dropping things, moving furniture (dining chairs), and heavy activity.
Pets' nails can fatally scar wood plank flooring and damage other finishes.
High-traffic kitchens need flooring that can handle moisture as well as repel spills and stains.
Helpful hint: Decorative concrete finishes resist moisture, stains, chips, and cracks with a seamless design that integrates simulated grout lines and wood grains, and the entire surface is treated with our industry-tough sealers to protect and strengthen the finish.
Costs you can live with
Undoubtedly you will begin your flooring search with a budget in mind. However, you may discover that the new flooring you like has costs beyond just the actual floor covering price that wreaks havoc with that budget. In many instances, installation costs can equal or even exceed the materials' cost for some tile and wood plank options, and carpet padding "pads" cost considerably. Many types of flooring can require purchasing 10 percent more than the square footage to allow for fit and cut issues and future damage replacement so, to accommodate overall cost, you may find yourself having to settle for a lesser floor than you wanted.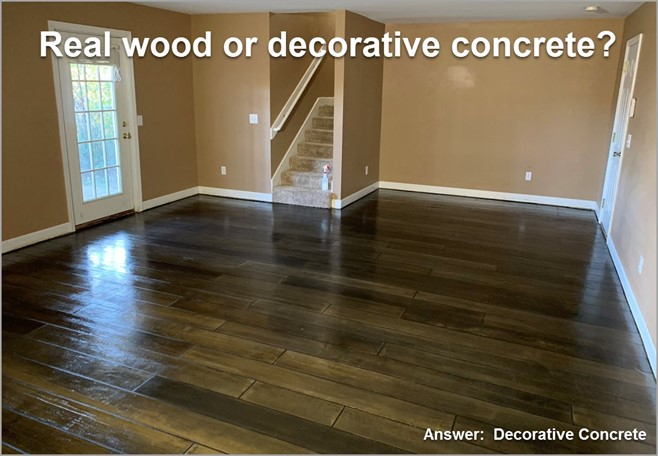 Tile size directly impacts cost; smaller tiles are cheaper, but installation costs are high due to more tile to lay and cut.
Intricate patterns in wood or tile design will cost more.
Make sure any cost estimate includes removal of the existing floor and subfloor preparation or underlays for the new floor.
Replacing flooring is a major expense, so compare the "life expectancy" of different styles and get the most durable, long-lasting floor you can.
Helpful hint: Concrete Craft's proprietary processes of resurfacing, stamping, stenciling, and custom concrete stains put every floor style within reach, at about half the cost of the real materials. It's probably the last floor you'll ever buy. Cha-ching!
Maintenance
Once your beautiful new floors are in, you'll want them to stay that way, so maintenance requirements are key to selecting a flooring style. You may find there's a certain finish you love but its care is beyond what you're willing to do, including special equipment and cleaning supplies to maintain it. Since there are no self-cleaning floors, you should select a style that is easy to clean and maintain. This is not just getting rid of normal dust and dirt, but ongoing maintenance if the material is prone to stains, scratches, cracks, and damage requiring replacement. Additionally, what works in one room may not work in another so, if you're installing multiple flooring styles, consider what maintenance is required across all floors.
Scratched or stained wood floors can require refinishing in total or in damaged sections.
Carpets can absorb permanent stains and smells and harbor allergens like dust and pet dander.
Most tile has grout and no matter how nice the tile looks, ugly, stained grout can ruin the effect.
Tile that is scratched, chipped, cracked, or discolored will probably have to be replaced, which often means pulling up the tiles around it, risking damage to those tiles, too.
Helpful hint: decorative concrete floors are low-maintenance and easy-care, requiring a dust mop and occasional wet mopping to keep them looking like new for decades. If highly trafficked areas start to show wear over time, simple resealing will restore the finish.
Rely on the experts
Concrete Craft can make new floor selection a very positive experience by becoming your one-stop shop for all your flooring needs. We take pride in helping people transform their homes into beautiful, extraordinary living areas with decorative concrete floor designs that can replicate any flooring style at a cost guaranteed to make you smile. You get an innovative design, exceptional quality, and professional installation of the most durable floors you can have!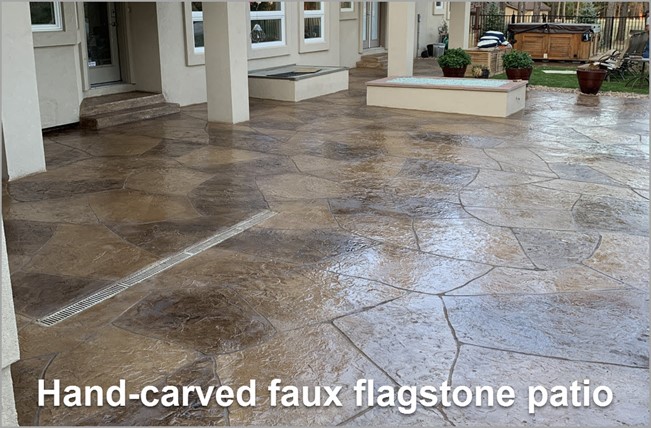 Contact us today or go to www.concretecraft.com to find the Concrete Craft location nearest you and request a free in-home or virtual* design consultation to talk flooring, interior floors as well as outside surfaces like patios, driveways, walkways, pool decks, and porches. Learn more about the many options for decorative concrete transformations, including vertical concrete resurfacing and concrete repair by viewing our online catalogs:
*Virtual consultation may not be available at all locations.