How to Clean and Care for Your Concrete Floors
For most of the country, school is out and summer is in full swing. This means that your floors are going to have increased foot traffic with the kids running in and out, their friends stopping by, and pets delighted to have their best buds around all day. Kids and pets go together like peanut butter and jelly or bacon and eggs and, as we all know, "the more the messier!"
Whether home is the sandy stretches of beach in Fort Myers, Florida, or the green, rolling hills in the Bluegrass region in Lexington, Kentucky, the busy-ness of summer tracks in sand, dirt, grass, pollen and anything else that can stick to feet and pet fur. Additionally, summer treats like juicy watermelon, ice cream filled waffle cones, and ice-cold drinks can all find their way to your floors.
But summer doesn't have to be a worry-fest about keeping your floors clean if you have beautiful, easy-care stained, stamped or resurfaced concrete floors from Concrete Craft™ . The durability and trouble-free maintenance of concrete ensures that the summer fun never stops, whether indoors on basement or family room floors, or outside on patios, pool decks and driveways.
Beautiful, durable solutions
Stained, stamped and resurfaced concrete floors all have the same utility, durability, and ease of maintenance. For interior surfaces, dry dust mopping and occasional wet mopping of the floor is typically the only routine upkeep needed to avoid dirt buildup. This stamped and resurfaced kitchen floor in a traditional brick pattern can easily be kept clean no matter how many snacks and meals are prepared, consumed or spilled.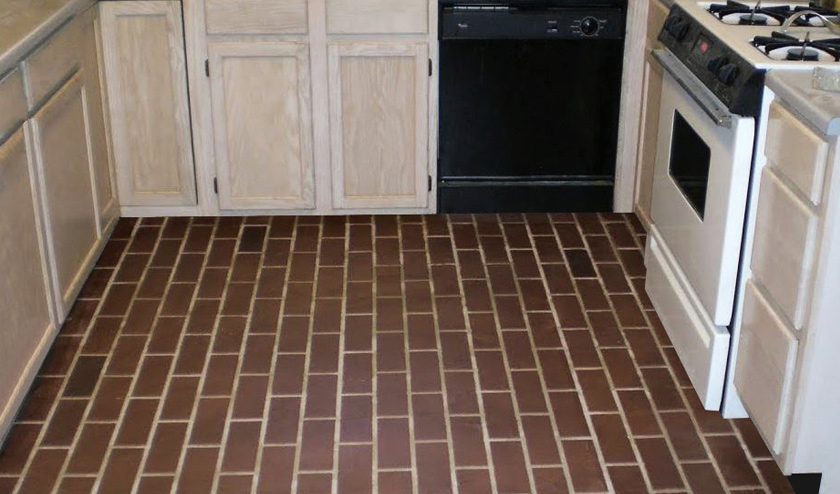 Exterior surfaces like patios, walkways and driveways can be pressure washed or scrubbed with a medium bristle brush and a mild, neutral-pH cleaner. Even after a big summer barbeque, this stamped random stone patio can be cleaned with a quick sweep or hosed off in minutes, ready for the next activity.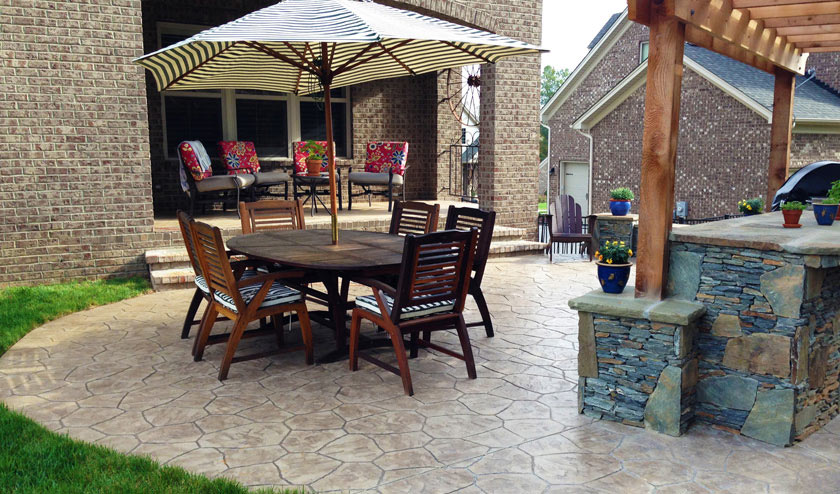 The industrial-strength sealers that are the finishing touch on all Concrete Craft stained, stamped and resurfaced concrete floors resist moisture, stains and abrasions, as well as making the surface stronger and blocking penetration of dirt, chemicals, oil, grease, moisture and other substances. Even a five-alarm chili or red wine spill will wipe right up without leaving a trace. Tracked in dirt or sand will not mar the surface of your floors, and neither will baseball cleats, pet claws or a lively dance party. Concrete floors are tough enough for whatever activities fill your summer days and nights!
Preserve and protect your concrete floors
It's true that concrete is one of the toughest flooring products around, but it is not indestructible. Especially outside hardscapes that endure years of intense weather conditions can begin to show some wear from burning sun, freezing cold, dry winds, rain storms, snow and hail. And driveways, with the daily use of heavy vehicles, take a real beating.
There are some things you can do to preserve the life and appearance of your concrete surfaces, including both indoor and outdoor stained, stamped and resurfaced concrete.
Wipe up spills as soon as they happen.
Don't let dirt and debris pile up in corners and under furniture.
If a surface begins to dull or lose its sheen over time, recoating will restore the luster. We recommend resealing every 18-24 months, or as needed if your surfaces receive extreme use.
Interior stained concrete floors benefit from a good floor wax. This stained entryway will never lose its shine with just an occasional waxing.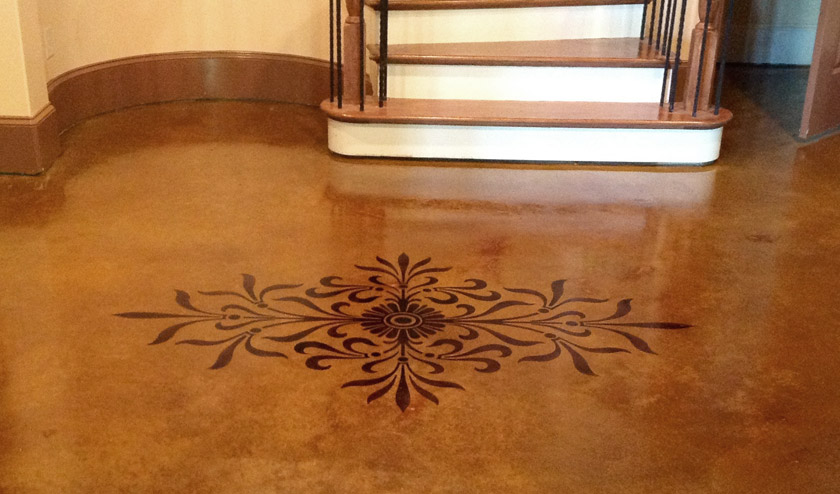 Don't lose another minute of summer to cleaning your floors, patio or driveway. Quicker than you would imagine, Concrete Craft's premier concrete artisans can resurface your floors to look like polished marble, real stone, tile, wood plank, brick, slate, Flagstone and more. Call 866-813-3699 today or go online to www.concretecraft.com to find the Concrete Craft location nearest you and request a FREE estimate.
Our realistic stamp patterns, custom hand-cut and colored overlays and the wide range of acid-based chemical and water-based acrylic stains create stunning effects, guaranteeing that your new floors will be unique and beautiful …and so incredibly easy to maintain! Check out our online photo galleries for interior floors, patios, driveways, walkways, pool decks and garage floors, as well as commercial spaces and vertical surfaces that can be enhanced with stained, stamped and resurfaced concrete.