How to Clean and Maintain Decorative Concrete Floors
If you already have decorative concrete floors or are considering making the switch, how to care for decorative concrete floors is of immense interest. How exactly do you preserve and maintain them? The short answer is … very easily! But for a more comprehensive answer, here are some tips from Concrete Craft® for keeping all your interior and exterior decorative concrete floors clean, shining, and beautiful for decades.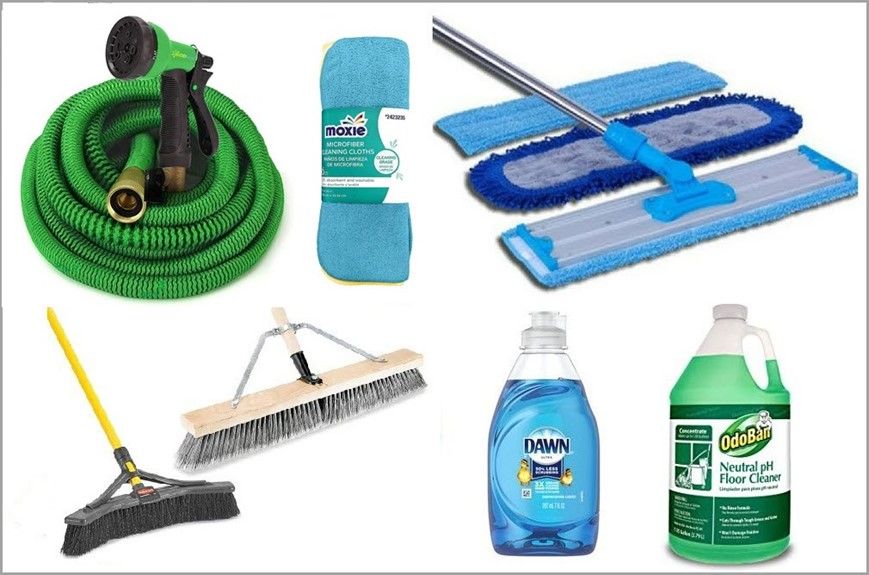 Decorative concrete floors require a very small arsenal of cleaning products to keep indoor and outdoor surfaces clean and sanitary
The non-porous, continuous sealed surface on stamped, stained and resurfaced decorative concrete floors has an industry-tough finish that makes maintenance a breeze. The sealed surface creates a durable barrier to moisture, dust, and dirt, so you'll spend less time cleaning your floors and way less money on specialty cleaning products required for other kinds of flooring. Both indoor and outdoor decorative concrete floors have qualities in common that make them low maintenance:
Finishes repel spills of all kinds, including food, drink, auto fluids, oils, and chemicals.
Sealed surfaces don't trap dust, dirt, mold, bacteria, and allergens so floors stay cleaner.
Finishes are stain-resistant so nothing will stain or mar the concrete floor.
Cleaning interior decorative concrete floors
Interior floors experience all that life has to offer, including people, pets, cooking spills, eating messes, water, impact, and myriad other mini attacks to the finish. Decorative concrete floors come in many styles from stained concrete to stamped faux stone and wood designs and artistic finishes like MarbleKoatTM, and they can all be kept clean with a dust mop and occasional wet mopping to keep them looking like new for decades. With decorative concrete, you can have the look of high-end finishes or different styles in every room with only one cleaning regimen.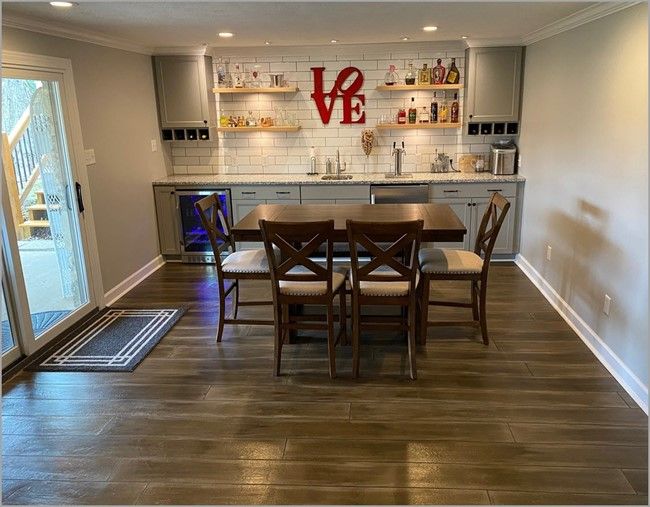 Enjoy the beautiful look of hardwood flooring without all the extreme measures to keep wood floors intact
Wipe up spills as they happen with a clean wet or dry cloth depending on the spill.
Regular dry dust mopping or vacuuming will keep your decorative concrete floors clean and dust-free.
Microfiber dust mops create static electricity that grabs dust and dirt, removing it from the floor's surface, not just moving it around.
Occasional wet mopping for a deep clean only requires a neutral-pH cleaner like mild dish soap; never use bleach, ammonia, or harsh detergents. (DIY solution: mix one-gallon hot water with one-quarter-cup liquid dish detergent.)
Mop the entire floor in sections, rinsing the mop as you go.
Wring the mop as dry as you can so no puddles form on the floor.
Swiffers ® are great for cleaning concrete floors with disposable dry sweeper pads or washable microfiber covers.
If highly trafficked areas start to show wear over time, waxing or resealing will restore the finish.
Maintaining exterior decorative concrete floors
Exterior surfaces have the additional threats of hot, cold, wet, and dry weather to impact their finishes. The good news is that our decorative concrete finishes can withstand anything Mother Nature can dish out without damaging your beautiful outdoor floors! The tough sealed surfaces resist chips, cracks, peeling, and color fading while repelling moisture, dust, dirt, mold, and bacteria.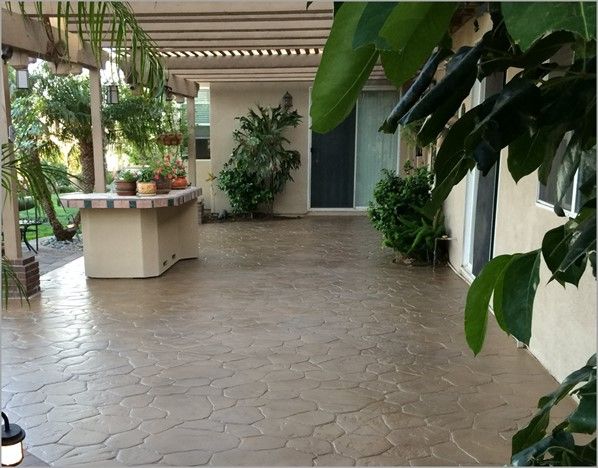 Outdoor surfaces will look like new for years with minimal maintenance required
Nothing sticks to the surface, so a broom will keep your outdoor floors clean.
If heavily soiled, use a neutral-pH cleaner with a medium-bristle push broom or a pressure washer to keep your outside surfaces spotless.
A mild, biodegradable detergent won't harm your lawn and plants from water runoff.
After heavy rain or hosing off, brush away excess water so the surface can dry quickly.
Industrial-size dust mops or brooms (18" to 36") are ideal for large areas like driveways, patios, or pool decks to make quick work of cleaning.
The moisture-resistant surface prevents mold and bacteria growth from taking hold under outdoor furniture, planters, and rugs.
If the finish starts to dull or show wear in highly trafficked areas after a few years, resealing will restore it to like-new condition.
You never have to spend time removing grass or weeds from the faux grout lines of decorative concrete stone or tile designs.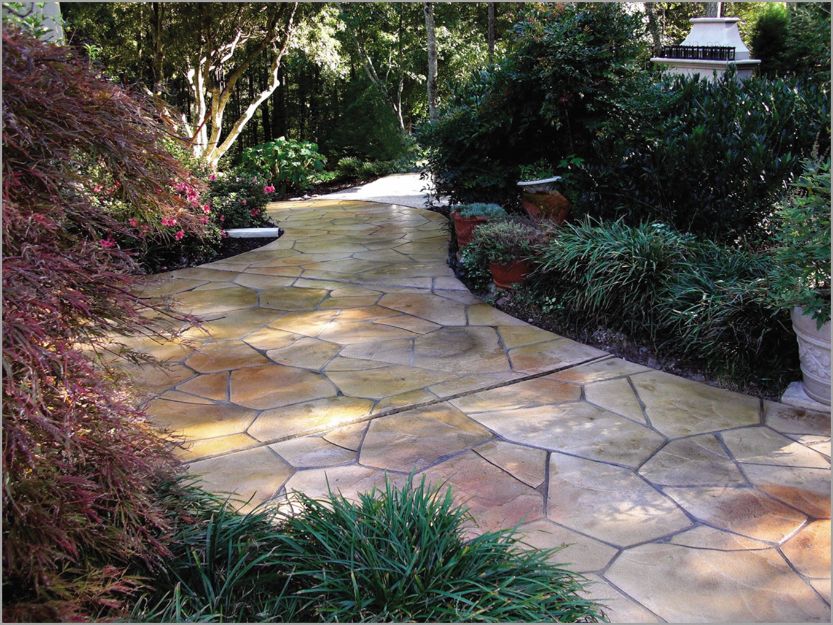 Decorative concrete faux stone designs don't require the ongoing maintenance of real cobblestone or flagstone
Easy-care decorative concrete indoors and out
Decorative concrete floors let you invest less time in cleaning and more time just enjoying your home. Contact us today to find the Concrete Craft location nearest you and request a free in-home or virtual* design consultation to see if stylish decorative concrete floors are your next home improvement project! There's no limit to the colors and styles available to update your home with low-maintenance decorative concrete floors. You'll love the beautiful finishes, the durability, and the time saved cleaning.
*Virtual consultation may not be available at all locations.