How To Cozy Up Your Patio With Seat Walls and Fire Pits
Patios can be constructed from various materials, making the design process extremely versatile, whether attached or detached from your house. The versatility of patio design enables the construction of nearly any shape or size patio to meet the specifications of the chosen site.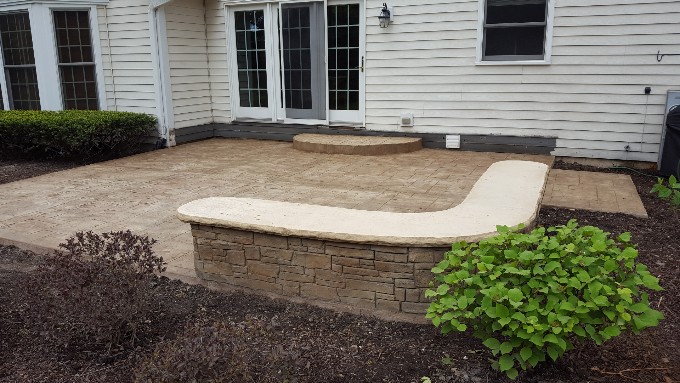 An outdoor concrete patio adjoining your house provides additional living space that often becomes an outdoor living room or entertaining area. Designed to complement your home's architecture, landscaping, and lifestyle, a well-planned patio can become a personal sanctuary, a place for the kids to play, and the perfect setting for entertaining guests.
Planning Your Patio
There are several factors to consider when designing your patio, and carefully assessing your patio ideas will ensure that the finished patio meets your needs and expectations. While the options are nearly endless, it is critical to consider your lifestyle, what you enjoy doing, and how you plan to use your patio.
Before you start construction, ask yourself the following questions:
Will you be entertaining?
If you tend to be the host for friends and family events, be sure to consider how many people you typically entertain. The answer will give you insight into the patio's size and the kind of seating and furnishings that best meet your needs.
Are you trying to create a personal sanctuary?
Depending on your needs and desires, it is possible to develop various small intimate spaces in your yard that can be the perfect spot to relax and recharge, rather than one large patio.
Will young children be using the space?
Open patio spaces can be the perfect spot for a children's play area. Since a patio is built on the ground, there is little safety risk for children or adults.
In addition to how you will use the patio, consider the aesthetics, such as seating options, accessories, and the finish you prefer. You can build your patio from various materials, enabling you to design it to meet your unique taste. While a concrete pad is one of the most stable patio construction methods available, there are options to a plain concrete slab.
Stamped concrete is a cost-effective way to elevate the appearance of your patio to the exquisite look of expensive granite, slate, or other natural stone products. Stamped concrete turns your concrete patio slab into a durable, easy-to-care-for surface that adds beauty to your outdoor living area. In addition to traditional stone looks, stamped concrete can also mimic the look of classic bricks or wooden planks.
If you have a patio that needs a makeover, concrete resurfacing can completely transform the look of your patio. Resurfaced concrete patios use a specialized rubber polymer that chemically bonds to your existing slab. As a result, resurfaced concrete patios are resistant to UV rays and can withstand extreme temperature fluctuations. In addition, resurfaced patios can mimic the look of old-world stone or wood planks and can dramatically change the look and feel of your patio.
Stained concrete is another great option for improving the appearance of both new and existing concrete patios. Staining is an economical and versatile process with a nearly endless range of color and design possibilities. In addition, a stained patio can remain beautiful for years and requires very little maintenance because it is resistant to mold, gouging, and water damage.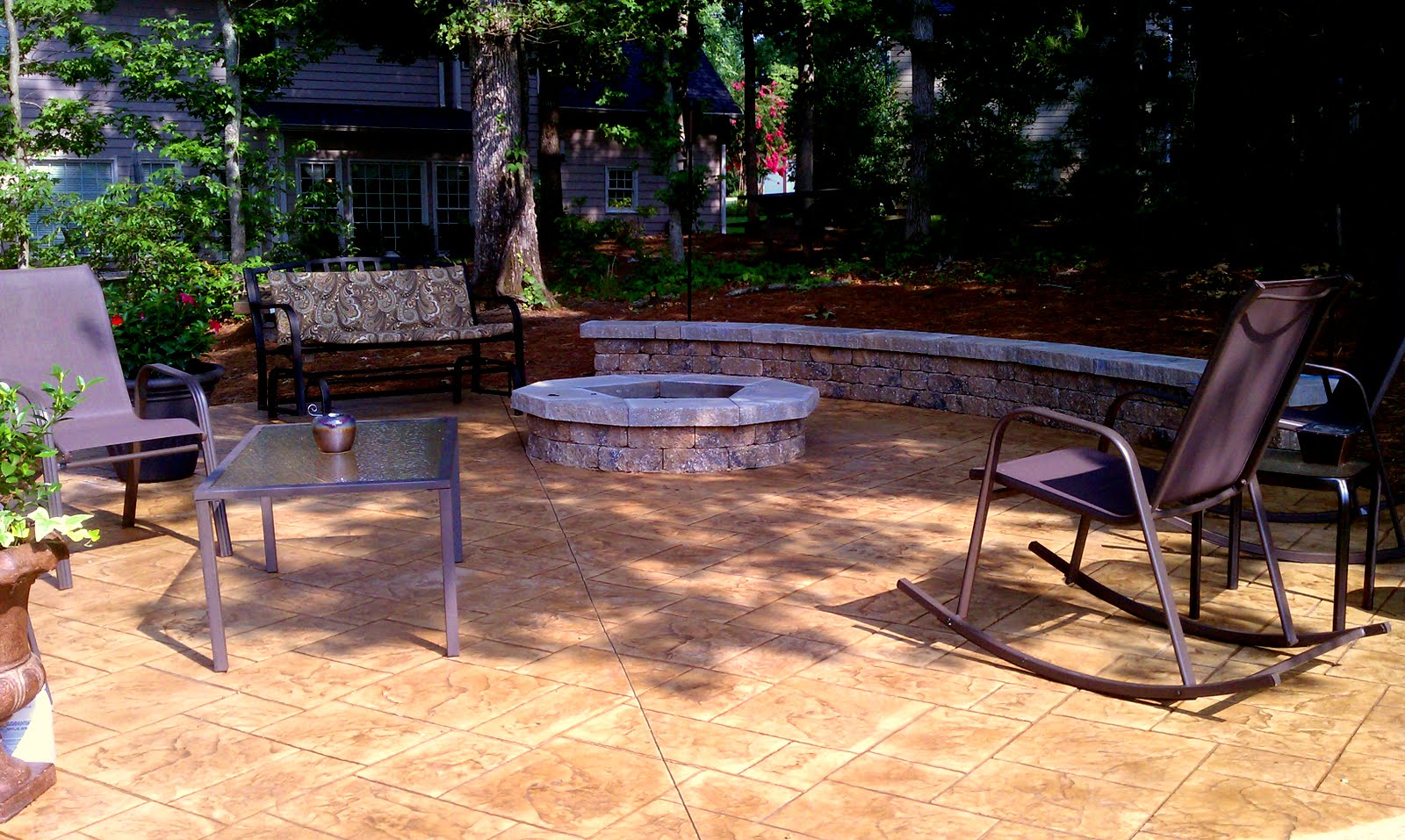 What are the benefits of seat walls?
Adequate seating is critical to the functionality and usability of your patio. One of the most effective ways to ensure you have enough seating available for your guests is by integrating seating into the overall design of your concrete patio. Integrated seating will complement the appearance of your patio, and its durability means you'll save money rather than continuously buying and replacing worn outdoor furniture.
One of the simplest and most inexpensive ways to incorporate seating for your patio is the use of concrete seat walls. Seat walls can be straight or curved, freestanding or used as part of a retaining wall, and finished to match your patio.
Concrete seat walls can be used to add seating around a fire pit or as a border to help define your outdoor space. In addition, they can add safety to a patio, keeping people from accidentally stepping down a slope by emphasizing the unique symmetrical design of the patio. When integrated into the patio design, concrete seat walls can provide a large amount of permanent seating without sacrificing space.
Why should I consider a concrete fire pit?
A concrete fire pit is an economical option for elevating the appearance and enhancing the usability of your patio. A concrete fire pit becomes a focal point of your outdoor living space and can be surfaced to match other elements and designs of your patio. In addition, a concrete fire pit can add to the functionality of your patio, providing warmth on cool days or evenings, as well as providing ambiance for late-night gatherings. And don't forget, the flame from a concrete fire pit is also handy for making tasty treats like roasted hot dogs, toasted marshmallows, and s'mores.
Is it difficult to clean or maintain seat walls and fire pits?
One of the best features of a concrete fire pit and integrated concrete seat walls is the ease of maintenance. Concrete is very resistant to extreme weather conditions, and staining, warping, or cracking is rare. When cracks do occur, the repair is reasonably easy and quick. When it comes to cleaning your concrete seat walls and fire pit, an ordinary garden hose is typically all that is required. Simply hosing off the surface with a spray nozzle will keep the surface looking fresh and new.
Contact the experts at Concrete Craft
The addition of concrete seat walls and a concrete fire pit is the perfect way to improve the functionality and appearance of your patio. By integrating these components during construction, you can create a patio that expands your living space and sets your home apart from others in the area. In addition, a well-thought-out and designed patio adds to your home's curb appeal and increases its value.
At Concrete Craft, our team of professional craftspeople takes pride in providing our clients with the highest quality products possible. Our unique talents combined with our proprietary products and techniques have made us leaders in the industry. To learn more about how you can cozy up your patio with concrete seat walls, fire pits, and other patio ideas,contact us today and schedule a free consultation.