Ignore the Winter Cold with a Game Room in the Basement
With cold weather driving everyone indoors, a house can suddenly seem smaller with more people and more activities jockeying for space.
Non-stop TV or video games can disturb the entire household.
Banishing everyone to their rooms isn't always possible.
Sending the kids out to play in freezing weather isn't a viable option.
Teens and toddlers need separate space to play.
The solution may be right under your nose … turn the basement into a game or rec room and create a fun zone where exuberance and noise are welcome.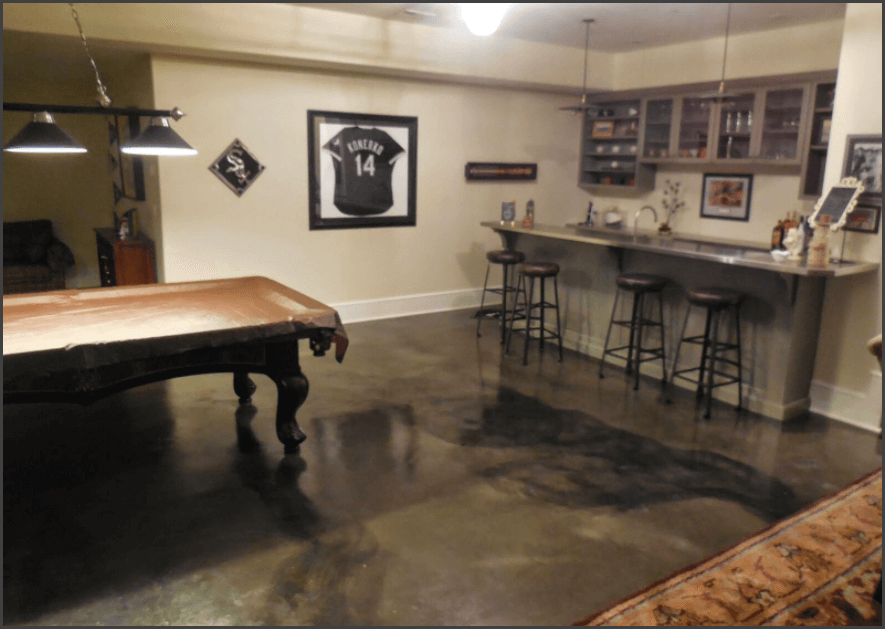 An indestructible floor from Concrete Craft®
A decorative concrete floor from Concrete Craft will be the best foundation you can have for a game room. Our sealed floors are industry-tough to resist chips, cracks, and peeling, so you don't have to worry about the finish being damaged. Spills wipe right up with a cloth, so there's no need to panic if a drink or food gets spilled.
Stained concrete is the most economical finish for concrete floors. You can choose from practically unlimited color choices with results that mimic beautiful polished marble to natural stone. Stain lets the character of the concrete show through, so for a floor in good condition, staining may be all you need.
Stamped concrete uses rubber stamps of "real stone" molds to replicate the look of brick, slate, stone, tile, and wood plank designs, pressed into a concrete overlay that hides imperfections in the floor.
Resurfaced concrete involves a concrete overlay that is hand-cut and custom-colored to give the authentic look of flagstone, cobblestone, Ashlar slate, Roman slate, and more. Each stone is individually cut and colored for a natural look.
Even if your basement floor is cracked and unsightly, the surface can be repaired, a moisture barrier applied if dampness is an issue, and a concrete overlay installed to create a fresh, new surface that can be custom stained, stamped, or hand-cut to exactly the look you want. Every Concrete Craft floor resists moisture and prohibits the growth of mold or bacteria for an allergen-free floor that is safe and easy to keep clean. A quick swipe with a dust mop will keep the game room always ready for action.
The highly-functional game room
If your basement was never completely finished off, you may require more than a new floor to transform it into a safe and functional game room for your family. The walls and ceiling may need insulation, drywall, and paint to complete the room. Other considerations are temperature, lighting, and sound control.
Overhead lighting will ensure the whole area is brightly lit, either track lighting or chandeliers over game tables.
Power is important, and if media is a big part of your game or rec room, make sure you have adequate electrical wiring and wireless network access to handle everything.
A faux fireplace or space heaters can cozy up the room if it has cold spots. Blankets and throws are another way to make the space more comfortable.
Rugs will help to absorb noise as well as add an element of warmth, and cork boards on one or more walls helps with soundproofing, making the room quieter.
Add a snack bar and drinks fridge for less trips upstairs.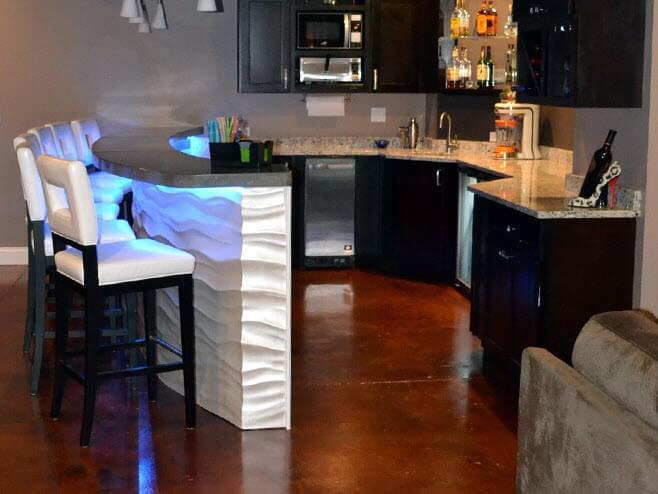 Set up zones
Customize your space according to your family's interests: pool table, foosball, air hockey, ping pong, darts, board games, or video gaming. You may even want an area that can be easily cleared to serve as a dance floor. Classic board games bring people together around a table for direct interaction. Having a variety of games will eliminate the age-old whine, … there's nothing fun to do …
Board games require tables and chairs.
Video gamers need comfortable seating like couches and chairs or, for the ultimate gaming experience, get specialty gaming chairs, wired for sound and vision.
Folding tables and chairs that stack out of the way are an option for having extra game space when required.
Storage ottomans can serve as seating as well as storage for throws, pillows, or toys.
If a TV or music is part of your game room, an entertainment center can safely organize all the games and equipment you need.

A basement game room is a great idea for everybody, kids and adults alike, providing additional space for the activities your family enjoys. In addition to everyday use as an expanded living space, it can become the perfect space for parties and entertainment.
On Super Bowl Sunday it can become Dad's Man Cave to host a rousing Super Bowl Party.
On birthdays, the kids can commandeer the room for a birthday party with all their friends.
Ladies-night-in can give Mom's book club or crafters space to relax while being totally separate from the rest of the family for a few quiet hours.
If you'd like to transform your basement into a very usable space for your family, talk with the professionals at Concrete Craft and see what they can do for you to capture that valuable space. A new decorative concrete floor is the first step to making your basement as stylish and beautiful as the rest of your home. Contact us today or go online to www.concretecraft.com to find the Concrete Craft location nearest you and request a FREE design consultation and estimate. Check out our digital Interior Design Guide to see the many ways we can enhance all your interior floors with versatile, beautiful decorative concrete.