Is A Polished Concrete Floor Cost Worth It? Spoiler … It Absolutely Is!
Polished concrete is one of the many decorative concrete floor finishes that are currently in vogue with homeowners and business owners due to the versatility and beauty they provide. Polished concrete can transform an existing concrete floor into a work of art, without adding any additional product, waxes, or other topical coatings. Polishing can also be used in conjunction with concrete stains to achieve desired color effects. Either way, polished concrete hits the sweet spot for durability, shine, and cost savings for impressive new floors!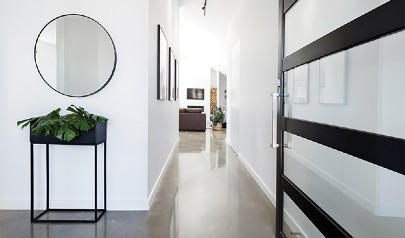 Polished concrete reflects good taste with understated elegance for exquisite, modern urban industrial home design
If polished concrete is a new concept or you'd like to know more, Concrete Craft® offers three levels of information to help you determine if polished concrete is your best flooring solution to update your home with unique style and personality:
The Science
The Practicalities
The Elegance
The Science: What does polishing the concrete do for your floors?
If you're looking down at a plain gray concrete floor, it may be difficult to envision it as a thing of beauty. But the process of creating a polished concrete floor does take an uninspiring concrete floor to new heights of durability and beauty that you'll love!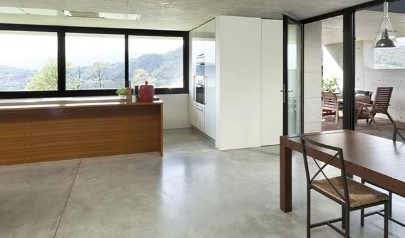 No need to cover up your concrete floors with tile or carpet, transform them into a modern style statement with polished concrete finishes
Mechanically grinding the floor removes the top surface of the old concrete and polishing makes it harder and stronger than regular concrete, increasing its impact and abrasion resistance.
Polished concrete is harder and stronger than other floor finishes and creates a more slip-resistant surface for added safety.
Polishing transforms a porous concrete floor to repel oil, water, and other contaminants.
No VOCs (volatile organic compounds) mean an eco-friendly and environmentally sustainable floor since polishing requires no new product creation that eats up natural resources.
There is no downtime since there are no chemical processes to cure.
Because polished concrete does not have a coating it will not chip, wear, or deteriorate.
Polishing can be done to an existing slab in good condition or have a concrete overlay applied that can then be polished to hide underlying slab imperfections.
Concrete stain colors can be integrated with polishing to create intriguing designs and patterns.
The Practicalities: Everyday benefits of polished concrete floors
Imagine not having to worry about usual floor concerns like the spills, stains, scrapes, and scratches that plague tile, wood, and carpeting from everyday use. With polished concrete, you'll be able to relax and enjoy your home more with practically indestructible flooring!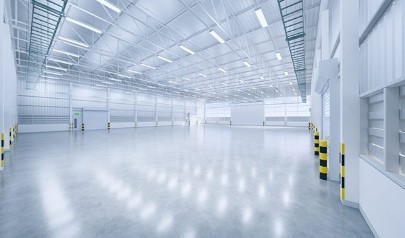 Polished concrete's high luster contributes to improved lighting for both residential and commercial spaces
One-time application with minimal ongoing maintenance, floors are maintained by regular dry dust mopping and occasional wet mopping with a gentle, neutral-pH cleaner like Dawn dish soap.
The durability of polished concrete gives decades of high-quality floor performance, saving you money and the inconvenience of having to replace lesser floor coverings.
Due to its water resistance, polished concrete is compatible in rooms where moisture or humidity can be a problem like kitchens, bathrooms, and laundry rooms.
Stains and spills clean up with a damp cloth since nothing sticks to the surface.
Less cleaning time gives you more free time, and your floors still look like new.
High reflectivity and improved ambient lighting can help to reduce the cost of energy bills.
Polished concrete floors result in better air quality with easy to clean surfaces that resist dust and dirt buildup, mold, and bacteria growth.
Polished concrete is less expensive per square foot than carpeting, tile, wood, or any other type of floor covering.
The Elegance: Polished concrete is the perfect foundation for any home style or décor
More homeowners than ever are beginning to look to concrete flooring for its simple, clean appearance and understated elegance.
Polished concrete with saw cuts creates the luxurious look of high-end polished marble tiles
Polished concrete is the ultimate high-luster, no-wax flooring option.
You can choose your desired degree of shine and smoothness for exactly the look you want to achieve.
Integrate color or custom designs and patterns with UV-resistant concrete stains.
Polished concrete floors can replicate the look of high-end flooring like marble, terrazzo, granite, and porcelain tile.
Polished concrete is compatible with any decorating style from traditional and classic to ultra-modern and industrial chic.
Is polished concrete for you?
If you're sold on polished concrete floors, the professionals at Concrete Craft are ready to make your dream floors a reality. Call 888-852-9244 today or go online to www.concretecraft.com to find the Concrete Craft location nearest you and request a free in-home or virtual* consultation to learn more about our polished concrete options to revitalize your floors:
Polish – For a more natural, high-luster finish with less maintenance and longer service life.
Grinding and Sealing – A higher level of shine and more stain resistance at a lower cost.
Grinding plus Staining or Dyeing and Sealing – Customize your concrete with beautiful color from our library of color stain options. For both indoor and outdoor applications.
*Virtual consultation may not be available at all locations.
For flooring trend updates, follow us on Instagram and like us on Facebook.