Polished Concrete Versus Terrazzo: Which Is Best For You?
Concrete Craft® artisans take great pride in being able to replicate just about any stone or rock with custom decorative concrete flooring as well as vertical concrete resurfacing. With our exclusive MasterProTM Finish products, including custom concrete stains, stamped concrete, polished concrete, and resurfacing systems, we can create faux stone finishes that look like real flagstone, cobblestone, slate, marble, granite, brick, tile, terrazzo, and more. It's not unusual for our clients to be amazed at the realistic results they get for fabulous faux finishes of high-end stone and rock flooring at a fraction of the cost of the real materials. If you like the look of terrazzo floors, see how polished concrete compares before you shell out the big bucks!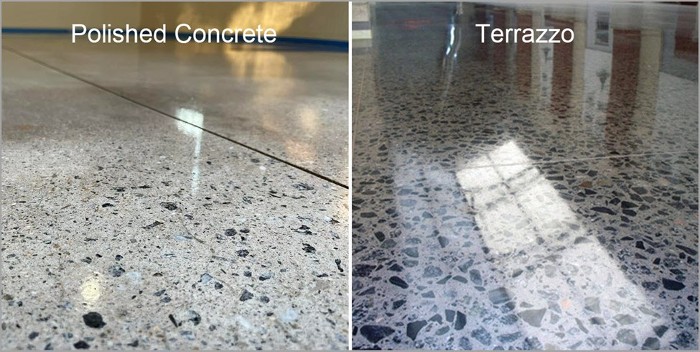 Although polished concrete and terrazzo share similar features and can look very much alike, there are differences to take into consideration
What is terrazzo flooring?
Terrazzo is a type of surface with a distinctive look that incorporates pieces of aggregate in a cement or an epoxy base. The aggregate can be virtually any material, with glass, stone, and marble chips most common. The floor can be poured like cement, applied as a thinset coating of an epoxy/aggregate mix, and then ground and polished to a smooth and shiny finish. Terrazzo can create any design, with the option to pick any color or decide to include an intricate logo design or pattern. Terrazzo is also available as pre-cast floor tiles. Its durability makes terrazzo flooring appropriate for indoor residential or commercial as well as outdoor surfaces.
What is polished concrete?
Polished concrete is a process of mechanically grinding an existing concrete floor to remove the top surface, including going deep enough to expose the aggregate which gives polished concrete the terrazzo look. Going from coarse to very fine, diamond technology grinders and polishers create a harder and denser surface than regular concrete without adding a coating or sealer. For concrete in poor condition, a densifier can improve the hardness, or a resurfacing concrete overlay will hide underlying imperfections before polishing to a high luster. Concrete stain colors can be integrated with polishing to create intriguing designs and patterns for indoor or outdoor flooring, including residential and commercial.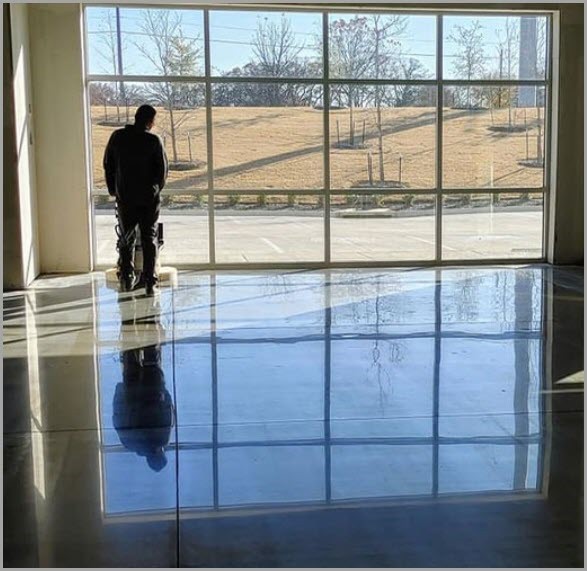 Polished concrete has no chemical processes to cure, so downtown is minimal, and the polished finish will not chip, wear, or deteriorate
What are the major differences between polished concrete and terrazzo?
Despite the similarities in looks, there are differences between polished concrete and terrazzo flooring that could make or break a decision for either floor type. First and foremost is cost.
One: Cost Comparison
One source stated that poured terrazzo is one of the most expensive floors you can have installed because of all the variables that impact the cost, such as the type of aggregate (some are quite pricey like mother of pearl, porcelain, larger chip sizes), site preparation, and design style or pattern. Polished concrete, at the other end of the spectrum, is one of the most economical floor finishes, with price fluctuations for staining and dyeing or complex patterns. Homeadvisor.com has provided a comparative overview at the price ranges of terrazzo and polished concrete, per square foot.
Two: Aggregate content
One major difference is the ratio of cement to aggregate. A regular concrete slab will consist of approximately 70 percent cement mix and 30 percent coarse aggregate like gravel or crushed stone. Terrazzo contains much more coarse aggregate, at a ratio of 70 percent aggregate and 30 percent cement giving it a more "stone filled" appearance and consistency of aggregate distribution.
Three: Installation
Another difference is that polished concrete involves polishing the slab itself while terrazzo involves covering the concrete slab with a mix of either concrete or epoxy with aggregate, and then grinding and polishing to a finish.
Four: Slip-resistance
The sealers and waxes used to finish and add shine on terrazzo floors create a slippery surface compared to polished concrete which is inherently one of the most slip-resistant surfaces of any hard-surface flooring. With terrazzo, there is the option of adding a slip-resistant sealer.
Four: On-going maintenance
Polished concrete is the ultimate high-luster, no-wax flooring that maintains its beauty and shine with regular dry dust mopping and occasional wet mopping with a gentle, neutral-pH cleaner. Terrazzo floors are cleaned in the same manner but do require buffing, resealing, and waxing to support the original appearance and shine.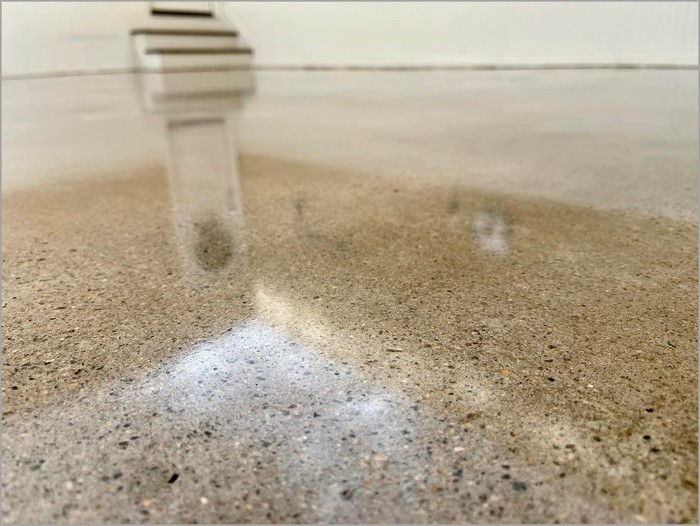 The natural slip-resistant finish on a polished concrete floor provides safety for homes or businesses
Shared benefits of polished concrete and terrazzo flooring
There are many benefits that are shared by both types of flooring, making either a good choice for your home or business. Pros of both floors include:
Very durable with a life expectancy of decades
Easy to customize with stain colors, pattern, and designs, including logos
Every floor is one-of-a-kind due to unique materials and colors
Resistant to moisture, stains, chipping, and cracking
Environmentally friendly, no VOCs (volatile organic compounds), rated green by LEED standards
This high-level comparison between two popular floor finishes is a good place to start a discussion about whether terrazzo or polished concrete is right for your floors. To learn more and to ask all your questions, call 888-852-9244 today or go online to www.concretecraft.com to find the Concrete Craft location nearest you and request a free in-home or virtual* consultation. They can help you determine the best solution to get exactly the floor you want to match your style and budget.
*Virtual consultation may not be available at all locations.