Love Your Floors More With Easy-Care Decorative Concrete Finishes
Raise your hand if you love to sweep, vacuum, mop and scrub your floors. No hands? No wonder. Maintaining clean floors can be hard work and especially now, with pandemic-driven, round-the-clock at-home time for the whole family, floors are even more exposed to dirt, spills, and damage. This translates to more time spent cleaning and maintaining your floors. You can break this cycle and recapture valuable time for more enjoyable pastimes with easy-care decorative concrete floors from Concrete Craft®.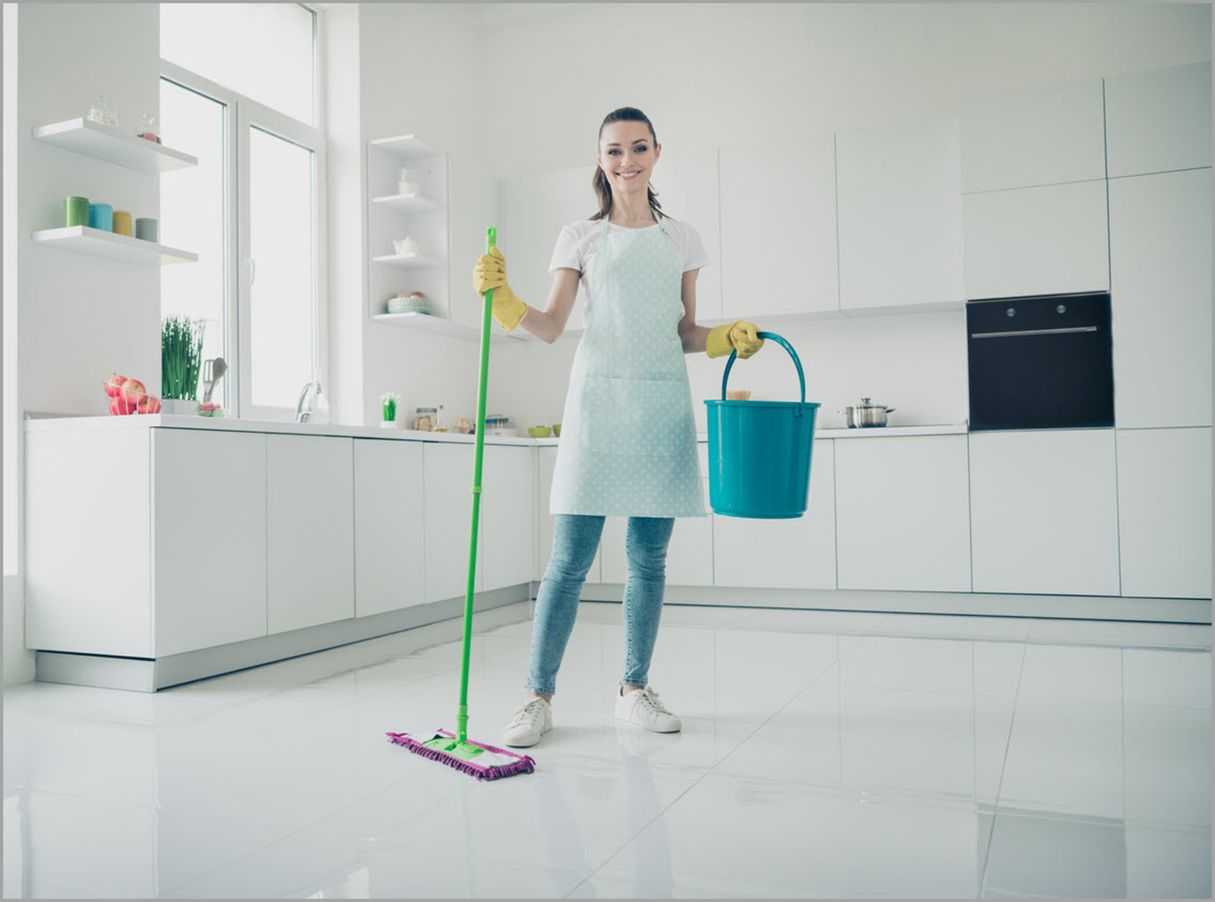 All you have to do is replace care-intensive carpet, hardwood, stone tiles, vinyl, and laminate floors with low-maintenance, versatile decorative concrete that cleans up with soap and water. From stained concrete to stamped and stenciled patterns or individually hand-carved stone, our MasterProTM proprietary products and concrete resurfacing systems can replicate any natural stone, tile, brick, or wood plank, so you can have different flooring styles but only one cleaning regimen.
Easy care is built right in
Imagine maintaining your indoor floors by just regular dry dust mopping and occasional wet mopping to keep them clean and shining. Every decorative concrete floor design has an industry-tough finish that lets you do exactly that. No agonizing over spills and stains or buying a variety of cleaning products. Any decorative concrete pattern, texture, or design has a continuous, sealed surface that makes the floor low maintenance and easy to clean. UV-resistant concrete stains penetrate the surface for vibrant, long-lasting color and our concrete resurfacing overlay systems include performance-grade polymer and aggregate mixes for a superior product. You will love what decorative concrete brings to your floors!
Durability
Concrete floors are the toughest floors you can have and that's why concrete has been used for centuries in residential and commercial properties–it's extremely durable. A concrete floor will outlast other flooring options like carpet, tile, linoleum, vinyl, and wood that can require replacement every few years. If over time a decorative concrete floor starts to dull or show wear in highly trafficked areas, resealing will restore it to like-new condition. You can expect a decorative concrete floor to last for decades, providing beauty and functionality with minimum maintenance required.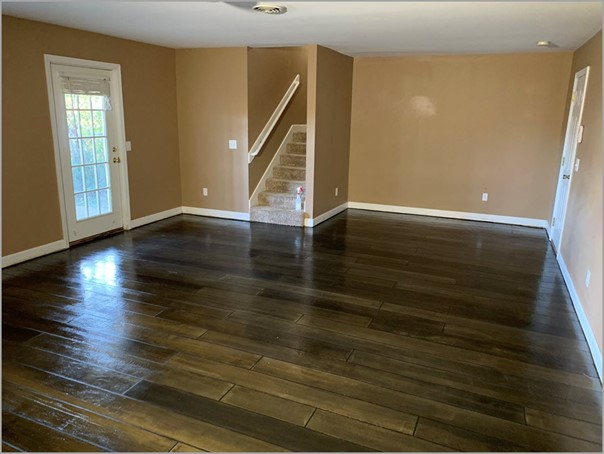 This stenciled, resurfaced wood tile decorative concrete floor looks like real wood but has none of the problems inherent with real wood.
Decorative concrete transforms interior floors into works of art with vibrant stain colors and authentic-looking stamp patterns for stone, wood plank, and tile.
Reduced long-term maintenance keeps money in your pocket instead of funding repairs or replacement for worn carpeting, damaged hardwood, or broken tiles.
Moisture-Resistant
Some traditional flooring types such as hardwood, grouted tiles, or natural stone finishes are not advisable in areas where humidity or moisture is high. These floor styles react badly to moisture with problems of mold and bacteria growth, deterioration, and stains. In rooms where moisture can be an issue, like kitchens, laundry rooms, and bathrooms, it's perfectly safe to have decorative concrete designs of any floor style you choose.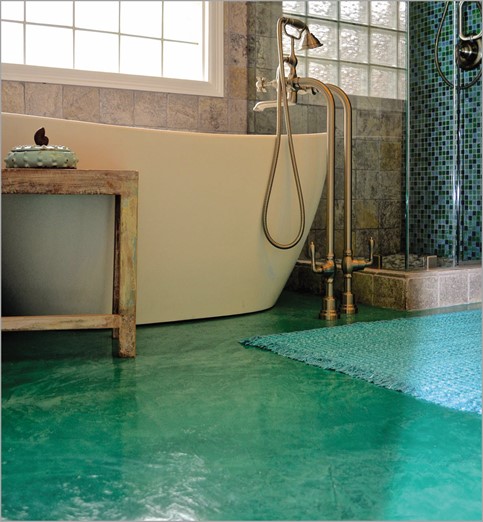 Sealed decorative concrete finishes are moisture-resistant and inhibit the growth of mold even in humid conditions.
Water spills stay on the surface and can be wiped up rather than being absorbed into the floor as can happen with wood or tile grout lines.
Moisture-resistant floors help to reduce in-home allergens from mold and bacteria growth so the whole family can breathe easier.
Stain-Resistant
With durable decorative concrete finishes, you don't have to ban the kids or pets from selected areas of your home, such as light-colored floors or temperamental wood. The authentic faux finishes of decorative concrete give the beauty of high-maintenance tile, stone, or wood, but with a stain-resistant sealed finish that protects against stains. Painting, puzzles, or puppies are safe in any room!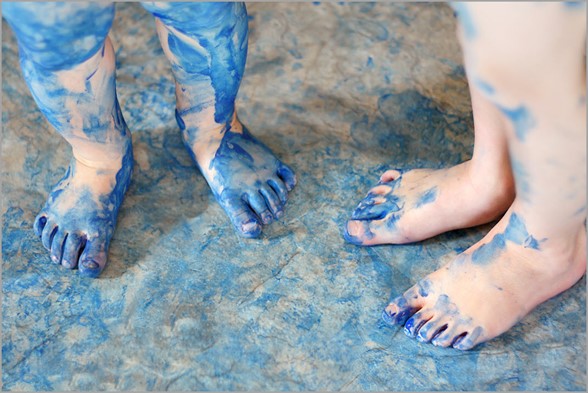 The non-porous sealed surface repels spills of all kinds, including food and drink, oils, and sticky substances for easy cleanup.
Nothing gets through the sealed surface to stain or mar the concrete floor.
When spills occur, a quick wipe with an absorbent cloth is all you need to preserve its integrity, leaving no lingering residue or odor.
Versatility
Aesthetics is a big part of picking flooring and you don't have to step back from fabulous, innovative design with decorative concrete. A truly lovable characteristic of decorative concrete is that it can replicate any other hard surface flooring. You can have high-end looks like porcelain and ceramic tile as well as the luxurious high gloss of marble. No wood floor design is out of reach, including smooth wood finishes, distressed wood, wider planks, and reclaimed wood. With custom concrete stamps, you can select the style and texture of the wood finish along with a custom stain to complement your décor.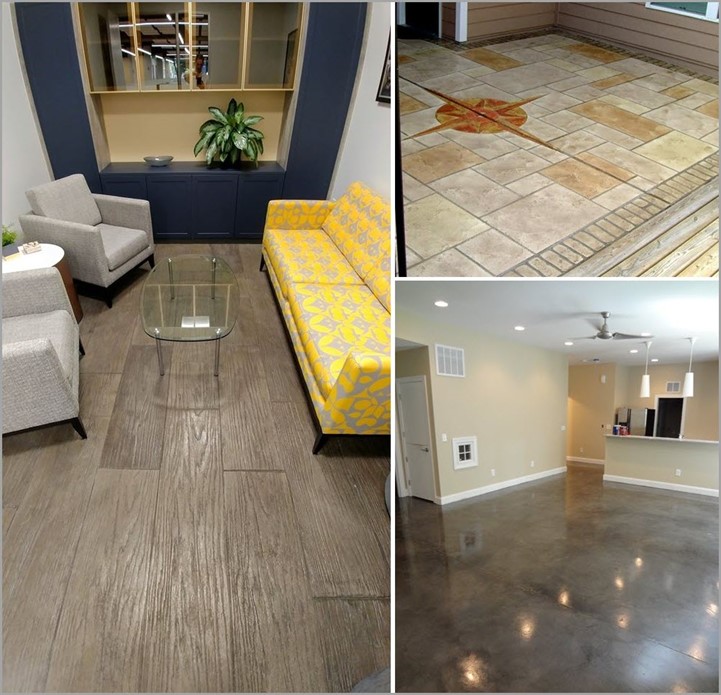 Custom design lets you have any pattern, design, or color you desire; you're never limited to locally available styles and colors in the big box stores.
Stained concrete offers an infinite array of colors and special effects, including antiqued, variegated, mottled, solid, or multiple colors, and stenciled designs or borders.
Attention to detail with stamped concrete overlays creates authentic looking stone, wood, and tile, including natural textures, finishes, and integrated grout lines.
Beautiful floors to enhance your life
Now is a great time to transform your home with beautiful, new decorative concrete flooring that elevates your surroundings and creates worry-free spaces for any activity your family enjoys. Marathon cooking in the kitchen, an afternoon of crafts, or an energetic exercise session won't damage the floors or require any heavy-duty cleanup so you can relax and savor the fun. Contact us today or go to www.concretecraft.com to find the Concrete Craft location nearest you and request a free in-home or virtual* design consultation and discover just how stylish easy-care floors can be!
*Virtual consultation may not be available at all locations.