Make a Concrete Investment with Your Facilities' Budget Before Year End
Year end is just weeks away—do you know the status of your facilities' improvement budget? Are precious dollars you could use to refurbish your tired floors just sitting in an account, slated "use it or lose it?" There is still time to refresh your business with those valuable funds allotted for maintenance or renovation. Whether it's a trendy restaurant in Uptown Birmingham or one of the many indoor sports facilities at the Dallas/Fort Worth Metroplex, a Concrete Craft®resurfaced decorative concrete overlay floor may be the best investment you can make this year.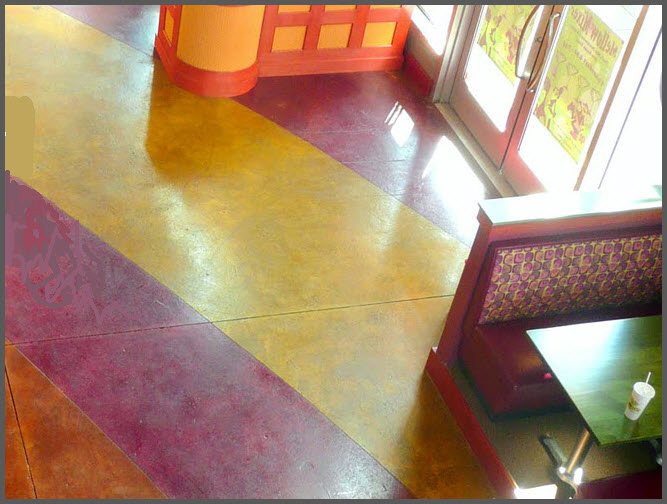 This colorful stained concrete restaurant floor will remain beautiful for years, maintaining its high color and durable shine, making it a smart choice for cutting business costs year round. Add in easy-care and durability and it's the perfect floor for high-traffic, high-spill zones.
Decorative concrete floors are a good business investment
Decorative concrete is ideal for both interior and exterior floors, with options of resurfaced concrete, stamped concrete and stained concrete. Concrete is the toughest floor available and with decorative concrete you can have any look you want, including authentic stone like flagstone, cobblestone and Roman texture slate, wood plank, custom stains and almost limitless design with stencils and stamped concrete patterns.
Regardless of which style concrete floor you choose, your floors will be:
Low maintenance
Durable
Guaranteed not to chip, peel or fade
Backed by a two-year warranty on work and materials
Tough enough to (probably) never need replacing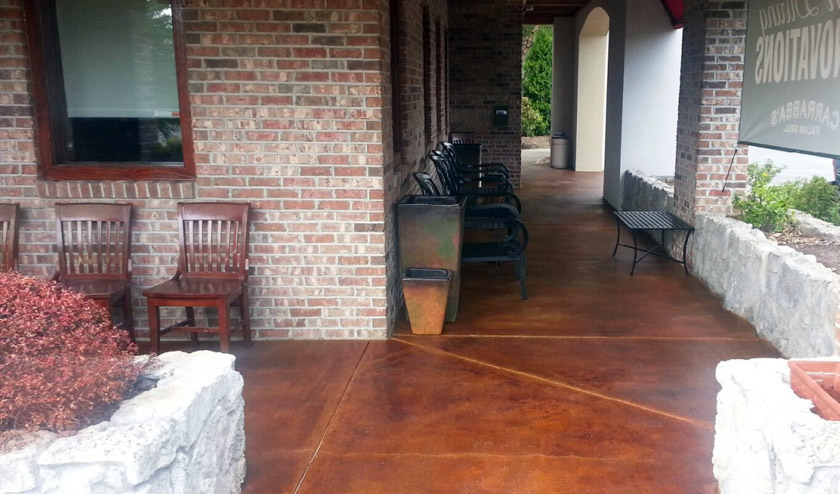 Imagine having exterior floors that you can count on year after year. Occasional resealing is all that's required to keep stained, stamped or resurfaced concrete floors beautiful for decades. If you do decide you want a different look after a few years, a fresh concrete overlay can provide a new surface for an updated design without the cost of demolition and removal. Cha-ching!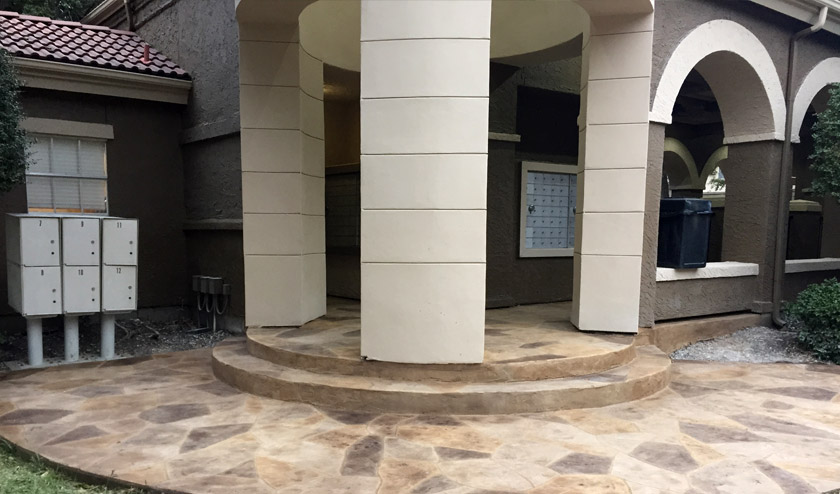 A hand-cut and custom-colored flagstone resurfaced concrete overlay will provide a safe environment for your customers, no lifting "stones" to become tripping hazards. Maintenance is extremely cost effective, just a sweep or power wash keeps it like new, never any re-grouting, digging out vegetation between the stones, or replacing broken stones. Impervious to all kinds of weather, the non-porous, continuous surface practically takes care of itself!
But, baby, it's cold outside
Even with colder months upon us, resurfaced concrete overlays and concrete stain can be installed on the interior floors at your commercial business. You can still use those allotted funds before year end and have beautiful new floors before winter's extreme weather kicks in. Replacing old stained carpet (usually required every five to seven years) will not only improve the appearance of your offices, but will eliminate all the allergens trapped in the carpet and the padding, making your work place healthier for employees and customers.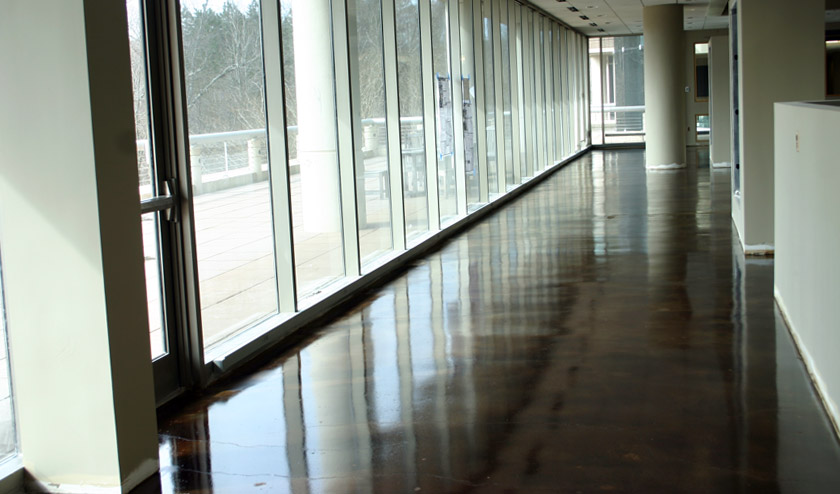 Exit the indoor/outdoor carpeting for a clean stained concrete floor that will give years of almost maintenance-free enjoyment and generous cost savings. Concrete floors resist mold and mildew even in damp or snowy weather, ensuring no questionable smells that often accompany damp and mold or years of cleaning products imbedded in carpet fibers.
Exceptional quality and value
Concrete Craft has been serving commercial clients for years with specialty stamped, resurfaced and stained concrete floors, providing affordable and extremely durable custom floors that are trouble-free, aesthetically enhancing and fiscally responsible because the floors don't need replacing every few years like most other flooring surfaces.
We can turn your interior floors into works of art with less downtime and cost than you would have with other materials, while still giving you the look of other popular flooring options, including hardwood floors.
Exterior floors, patios, walkways, and more, can be transformed with decorative concrete overlays, including vertical concrete applications of faux stone siding for storefronts, pillars and retaining walls.
Talk to the craftsmen at Concrete Craft who can answer all your questions about installing stained, stamped and resurfaced concrete for your commercial business and see how much bang you'll get for your facilities' buck! Call 866-813-3699 today or go online to www.concretecraft.com to find the Concrete Craft location nearest you and schedule a FREE estimate. We can also transform patios, driveways, entryways, walkways, pool decks, garages and basements for homeowners. Check out all our online image galleries for the beauty of concrete flooring for both home and business.