Make Father's Day Awesome With A New Decorative Concrete Driveway
Finding just the right Father's Day gift can be challenging. Over the years there have been goofy T-shirts, wild ties, photo coffee mugs, and handmade cards to show special affection for Dad on his day. This year you can pull out all the stops with a grown-up gift that will show him just how awesome he is … a new decorative concrete driveway from Concrete Craft® that will make every day feel like Father's Day.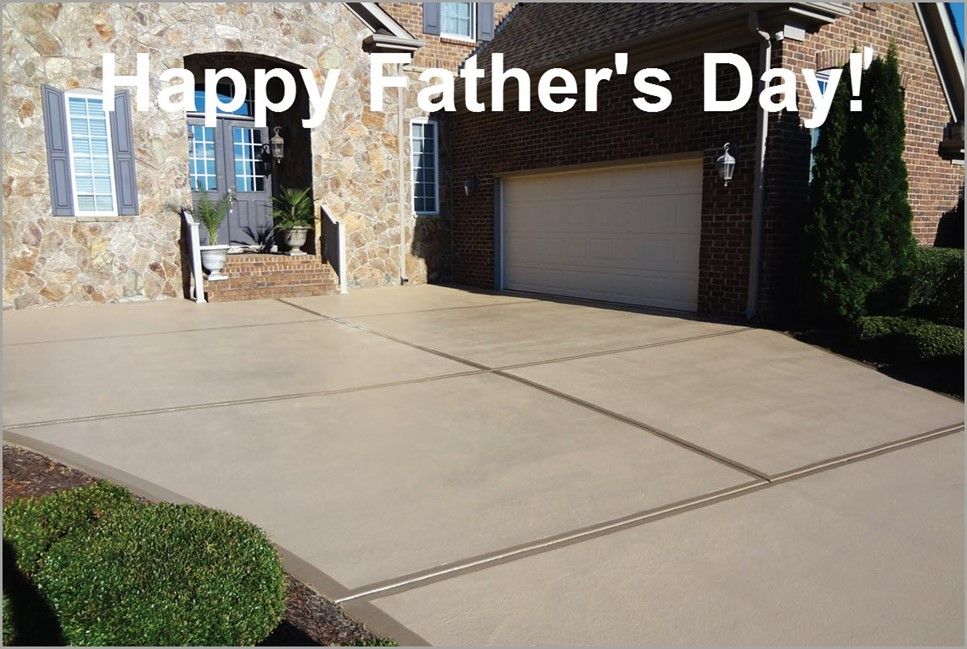 TrafficKoat by Concrete CraftTM can make a worn-out driveway look brand new with a restorative decorative concrete finish, shown here in two colors
Any dad would get excited about a new decorative concrete driveway for Father's Day, like the above TrafficKoat finish. Designed to hide minor imperfections, this stain/seal system gives a solid color finish with added durability over concrete alone. He'll love the low maintenance of all our decorative concrete finishes that reduce the time and energy he has to spend to keep his driveway clean, freeing him up for the more fun things he likes to do.
Styles galore to choose from
Concrete Craft has multiple solutions to repair, restore, and revive an unsightly driveway. Whether you're dealing with cracks, stains, worn spots, or lifting, our exclusive MasterProTM product line has style options from simple stained concrete or polished concrete to repair mortars and resurfaced concrete overlays and restorative finishes that hide imperfections and deliver vibrant color. Here are five additional decorative concrete driveways that will give your dad bragging rights for years to come!
Stamped concrete overlays for the look of stone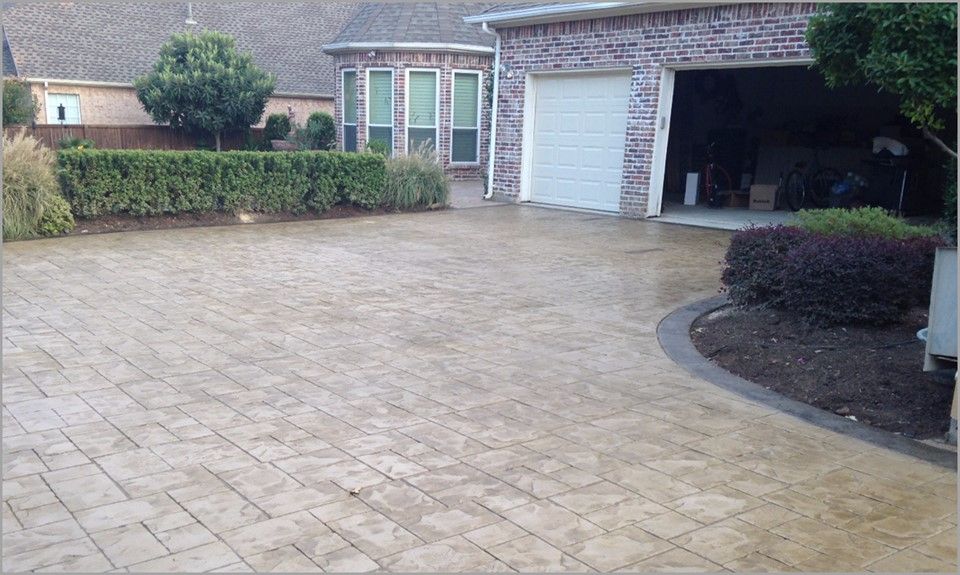 Add Old World charm with a resurfaced concrete overlay with a stamped Ashlar slate pattern and Roman slate texture
Slate, cobblestone, and brick are traditionally popular stamped concrete designs for driveways, patios, and walkways. You can have the look of pavers or grouted stones without the hassles of real grout crumbling or weeds and grass intruding on the driveway. Rubber stamps made from "real stone" molds imprint the concrete overlay with designs of natural slate, stone, brick, and cobblestone that are hand-stained to create authentic-looking faux stone surfaces, using multiple colors for depth and a more natural effect.
Hand-cut resurfaced flagstone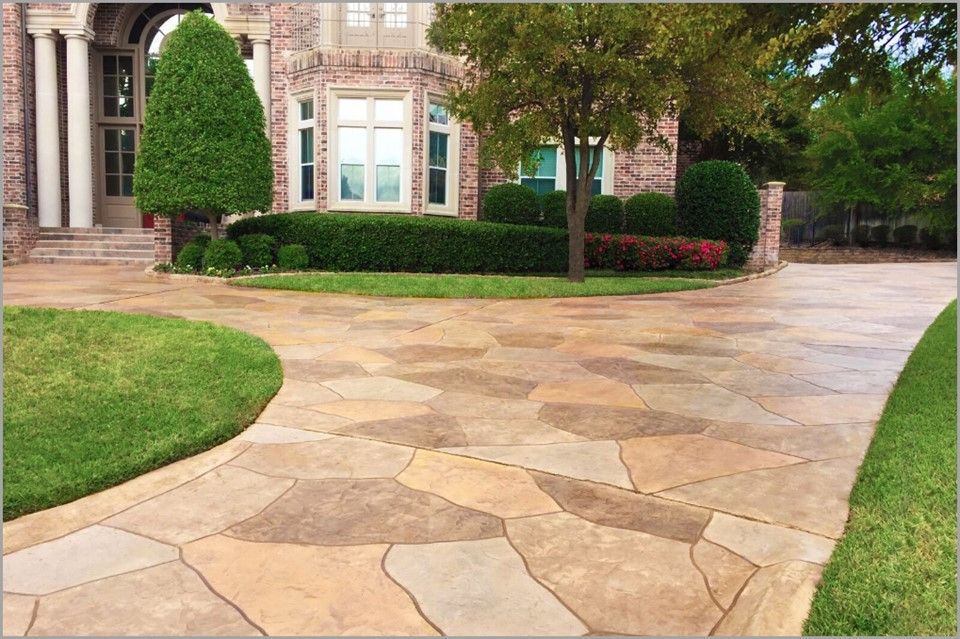 For a fraction of the cost of the real materials, you can gift your dad a beautiful, faux flagstone driveway
Flagstone driveways top the list of desired styles, but real flagstone is expensive and specific colors are not always available, especially in quantities for a large driveway. Our resurfaced concrete overlays are hand-cut with attention to detail for stones and grout lines to ensure the design will be perfect. Color preference is no problem since we custom-blend stain colors for consistency so, no matter the size of the job, we'll never run out of your dad's chosen colors. Our craftsmanship, artistry, and authenticity of design ensure realistic rock and stone finishes for your Father's Day driveway.
Revive a worn-out finish with RenewKoat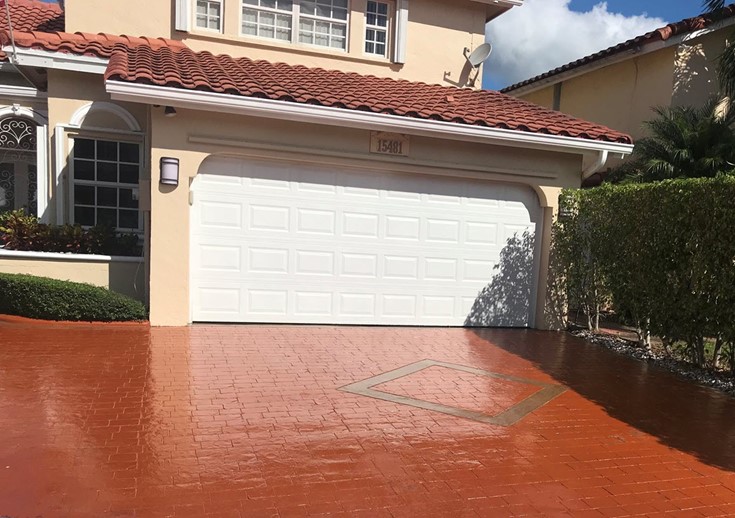 Add the "wow" factor to a faded stamped or plain concrete driveway with an industry-tough real cement overlay to restore the finish to its original beauty … or even better
RenewKoat by Concrete CraftTM is a cementitious overlay that rolls on like paint, providing a more natural concrete appearance over an existing concrete surface. RenewKoat preserves the integrity of the original design with the option of changing color. With 10 colors to choose from, you can restore the original color or create a completely different look with a new color with no worry of show-through. Application is quick, with very little dust or mess and the fast cure time means minimal inconvenience before the driveway is back in service.
Repair a damaged driveway with a real river rock overlay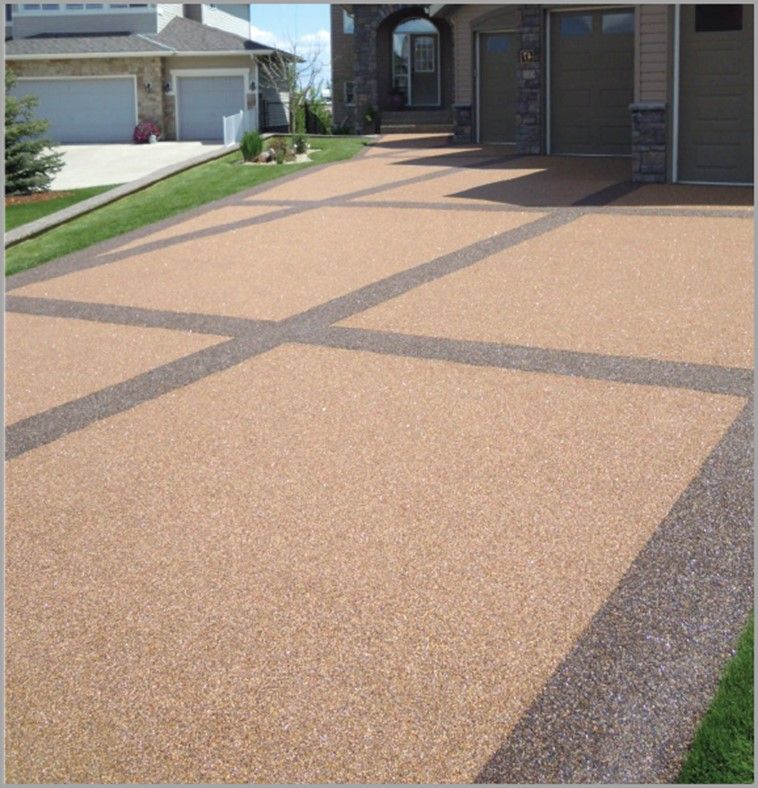 You can buy love with the natural beauty of a colorful river rock overlay to transform a damaged or unsightly driveway
River rock may be the driveway of choice for your discriminating dad. PebbleKoat by Concrete CraftTM comes in six standard color blends with light, medium, and dark selections in an exclusive non-epoxy-based river rock concrete overlay that can fill cracks, cover damage, and even out irregular surface heights in one application. Get creative with different color combinations to create borders or custom designs for your one-of-a-kind dad.
Stained concrete for shine and pizzazz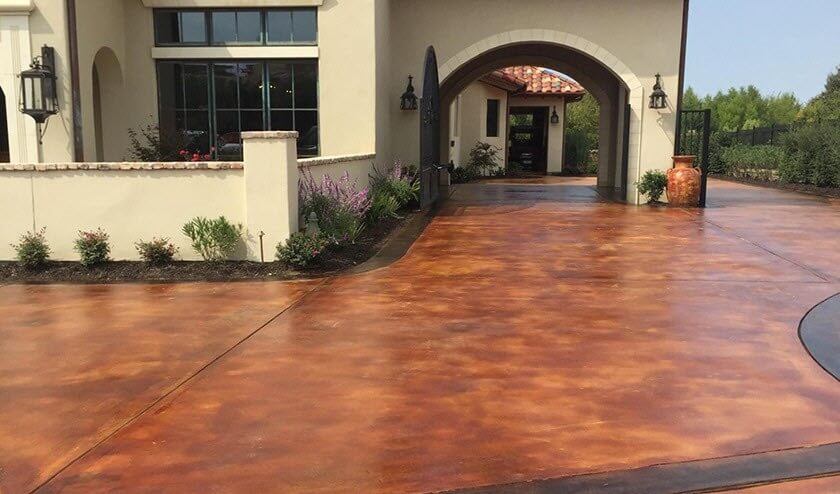 Concrete stain can turn an ordinary driveway into extraordinary for a Father's Day he'll never forget
Stained concrete is the most economical treatment to refresh a tired driveway, either with or without a concrete overlay. If the driveway surface is intact, stain alone may be all you need to make the driveway gift-worthy. For minor damage and discoloration, a decorative concrete overlay will create a fresh surface for staining. Rich and vibrant water-based acrylic stains or acid-based chemical stains can make a dull driveway exciting. Concrete Craft's MasterProTM Stain products can mimic anything from polished marble to authentic-looking stone finishes, opening up a whole world of possibilities for a new driveway.
Have it your way with Concrete Craft
These are just some of the options available for treating your dad (or yourself!) to a new decorative concrete driveway for Father's Day. It's the gift that will keep on giving, year after year, with lasting beauty, durability, and pride of ownership. Contact us today or go online to www.concretecraft.com to find the Concrete Craft location nearest you and request a free in-home or virtual* consultation to determine the ideal gift for your dad or to purchase a gift certificate. If your dad is distant, go to Concrete Craft's website and do a ZIP code search where he lives and his local Concrete Craft will be in touch and take care of everything for the best Father's Day ever!
Need ideas for something to wrap? Check out The Verge's Father's Day Gift Guide 2021
*Virtual consultation may not be available at all locations.