Make Labor Day Labor-Free with Easy-Care Decorative Concrete Floors
Labor Day, the first Monday in September, is a federal holiday to celebrate workers everywhere. It's a day of rest set aside for those of us who work hard all year long, from baristas in Arlington's The Java Shack to the CEOs in the Dallas "Silicon Prairie." Labor Day is the official acknowledgment and celebration of the contribution to our country's economy by the indomitable American labor force.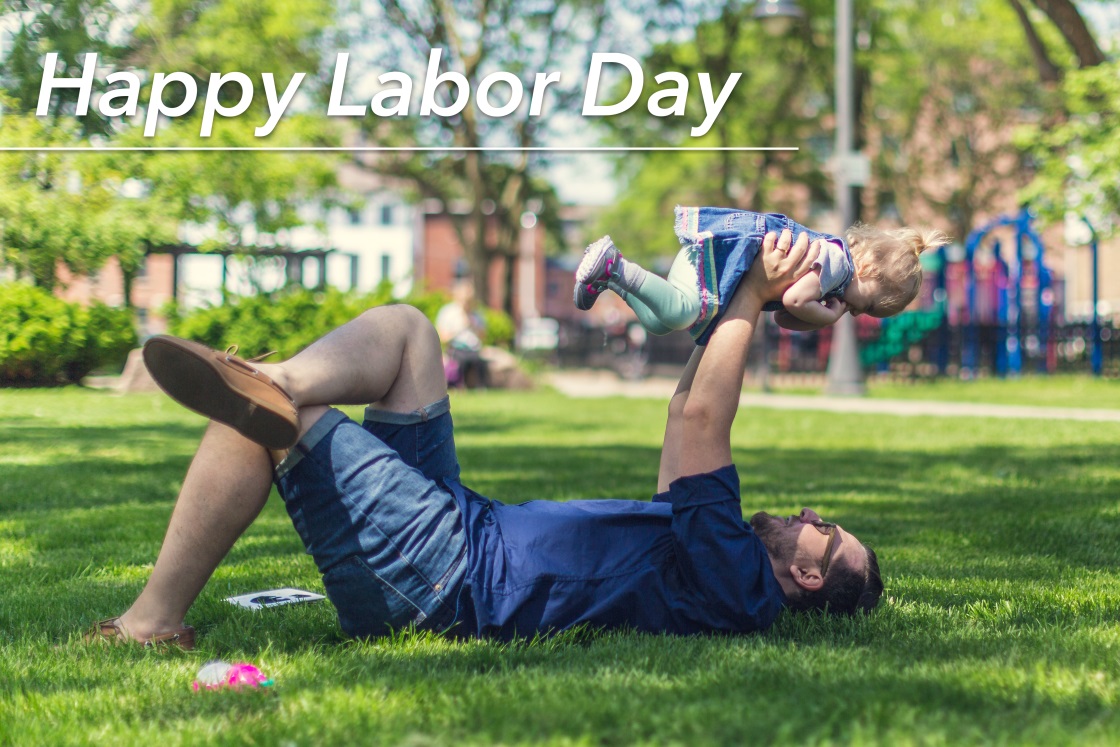 Concrete Craft® wants to wish you not only a happy Labor Day, but a happy Labor Day weekend. It's a grand time for families to chill out and relax before the busy school/work schedules kick in for the next nine months. It's a weekend with something for everyone:
Three days of saying goodbye to summer
Grab a last weekend trip before school starts
Fire up the barbie for another backyard barbeque
Darlington Raceway's annual NASCAR Sprint Cup Series Bojangles' Southern 500®
Football season starts on or around Labor Day and many teams play their first game of the season during Labor Day weekend
Labor Day weekend has shopping deals for back to school or just to shop 'til you drop
Whatever your favorite Labor Day leisure pastime is, Concrete Craft can help you have more time to enjoy it with durable, easy-care stained, stamped and resurfaced decorative concrete overlays. Inside and out, we can enhance your entire home, including walkways, driveways, patios, porches, interior floors, pool decks, and more.
Exceptional patios
Outdoor living is much more fun with a beautiful patio. A decorative concrete overlay can revive an old patio, even hiding years of wear and tear, creating a new surface that can replicate real stone, brick and wood plank, as pictured below.
This patio by Concrete Craft of Knoxville, TN, went from very distressed to absolutely amazing in just a few days. The stamped wood plank pattern gives a rustic feel to this outdoor area, so fitting for the rocking chairs, porch swing and pot-bellied stove. Although it looks like real wood, the seamless surface is concrete tough and sealed to be resistant to moisture, chipping, peeling and sun fading. There will never be dry rot, termites, mold or mildew to mar the surface. Our concrete stains have UV protection built right in, so the rich look of natural wood will last for decades.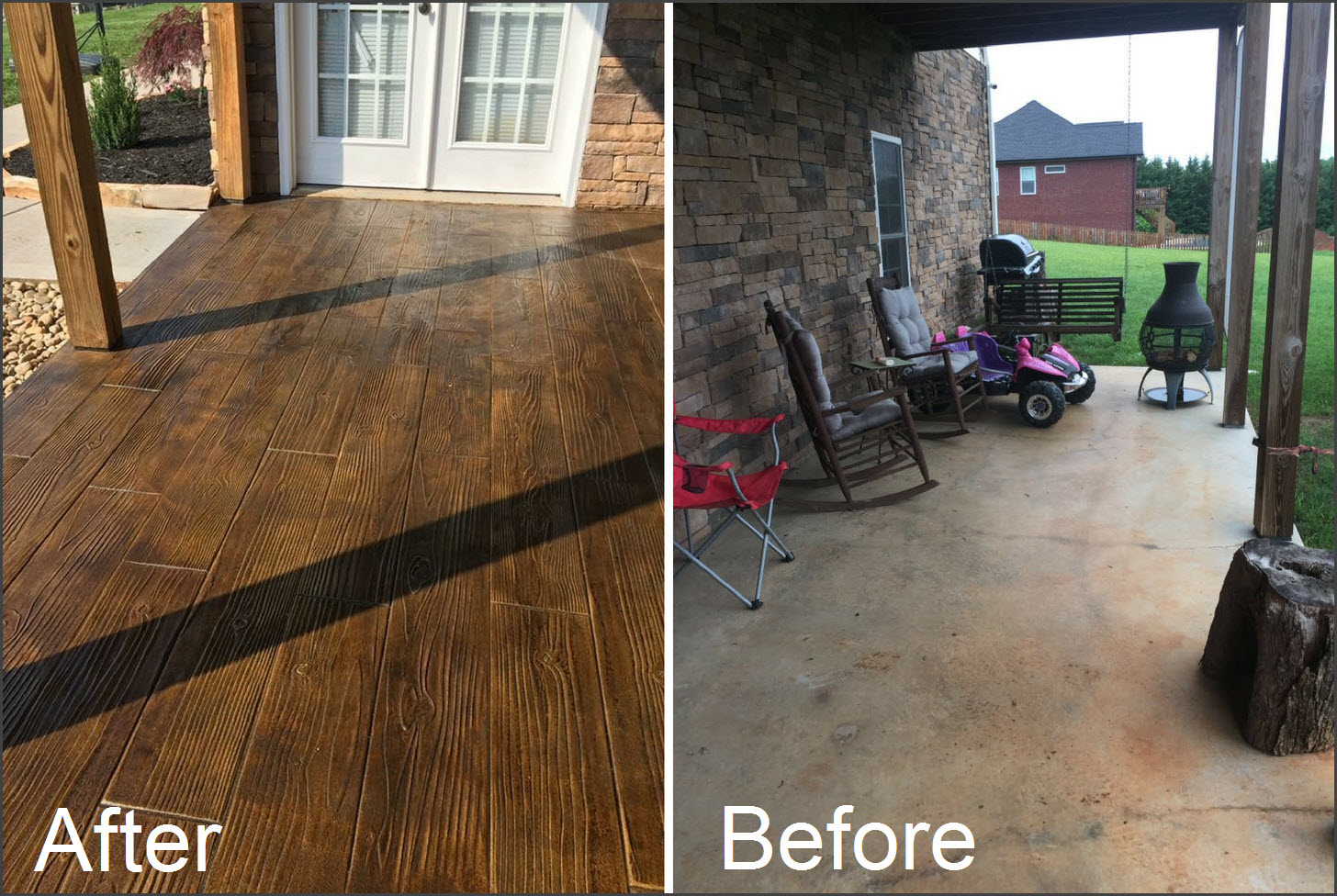 Moving from summer to fall, you'll be able to host barbeque after barbeque on any decorative concrete patio from Concrete Craft, confident that the surface will hold up to foot traffic, food and drink spills, pets lounging in the sun and seasonal rains. A quick sweep or hosing off will keep your patio clean and ready for the next event, even if it's just quietly enjoying the sunset.
Impervious pool decks
Swimming pools are family favorites for holidays and any day that the temperature is right. If you want to know that your pool is party-ready, a new decorative concrete overlay will take away the worry of a stained or discolored pool deck being an embarrassment. You can spend the whole Labor Day weekend around the pool, soaking up the last rays of summer sun with family and friends, confident that your backyard is definitely something to brag about.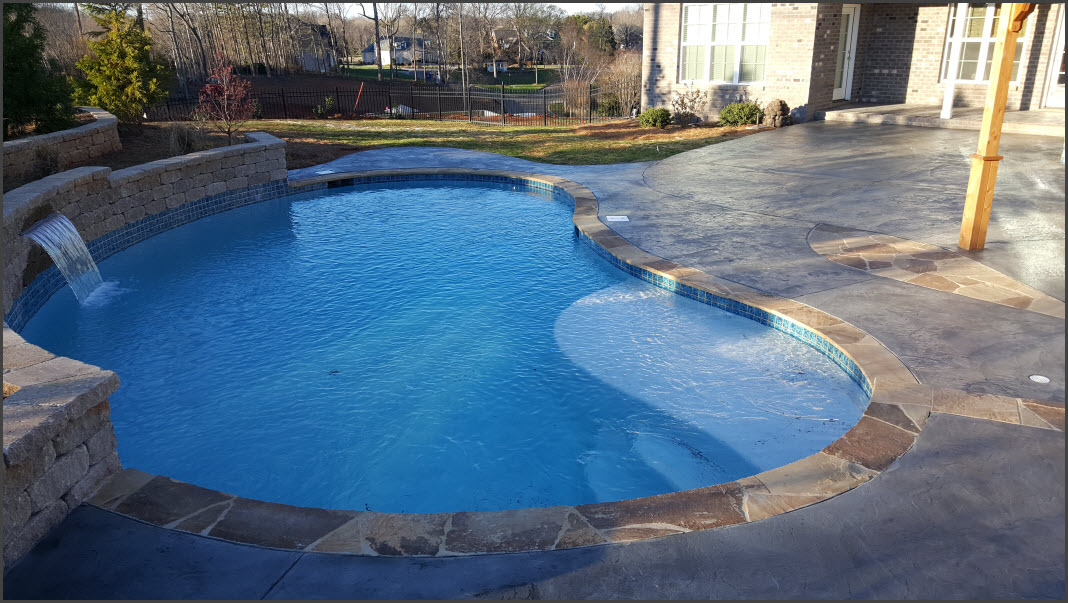 This pool deck was resurfaced with a Roman Texture Slate finish, bordered by hand-cut and custom-colored flagstone borders. Concrete Craft serving The Triad created this pool deck to reflect "understated elegance," keeping with the client's request for a simple design. The sealed surface protects from constant water exposure and harsh pool chemicals so all the colors and finishes will stay true over time. A non-skid grit additive in the sealer improves traction and makes the pool deck safer to walk on, wet or dry.
Indoor sports enthusiasts
If you prefer to spend Labor Day weekend inside cheering on your favorite team and booing the rest, a basement or family room turned Man Cave can be the perfect space to unwind. Stained concrete interior floors enhance rooms with durability and beauty, including the bonus of allergy-free and dust-resistant finishes. Our sealed concrete floors--stained, stamped or resurfaced--are low maintenance, requiring only a dust mop to keep them clean. Stain-resistant, any spills can be quickly wiped up with a cloth or a damp mop.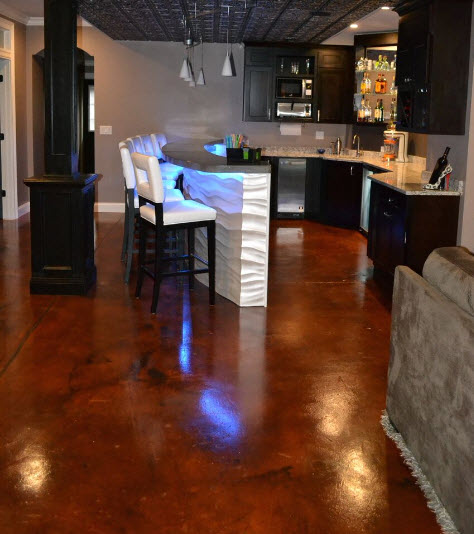 This basement bar is the ideal spot for Labor Day or any time of year to get together with friends and watch TV, host a wine tasting, cook a gourmet meal, or eat platters of hot wings. A stained concrete floor enhances the natural attributes of the concrete, giving the room a modern, industrial chic edge. You can rock game day with activities galore without a care for the condition the floor will be in at the end of the day. Our concrete overlays are tougher than your friends, your pets and Cholula's spicy hot sauces.
Trust the experts
Concrete Craft is ready to help you upgrade any of your concrete surfaces with beautiful, durable decorative concrete overlays. Using proprietary products and techniques that are ours alone, we can provide high-quality, artistic results with the look of authentic stone, rock, wood plank, tile, brick and more, at a fraction of the cost of the real thing. Call 866-813-3699 today or go online to www.concretecraft.com to find the Concrete Craft location nearest you and request a FREE design consultation and estimate. Check out our digital brochure and see how many unique ways there are to enhance your home with beautiful, decorative concrete.