Make Some Mother's Day Magic With A MarbleKoat Kitchen Floor
On Mother's Day, every mother's child strives to find just the right words to express love and thanks for all she does to make life wonderful. She's life-giver, hand-holder, confidant, teacher, chief cook and bottle washer and, through it all, she loves you unconditionally. That certainly deserves more than just one day for her to feel extra special! Concrete Craft® can help you make some Mother's Day magic with a gift that will keep on giving, day after day and year after year.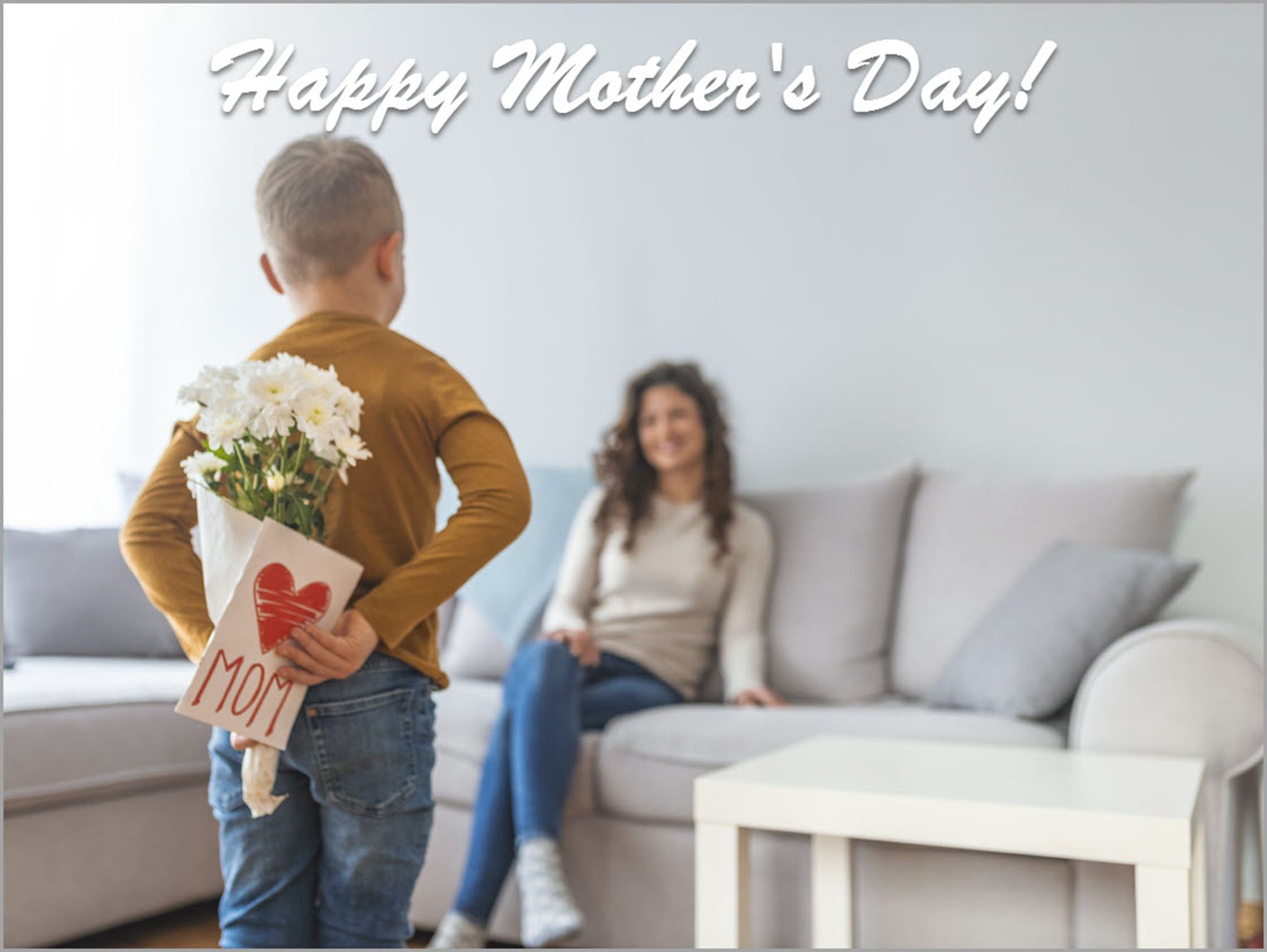 On Mother's Day, we're all six years old again, with a pretty card in hand
Moms come in all ages and shapes and sizes, but one thing they have in common is that they generally spend considerable time in the kitchen. As with any space where time is spent, making it as inviting as possible makes spending time there more enjoyable. This Mother's Day, why not take steps to make the kitchen into her dream kitchen, starting with a new, elegant MarbleKoatTM resurfaced decorative concrete floor. That way, whether she's cooking, cleaning, sipping a quiet cup of coffee, refereeing family game night, or having a girls' night in, it will be much more fun!
Fabulous function, exceptional beauty
MarbleKoat is one of Concrete Craft's MasterPro FinishTM concrete resurfacing finishes that transform ordinary floors into extraordinary floors. You can bring the elegance of polished marble into the kitchen without the worries of real marble that include staining, cracking, and chipping. MarbleKoat can emulate the designer-look of polished marble but with a tough and durable surface that is resistant to moisture, stains, spills, and impact. You'll love that it's half the cost of real marble and quick to install, and mom will love the look and minimal upkeep to keep it like new.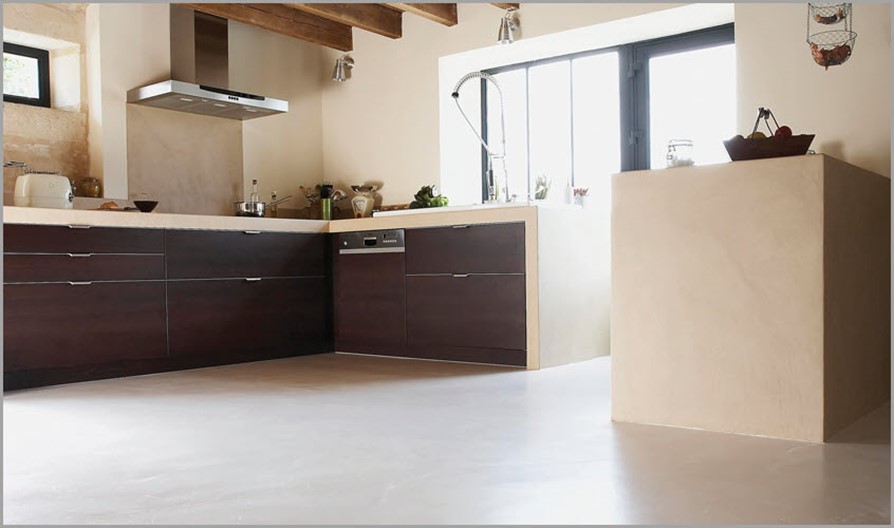 For everyday life and entertaining, this MarbleKoat floor delivers style and practicality you can count on
Spills wipe right up since nothing penetrates the tough, sealed surface.
The seamless floor stays immaculate with a dust mop and occasional wet mop with a gentle cleanser.
Resistance to moisture inhibits mold and bacteria growth, reducing in-home allergens for a cleaner, safer environment.
MarbleKoat is available in six standard colors; White, Champagne, Vision, Cocoa, Pearl Grey, and Dark Grey for any aesthetic you desire.
Update the kitchen with white
Don't stop with a new floor if the kitchen needs an overall facelift. There are lots you can do to modernize a kitchen without breaking the bank, starting with a white MarbleKoat floor and going white! White kitchens are enduringly popular because they are timeless and versatile, adaptable to any style of space. Home and Garden designer, Sarah, shares, "White cabinets are great for giving you that fresh, clean minimal look but are also a great backdrop for layering up color and texture." You can go from wood tone or any color of painted cabinets to white very easily with sister-franchise-brand, Kitchen Tune-Up, and their cabinet refacing solutions that can transform any kitchen without major renovation.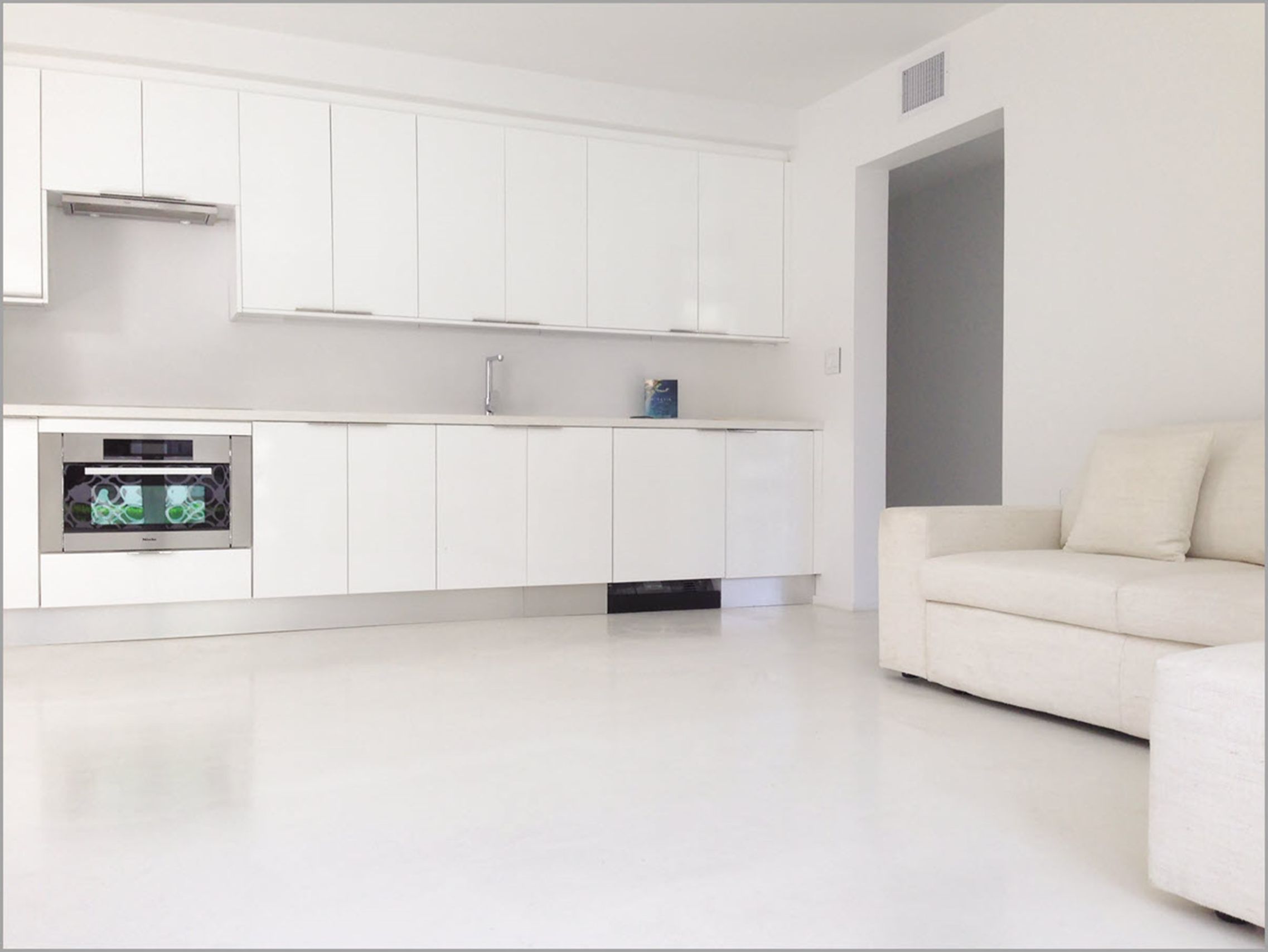 A white "canvas" opens up a world of decorating possibilities for your mom to personalize her kitchen
White is calm, neat, and light-enhancing, bringing freshness and a sense of more space to the kitchen.
If Mom's a minimalist at heart, she'll love a clutter-free kitchen with a relaxing ambiance.
Warm up a white kitchen with wood touches and metallics like brass, gold, and rose gold in hardware and accessories.
Add a textured backsplash, also in MarbleKoat that can be applied to practically any surface.
Bring in color with rugs, appliances, décor, dishes, and furniture for her picture-perfect kitchen.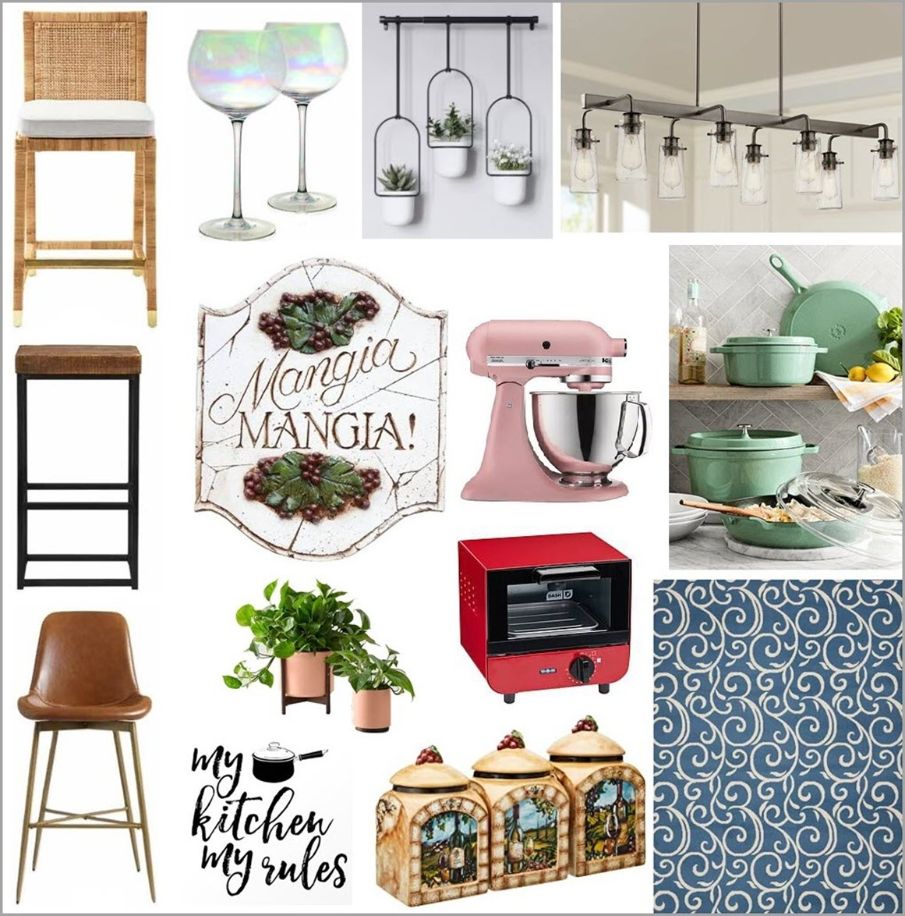 Liven up an all-white kitchen with bursts of color everywhere you look
Reach across the miles with Concrete Craft
If your mom isn't local, you can still surprise her with a beautiful MarbleKoat kitchen floor. A Concrete Craft gift certificate lets you gift any amount, and she'll be able to work directly with her local Concrete Craft to design the perfect kitchen floor or other decorative concrete installation for a magical Mother's Day. Contact us or go online to www.concretecraft.com and do a ZIP code search for the location nearest your mother to purchase a gift certificate. They will contact her to schedule a convenient in-home or virtual* consultation and arrange for installation when it best suits her.
For a local mom (or yourself!), also Contact us or go online to www.concretecraft.com and do a ZIP code search for the location nearest you to schedule your free, in-home or virtual* consultation or to purchase a gift certificate. You can trust the professionals at Concrete Craft that your Mother's Day gifts are backed by integrity and the highest-quality products and expertise:
Easy, quick installation by trained professionals who care
Durable finishes that won't fade, chip, stain, or peel
Unsurpassed attention to detail ensures authenticity in the designs
Learn more about the many options for decorative concrete transformations for all your concrete spaces, including vertical concrete resurfacing and concrete repair by viewing our online catalogs:
To relive fond childhood memories, listen to The Mom Song. Words by Anita Renfro and set to the William Tell Overture, it's a breathless two minutes encompassing everything moms say in a day. Guaranteed to leave you laughing.
Happy Mother's Day!
*Virtual consultation may not be available at all locations.