Make The Holidays Memorable With The Gift Of Decorative Concrete
This year, especially, people are seeking ways to make the holidays memorable amidst all the confusion of how to safely navigate a pandemic holiday season. Limited shopping in malls, avoiding large gatherings, postponed travel and hosting small get-togethers or Zoom parties all contribute to everyone reworking their traditional holiday celebrations.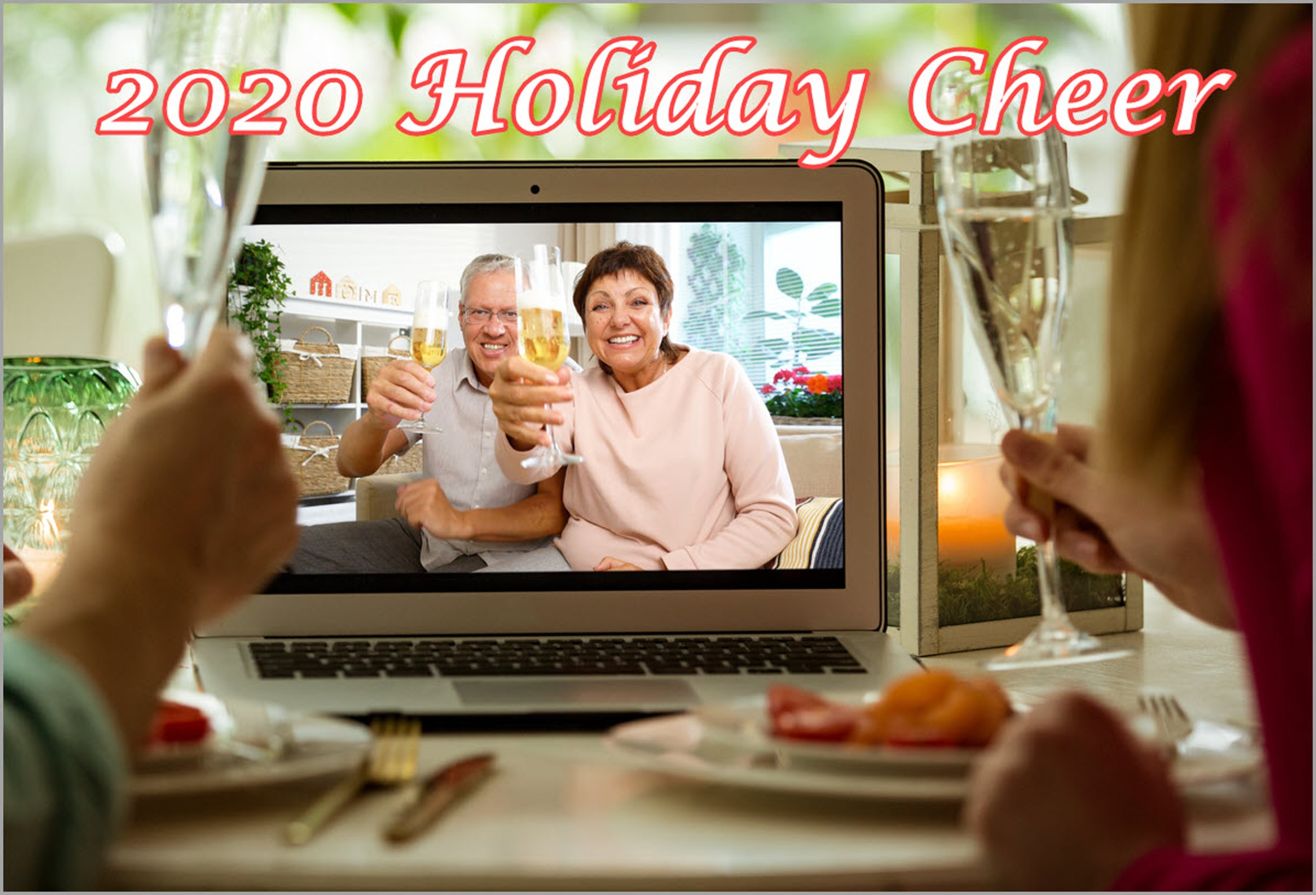 Regardless of all else, gift-giving is still a big part of the holidays, including Christmas, Hanukkah, Kwanzaa, and New Year's Day, and thoughtfully chosen gifts can reach out and touch someone six feet away or across the miles. This year, many gifts are geared to being supportive, focusing on wellness, boredom-busting, and humor to lift wilting spirits and put a smile on everyone's face. Opening presents virtually with distant family and friends means you can still share in the joy and laughter of the season even if you're apart. Concrete Craft® has rounded up some of the hot gift items for this year to help get you motivated.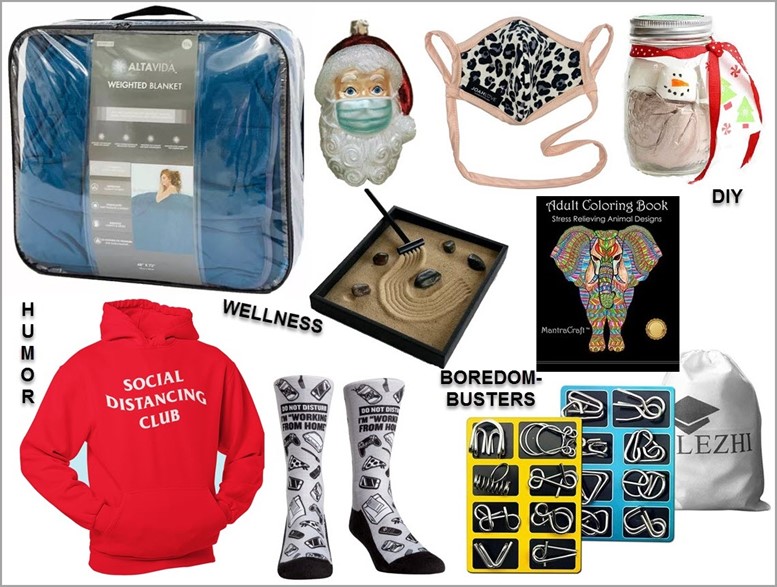 Concrete Craft can even help solve your gift-giving dilemma for that very special someone with the amazing gift of decorative concrete that will keep on giving year after year!
A gift to delight and make a difference
When a really big gift is in order, imagine the delight and surprise of giving a gift like no other, enriching someone's life by transforming their indoor or outdoor spaces with stained, stamped, or resurfaced decorative concrete, bringing beauty and functionality where there was none:
Parents who have been in their home forever would thrill to the prospect of beautiful, new stained concrete floors.
Expand living space by converting the basement into a man cave, teen's bedroom, or a crafts/exercise room with a custom decorative concrete floor.
Restore the well-worn patio or pool deck with decorative concrete in any number of stone patterns and stain colors for next summer's family-fun staycation.
Transform the front yard with concrete overlays on walkways, steps, and porch with slip-resistant finishes for safety in all kinds of weather.
Vertical concrete overlays for seat walls and garden enclosures can define outdoor spaces and faux stone or wood accent walls can change the dynamic of a room.
Update the aging fireplace with the look of hand-carved stone or the sleek elegance of our exclusive MarbleKoatTM finish.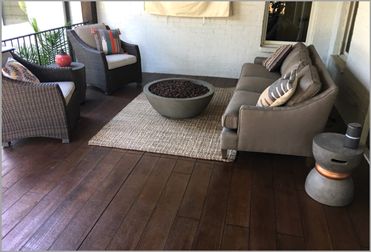 Resurfaced concrete overlays can be stamped in any number of faux stone and wood plank patterns. Who wouldn't love their patio transformed into a fabulous outdoor room with a custom-stained wood plank stamp that looks like a real hardwood floor?
Decorative concrete for everyman—even you!
With all the options available with Concrete Craft, from concrete repair and restoration to concrete overlay products for floors and vertical surfaces, there's sure to be the perfect gift solution for your loved one … or yourself. Maybe this is the year for a major family gift like replacing old carpeting, tile, or damaged hardwood and, with a custom concrete overlay, start the New Year with beautiful new floors everyone will enjoy. The durability and easy maintenance ensure years of gracious, care-free living and, as a gift, the beauty and value of decorative concrete will be a daily reminder to the recipient of just how much you care.
Unsurpassed attention to detail and authenticity in the designs.
The sealed surface resists stains and spills and will never chip, crack or peel.
Colors won't change or fade, our concrete stains have built-in UV protection.
The finish repels moisture, mold, and bacteria growth for an allergen-free environment.
Low-maintenance floors, a dust mop will keep them looking like new.
For outdoor surfaces, the industry-tough sealed finish resists weather of all kinds.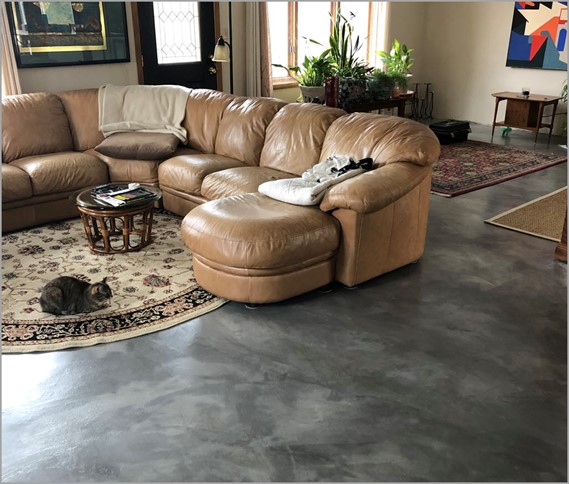 Interior rooms are completely transformed with the beauty of stained concrete. Ever-popular neutral shades of browns and grays are compatible with any style of décor from traditional to modern and casual to sophisticated. Room use or style can easily be changed without worrying about having to replace flooring to get a new look.
Concrete Craft Gift certificates ensure the perfect gift
If you want to give the gift of decorative concrete, you can purchase a gift certificate that will allow the recipient to choose exactly the decorative concrete gift they want so you're not pressured with second-guessing their preference. Our wide range of finishes, colors, stamp patterns, and custom, hand-cut designs offer something for everyone and are sure to please even the most discriminating, hard-to-buy-for person. You can gift any amount, and the recipient will have the fun of working directly with their local Concrete Craft specialist to design the perfect look, pattern, and colors that they love to make their life more beautiful.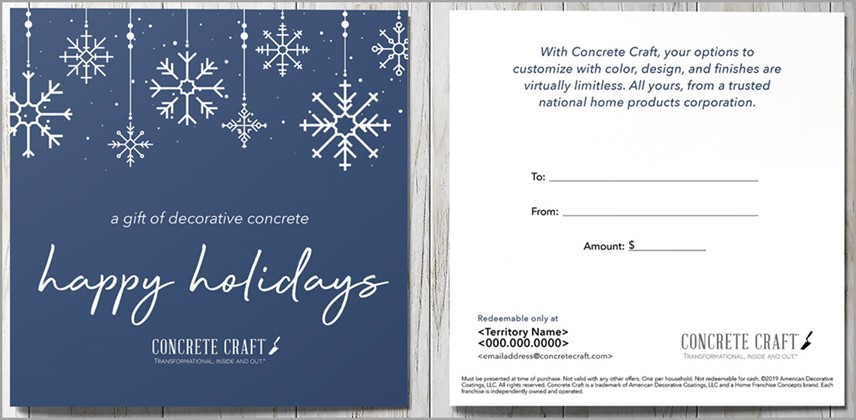 Contact us today or go online to www.concretecraft.com to find the Concrete Craft location nearest you to ask about gift certificates for holiday gift-giving. If the recipient is distant, do a ZIP Code search to find the Concrete Craft in their area, and buy the gift certificate from the local business. Each location serves its surrounding territory and that will be the person your family member or friend works with. We pride ourselves on integrity and high-quality products so you can rest assured your gift will be well received. You can trust the professionals at Concrete Craft to deliver on their promise of excellence.
Happy holidays from Concrete Craft!