Make the Most of Summer with a Custom Patio
Patio living is part of the growing trend to combine indoor and outdoor living to get more living out of all your living spaces. A patio becomes the connector between your home and your backyard, allowing indoor life to seamlessly flow to the out of doors. After all, this is where everyone wants to be in the summer--outside enjoying that first cup of coffee as the sun lights up the Chicago skyline or chilling at the end of the day watching the sun go down in the Kentucky bluegrass region. Patios are for fun and relaxing, all summer long, wherever you live!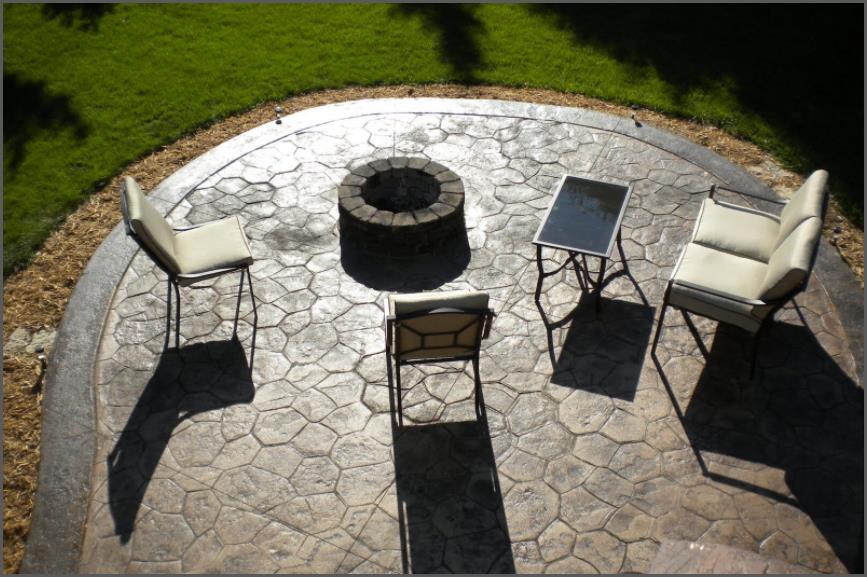 Concrete Craft® artisans are experts at creating patios that will enhance your home with beauty, durability and functionality that just won't quit. Our expertise with stained, stamped and resurfaced decorative concrete overlays can convert any concrete patio into a showplace. From the highly popular hand-cut flagstone design to stamped wood plank or stained concrete, you can have the patio of your dreams in less time and for less money than you might imagine.
For the patio below, Concrete Craft of North Denver did horizontal resurfacing and a custom-color stain on the floor and seat wall caps, and vertical resurfacing with faux stone siding on the steps and seat walls, creating an ideal setting for outdoor entertaining. Adding patio furniture, umbrellas and tables will make this the most popular place to be this summer. Your guests will just naturally flow from inside out to the patio and into the backyard.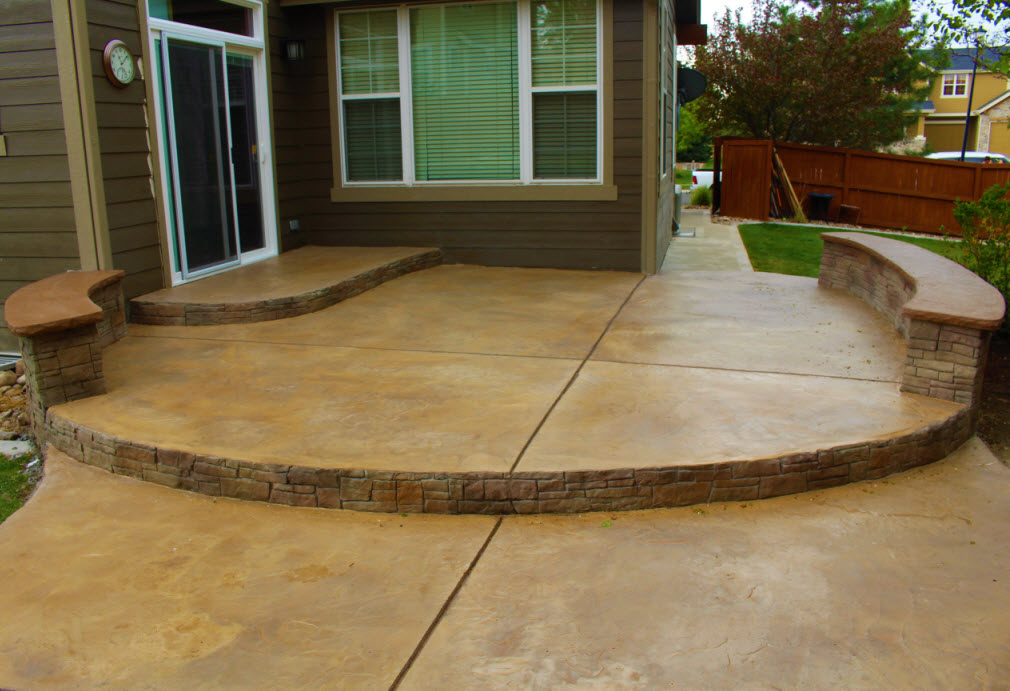 Make your patio just like home
The concept of outdoor rooms is driving patio design to include more of the comforts of home. Pergolas, awnings and outdoor drapery can create more of a room setting, as well as protect outdoor furnishings like wicker tables and chairs from sun and summer showers. This Ashlar slate patio has the addition of Concrete Craft custom seat walls and a fire pit to define the patio and provide additional seating and activity areas. It's easy to envision the cook firing up the barbeque while guests chat under the pergola with wine coolers and the kids congregate at the fire pit.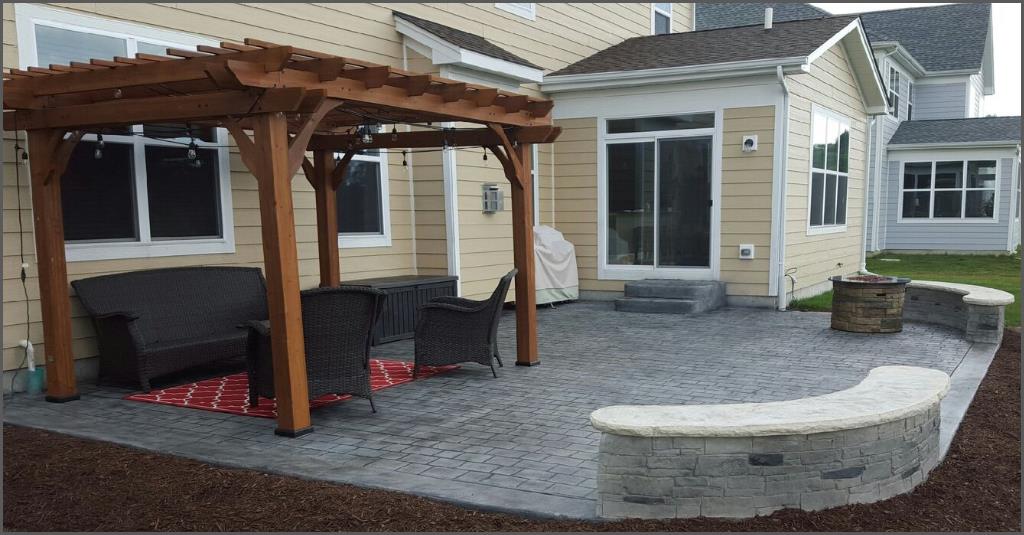 Additional embellishments to make your summer patio more like home could include:
Hanging lanterns or strings of decorative outdoor lights, electric or solar power
Outdoor rugs for barefoot comfort
Potted flowers for color and to attract butterflies
Planted lavender, marigolds, basil, catnip, clove and lemon balm to repel mosquitoes
Hedges, trees, outdoor curtains or screens to shield a bad view or to add privacy
A coordinating surround or retaining wall to hide trash bins if visible in a side yard
Water features like fountains or waterfalls to add a soothing natural element
Making your patio as comfortable as your home will ensure your family spends lots of summertime hours enjoying the great outdoors. Grilling outside will keep the house cooler and your energy bill lower. You'll have the perfect spot for an impromptu get-together with friends or a personal escape destination to slow down and savor the summer. This hand-cut and custom-colored flagstone patio will always be ready for your next party!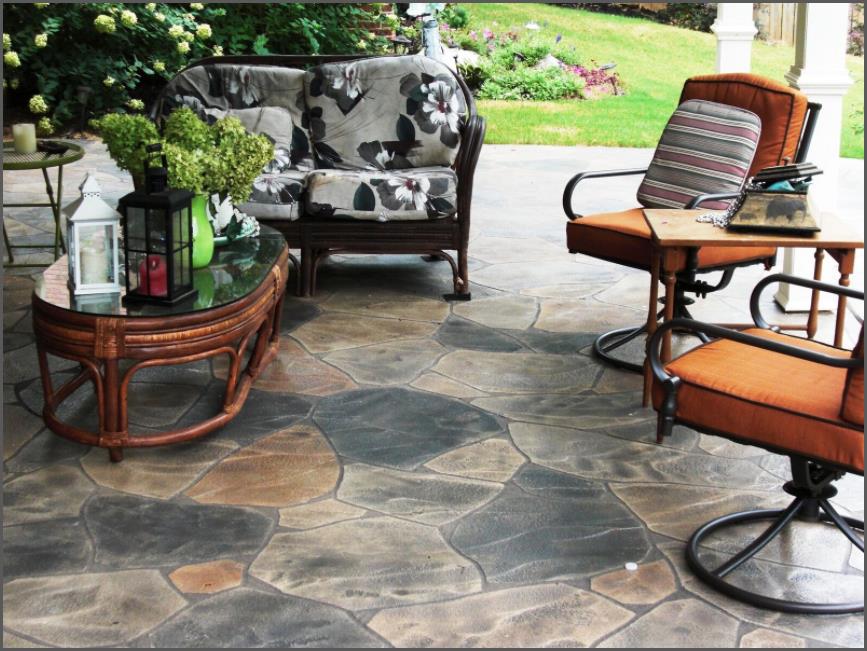 Popular patio trends
Concrete Craft can help you with all the latest patio trends, including updating outdoor fireplaces with resurfaced vertical concrete overlays in authentic looking faux stone finishes. This patio, also referred to as a gorgeous outdoor room, has a stamped pattern wood plank concrete floor, stone-faced fireplace, TV and overhead light/fan. Go ahead and turn the living room over to the kids; this is the perfect adult hangout on a summer's evening.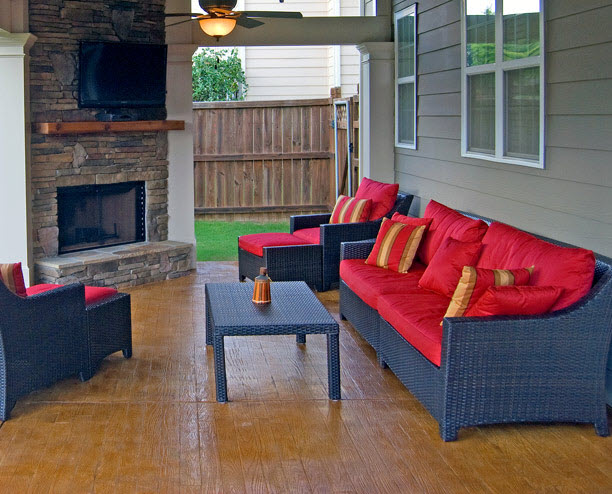 Our exclusive vertical concrete overlay process can be applied anywhere, over brick, drywall and plaster to transform your vertical surfaces into stylish faux stone. On a patio, this could be a fireplace, chimney, retaining wall, fountain, home siding or an accent wall. You'll have the look of real stone at a fraction of the cost and a seamless finish that won't have crumbling grout, loose stones and insects setting up housekeeping as can happen with real stones and grout.
Here are some of the options with Concrete Craft's vertical resurfacing: Orchard Stone, Mountain Drystack, European fan, Cobblestone, hand-carved stone, English cobblestone, hand-scored limestone and Castle Rock. The beauty of real stone with the durability of concrete; just doesn't get any better.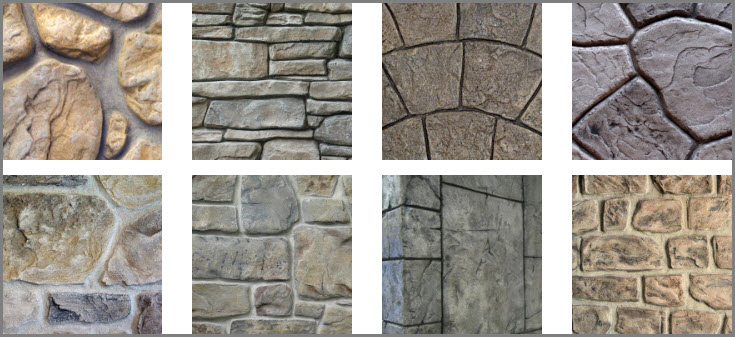 Seat walls, knee-high walls, retaining walls and fire pits are another trend that is revolutionizing patio design and functionality. Concrete Crafts' seat wall and fire pit system is a fast and economical way to create realistic faux stone surfaces with decorative concrete overlays that add incredible functionality to your outdoor living spaces. Our proprietary-blend concrete overlay doesn't require complicated cutting of real stone, they are created on-site, to measurement, with custom-coloring to match or complement your existing hardscapes. It's very little mess and upheaval to have a stunning patio for summer entertaining and all year long.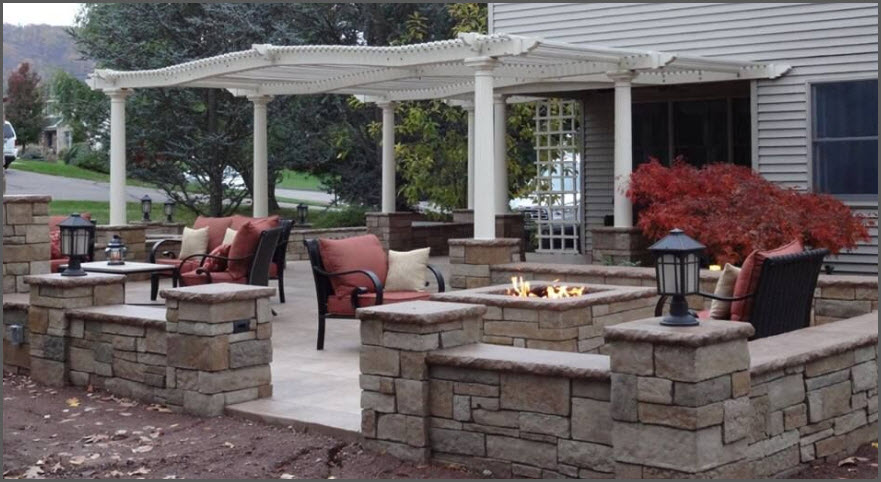 Whether horizontal or vertical, every concrete surface is finished with an industrial-grade sealer that provides lasting beauty and easy-care enjoyment for decades.
Our custom-coloring system uses integral colors and the finest pigments available to produce a realistic stone facade.
Sealed concrete overlays are weather-resistant.
Colors are fade-resistant with UV protection built right in.
The sealed concrete floor resists stains, spills and dust, so a quick sweep is all it takes to keep your patio clean.
Non-porous surface will not trap mold, mildew, bacteria, allergens or moisture.
Slip-resistant surfaces provide safety, especially in inclement weather or around water.
Surfaces do not wear down over time like some natural stone or grouted surfaces.
Don't let the rest of the summer slip by without enjoying your patio. Call 866-813-3699 today to find the Concrete Craft location nearest you and request a FREE design consultation and estimate. You'll see how easy it is to make your own home one of the best places for summer fun.
"Deep summer is when laziness finds respectability." Sam Keen, author