Mid-year Assessment: Need Help With Your New Year's Projects?
We're halfway through 2017. How many of your New Year's Resolutions have you kept? No one ever really gives up chocolate or watches less sports on TV, but how about those projects you resolved to do?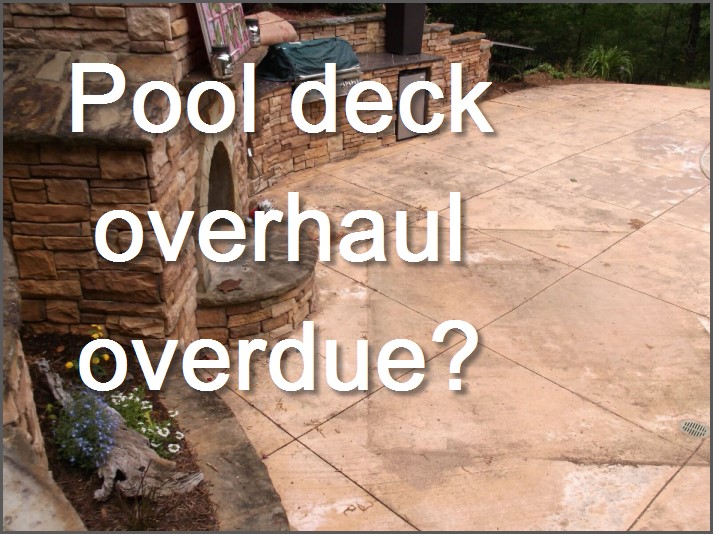 Turn the basement into a playroom or man cave
Landscape the backyard and upgrade the patio
Resurface the pool deck and host a big summer bash
Redo the driveway
Get rid of all the shag carpeting
Any backyard space, including a rambling expanse of green in South Carolina, a tiny, manicured patio in Arlington, or a sandy deck in Sarasota, needs attention to stay attractive and usable as outside living space. Gardens become overgrown, concrete walkways crack and lift, and patios become ravaged from harsh weather and years of use.
Additionally, interior floors become outdated and worn, needing replacement or refurbishing. Carpeting gets grungy from foot traffic and absorbs spills and smells. Floor tiles can chip around the edges, grout crumbles and those ancient patterns have got to go! Hardwood floors need refinishing every few years.
What home renovation projects were on your agenda for this year and what still needs to be done?
The "magic" of resurfaced concrete overlays
Well, the year's not over yet and there is still time to complete your pet projects with Concrete Craft® and beautiful stained, stamped, and resurfaced decorative concrete. Believe it or not, just a few days can transform the pool deck above into the perfect summer destination pictured below, so you can throw that party and be the envy of the neighborhood.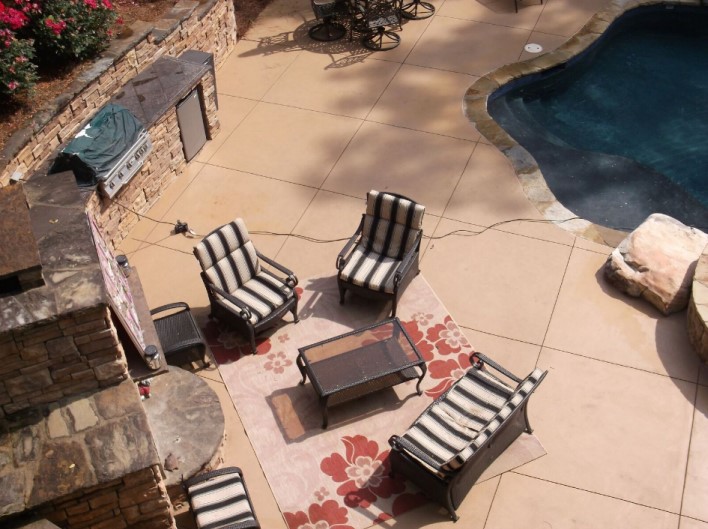 A resurfaced concrete overlay obliterates cracks, stains, and surface damage, eliminating the need to fully replace a concrete patio, walkway, or driveway. Interior floors as well can be resurfaced and then stained, stamped and hand-cut, and custom-colored to replicate real stone like flagstone, cobblestone, Ashlar slate, brick, Roman Texture slate, wood plank, and more. Toss the old carpeting and upgrade the subfloor with decorative concrete overlays that create easy-care, allergen-free living spaces.
Decorative concrete overlays save you money, about half the cost of other materials.
Overlays are much less mess and upheaval than demolition and replacement.
A unique rubberized polymer blend makes our overlays flexible and extremely durable in any weather.
Enjoy unlimited design potential from a simple broom-swept finish and solid stains to a custom hand-cut and colored "real stone" appearance.
Materials and workmanship are backed by a two-year warranty.*
The seamless surface is easy to clean, indoors and out, resisting dust and dirt buildup.
This distressed patio went from awful to awesome with a concrete overlay that restored the integrity of the slab, and then was finished with a hand-cut and custom-colored flagstone design in colors to complement the home's exterior.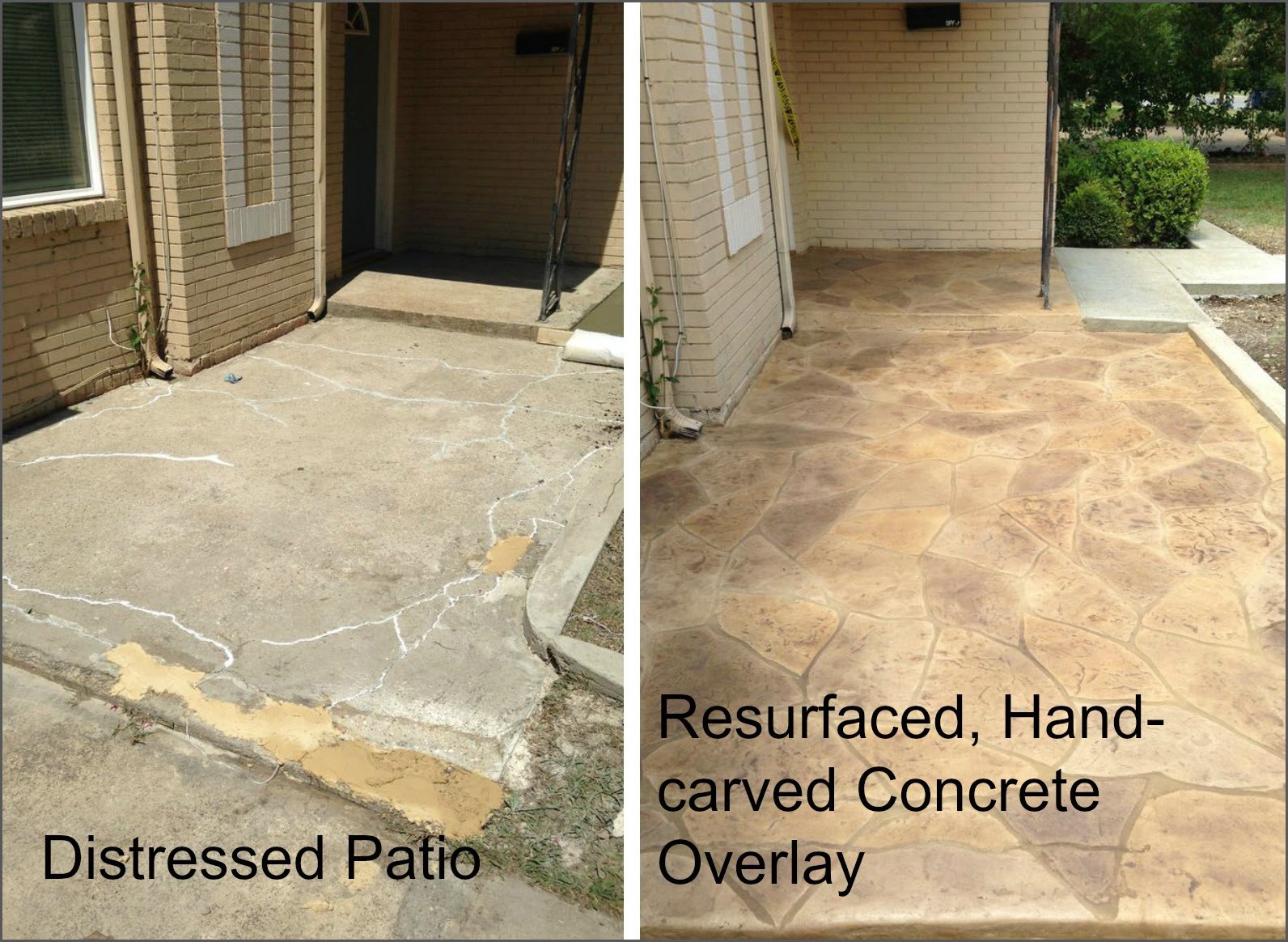 Lasting beauty and creative design
Decorative concrete offers exceptional functionality and durability, but that is not what makes it fun. The fun part is that you can replicate high-end materials for a fraction of the cost, and with stamp patterns and custom coloring, you can get creative with extraordinary designs for truly unique results.
Here are some designs that will definitely make you rethink how you feel about concrete floors.
Stamped rose medallion patio
This patio is exquisite with a stamped and custom-colored rose medallion design. Although it looks like real grouted stones, the decorative concrete surface is a sealed, continuous surface. There are no stones to loosen or grout to crumble. The UV protection in the stains and the sealer will keep the colors true for years to come. The sealed surface protects against any spills or stains so the design will remain unblemished and, unless you tell, no one will know it's concrete and not real stone.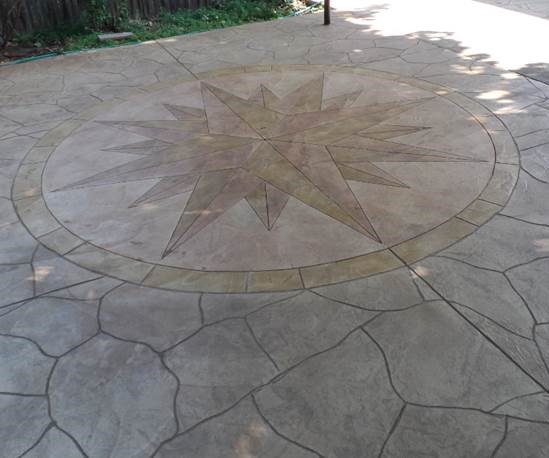 Stained basement floor
Any basement can become a functional living space with a little planning. For starters, a stained concrete floor is a perfect foundation for all kinds of fun from a playroom to a tricked-out man cave or bar for entertaining. The money saved with stained concrete over other flooring options will enable you to finish the walls with a new coat of paint or paneling to make the room comfortable and inviting. Add additional lighting so there's no more basement-dreary ambiance. The low maintenance surface means spills wipe right up and dust and dirt whisk away. Your basement is now a clean and safe living space for the whole family to enjoy.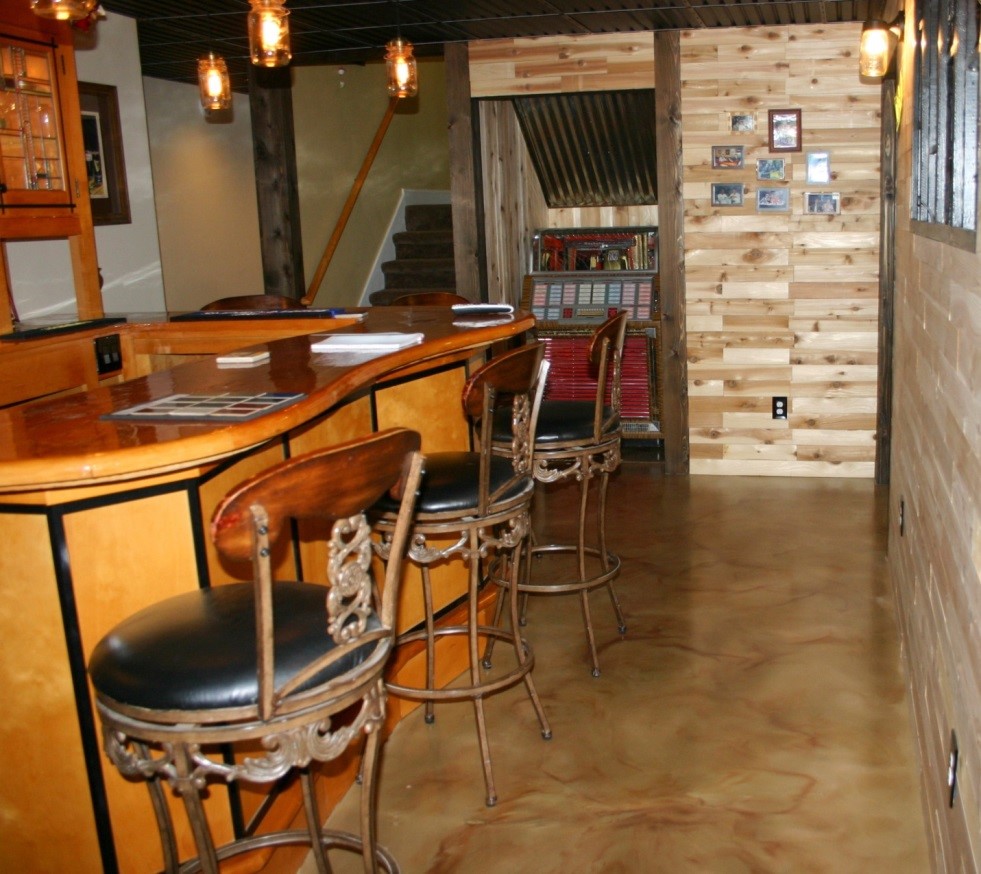 The best driveway you'll ever have
The driveway is a very big part of a home's curb appeal and a cracked and discolored driveway detracts from the beauty of your home and yard. With Concrete Craft, there's no need to jackhammer, haul away the old concrete and install a new driveway. A concrete overlay can present a fresh new surface, ready for a custom decorative concrete design of your choice. The fresh concrete overlay below has unlimited potential, from staining, stenciling, stamping, and hand-cut designs to turn your driveway into a fashion statement for your home. Your new decorative concrete driveway can withstand any weather, hot or cold, wet or dry while retaining its beauty, durability, and functionality.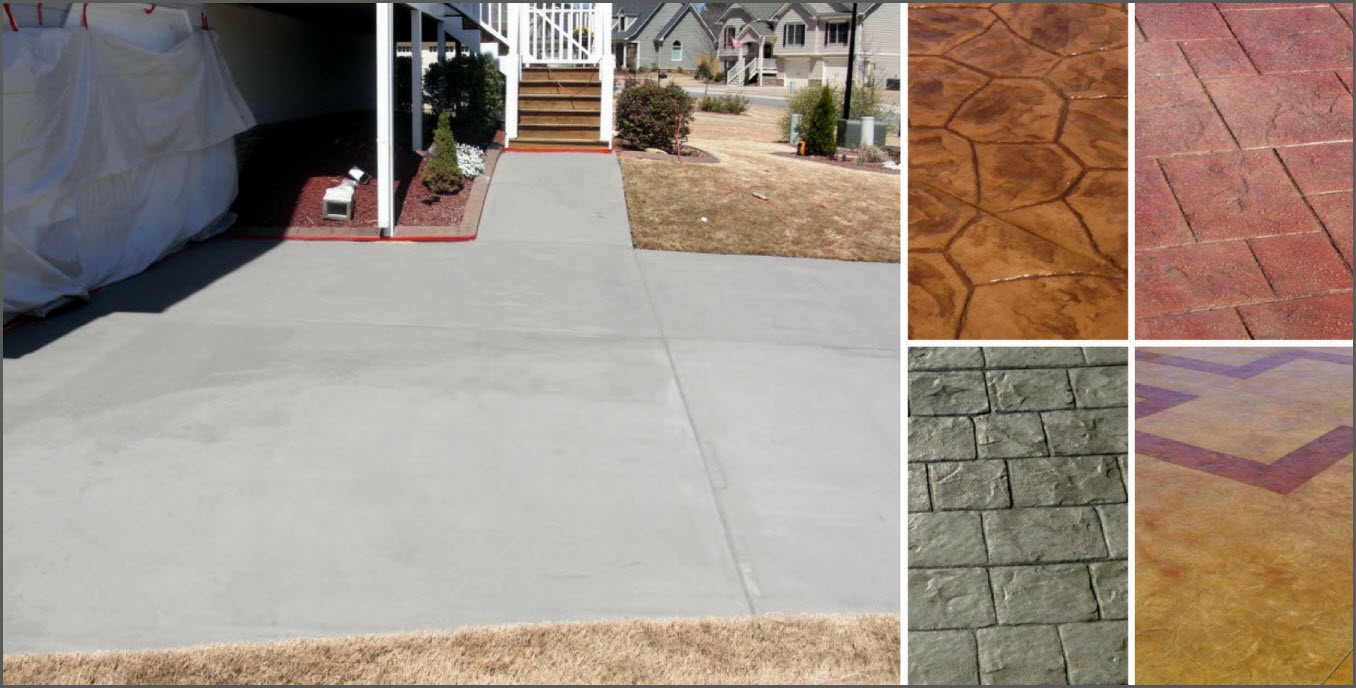 Don't wait. There is still time to get those 2017 home improvement projects done. Contact us today or go online to www.concretecraft.com to find the Concrete Craft location nearest you and request a FREE design consultation and estimate. Check out the digital brochure for more information about decorative concrete and the beautiful results that can be yours for patios, walkways, driveways, pool decks, vertical surfaces, and more. Additionally, our seat wall and fire pit system can turn any outdoor space into instant summer fun.