Patio Design Ideas For Year-Round Comfort And Outdoor Fun
What sort of patio do you have? Is it everything you want it to be?
Small patio for lounging and relaxing
Full outside kitchen patios with fireplaces for get-togethers
Large, multi-purpose patio for dining, basketball, play areas, and a hot tub
Sunroom patio with abundant plants and comfy furniture
Patio and pool deck combination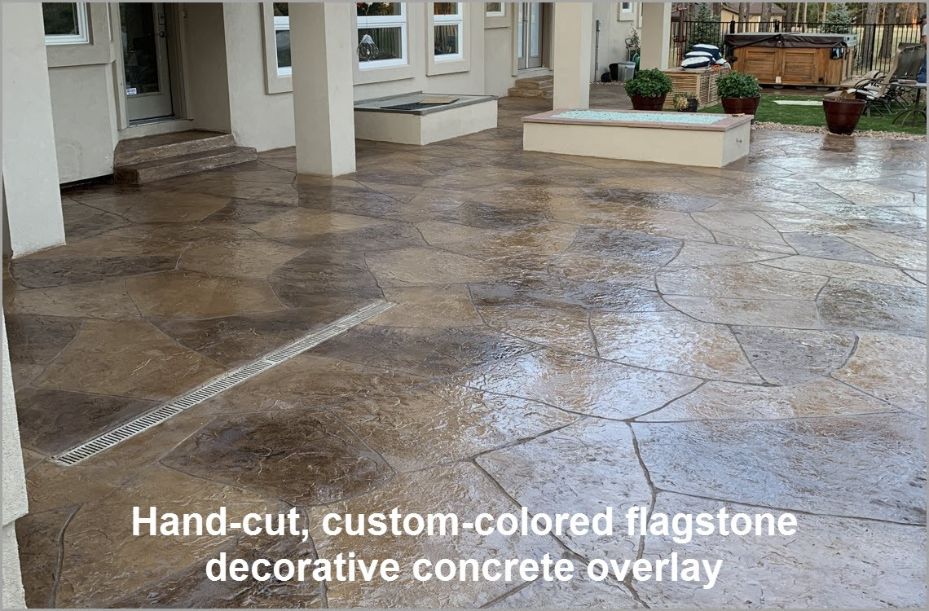 If your patio is a favorite family hangout but starting to show its age with cracks, chips, and discoloration, Concrete Craft® can change your world by transforming your patio and backyard into an amazing entertainment space for year-round fun. Here are some creative patio design ideas from a new, decorative concrete floor to space-saving seat walls and strings of twinkle lights that will make staying home the best place to be.
Start with a beautiful, firm foundation
Whether your patio needs a little help or a lot, Concrete Craft can restore your patio to better than new with our full line of MasterProTM resurfacing products. From repair mortars that eliminate severe damage to resurfacing decorative concrete overlays and finish restorers, your patio can be completely transformed in just a few days, eliminating stains, cracks, and imperfections in the surface. Custom stained, stamped, and resurfaced concrete overlays give unlimited style and finish options for any look you want, including flagstone, slate, brick, and wood plank designs.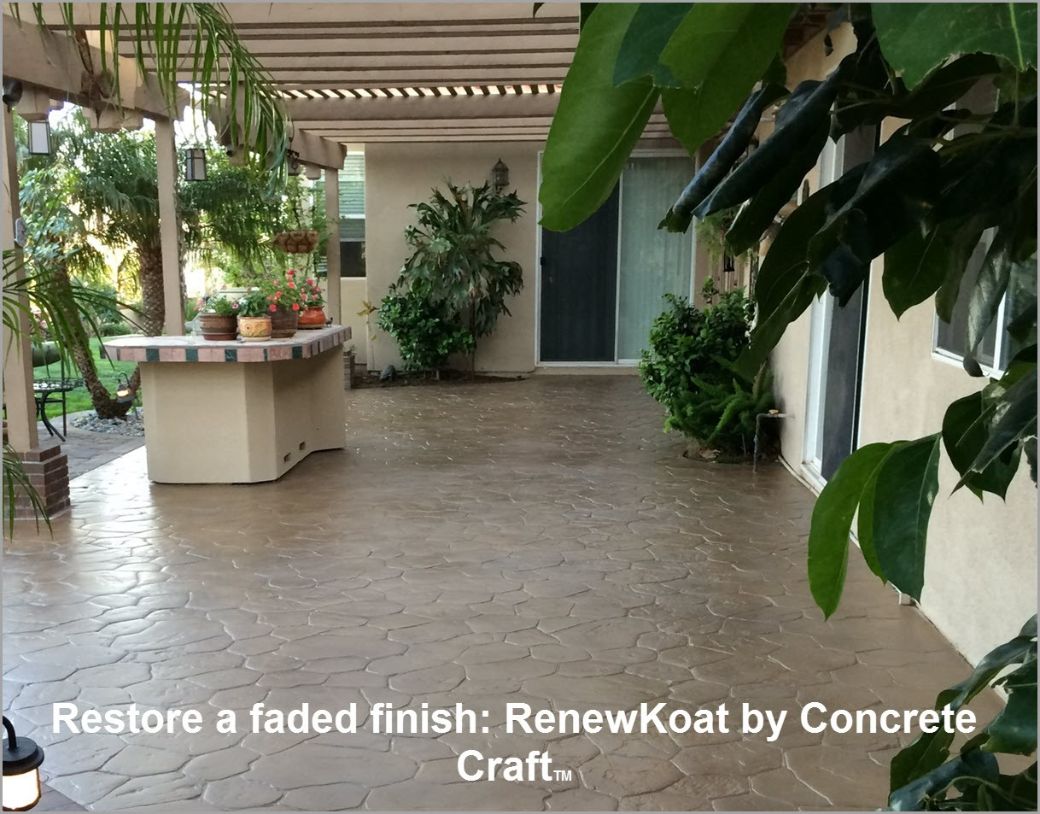 Tough concrete sealers make the finished surface weather-resistant
Colors are fade-resistant with UV protection built in the premium stains.
The continuous, sealed surface eliminates any concern for "stones" lifting, chipping, or cracking.
Replicate the look of natural stone and wood for a fraction of the cost of real materials.
There's no need for demo and replacement of damaged floors, saving thousands of dollars.
Will not wear down over time like porous natural stone or deteriorate like grouted surfaces.
Spend less time cleaning—sealed floors are resistant to stains, moisture, chips, cracks, or peeling.
Always have ample seating
Enough patio seating for everyone can sometimes be a problem. Most families have seating for the family, but when guests come over, backyard entertaining can turn into musical chairs. An alternative to not enough seating, over-crowding the patio with furniture, or bringing out folding chairs is to enhance your patio with permanent seat walls that add style, utility, and additional seating. Concrete Craft's system for creating custom seat walls uses a core of flexible foam liners that enable the creation of unique designs. Seat walls can be cast in nearly any form or shape with tremendous variety in stone type, color, and texture with vertical concrete resurfacing.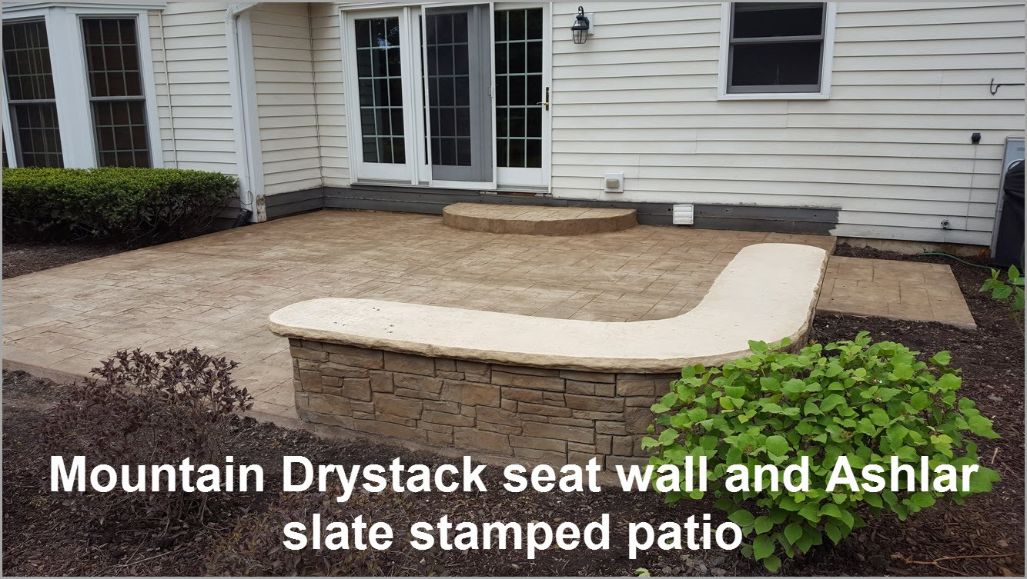 Seat walls define patio space with stylish architectural elements and the look of real stone.
Faux stone seat walls will last for years without requiring replacement like worn-out patio furniture.
The continuous sealed surface eliminates shifting stones and crumbling mortar that can happen with real stone.
The realistic stone façade is created on-site with real stone molds and custom concrete stains to match or complement your existing hardscapes.
Seat wall caps are smooth to protect clothing and bare skin, and colorful cushions are a welcome comfort when temperatures are uncomfortably hot or cold.
Capitalize on indoor/outdoor living
With a patio or deck right off a kitchen, dining room, or family room, it's easy to seamlessly blend the indoors and outdoors, making your living spaces seem bigger. With decorative concrete, you can easily have the same flooring to unify your indoor and outdoor spaces. Custom stained, stamped and hand-cut faux stone and wood designs are ideal for both indoor and outdoor floors to integrate the connection between indoors and outdoors. Your guests will just naturally move from inside out to the patio and backyard. For more unity, coordinate your outdoor color scheme to match your indoor decor with accent pieces and weather-resistant fabrics on patio chairs and lounges.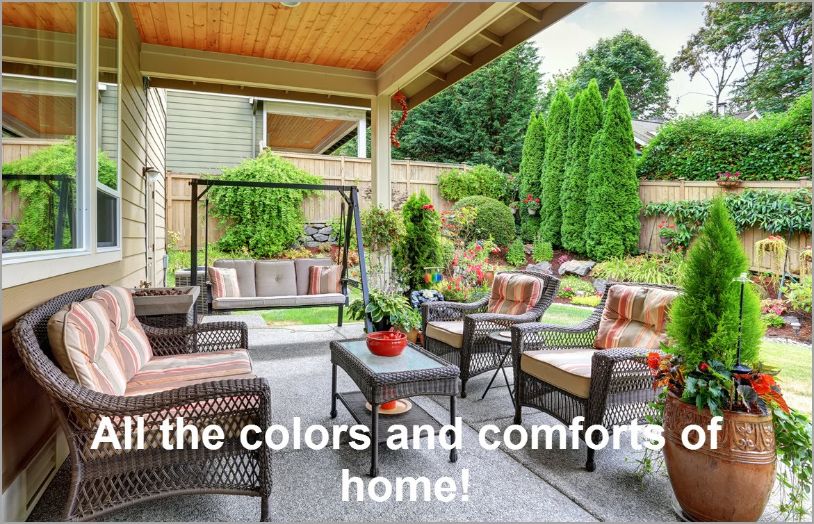 Uncover sliding glass doors for a visual connection between indoors and out.
Provide plenty of lounging comfort and awnings or umbrellas for shade.
Natural fiber outdoor rugs create a real room feel and protect bare feet.
Water features add a natural, soothing element, like fountains, waterfalls, and Koi ponds.
Create privacy with hedges, trees, and outdoor curtains and screens.
Moving air from a fan discourages mosquitoes and other flying pests.
Electric or solar power LED lights banish darkness, and lanterns or strings of decorative outdoor lights add flair. ( How to Hang String Lights Outdoors)
If your yard extends to a pool, be sure it's sparkling clean.
A fireplace for all seasons
An outdoor fireplace doesn't have to be ignored during the warmer months. With the right accessories, a backyard fireplace invites year-round activities. Doubling as a barbeque, you can grill hot dogs, burgers, and chicken kabobs outside rather than heat up the kitchen. Pop popcorn and make S'Mores and keep the fun (and mess) outside on the patio. In cooler temperatures (even on summer nights), a cozy fire creates a comforting ambiance to reduce stress and invite relaxation. Concrete Craft's vertical concrete resurfacing system can upgrade your outdoor fireplace or fire pit that has lost the battle to time with a new faux stone face so that the fireplace is always a great place to gather.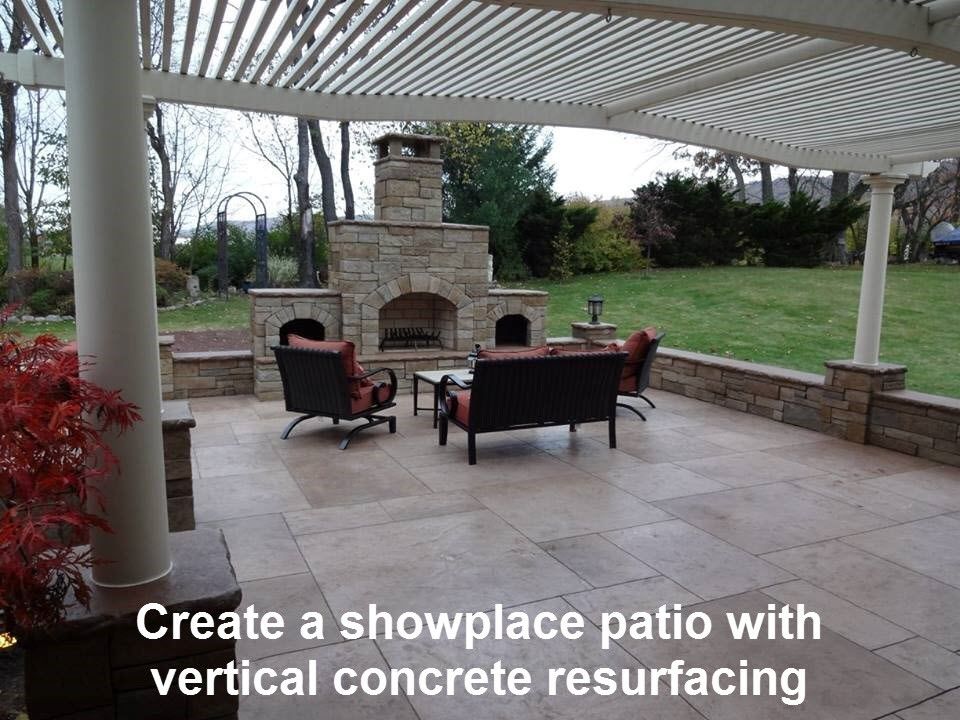 No need to demo a failed fireplace surround, vertical concrete resurfacing can be installed over brick, drywall, plaster, concrete, and wood.
Update your fireplace (indoors or out) with the authentic look of rock, stone, and wood for about half the cost of real materials.
100% surface contact eliminates voids or gaps and the continuous sealed surface keeps "stones" intact and protects against hot, cold, and wet weather.
Tie together multiple hardscape elements with a matching faux stone finish for your patio's fireplace, retaining walls, pillars, and seat walls.
For fireplace cooking accessories, visit SpitJack.com.
Have the perfect patio for your needs
If you want more patio space or would like a unique shape, you can expand your patio without worry that adding on would make your patio look like a patchwork quilt. A decorative concrete overlay is just one of the options in our MasterPro Finish line of resurfacing products that would give an overall cohesive look to the final space. The small patio below was extended to almost triple its size to create an outdoor area that would serve this family well for outdoor fun all year long. The hand-carved and custom-stained concrete overlay perfectly matches the home's brick siding for an elegant faux stone flagstone patio, and no one would ever guess that it was created in two parts.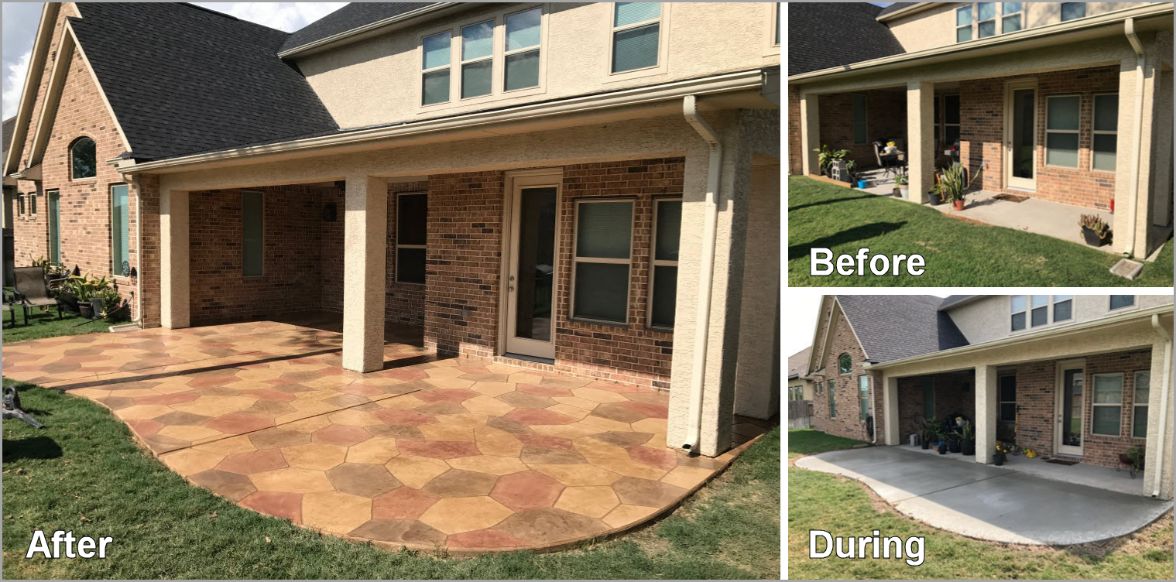 Don't spend another day just dreaming about the possibilities for your backyard as a major entertainment area. One call can set things in motion so that you'll have the patio and backyard you've always wanted. Contact us today or go online to www.concretecraft.com to find the Concrete Craft location nearest you and request a free in-home or virtual* consultation. Respecting safety mandates, we can safe-distance at your home or provide consultation remotely on your mobile phone or through a web conference. You can be confident with our design and ordering processes as well as completely comfortable with an installation appointment when the time is right for you. Check out our online MasterProTM Product Catalog for ways to enhance all your concrete spaces.
*Virtual consultation may not be available at all locations.