Patio Gardening Ideas to Perfectly Fit Your Space
Patios come in all shapes and sizes from a small balcony in a Chicago high-rise apartment to an expansive outdoor kitchen in the wide-open spaces of Colorado. And whether you have room for just one chair and side table or have seating for 20, complete with a fireplace, barbeque and pizza oven, no patio is complete without plants! Plants bring life and color to your surroundings, as well as increasing positive energy, relaxation and happiness. There is a definite reason that flowers are a multi-billion dollar gift market for birthdays, Valentine's Day and Mother's Day. People love them.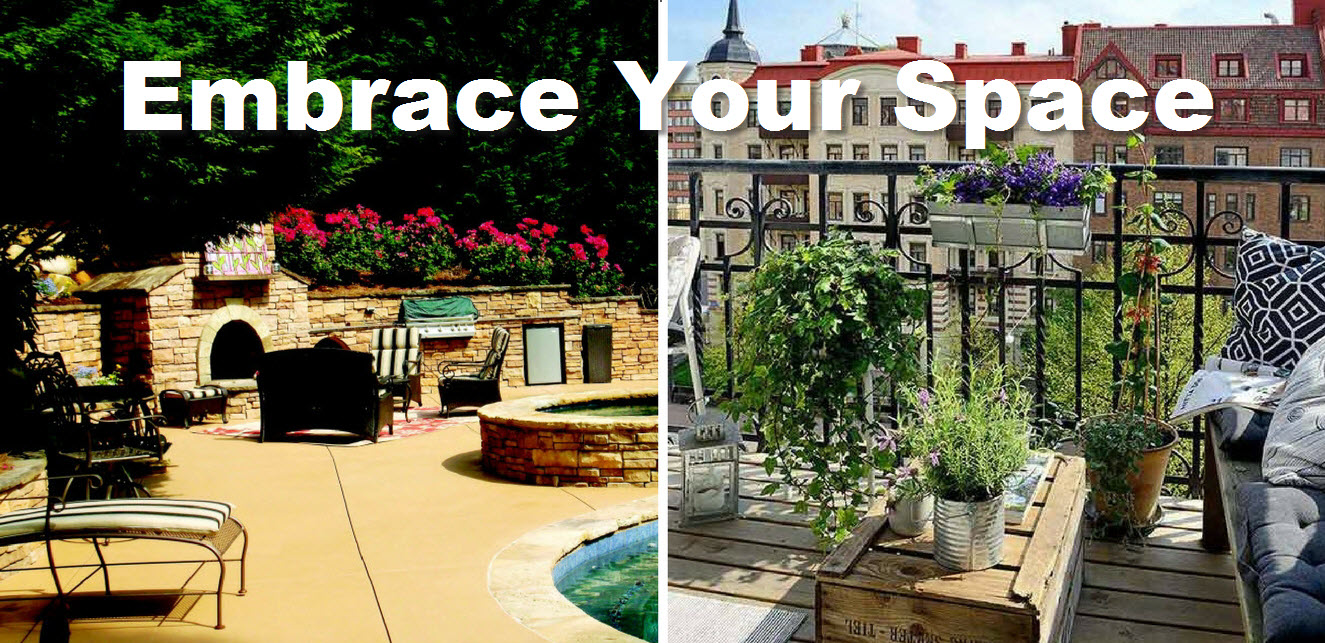 Before you start planting your patio garden, make sure that your backyard patio is the best it can be to welcome the greenery. Concrete Craft® can help with patio design to maximize your space beautifully. Custom decorative concrete overlays can make a weather-worn patio look like new, with realistic-looking flagstone, cobblestone, brick, tile or wood plank patterns. Start with a beautiful, durable resurfaced concrete floor and add seat walls, fire pits or retaining walls to make the space fabulous and functional. The decorative concrete sealed finish is weather-resistant, with built-in UV protection so your colors will stay true for years. Easy to keep clean, you'll only have to worry about keeping the plants healthy.
The patio below received a hand-cut and custom-colored flagstone floor that coordinates with the existing cinder block seat walls and fire pit, creating an elegant space. In addition to the surrounding plant landscaping, potted flowers and decorative lanterns evoke a beautiful, more intimate setting. Seat walls and retaining walls are ideal for placing pots of flowers or ornamental plants to further enhance the patio experience.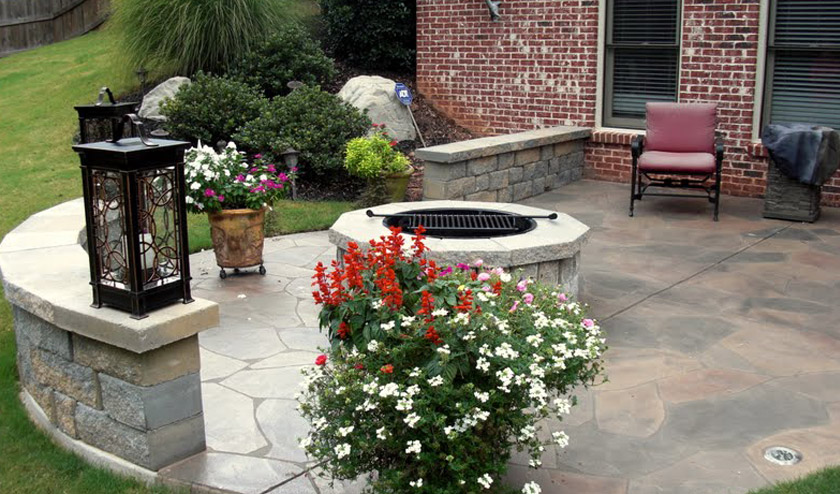 Planters for discriminating design
Colorful ceramic pots are only one option for plants and flowers. Planter boxes, window boxes and pots come in dozens of styles, sizes and materials, including plastic, resin, wood, metal, concrete and clay. Containers can be floor sitting, attached to railings or under windows, hanging, stacking or grouped to create vertical plantings. Especially with elevated patios and balconies, railings are part of the design for beauty and safety and railings can be utilized with stylized containers for growing plants. You can have lots of blooms and trailing vines without a single pot on the floor.
Your local nursery can help with plant selections for what grows best in your area. Here are some favorite small patio plants that make a big impact:
Geraniums
Jasmine
Sunflowers
Gardenias
Fuchsia
Supertunia Petunias
Impatiens
Trailing Pansies
Snowtopia
Begonias

Vertical gardening has come into popularity as a way to decorate space, provide privacy and create lush surroundings. Even on vertical stone walls like retaining walls, chimneys, or outside ovens, attaching a lattice, netting, frames or a series of planters can create a garden landscape of amazing beauty. Edible herbs are a favorite vertical garden, adding fragrance and greenery to the patio and providing fresh herbs for cooking, very handy to the barbeque.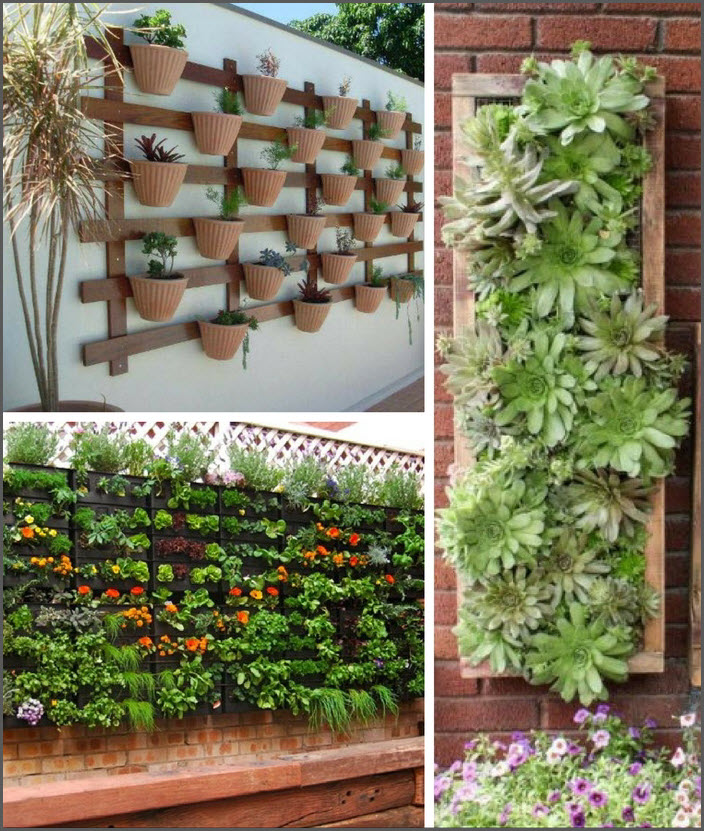 Patio gardening is not limited to flowers; container gardens of vegetables and herbs are very popular for having greenery with the bonus of fresh, home-grown vegetables. Some favorite container vegetables are tomatoes, peppers, cucumbers, lettuce, spinach and pole beans. Cages, poles and trellises are required for climbers like tomatoes, cucumbers and beans, or there's the Topsy Turvy method of growing vegetables upside down to really conserve space. DIY gardening sites can provide creative ways to grow plants in small places, repurposing things like tires, barrels, rain gutters and mason jars. With any container garden, remember that good drainage and daily watering are important. Container gardens can dry out quickly, especially in clay pots that actually pull the water from the soil. Here are a few more tips on container gardening:
Strawberry pots are also good for multiple herbs in one place
Topsy Turvy works for tomatoes, peppers, cucumbers, eggplant, zucchini and more
Combine several varieties of vegetables in one larger planter
Dwarf citrus trees are well-suited to small patios
Don't forget to weekly fertilize your potted plants.
For best results, know which plants prefer sun and which prefer shade.
The artisans of Concrete Craft can help you showcase all your gardens by renewing and restoring any concrete surface you have, including patios, walkways, pool decks, driveways, vertical surfaces like fireplaces, retaining walls and siding, and even interior floors. Our stamped seat wall and fire pit system can create realistic stone hardscapes for your outside entertainment areas.
Concrete is the most durable and long-lasting material for exterior surfaces and with decorative concrete overlays, you can achieve the look of other flooring materials at a fraction of the cost. Decorative concrete can replicate real stone, pavers, flagstone, cobblestone, slate, tile, brick, and more, but with the superb benefits of concrete:
Unlimited design potential
Custom coloring to match existing architecture
Concrete overlays revive damaged concrete without demo and replace
Reduces allergens, no mold or mildew due to resistance to moisture
More economical than organic flooring; no need to replace every few years
Durable finishes do not fade, chip, stain or peel
Withstands all kinds of weather, extreme hot or cold temperatures
Easy care and maintenance
Quick installation by trained professionals
Two-year warranty* on work and materials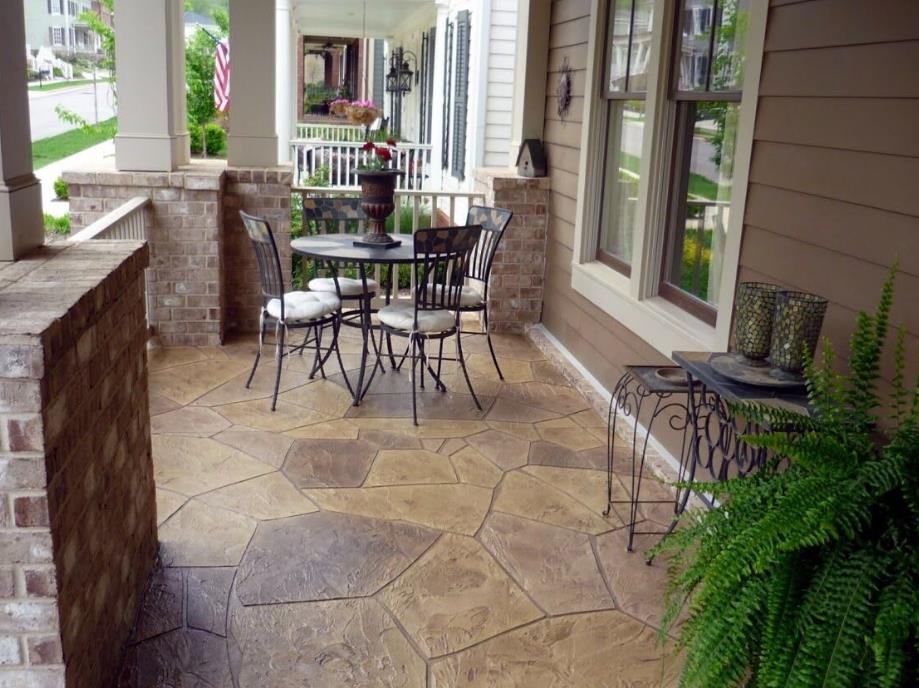 So don't let a small space deter you from gardening or entertaining. Get the jump on spring and summer fun by calling 866-813-3699 today or go online to ConcreteCraft.com to find the Concrete Craft location nearest you and request a FREE estimate.
If you have children and pets, you might want to investigate plant safety, including landscape and garden plants that could be dangerous. Check out Common Poisonous Plants and Plant Parts.
If you have questions on a specific plant's safety around pets, ask the ASPCA (American Society for the Prevention of Cruelty to Animals): Poisonous Plants, Toxic and Non-Toxic Plants List