Pool Deck Designs to Transform Your Backyard into a Staycation Destination
Sometimes summer vacations can be so much "fun," you have to get back home to relax! Airports, long road trips, and hotels with paper-thin walls can all conspire to make your restful vacation less than restful. If your family's summer vacations are not eliciting the desired result for the time and money spent, maybe it's time to join the millions of people who choose family staycations instead of heading out to find the elusive ideal vacation spot. Transform your own pool and patio into a destination-style location that will enchant the whole family.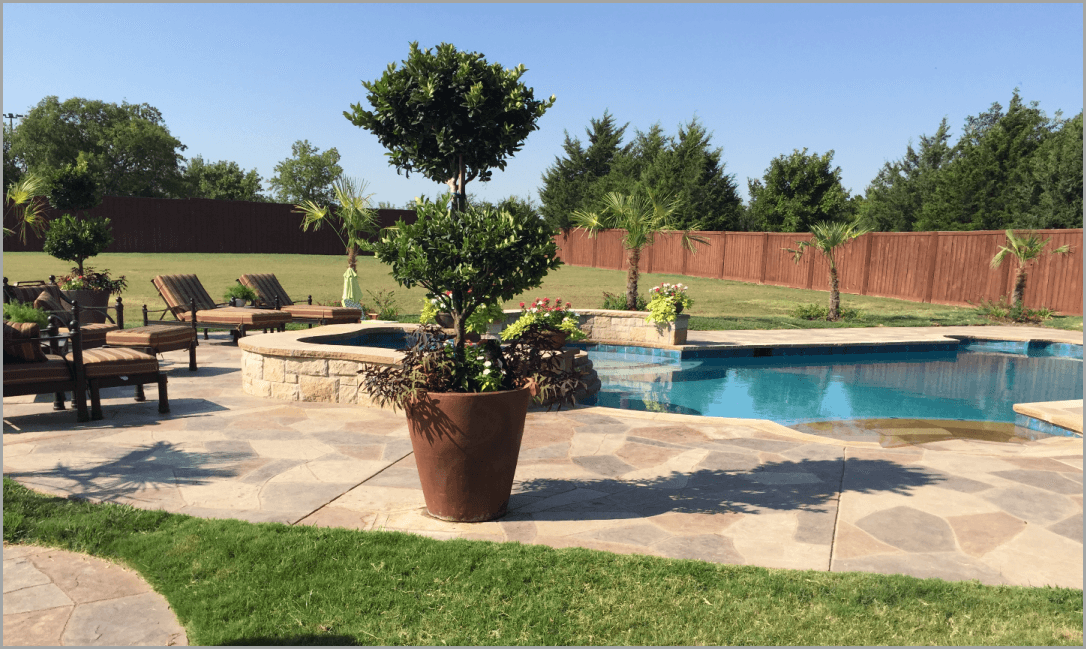 Transform home into a vacation spot
Rather than have your vacation dollars boost the economy somewhere else, invest in your own home. A decorative concrete overlay from Concrete Craft® can transform your dull gray pool deck into the fanciest hangout in the neighborhood. With decorative concrete, such as the hand-carved flagstone pattern in the picture above, you can design the perfect style and color for your home. Stained, stamped, and resurfaced hand-cut designs can deliver the vacation spot of your dreams! And, the adventure isn't over in one or two weeks, it's a permanent addition to be enjoyed year after year.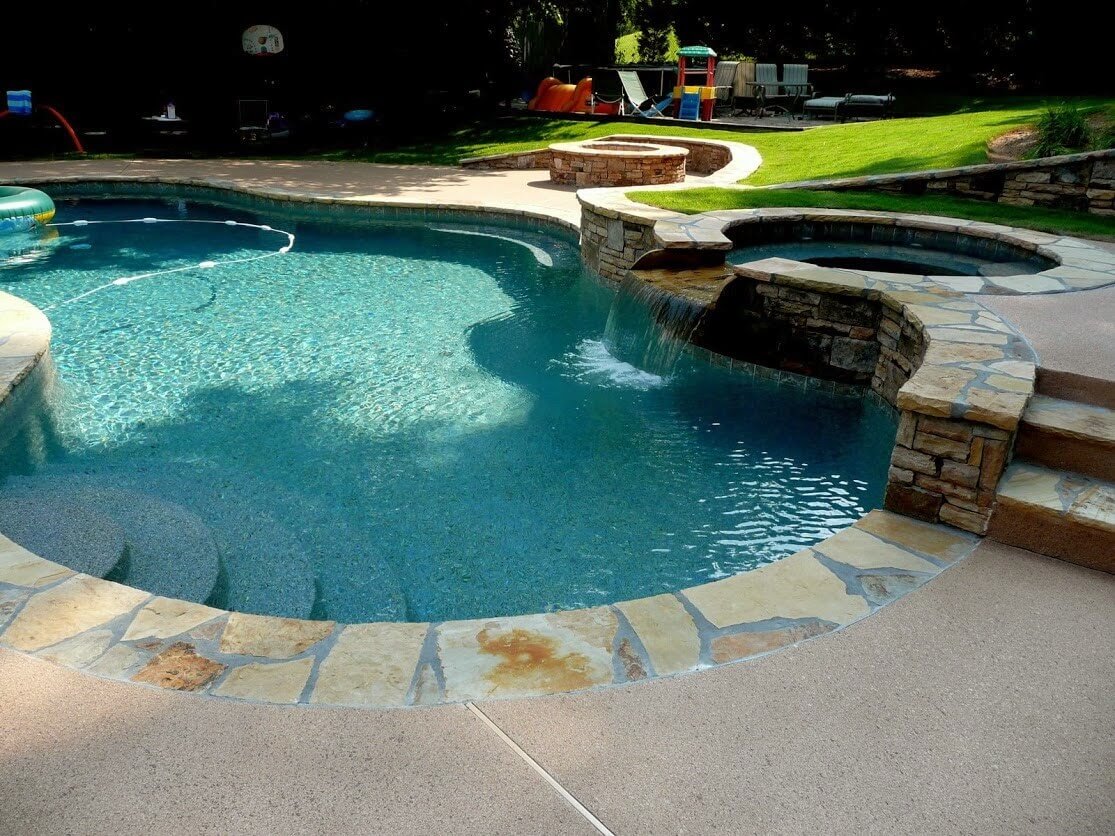 Incorporate amenities like a play yard for the kids, a basketball hoop, or a water slide. This stained concrete pool deck is resplendent with a flagstone border, seat walls, fire pit, and a play yard making the whole backyard a fun zone. The decorative concrete surfaces resist chipping, peeling, and color fading and will stay beautiful for years of fun family staycations.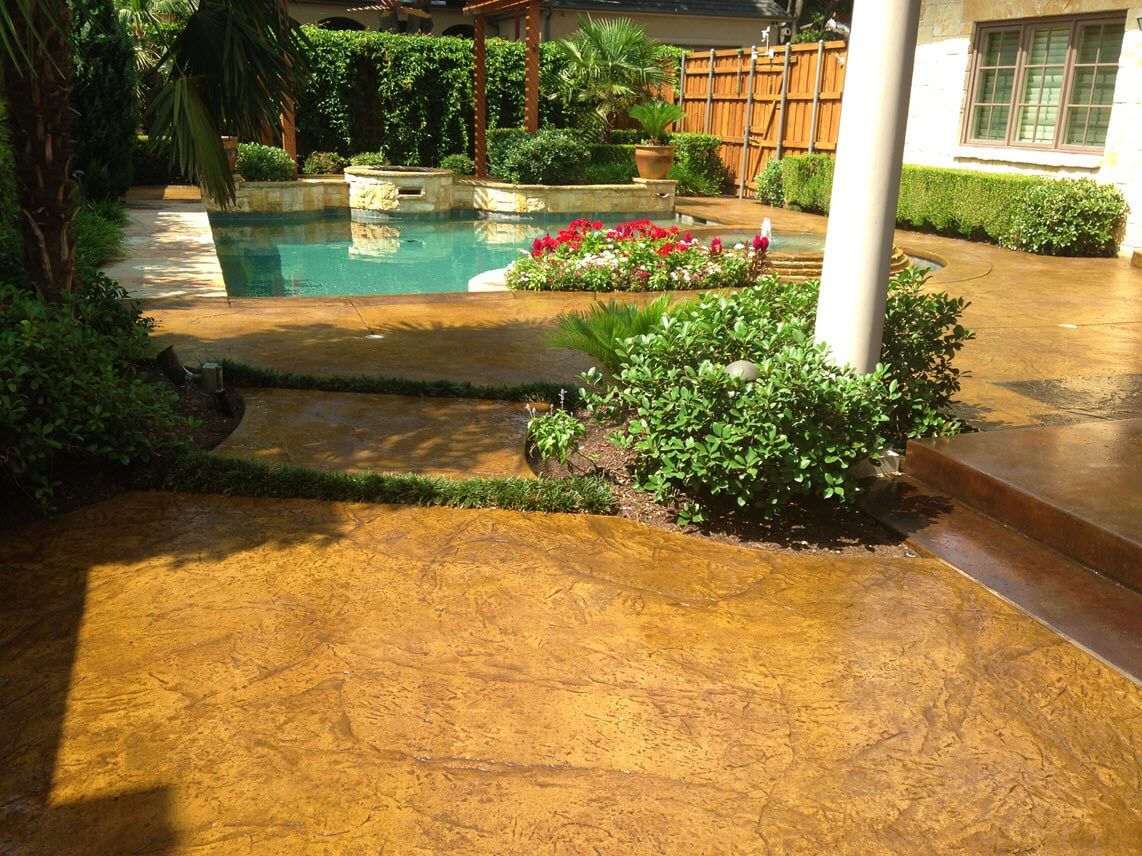 Create an idyllic setting with stained concrete to transform any patio and pool deck into the perfect place to relax, swim and get a tan. Unifying the whole area with a Roman slate stamped concrete pattern and a custom, light brown stain creates an elegant look you can be proud of. Create activity areas like a crafts table on the patio for the kids and set up lounge chairs in the shade for mom and dad to curl up with a good book.
If you like gray for your hardscapes, you don't have to settle for untreated gray concrete that will discolor, chip, and crack over time. This gray pool deck is stamped with an Ashlar slate pattern, colored with an enduring gray stain for an upscale look, and sealed so it's practically indestructible. The integral stain and industry-tough sealer protects the finish from food and drink spills, drippy suntan lotions, and normal wear and tear, no matter how much time is spent enjoying the pool.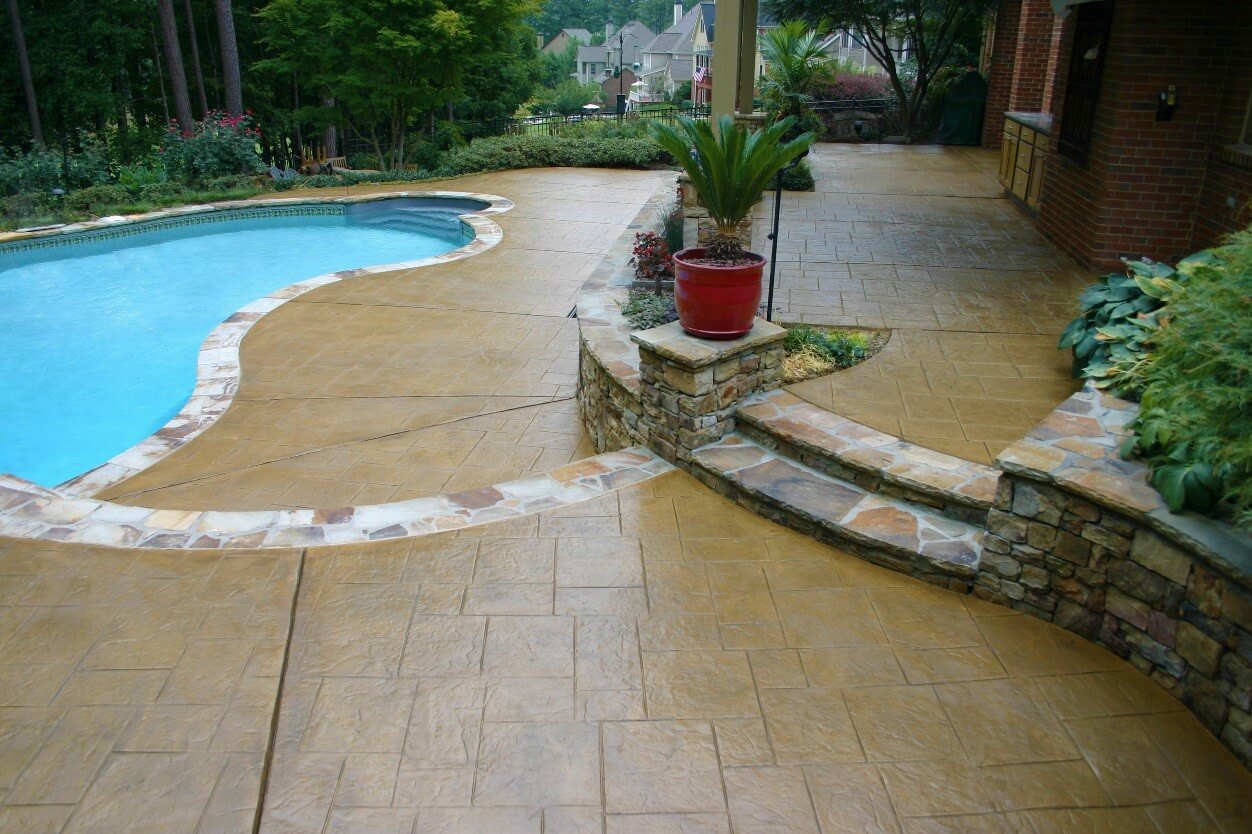 Another beautiful example of the popular Ashlar slate pattern, in warm brown with flagstone borders and seat walls, creates an elegant, intimate setting for daytime fun or midnight swims. This backyard pool and patio can rival any destination hotel with its lush plants and bordered areas. Just add patio furniture and solar lights and let the staycation begin!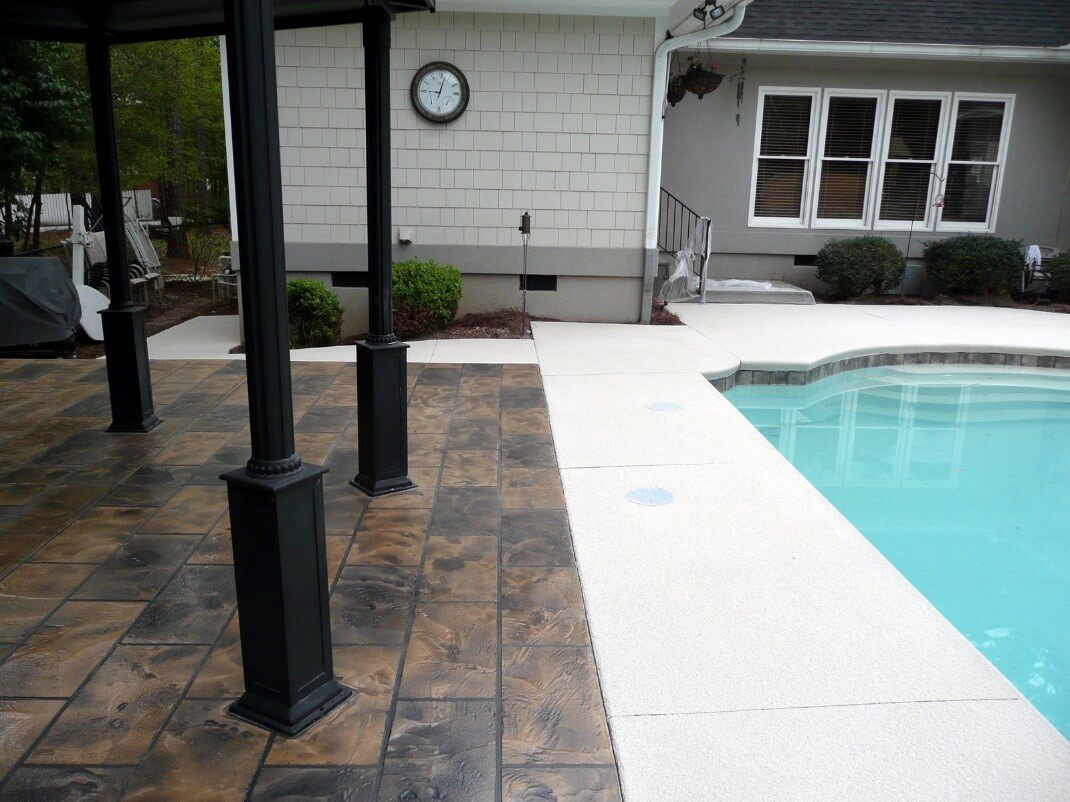 Mixing surface finishes and colors are not a problem with decorative concrete. You can easily have combinations of stained, stamped, and resurfaced concrete areas for one-of-a-kind designs. This pool deck and patio create a dramatic contrast with a light, solid color defining the pool deck and a darker, two-tone stone design for the patio area.
Act like you're on vacation
Even though you've stayed home, slip into vacation mentality for a week or two. Alter your normal routines a bit so it feels different. For example:
No cooking for mom. During your staycation, eat out like you would on vacation or use restaurant delivery services, pizza delivery, or services like Freshly and Balance who deliver "no cooking required" meals to your door. (Just beware, mom could get addicted to this!)
Switch to paper plates, plastic utensils, and disposable cups to eliminate dishwashing.
Do a "spa or health club" staycation and buy a home gym for the family and focus on getting healthy together.
Let unnecessary chores slide during vacation. Kids will love no bed-making for a few days.
Day-trip to local tourist attractions in your area and sleep comfortably in your own beds at night.
Pick one night for the whole family to binge-watch favorite movies, just like in a hotel with pay-per-view. And don't forget all the trimmings: popcorn, drinks, candy, pillows, blankets, and 3D glasses for the scary movies.
Laugh a lot and sleep late.
Concrete Craft can help you really enjoy your summer vacation by creating surroundings right at home that feed the need for fun and relaxation. With a truly relaxing vacation, you may find that the feeling lingers on, even when you've returned to work and normal schedules kick in.
There's still time to transform your pool deck into staycation heaven! Contact us today or go online to www.concretecraft.com to find the Concrete Craft location nearest you and schedule a FREE estimate. We can also upgrade any concrete surfaces with custom decorative concrete overlays, inside and out, including patios, driveways, entryways, walkways, interior floors and vertical surfaces like accent walls, fireplace surrounds, retaining walls, seat walls, and more. Check out our spaces photo gallery to see what we can do for you.