Pre-empt Allergy Season with Allergen-free Decorative Concrete Floors
When someone says allergies, we usually think of outside irritants like pollen, insect bites and dust particles blowing in the wind. Serious allergy sufferers and people with asthma flee indoors to escape all those threats to breathing, but the indoors can harbor allergens as well. And not just in the Spring, but all year long. If you or your family suffer from allergies with stuffy nose, itchy eyes and sneezing, here are some definite steps you can take to make your home safer and more comfortable for everyon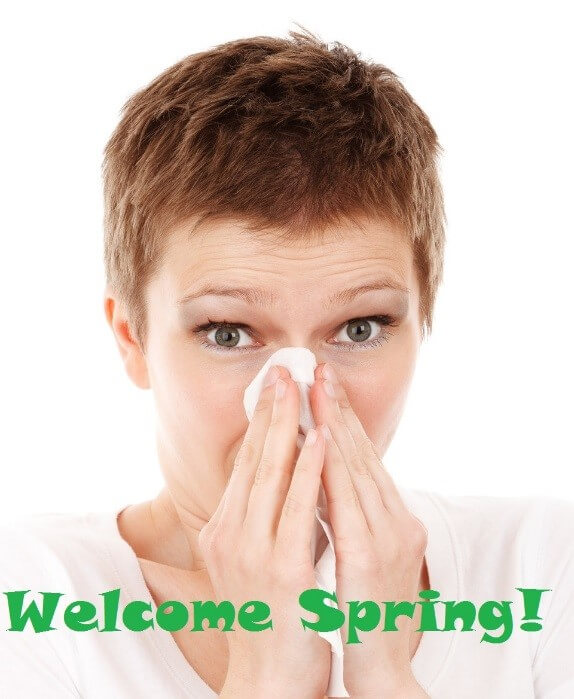 e.
Biggest offender: household dust
According to emedicinehealth.com, house dust is the main culprit for setting off indoor allergies. They define house dust as "an airborne mixture" of everything in your home from food to clothes to furniture, and human, pet and plant residuals. This means all the common call-outs—dust mites, mold spores, human and pet dander—are joined by fabric fibers, insect fragments and their waste, food particles and other debris, including tracked in pollen, dust and dirt from the outside.
Before you decide you have to live in a bubble, realize that there are things your can do to greatly reduce in-home allergens. One of the best ways to eliminate indoor allergens is to remove carpeting. Carpet and carpet padding can harbor high levels of dust mites, pet dander, mold and mildew. Concrete Craft® can help to make your home more allergen-free by replacing carpet with decorative concrete overlays in stained, stamped or hand-crafted resurfaced concrete designs that emulate real stone and hardwood floors.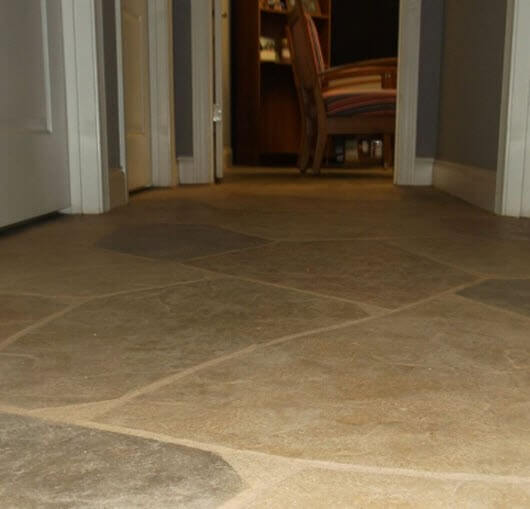 With decorative concrete floors like this Flagstone design, there is no place for all that nasty stuff to hide. The continuous sealed surface of every design repels dust, dirt, spills, moisture, bacteria and mold. A dust mop that lets you get behind and under furniture can keep your floors free of debris—no hidden dust bunnies--and let your family breather easier. An occasional wet mopping with a neutral-pH cleaner will keep your floors like new. For areas that demand softness for the feet like bedrooms and bathrooms, use washable area rugs that won't harbor allergen buildup.
Manage air quality
Even with dust-free floors, there will be a degree of airborne pollutants. Keeping windows closed when the pollen count is high is an easy way to keep out pollen and dirt that can pass through window screens. Other pro-active steps you can take to control indoor air quality include:
An air purification system with HEPA filters provides additional protection. (HEPA-grade filters remove at least 99.97% of 0.3 micrometers airborne pollutants.)
Banish pets from the bedrooms to eliminate pet dander and ensure a more peaceful sleep.
Protect mattresses, box springs and pillows with washable, allergy-proof removable covers. (Check Allergy Guard Direct for 100% cotton covers.)
Regularly vacuum window coverings and fabric furniture to eliminate any dust buildup. Use window blinds and shutters instead of curtains and drapes that trap dust in the folds. If you must have curtains, choose washable fabrics so you can keep them clean.
Replace air filters as recommended for your heating and cooling system, using filters with a high range MERV rating (12-13) for maximum filtration.
Prevent mold by controlling moisture throughout your home, such as in bathrooms, kitchen, and laundry room. Dry off surfaces where water collects, like shower walls and around bathtubs and kitchen sinks. Ventilate windowless rooms (including attics) with exhaust fans that circulate to the outside or open windows for ventilation.
Periodically check under sinks for any leaks that could create a moist environment for mold to grow. Invest in a dehumidifier to remove excess moisture from the air in a damp basement.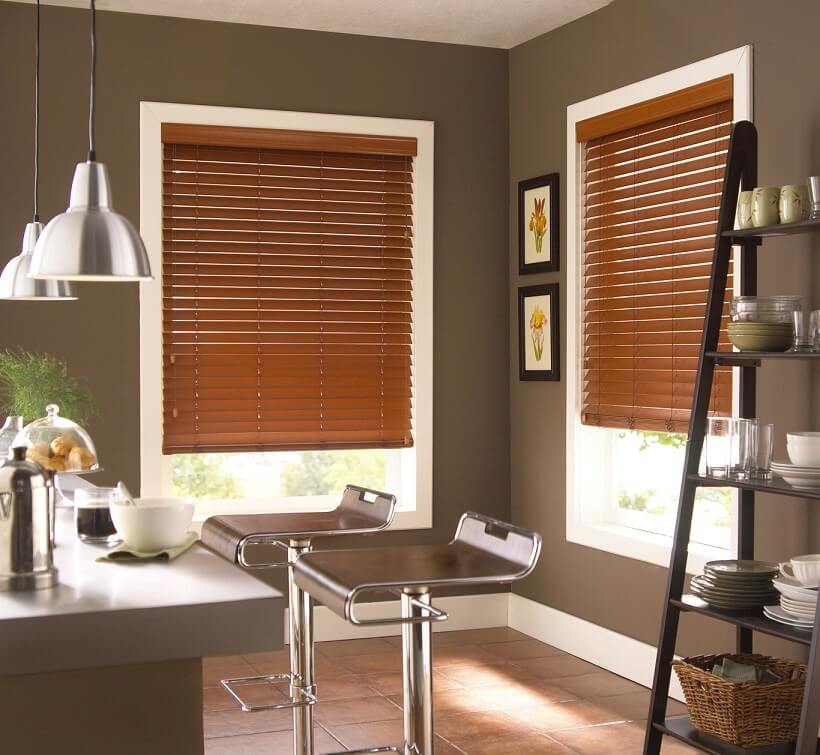 This kitchen becomes a "breathe-easy" zone with decorative concrete flooring and faux wood window blinds. Eliminate fabric curtains and unnecessary clutter that harbors dust. Think sleek and minimalist with cleared surfaces that quickly wipe clean. (Blinds courtesy of Budget Blinds.com)
Beautiful floors for any season
Reducing allergens is just one benefit of decorative concrete floors. They also bring beauty and functionality to every area of your home. You'll spend less time cleaning and have more time to enjoy your home and family. The durability of decorative concrete gives years of worry-free performance and you won't need to replace them every few years like other floor coverings, saving you money.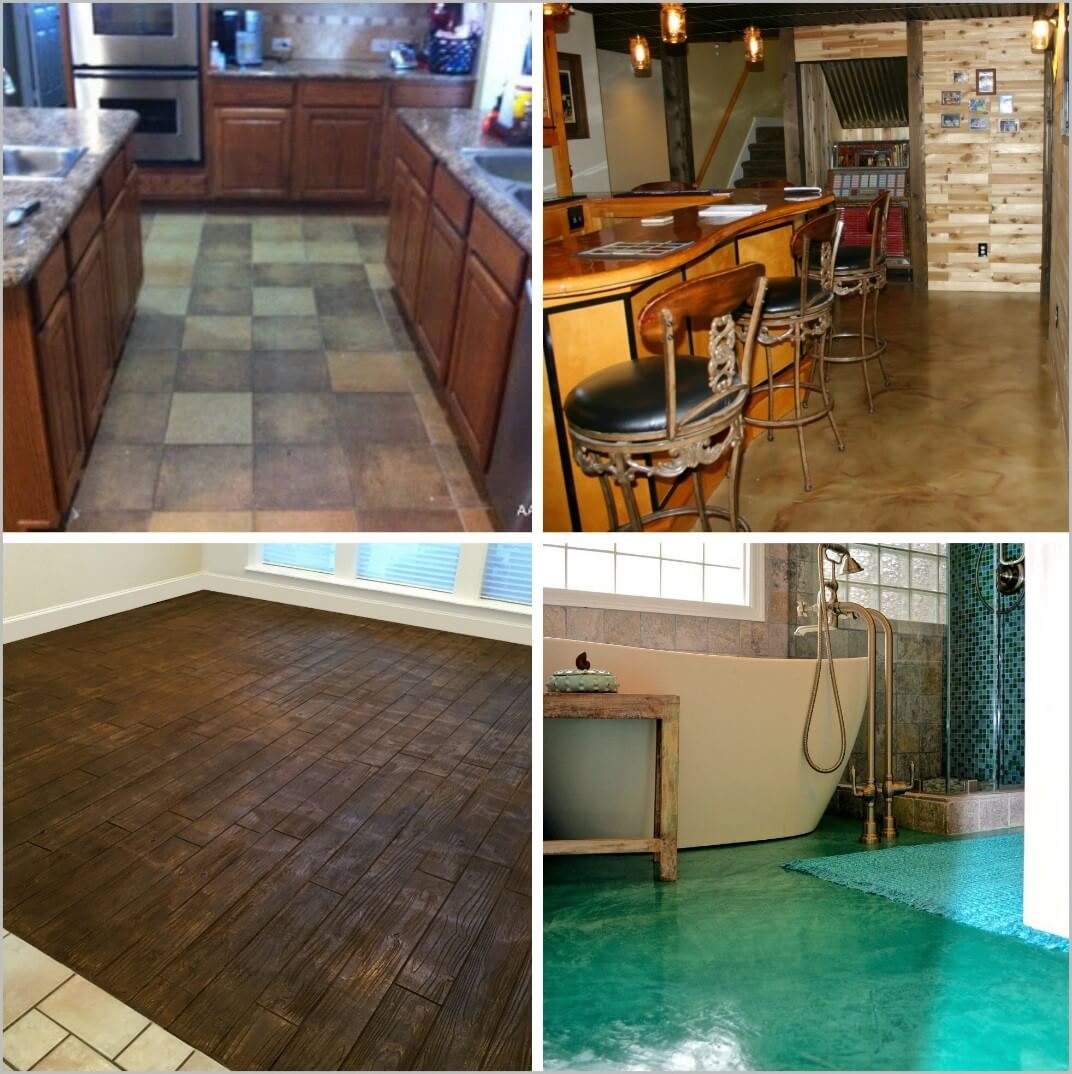 Concrete finishes range from glossy to textured surfaces, with simulated natural stone like Flagstone, Cobblestone and Slate. Other options include stencils, brick, tile and wood plank stamp patterns. In addition to interior floors, we enhance patios, driveways, walkways, pool decks and entryways with custom decorative concrete overlays. We even resurface vertical surfaces like fireplace surrounds, accent walls and siding, and offer a unique system for creating custom seat walls.
Call 866-813-3699 today or go online to www.concretecraft.com to find the Concrete Craft location nearest you and request a FREE design consultation and estimate. Our digital brochure can open up a whole new world of home improvement options through the beauty of stamped, stained and resurfaced decorative concrete.
For information on managing allergy symptoms, check out 17 Life-Changing Tips For Allergy Sufferers , a humorous look at a serious subject by BuzzFeed.com.