Protect Your Outdoor Concrete Surfaces Now from the Ravages of Winter
All across the country, people are enjoying the cooler temperatures of fall and the breathtaking phenomenon of leaves changing color as we progress toward winter. Little by little, cooler wardrobe choices are appearing in closets and on coatracks by the front door. We make sure that everyone is protected from the cold of winter, even getting new sweaters for the dogs. But are you protecting your biggest investment … your home?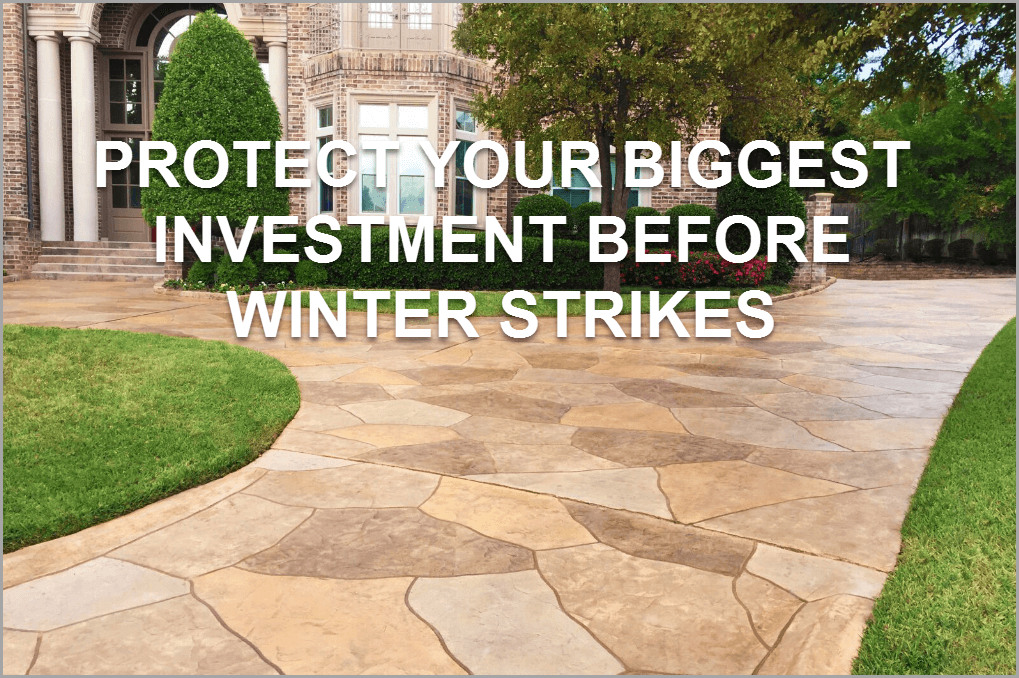 Old Man Winter can damage your concrete
If your concrete patio or driveway is looking worn out, it's no wonder. Outdoor concrete surfaces are unrelentingly assaulted by the weather, month after month and year after year. From extreme hot and cold to bone dry or soggy wet, untreated concrete will eventually show the effects of time and begin to cause problems.
Cracked, uneven walkways are a dangerous tripping hazard when sections lift or sink.
Mud, red clay, and piles of soggy, decomposing leaves can stain concrete.
Heavy rains can erode raw concrete slabs and ruin the surface.
Repeated freeze-and-thaw cycles can cause concrete to crack.
Salt and chemical de-icing products can destroy the surface of a concrete driveway or sidewalk.
Wet weather can deteriorate the grout in vertical stone walls like retaining walls and siding, causing stones to fall out.
Concrete Craft® can help you protect your home by resurfacing existing concrete surfaces like driveways, walkways, patios, and vertical walls with new, weather-resistant decorative concrete to enhance your yard, boost its curb appeal and eliminate further damage.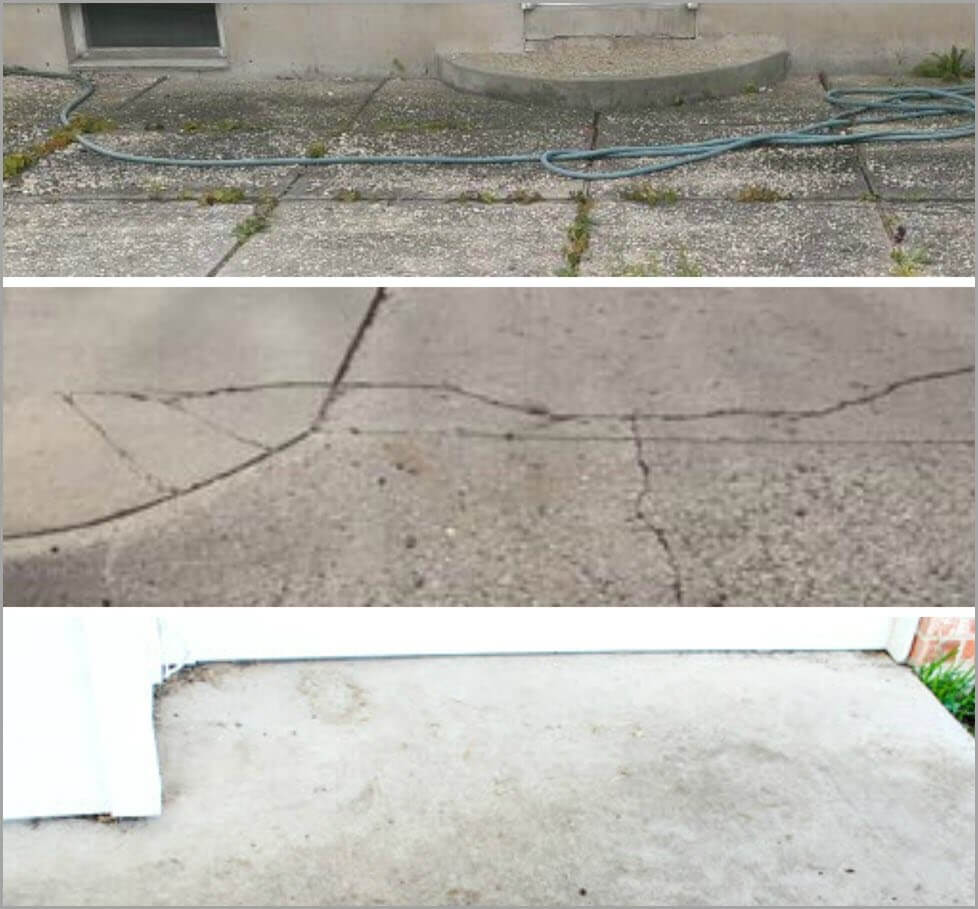 These concrete surfaces have definitely seen better days! All are pitted, stained, and cracked, with unwelcomed grass growing between the squares. As terrible as they look, Concrete Craft can restore these slabs with our unique rubberized polymer concrete overlays and make them look like new. Overlays can become works of art with decorative concrete designs in stained, stamped, and hand-carved faux stone styles such as flagstone, cobblestone, Ashlar slate, Roman slate, and more.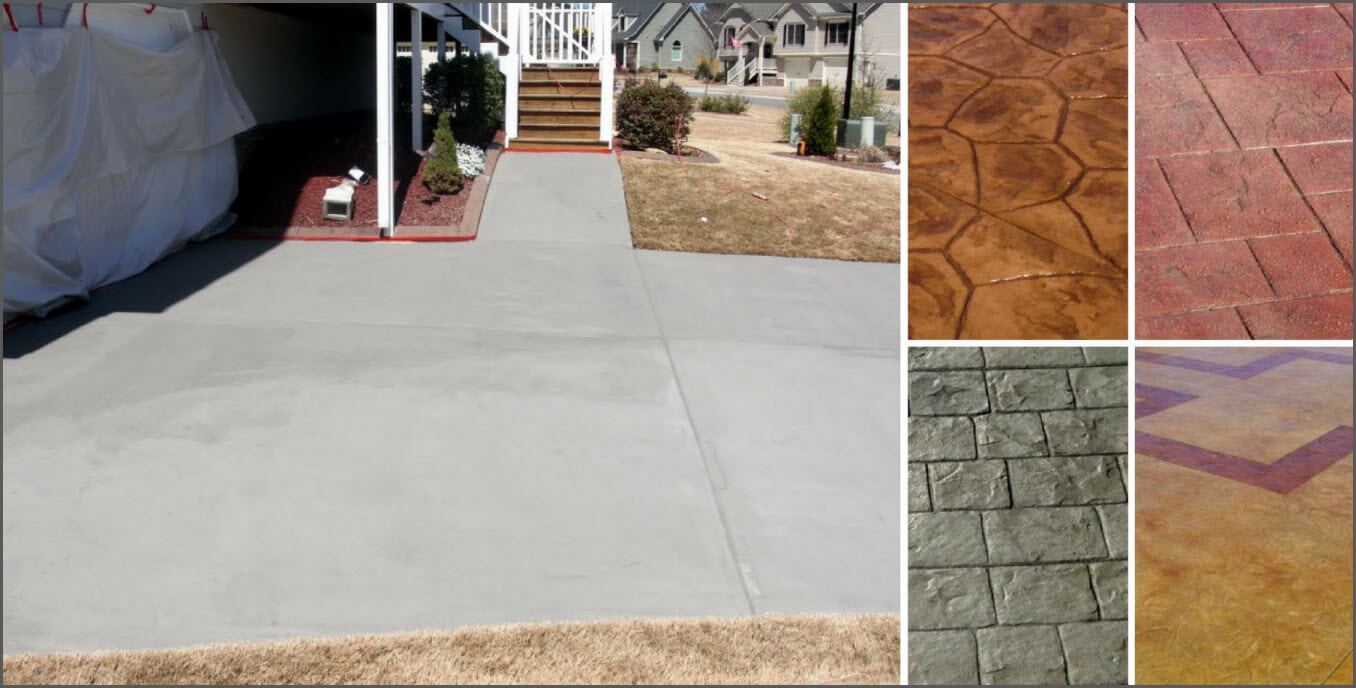 Decorative concrete restores, beautifies, and protects
You don't have to settle for the time-worn appearance of old, unfinished concrete or break the bank with demolition and replacement. Our high-quality overlays will cover and conceal stains, cracks, and imperfections and our decorative concrete finishes will make your concrete surfaces better than new.
The surface is stronger than bare concrete and blocks penetration of dirt, chemicals, oil, grease, and other substances.
Resistant to all kinds of weather, including hot and cold and wet and dry conditions.
UV protection in our concrete stains ensures your driveway, walkway or patio will remain beautiful for years with no color fading.
A tough finishing sealer gives added protection against chips, cracks, or stains.
Resurfacing instead of replacement will save time and money and be completed in a matter of days.
The unlimited design potential for beautiful, custom faux stone finishes with vibrant stain colors, realistic stamp patterns, and hand-cut designs.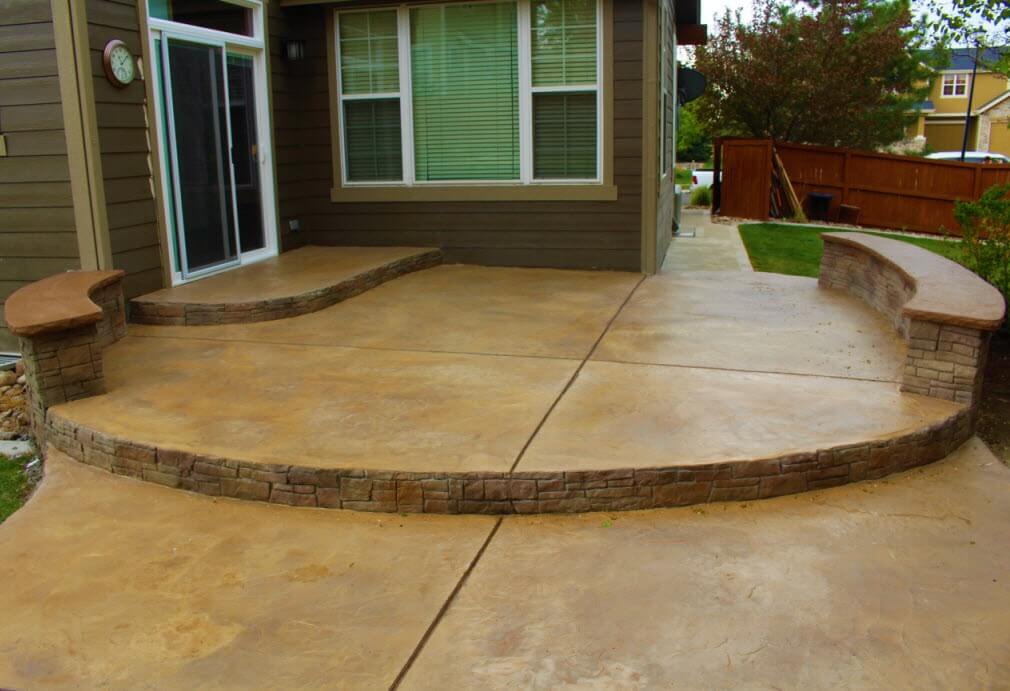 This patio has been stained and sealed with newly resurfaced concrete seatwalls added for additional seating. Its surface will repel rain, snow, and muddy boots, staying in tip-top shape all winter long, beautifully ready for its next barbeque.
Fall checklist to take the bite out of winter
In addition to concrete damage, winter weather can take a serious toll on an unprepared home, everything from pipes freezing and bursting to snow-laden branches falling on a car. Here is a fall checklist to help you protect your property before winter sets in.
Check windows and doors for drafts. Replace or repair faulty weather-stripping and caulking. This includes the garage door.
Seal and insulate pipes against the cold. Do a DIY pipe wrap with newspaper and duct tape or purchase "official" pipe wraps at a hardware or home improvement store.
Have your furnace inspected and the filter changed so it will be most efficient.
Stock up on firewood for the fireplace. Clean the chimney and add a chimney cap is missing.
Create an entryway or mudroom ready for wet winter gear and boots with hanging space and rugs or mats to catch the drips.
Install motion-sensor exterior lights for dark corners or walkways.
Clear the gutters of leaves and any debris and make sure all joints are watertight.
Trim tree branches that are dead, too close to the house, or a potential danger.
Place metal screening or heavy-duty hardware cloth over open spaces in attics, basements, and the foundation to keep out unwanted critters seeking refuge from the cold.
Test smoke detectors and carbon monoxide detectors to see if they need new batteries.
Cover your barbeque and patio furniture or store it in the garage or shed.
Don't let another winter devalue your home by adding more damage to your concrete surfaces. Taking steps now to preserve your outdoor spaces with decorative concrete will give you peace of mind that when spring rolls around, your outdoor spaces are ready for action. Contact us today or go online to www.concretecraft.com to find the Concrete Craft location nearest you and request a FREE estimate. Check out our " spaces gallery" to see more stained, stamped, and resurfaced concrete solutions for patios, driveways, walkways, pool decks, basements and interior floors, vertical surfaces, and commercial applications.