Relax On Labor Day Weekend With Easy-Care Decorative Concrete
Labor Day weekend is the last long weekend before school and work schedules get locked in place, with the next official time-off holiday (Thanksgiving) 13 weeks away! If you've compiled a long list of chores to fill the three-day weekend, we're sorry. Concrete Craft® would love for you to take the weekend off without worrying about cleaning up the remnants of summer fun throughout your house and yard, and with easy-care decorative concrete floors inside and out, you could!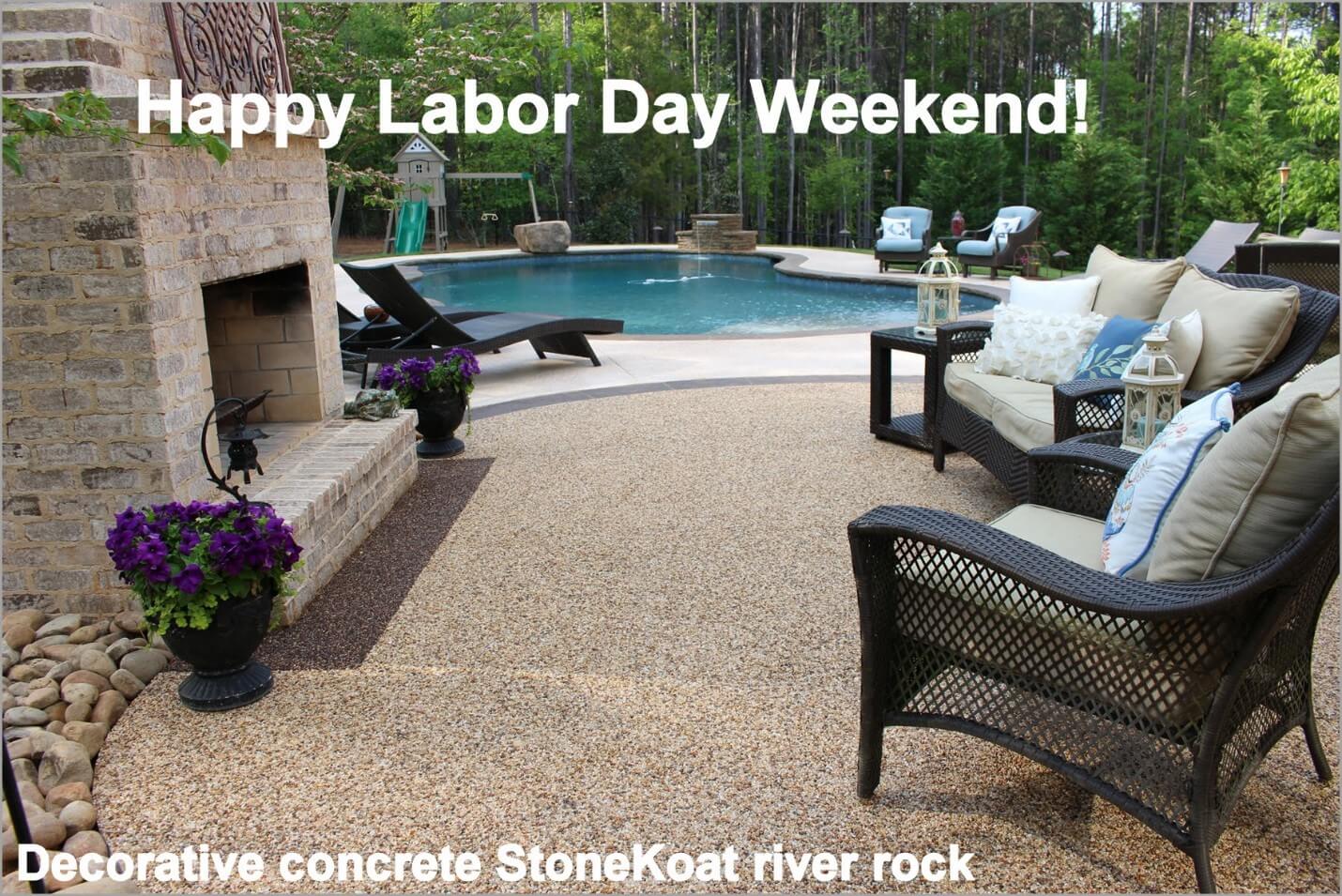 Concrete is the toughest flooring material there is, but left in its unfinished gray state, it can become damaged and unsightly just from normal daily wear.
Outdoor surfaces suffer from changing weather conditions that cause cracks and discoloration as well as surface wear.
Indoors, concrete floors are covered up with carpet, tile, vinyl, and wood that all require repair and replacement every few years to stay looking good.
Decorative concrete floors, whether stained concrete or resurfaced and stamped concrete, will provide years of beauty, durability, and very low maintenance so you can better enjoy Labor Day weekend and every day.
Stained concrete for indoor floors and outdoor surfaces
Stained concrete is the most economical way to enhance your concrete floors. Floors in good condition can be stained directly on the prepped surface and sealed for a worry-free floor. For indoor floors with cracks or where another flooring material has been removed, a concrete overlay can be applied to hide all imperfections and create a smooth surface to apply the concrete stain. Outdoor surfaces like pool decks or driveways can benefit from the same processes to cover years of wear and create amazing results in just a few days' time.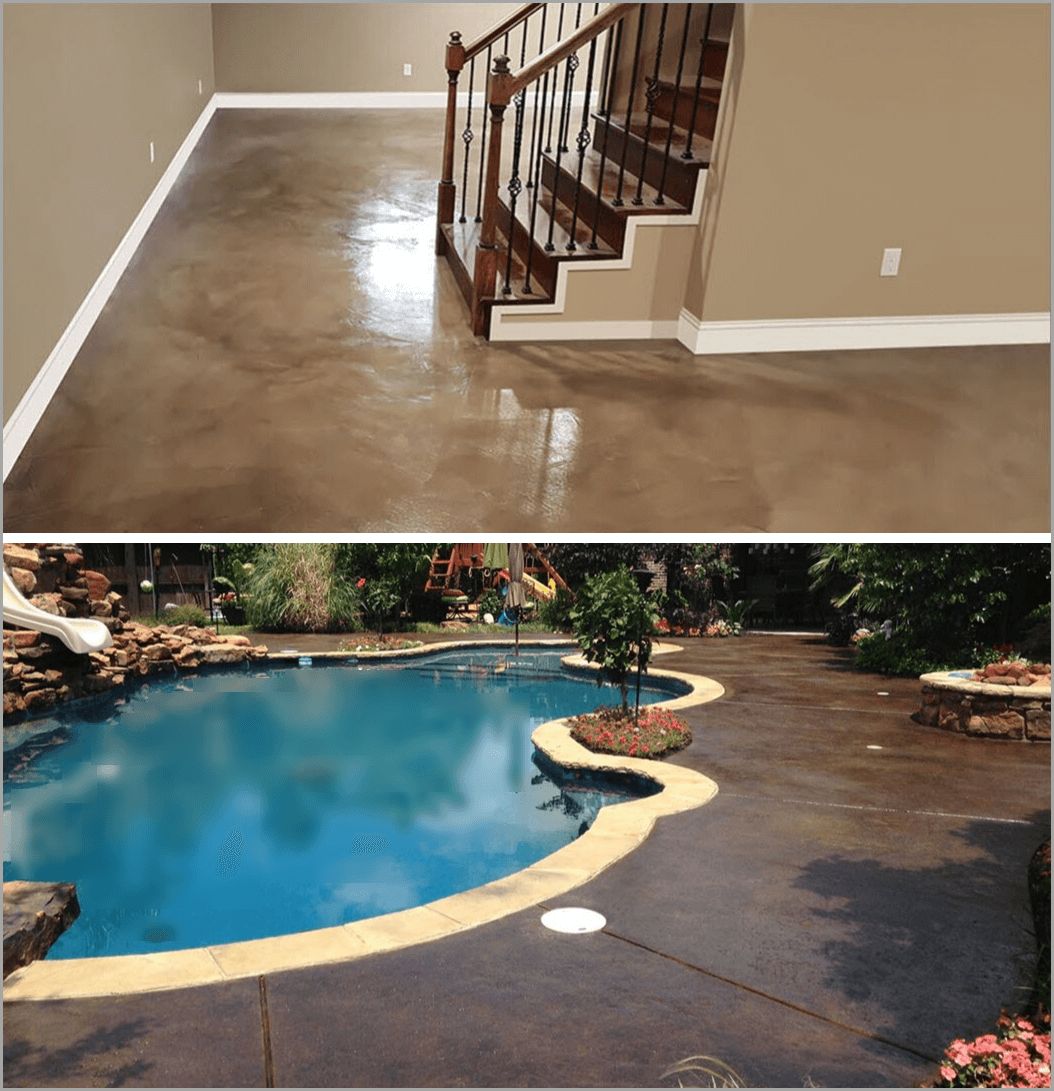 Stamped concrete designs for indoors and out
Stamped concrete rubber stamps can be pressed into freshly-poured concrete or used on top of concrete overlays to create authentic-looking stone, tile, and brick designs. Indoor and outdoor concrete surfaces can be transformed with realistic faux finishes. You can have the beauty of cobblestone, slate, porcelain, marble, Terrazzo tile, and more, at about half the cost of the real materials. Concrete stamps allow for the popular larger size tiles that can be very cost-prohibitive for big areas like driveways. Color options are unlimited with custom concrete stains to emulate natural colors or create your own color statement in stone.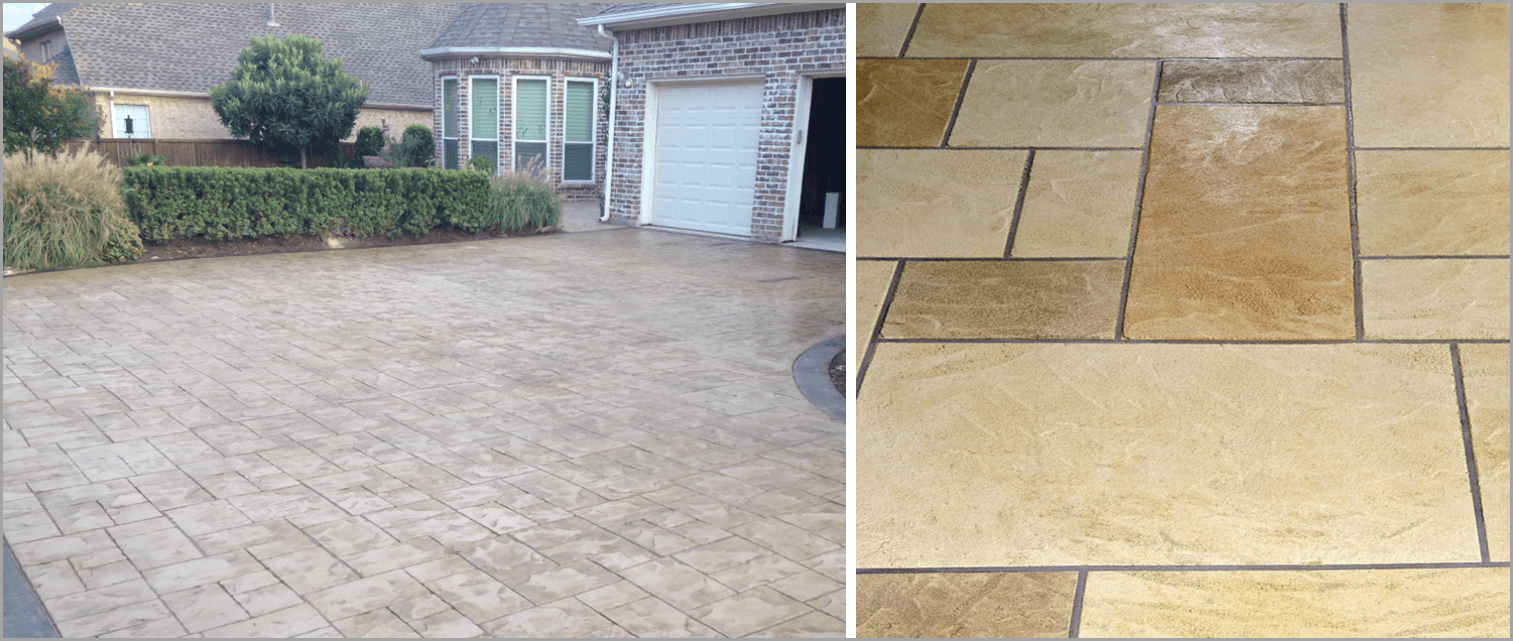 Decorative concrete wood plank designs
Wood flooring has always been a favorite for outdoor decks and indoor floors. However, the properties of wood—splinters, gouges, and warping with moisture—make it impractical in many instances. With Concrete Craft, you can have the look of natural wood flooring for interior floors and outdoor surfaces such as patios without any of the inherent problems of wood. Our wood plank stamps come in narrow to wide planks and are textured for smooth or rough finishes. Custom stain colors let you choose from light tones like maple and white oak to darker auburn and mahogany, or the trendy "greige," a combination of gray and beige for one-of-a-kind flooring.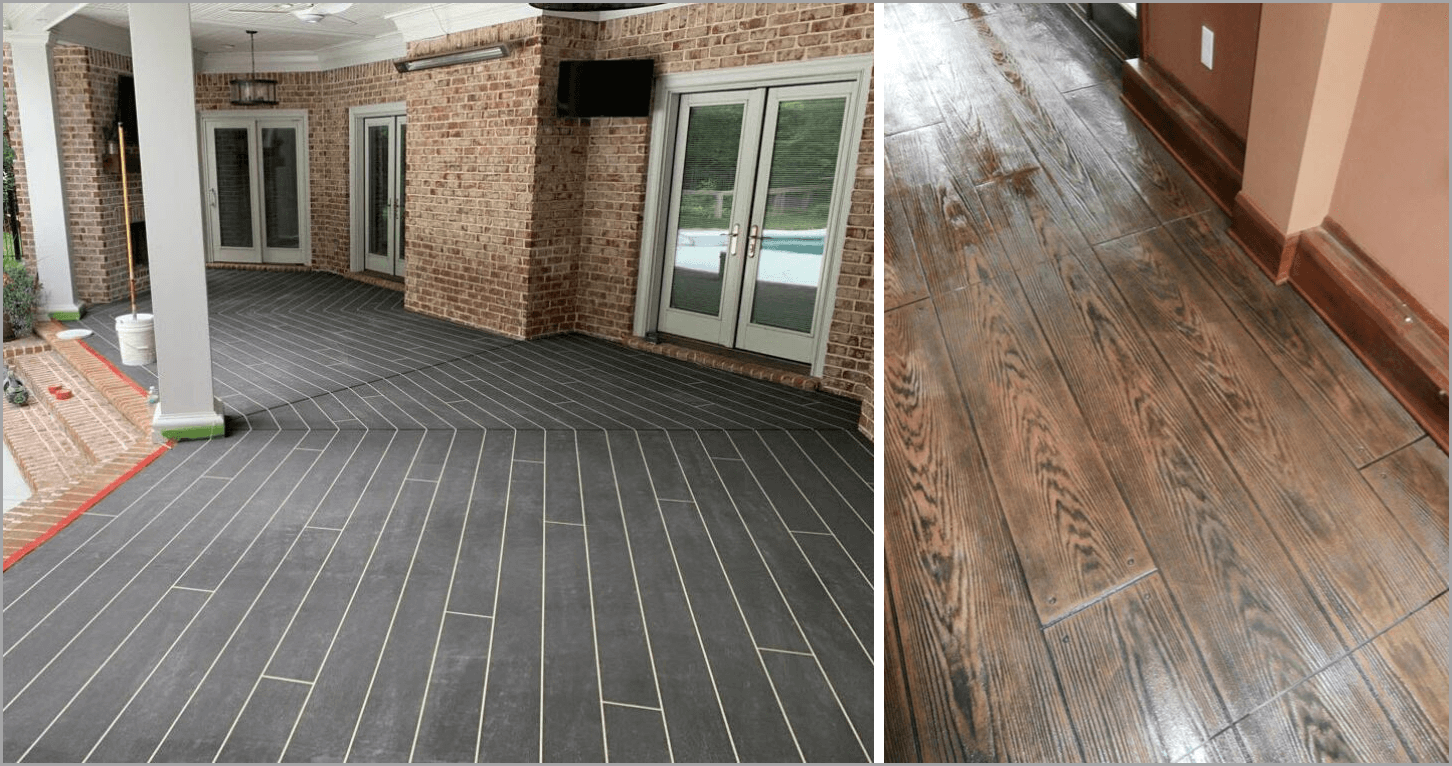 Hand-carved resurfaced faux stone overlays
Flagstone is one of the most popular faux stone finishes for resurfaced concrete. The beauty of hand-cut and custom-colored flagstone for driveways, walkways, patios, and porches can elevate any home's curb appeal. Additionally, flagstone can enhance interior floors with classic style for kitchens, great rooms, basements, wine cellars … anywhere you want a fabulous floor. The attention to detail in forming the stones and hand-staining for natural coloring produces authenticity unrivaled by any other system.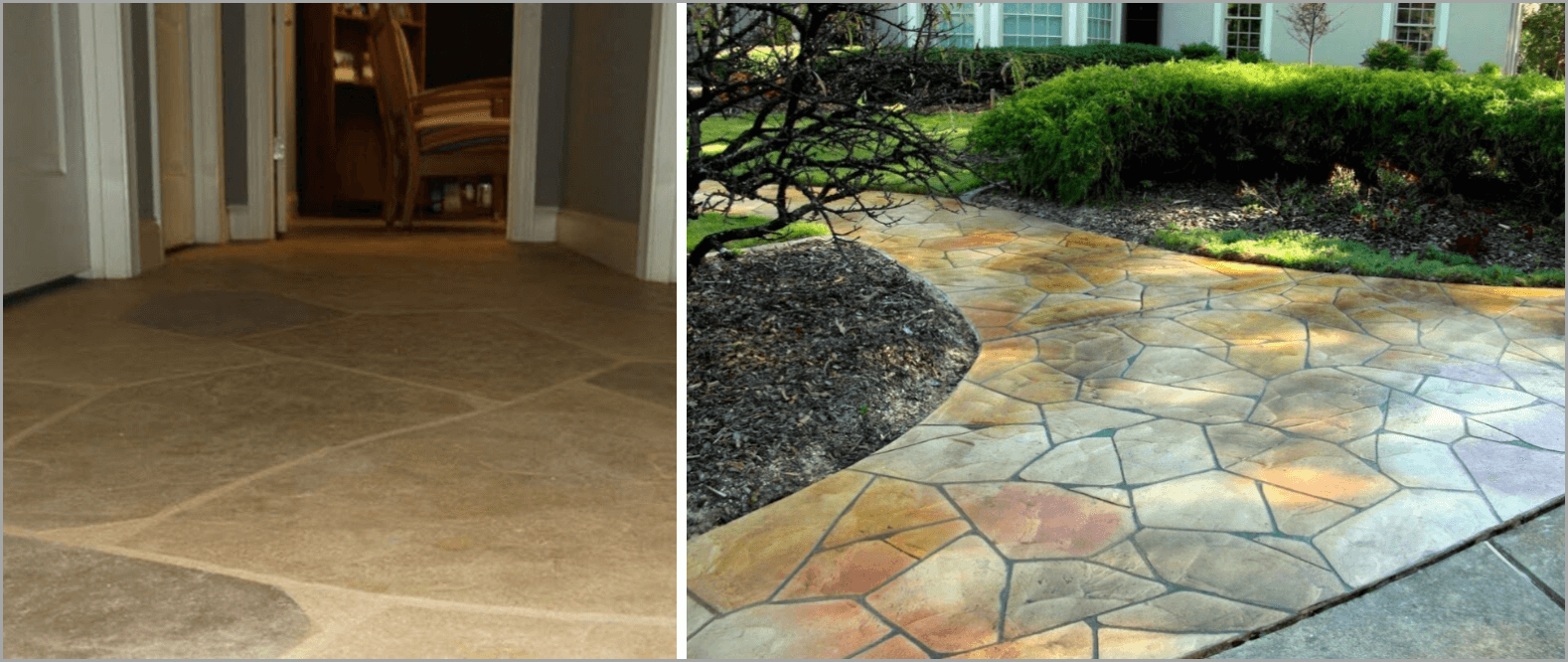 Professional results every time
With Concrete Craft, you've assured a high-quality product at the best price. Our MasterProTM resurfacing systems produce industry-tough, professional results you can count on for years of beauty
and functionality.
Our concrete resurfacing overlay system includes a performance-grade polymer and aggregate mixes for a superior product.
Design and color options are practically unlimited for refinishing your indoor and outdoor concrete floors.
Proprietary concrete stains penetrate the concrete surface for vibrant, long-lasting color, with UV protection built-in, including acid-based and low VOC water-based stain options.
Finishes will not chip, crack, fade, or peel and, with the added protection of our top-of-the-line sealers, surfaces are water-resistant and stain-resistant as well as resistant to dust and dirt buildup.
Maintenance is easy with dry dust mopping or sweeping with an occasional wet mopping or hosing off for outdoor surfaces.
Vertical concrete resurfacing restores siding, retaining walls, and fireplace surrounds as well as creating or upgrading seat walls and garden enclosures with faux stone finishes.
Our craftsmen are expertly trained, and all work is done by either the local business owner or employees; we never subcontract out on projects.
If this Labor Day weekend caught you with a "Honey-Do" list in hand, Concrete Craft can come to the rescue with decorative concrete floors and vertical concrete surfaces that require so little care and maintenance that next year you'll be lounging on the patio instead of scrubbing away lingering traces of summer. Even if you think your concrete is too far gone, call us first and learn about our repair and restoration services to avoid demolition and replacement costs. Contact us today or go online to www.concretecraft.com to find the Concrete Craft location nearest you and request a FREE design consultation.