Repair and Restore Walkways and Driveways During National Home Improvement Month
National Home Improvement Month is the starter pistol that signals the flurry of home improvement projects that will keep homeowners occupied during the spring and summer months. The warmer weather means it's time to liven up living spaces with enhancements and improvements you've dreamed about all winter, especially making the outdoors more beautiful and inviting.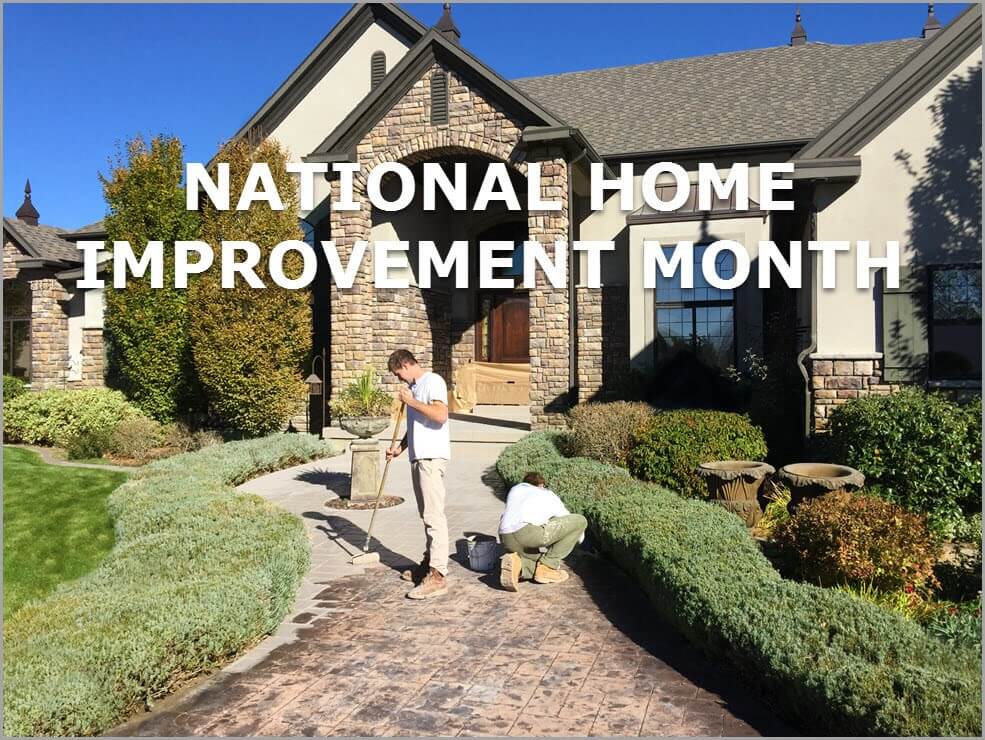 According to the National Association of Home Builders' latest figures (2017), "repairing property damage" accounted for 23 percent of the remodeling done that year. Not really surprising, since every part of the county makes its own contribution to outdoor property damage: ice, snow, rain, high winds, blistery sun, and freezing temperatures. The property does take a beating from the elements and, eventually, can show unsightly wear. For damaged concrete driveways and walkways, Concrete Craft® can restore your concrete surfaces to better than new without demolition and replacement:
Repairing cracked and damaged surfaces
Restoring worn and discolored finishes
Enhancing concrete with river rock concrete overlays
Creating realistic faux stone and wood finishes with stained, stamped, and hand-carved decorative concrete overlays
Repair, don't replace damaged concrete
Even severely-damaged concrete with ugly spalling, deep cracks, and a completely degraded surface can be repaired with RestoreKoat by Concrete CraftTM, a versatile repair mortar that can repair resurface damage with an overall, brand-new concrete look. Especially economical for big projects like driveways, walkways, and pool decks, you can eliminate years of wear from the appearance of your home and add beauty and value. Installation is quick, getting most driveways and walkways back in service within one day. You'll hardly know we were there except for the stunning result.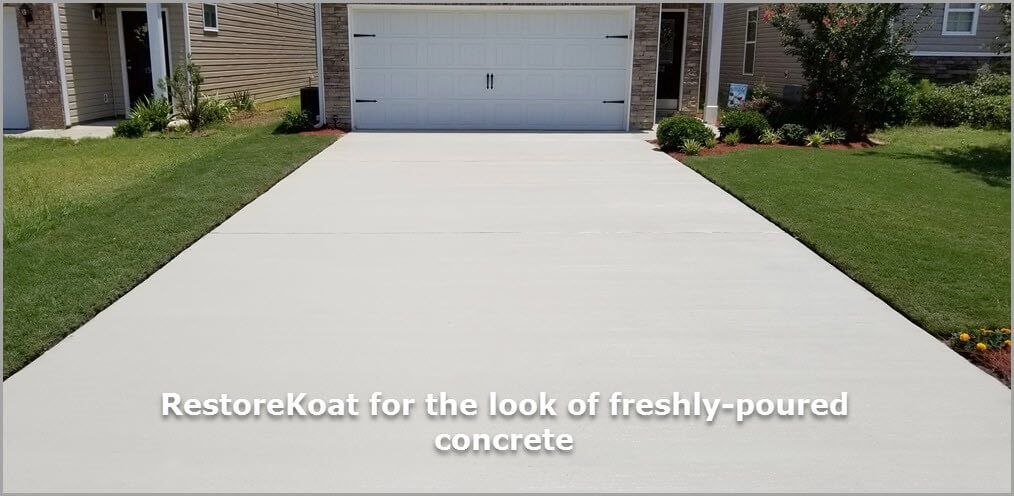 Revitalize worn concrete surfaces
If you have a driveway or walkways that aren't necessarily damaged but showing lots of discoloration and wear from years of service and abuse by Mother Nature, Concrete Craft can restore them without major upheaval. Industry-tough RenewKoat by Concrete CraftTM will restore the faded surface with a revolutionary overlay made with real cement that rolls on like paint but doesn't obscure the original design or character of the existing concrete. The surface is revitalized with a fresh finish to renew its beauty, or you can choose from 10 colors for a completely different look to update your yard. RenewKoat is a quick, clean application with very little mess or dust and you'll be back on your concrete in no time.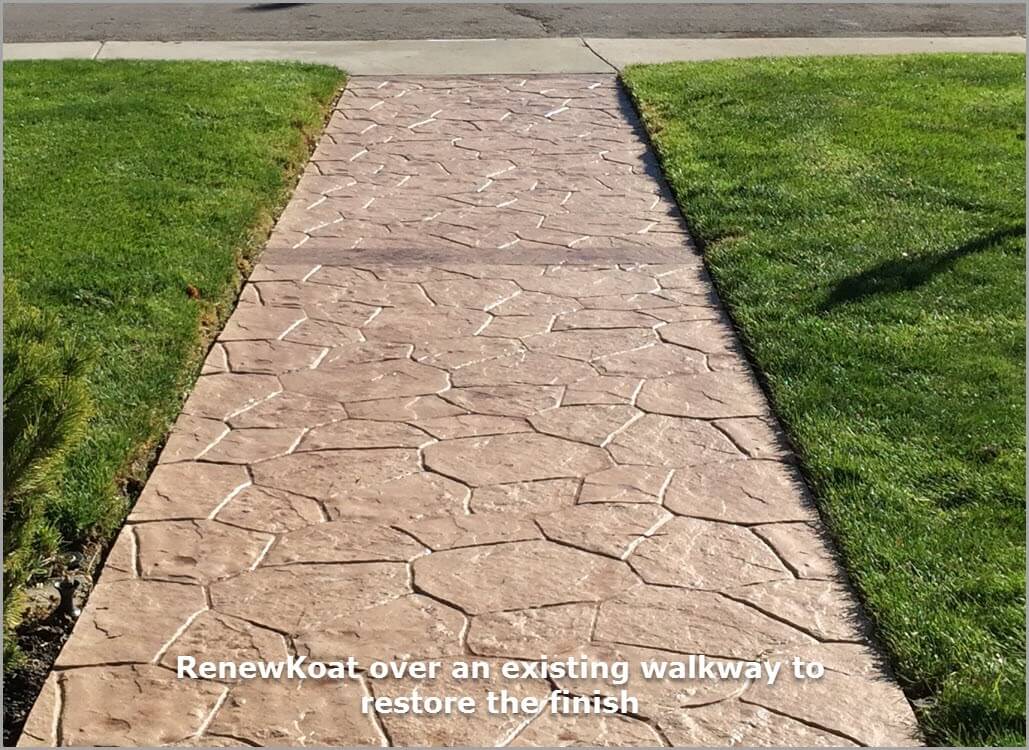 Rejuvenate old concrete with new finishes
Decorative concrete overlays are the perfect solution for driveways and walkways that have minor surface damage like cracks, imperfections, and discoloration. Applying an overlay hides the distressed surface, giving a fresh concrete surface that can be stained, stamped, or hand-carved in faux finishes that look natural and authentic. Using real stone and wood molds and hand-applied stain colors, we create finishes such as flagstone, cobblestone, Ashlar slate, Roman slate, tile, brick, and wood plank patterns.
Hand-carved faux stone concrete overlays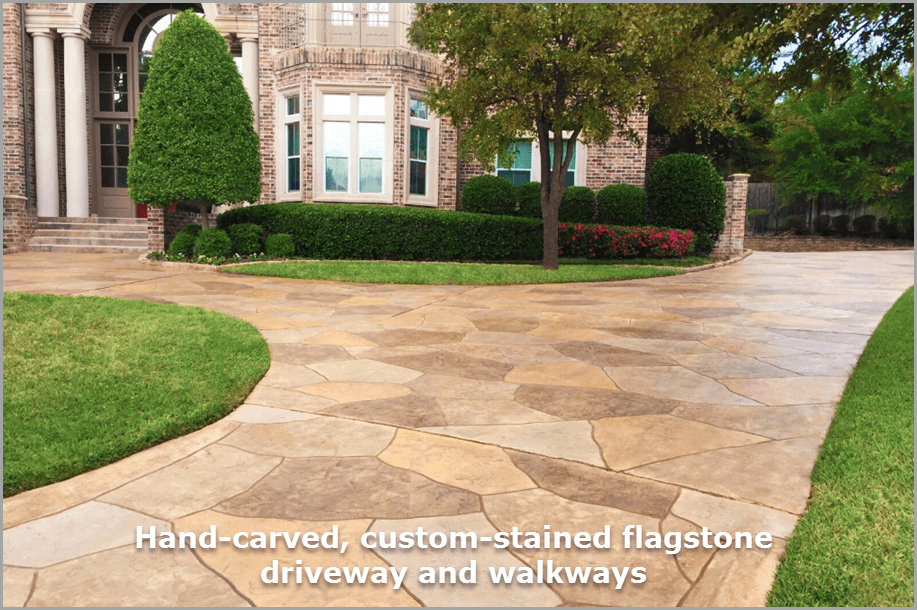 Our high-quality overlays give unlimited design potential so you can have the patio, driveway, or pool deck that you've always dreamed of, including the appearance of high-end stonework. Since everything is created onsite, there are no restrictions dependent on the availability of stone types and colors. This expansive driveway and walkways had no worries of securing enough flagstone to complete the job.
Stamped and stained concrete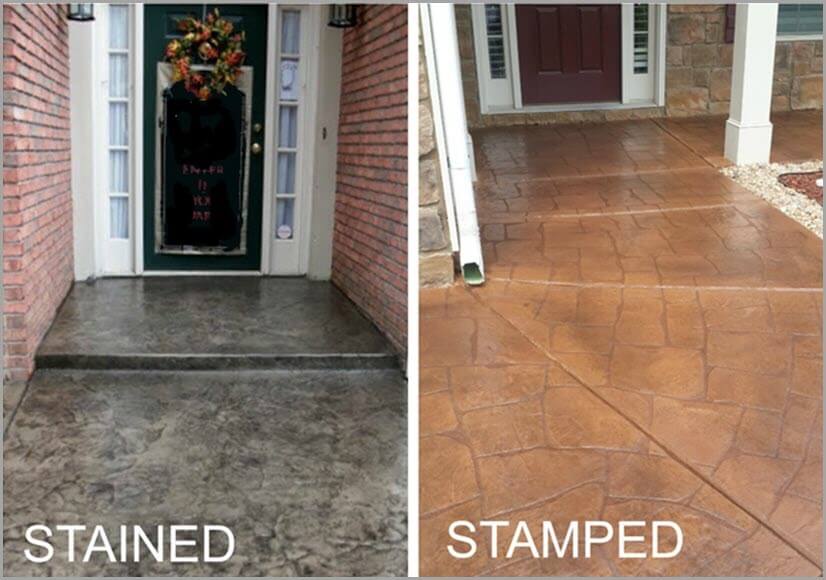 Stained concrete is the most economical way to enhance existing concrete surfaces with vibrant color. If the driveway or walkway is in good condition, the concrete stain can be applied directly to the cleaned and prepped surface, otherwise, a concrete overlay will present a flawless surface for staining. With water-based acrylic and acid-based stains, the design options are endless. With borders, stenciled designs, and multiple colors, the sky's the limit on revitalizing your outdoor areas with stained and stamped concrete. These two walkways become artistic additions to the entryways, one a gray and black stain and one a stamped and stained stone pattern.
One-step river rock concrete overlay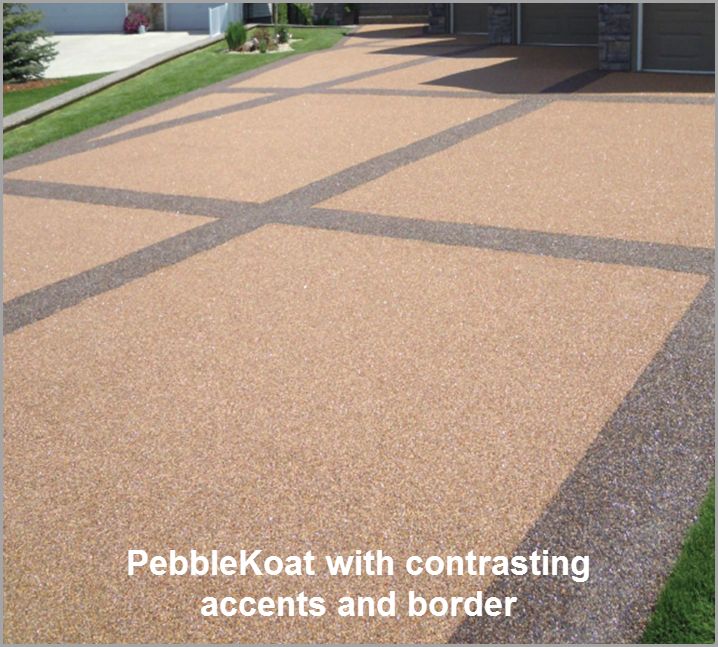 Our newest MasterProTM Finish is PebbleKoat, an exclusive non-epoxy-based river rock concrete overlay that can fill cracks, cover damage, and even out irregular surface heights in one application. Available in a range of colors, this seamless, highly-decorative glossy finish will make any driveway look like a million dollars! Extremely durable and resistant to freeze/thaw, salt scaling, UV light, abrasion, impact, and mechanical damage, PebbleKoat is a viable real stone option for either hot or cold climates.
Durable, dependable concrete
All Concrete Craft concrete finishes have durability factors in common that you can count on, including:
Guaranteed not to chip, crack, or peel
Resistant to any weather, including freeze/thaw, rain, and blistering sun
Easy to clean and maintain, repels dirt and dust buildup
Sealed, continuous surfaces are moisture-resistant and resist spills, stains, and mold
Built-in UV protection means the color will stay true
If enhancing your driveway and walkways is on your list for National Home Improvement Month, don't wait to contact us today or go online to www.concretecraft.com to find the Concrete Craft location nearest you and request a FREE estimate. You'll be amazed at the options for repairing and beautifying your concrete surfaces with faux stone, tile, and wood plank finishes at a fraction of the cost of other materials. We can also help improve patios, entryways, pool decks, and interior floors with custom decorative concrete finishes, as well as renewing vertical surfaces like fireplaces and accent walls with hand-crafted, faux stone vertical concrete overlays. Banish boring concrete forever by checking out our digital brochure and seeing the many options for versatile, beautiful decorative concrete that is just one phone call away.