Restore And Protect Your Outdoor Concrete Surfaces Before Winter Hits
Fall is officially here. Temperatures are beginning to drop as winter hovers on the horizon with the promise (threat?) of colder days and nights, rain, snow, and, eventually, freezing temperatures. If you've been putting off some yard enhancements or repairs due to the busyness of summer, now's the perfect time to call Concrete Craft® to protect and winterize your outdoor concrete surfaces like patios, walkways, and driveways before winter sets in. By protecting your property now, you won't be faced with major repairs when Spring rolls around next year.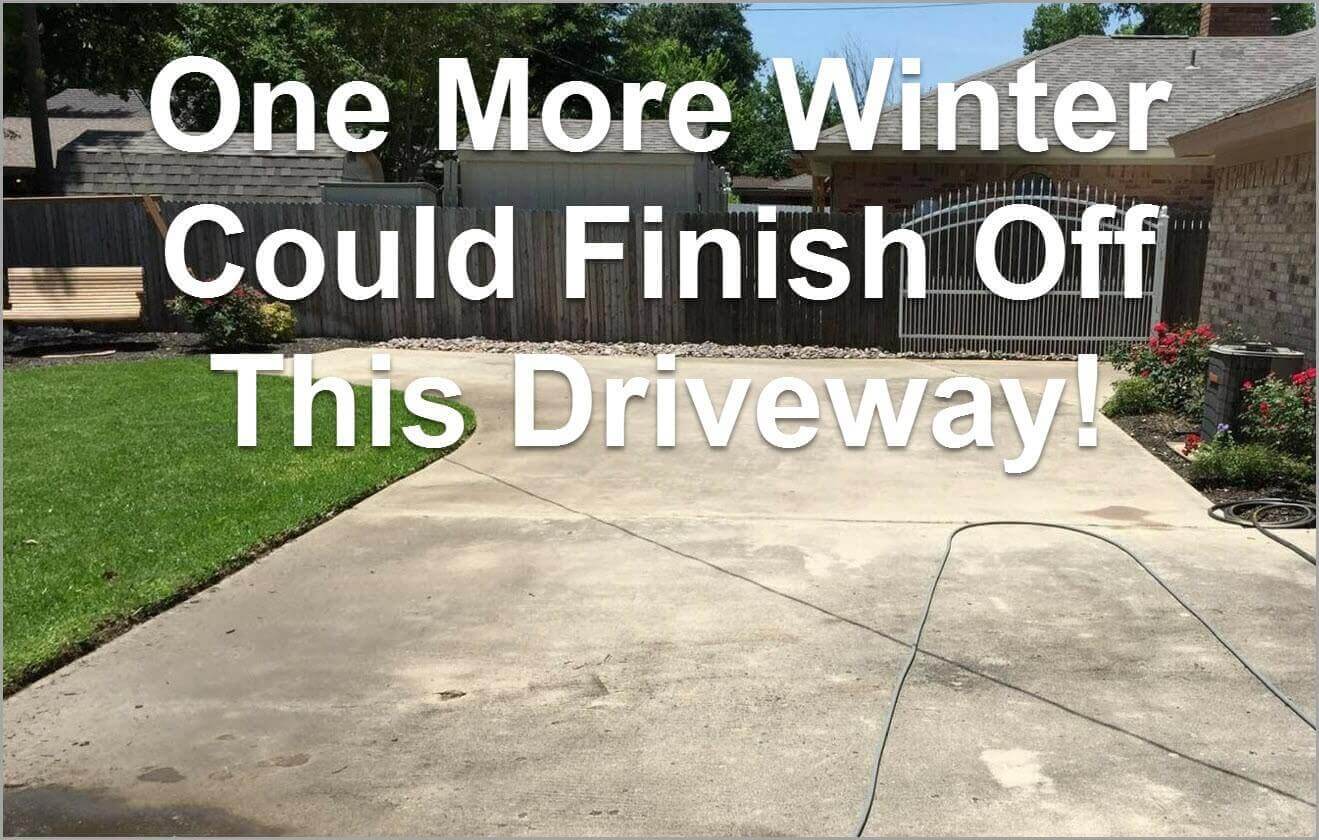 Redeem the time and have peace of mind
Extreme weather conditions can take a toll on your property and have a devastating effect on your concrete surfaces as they face year-after-year-assaults. Upgrading your outside concrete surfaces with durable decorative concrete finishes will give you peace of mind that there won't be more damage going forward.
Heavy rains can erode un-treated concrete driveways and patios.
Repeated freeze/thaw cycles can cause concrete to crack.
Walkways present a dangerous tripping hazard when sections lift or sink, creating uneven surfaces.
Piles of soggy, decomposing leaves, mud, and red clay can stain concrete.
Chemical de-icing products and salt can etch the surface of a concrete driveway or sidewalk.
Harsh, wet weather can deteriorate the grout in vertical masonry walls or outdoor fireplaces.
Repeated repairs after every winter can become costly.
Resurface with decorative concrete overlays
A decorative concrete overlay can hide surface cracks, discoloration, and imperfections for a concrete slab in good structural condition. You can then choose between stained concrete, stamped concrete, or hand-carved faux stone design to restore a patio, driveway, or weathered walkways. This patio looks like new with a stamped and custom-stained Ashlar slate design that will withstand many winters to come.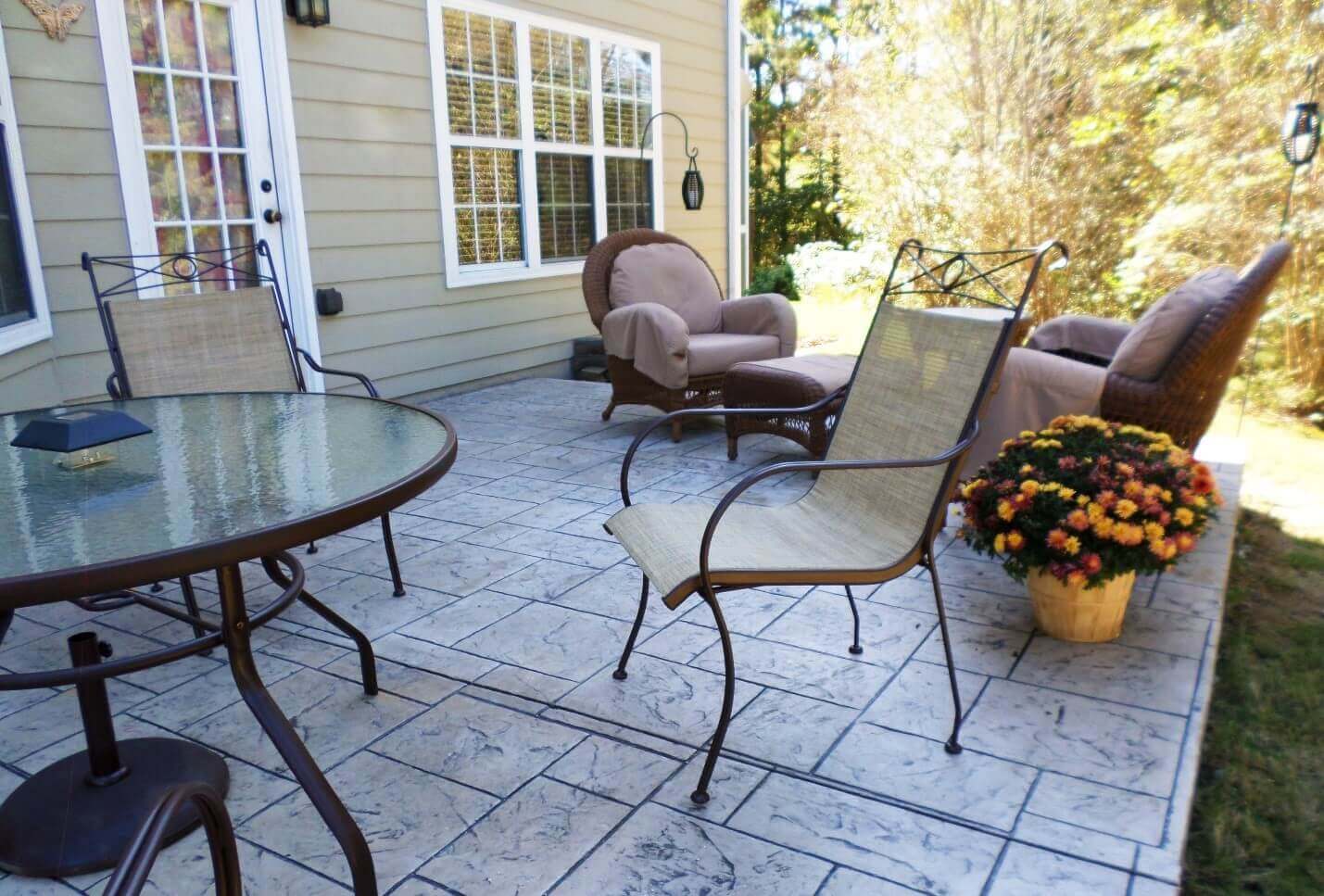 With decorative concrete overlays, you can have the look of natural stone such as flagstone, cobblestone, and slate, or a custom wood plank design for a fraction of the cost of real materials. Since everything is created onsite, you can match any existing landscape architecture or style with beautiful custom designs and unique concrete stain colors. The durable, sealed finishes are weather-resistant, stain-resistant, and won't fade, chip or peel.
Banish excessive wear with a concrete stain or RenewKoat by Concrete CraftTM
If your existing decorative concrete surface is in good condition but the finish is worn or dull, you can give your driveway, patio, pool deck, or walkways a new lease on life with a custom concrete stain or RenewKoat topping to restore its original luster or make it better than new.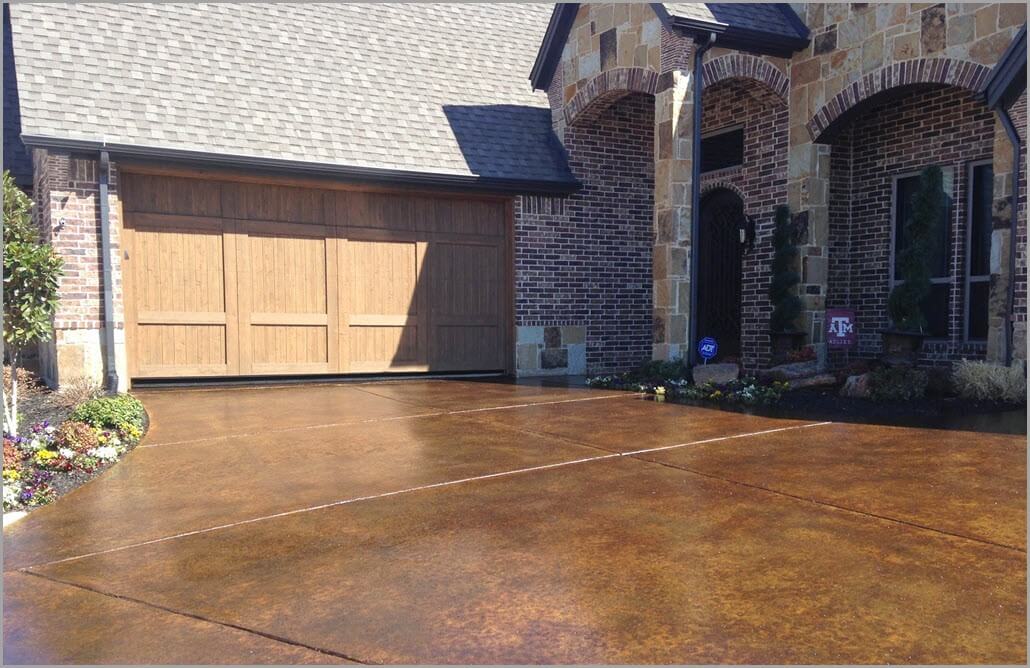 This concrete driveway wasn't especially damaged, but the dull gray surface was showing wear and did nothing for the curb appeal for the home. A concrete stain applied directly to the cleaned and prepared surface added vibrant color and a durable finish to the driveway. The concrete texture and character are visible through the translucent stain, enhanced with the richness of color, and protected by the industry-tough sealer. Stained concrete is one of the most economical ways to enhance your concrete surfaces, especially ideal for expansive areas.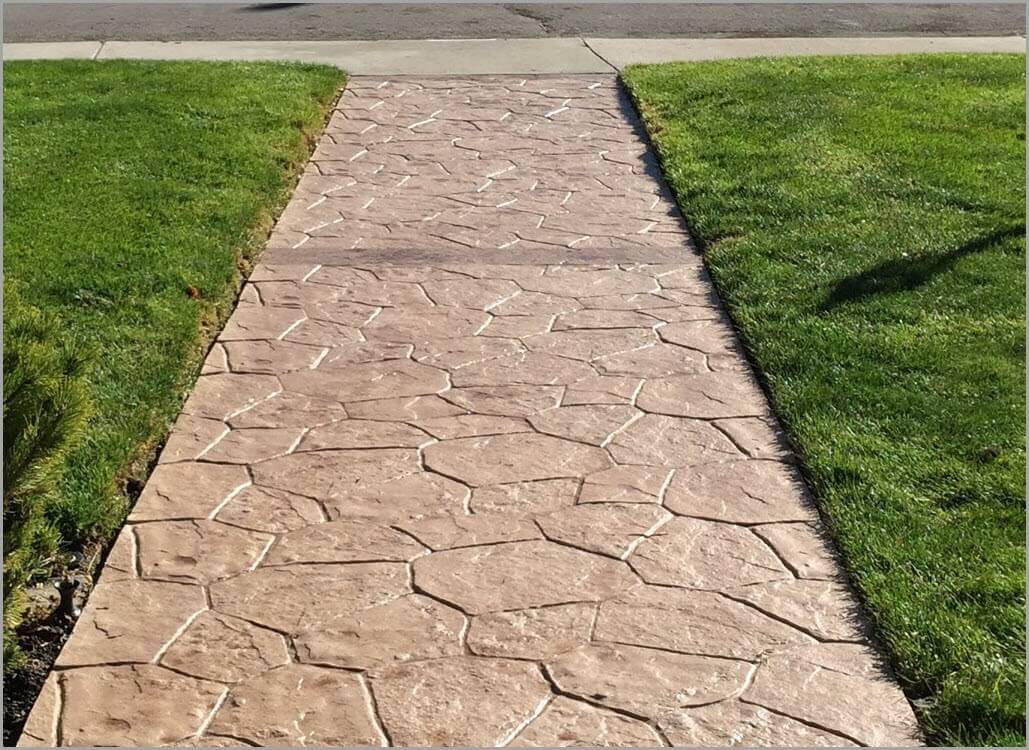 This walkway had an intact flagstone design, but the finish had worn away, leaving an unattractive, dull gray walkway. RenewKoat in a warm neutral brown was applied, creating a new cementitious finish and enhancing the flagstone pattern. This restored walkway greatly improved the home's curb appeal and will retain its beauty for years without deteriorating or fading, even in extreme weather and with lots of friends dropping by.
Repair damaged concrete and avoid replacement
If your concrete needs more than a little help, Concrete Craft can repair and restore severely damaged concrete, so you don't even have to consider the possibility of demolition and replacement. We can repair deep cracks, spalling, and uneven surfaces with our exclusive RestoreKoat by Concrete CraftTM or one-application StoneKoatTM for an extraordinary, real stone finish.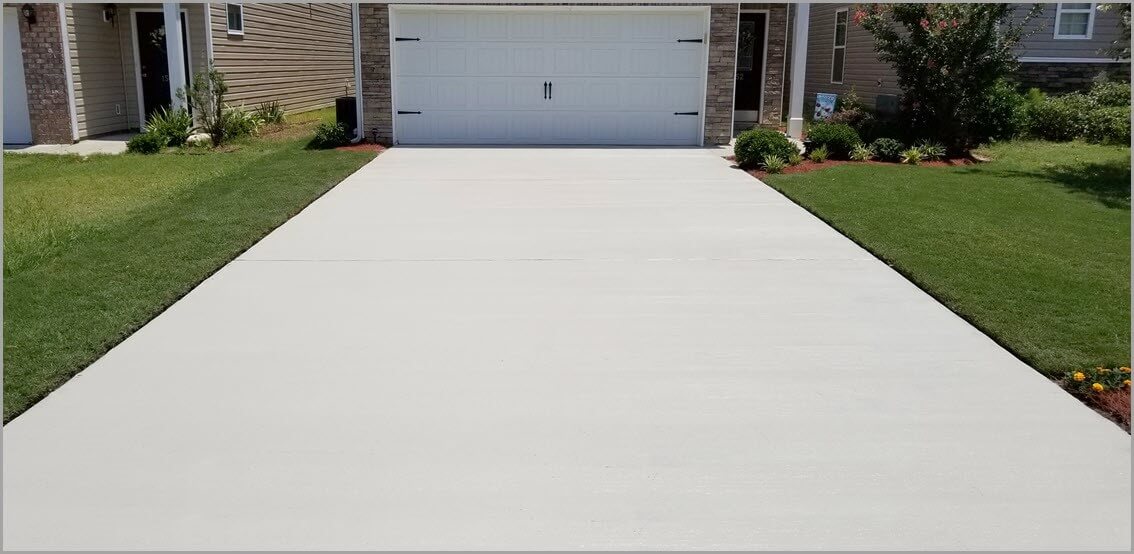 RestoreKoat can repair and restore your damaged concrete so it will look like freshly poured concrete. Especially economical for big projects like driveways, walkways, and pool decks, you can eliminate years of exposure from the appearance of your home while adding beauty and value. Installation is quick, getting most driveways and walkways back in service within one day. This new driveway can support very large vehicles, resist weather damage, salt scaling, abrasion, and oil and gas spills.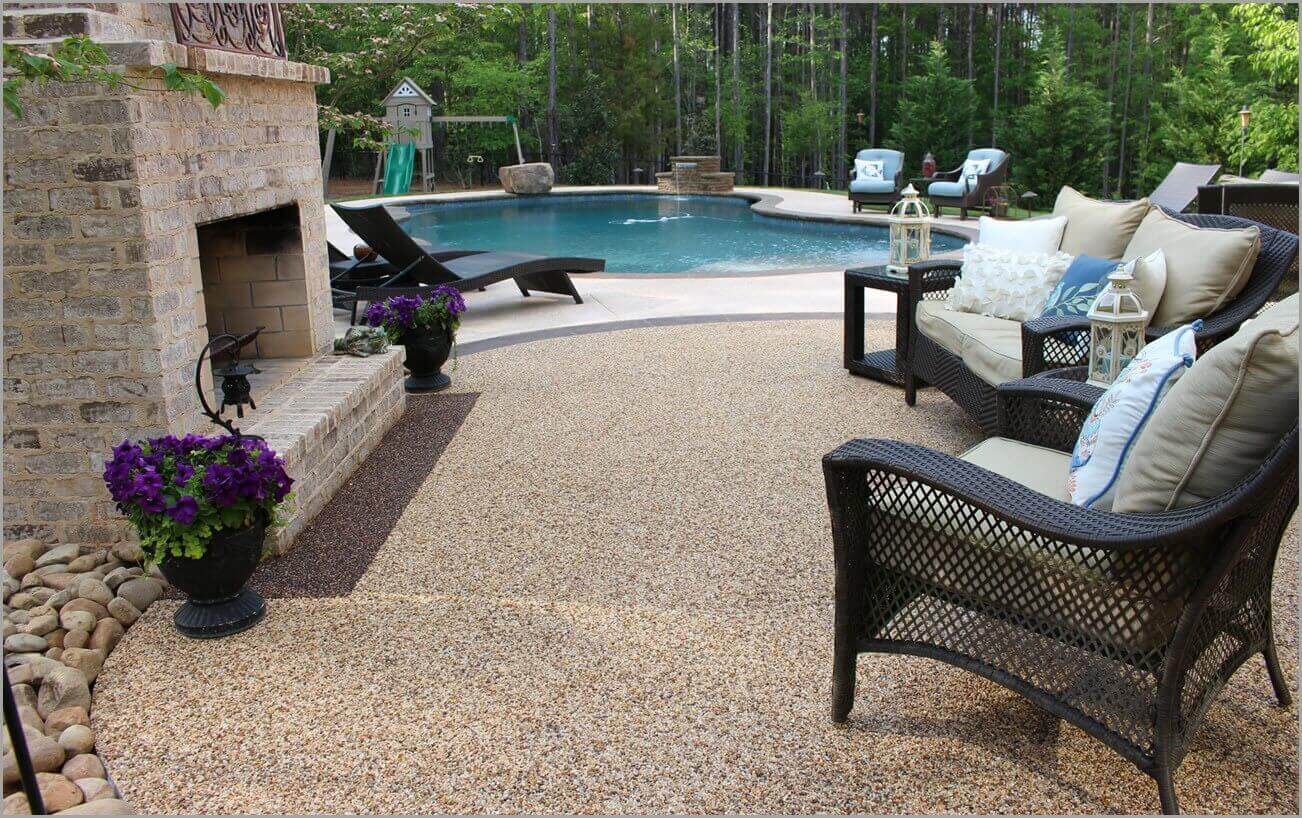 StoneKoat is an exclusive non-epoxy-based river rock concrete overlay that can fill cracks, cover damage, and even out irregular surface heights in one application. You'll be amazed at the transformation of your existing concrete surfaces. The continuous, real stone finish retains its integrity in all kinds of weather, is resistant to food and drink spills, pool chemicals, abrasion, impact, and mechanical damage, so it's appropriate for any outdoor surfaces, including patios, pool decks, driveways, and walkways. StoneKoat provides exceptional beauty, durability, and easy maintenance year after year.
Restore and protect vertical concrete surfaces
If you have deteriorating retaining walls, seat walls, stone siding, or dislodged-brick outdoor fireplaces or barbeques, we can renew your vertical surfaces and protect them from further winter damage with resurfaced vertical concrete overlays in faux stone designs.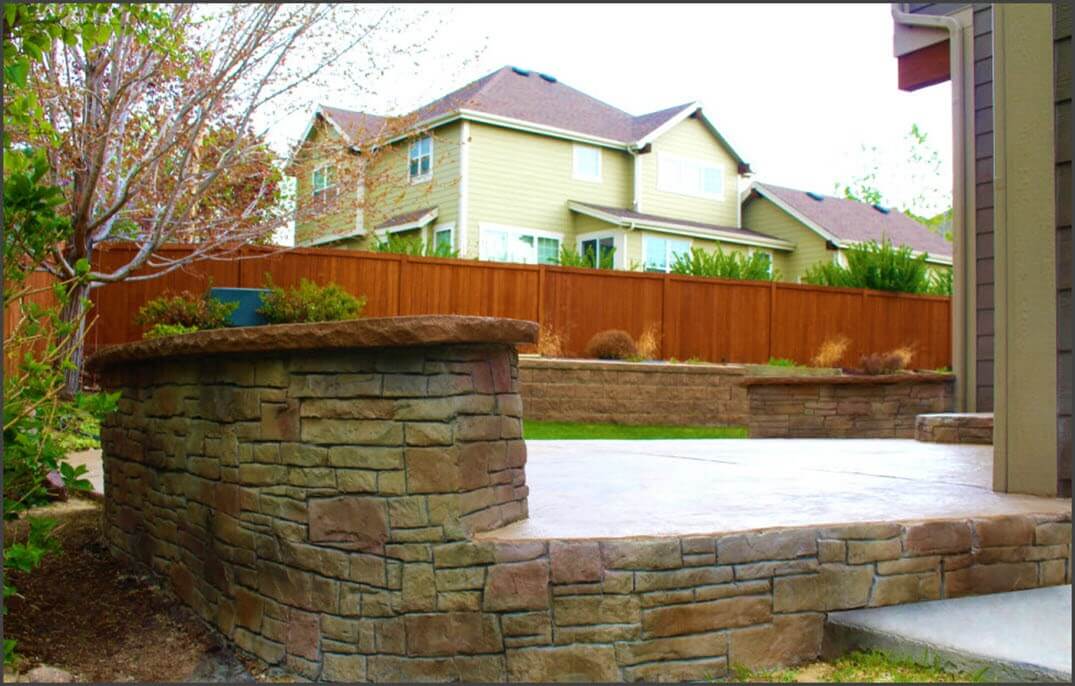 This patio was completely transformed with vertical concrete resurfacing for seat walls and steps in a hand-cut and custom-colored Mountain drystack pattern. Applicable over siding, brick, drywall, wood, concrete, and stone, failing surfaces can be revived with resurfacing instead of demolition. Vertical resurfacing creates a sealed, continuous surface that won't fall apart like real grouted stone or become discolored and worn over time. All our vertical concrete finishes can stand up to weather extremes, including very hot or cold and wet or dry climates without fail.
Don't dread another winter knowing what it will do to your home. Take steps now to protect your outdoor concrete surfaces before bad weather sets in. You'll be able to enjoy the rain and falling snow knowing that your patio, walkways, and driveway can weather whatever Old Man Winter dishes out. Contact us today or go online to www.concretecraft.com to find the Concrete Craft location nearest you and request a free consultation.
Discover the wide range of services we provide for enhancing your home's exterior and interior by viewing our online Product Catalog and Interior Design Guide.