Restore Damaged Concrete Without Demolition and Replacement
If you look at your concrete patio or driveway and shudder, you have choices about what you can do.

ONE: Demolish the offending slab yourself which involves an unbelievable amount of time and work, possible injury, and tools like jackhammers, reciprocating saws, wheelbarrows, five-pound hammers, and spud bars. (One source even says you'll probably lose interest before the job is completed.) Even if you get it all broken up and hauled away, there's the whole replacement step next. According to doityourself.com, here's what you'll need to know to pour your new concrete:
Which concrete to use, how to mix it, and how much to mix
Building the forms, pouring and reinforcing the concrete
Finishing the concrete and proper curing
TWO: Call in contractors who quote based on square footage and thickness of the concrete slab so demolition alone will range from hundreds to thousands of dollars. There will be heavy equipment, a cement truck, lots of mess and noise. On top of that, there's the cost of re-pouring a new patio or driveway and days of curing time before the concrete is used. (New concrete is not fully cured for 28 days.)
THREE: Hands down, the best choice is to call the professionals at Concrete Craft® who can restore your damaged concrete to like-new with concrete overlays. It only takes a few days to completely transform your existing concrete with a fresh, new surface that is stamped, stained, or hand-carved to replicate dozens of real stone looks, including Flagstone, Cobblestone, Roman Slate, Ashlar Slate, and even wood plank patterns. The image below shows a concrete overlay with a simple "broom swept" finish in a color that adds a touch of elegance to the home and yard.

Benefits of Concrete Craft's decorative concrete overlays
Our high-quality overlays will cover and conceal stains, cracks, and imperfections to make your concrete surfaces like new. The proprietary polymer blend makes our overlays flexible with the capacity to cure to compression strength just under 5000 PSI for the ultimate in durability. That means you now have an industry-tough patio or driveway that can stand up to whatever Mother Nature or your family can dish out!
The surface is stronger than bare concrete and blocks penetration of dirt, chemicals, oil, grease, and other substances
UV protection in our stain colors ensures your patio or driveway will remain beautiful for years with no color fading
A finishing sealer gives added protection against chips, cracks, or stains
Survives all kinds of weather, including hot and cold and wet and dry conditions
Opens the door to unlimited design potential for beautiful, custom faux stone finishes with stained, stamped, and hand-cut designs
Resurfacing instead of replacement will save thousands of dollars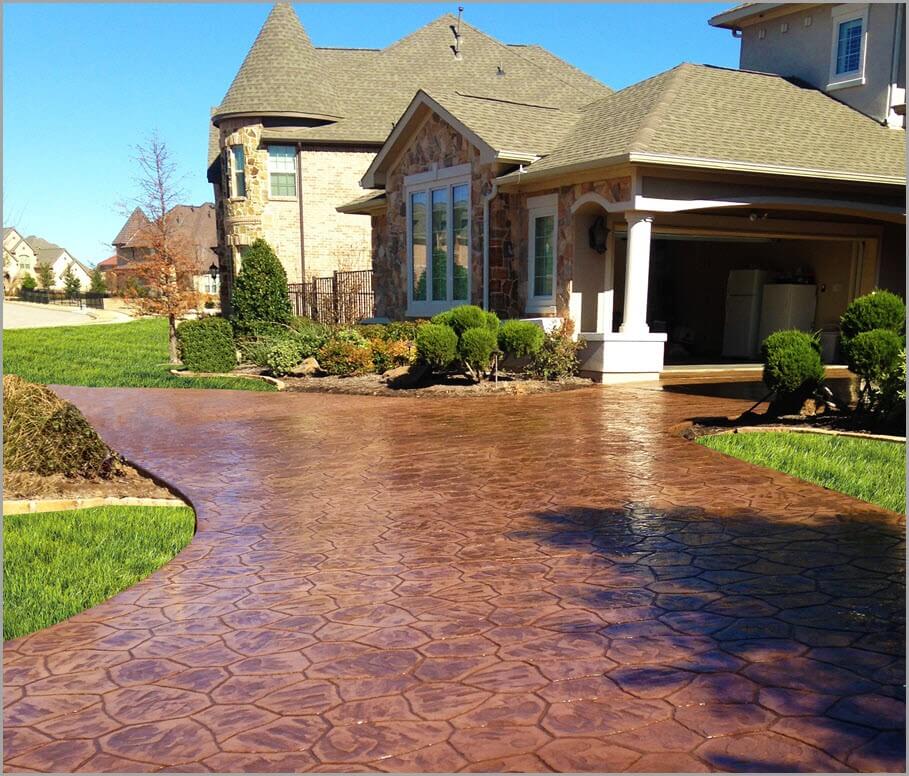 Removal and replacement of a very large driveway could easily be cost-prohibitive, but you don't have to settle for the time-worn appearance of old, unfinished concrete. A decorative concrete overlay can transform your driveway for a fraction of the cost of removal and replacement, and you'll have a beautiful, artistic finish for years of worry-free enjoyment. This stamped random stone pattern and walnut-color stained driveway creates an impressive entryway to this home.
Overlays are quicker and less disruptive
Resurfaced concrete overlays are going to get the job done quicker and with less mess and disruption than demolition and replacement. A small backyard patio may seem like a reasonable project, but you need to consider everything when comparing demolition and replacement (D&R) to a custom concrete overlay (CCO).
D&R: The invasion of jackhammers and trucks can cause damage to lawns and landscaping
CCO: Portable tools are used to prep the surface of the old concrete for the overlay
D&R: Breaking up concrete and hauling away the debris can take days
CCO: Generally, a day will have the surface prepped, repaired, and patched, ready for the new finish
D&R: The ground will need grading and preparation before new concrete can be poured, maybe the addition of sand and gravel
CCO: The existing slab is now ready for the overlay and a decorative finish of stained, stamped, or hand-carved stone that will take only a day or two to complete depending on patio size and complexity of design
D&R: The forms need to be set, concrete poured, and cured for days before they can be used; repair damage to the surrounding areas--grass, plants, etc.
CCO: Hold your first barbeque on your beautifully restored patio after just 24 hours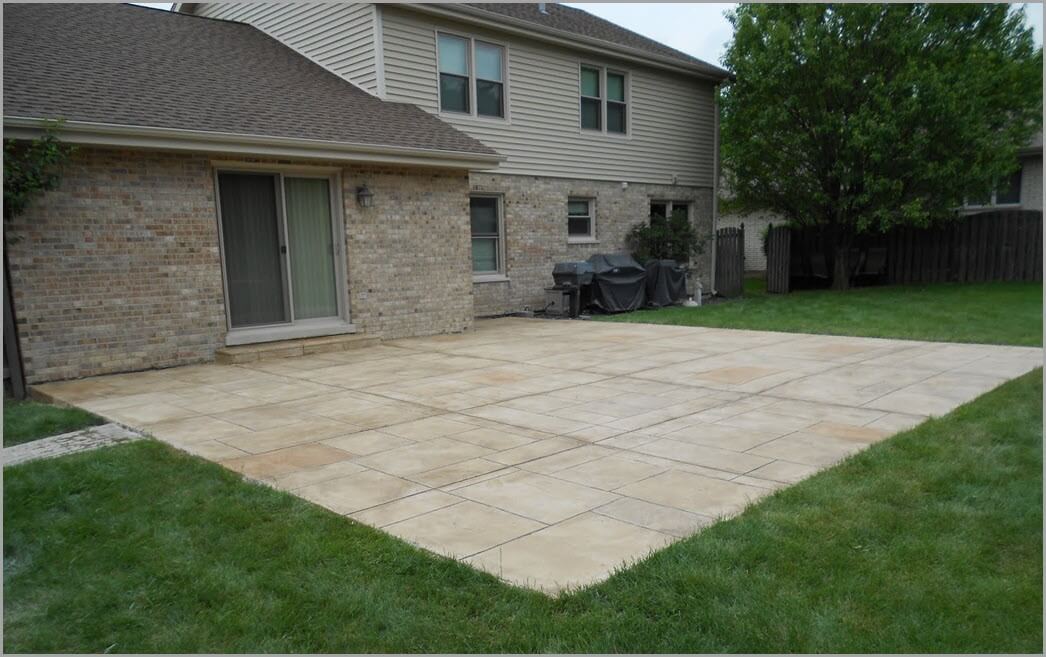 There's really no contest between replacement and resurfacing! In terms of time, money, effort and end result, a decorative concrete overlay from Concrete Craft will win every time.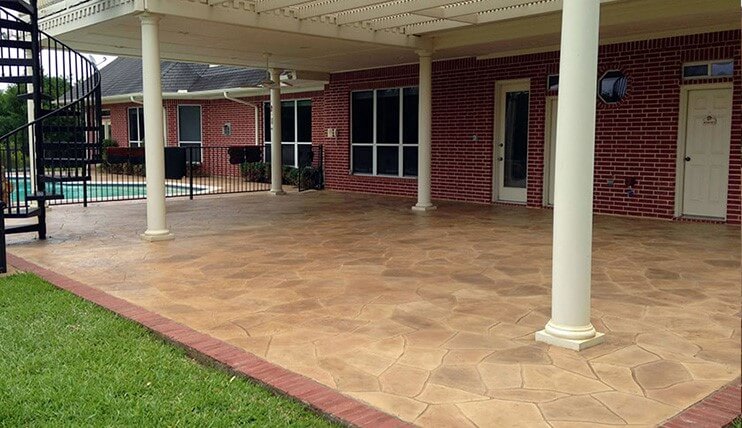 Don't let another summer slip by without getting your driveway or patio back in tip-top shape. You'll love the finished product and year after year as it stays beautiful, you'll congratulate yourself all over again on the decision to resurface with Concrete Craft instead of replacing distressed concrete with plain concrete. Contact us today or go online to www.concretecraft.com to find the Concrete Craft location nearest you and request a FREE estimate. Check out our photo galleries to see what we can do with custom color and design for patios, driveways, walkways, pool decks, interior floors, vertical concrete resurfacing, and more.