Resurfaced Concrete Vertical Applications for your Commercial and Residential Projects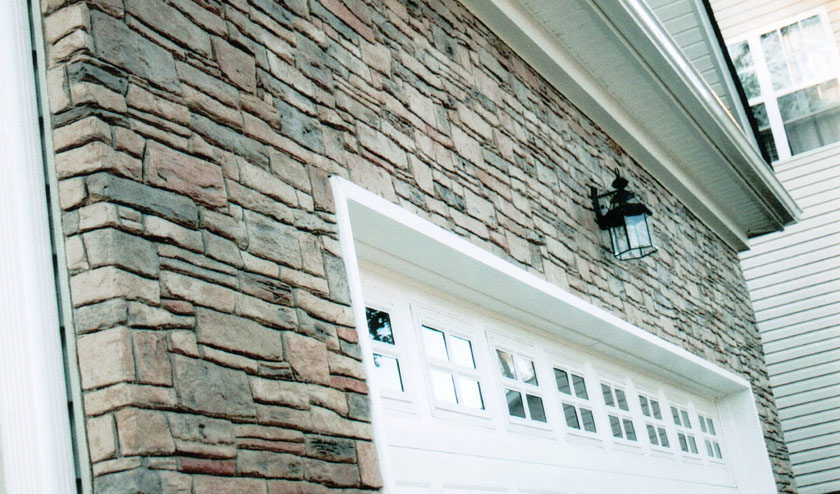 In both residential and commercial settings, natural stone has become a coveted look. Whether it's a backyard fireplace in Denver to take the chill off the evening or a restaurant courtyard hosting revelers during Valparaiso's annual summer Popcorn Festival, the elegance of vertical stone is everywhere. Stone and rock accent walls grace hotel lobbies, high-rise office reception areas, pools, spas, and more.
Home shows and architectural designers across the country promote the growing popularity of stone as an enhancement for homeowners and business owners alike to add beauty, function, and value to interior and exterior vertical spaces. While real stone may be prohibitive on the grounds of cost, load-bearing issues (a wall of stone can be very heavy), and complexity of the application, Concrete Craft's™ artisans can easily replicate natural rock on vertical surfaces with custom, hand-cut resurfaced concrete overlays, making the elegance of authentic stone available to everyone.
Any homeowner can now have the same beautiful, natural stone façade as the trendiest, uptown business establishment!
Vertical overlays present versatile design possibilities
There's just no limit to the design potential for resurfaced concrete vertical overlays. Vertical applications can include siding, arched entryways, indoor and outdoor fireplaces, patio seating and retaining walls, shower stalls, backsplashes, and interior walls in basements, wine cellars, family rooms, and more for rustic appeal. And, as with concrete floors that are stained, stamped, or resurfaced, vertical resurfaced concrete offers important benefits over the more traditional rock surfaces.
Resurfaced concrete overlays cost about half as much as real stone, yet look like the real thing.
Custom, hand-crafted concrete can mimic any natural rock, with a more consistent color overall.
The size and shape of stones or patterns can be adjusted to fit any unique space, shape, or dimension of the wall, including around corners and into narrow spaces.
Custom colors can reflect surrounding décor or landscape for perfect color coordination.
Completely change the look of a storefront or home by installing faux stone siding over the existing surface without the need for costly demolition.
Concrete overlays will not add additional weight like real stone that could require structural reinforcement, costing additional time and expense.
Some of our more popular styles for vertical concrete overlays include (left to right) European Fan, Random Sandstone, Orchard Stone, Mountain Drystack, Hand-scored Limestone, English Cobblestone, Hand-carved Stone, and Hand-carved Castle Rock. Imagine the possibilities for your own home or business!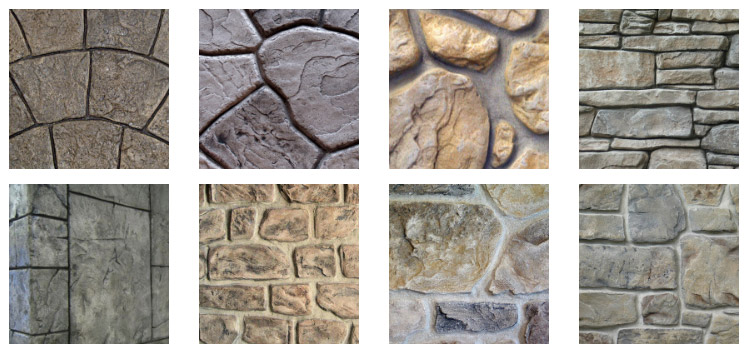 Resurfaced vertical concrete is designed to last
Especially with exterior vertical surfaces, the durability of concrete is a big plus. Concrete can withstand extreme temperatures as well as wet and dry conditions without the deterioration inherent with wood and vinyl siding or actual stones that can weaken in the grout lines from time and exposure to weather and actually fall out. With Concrete Craft you'll get exquisite faux stone siding that repels moisture and eliminates voids and gaps that can trap water, resulting in mold, fungus, and insect infestation. Our proven techniques and proprietary high-strength and flexible polymer overlays make 100% contact over wood, drywall, brick, and concrete surfaces, ensuring years of worry-free performance.
No grout between stones to break down and wear away over time.
Concrete is durable and easy to maintain, remaining beautiful for years.
Natural stone molds ensure that your stone façade is so authentic, only you know it's not real.
Durable finishes with fade-resistant, integral colors will not chip, stain or peel.
Concrete resurfacing can cover up imperfections or revive worn-out vertical surfaces.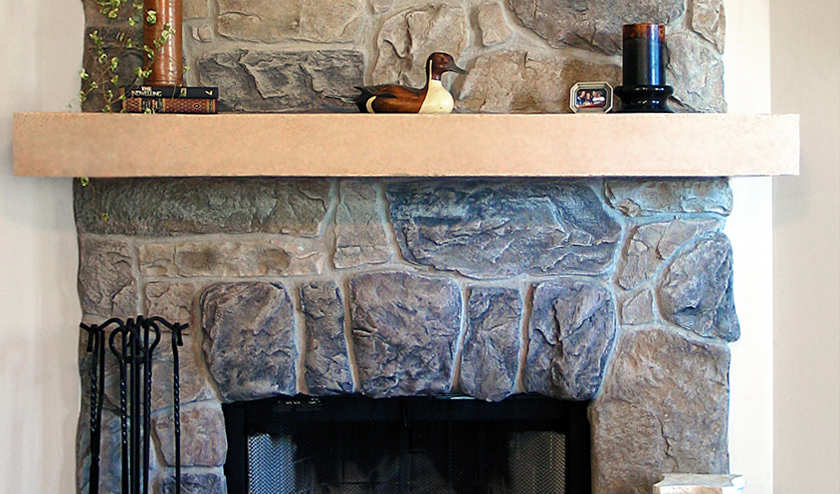 For interior walls, resurfaced concrete vertical overlays can completely change the feel of a room. Create old-world charm with an English Cobblestone fireplace, or bring back memories of campfires and roasting marshmallows with custom hand-carved stone. Walls and shower stalls are ideal candidates for faux stone overlays; you get the rugged, natural beauty of stone without the weight of actual rock.
Additionally, concrete resurfacing is easy installation…no jackhammers or cement trucks…and the process is quicker and cleaner than real stone construction. With our custom-coloring system of integral colors and high-quality pigments, you have a world of color to choose from to create exactly the look you want. John Kostro, President of Concrete Craft shares, "We have installed millions of square feet of horizontal coatings across the country, and now it's only fitting to take that beautiful stone look to vertical surfaces."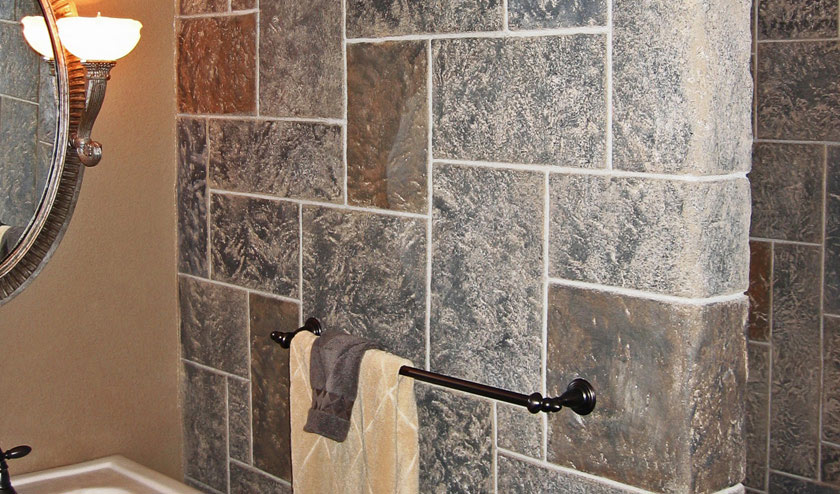 So don't wait! Now is the perfect time to turn your basement into a "stone-age" man cave, upgrade your walk-in shower, or spruce up the backyard for an enchanting summer of entertaining with vertical concrete resurfacing to create a natural stone paradise around your pool or patio. Call 866-813-3699 today or go online to www.concretecraft.com to find the Concrete Craft location nearest you and request a FREE estimate. Check out the online photo galleries for stained, stamped, and resurfaced patios, driveways, walkways, pool decks, garage floors, commercial properties, and vertical surfaces and see why our beautiful concrete designs are exactly what you've been looking for.