Ring in the New Year with the Gift of Decorative Concrete Floors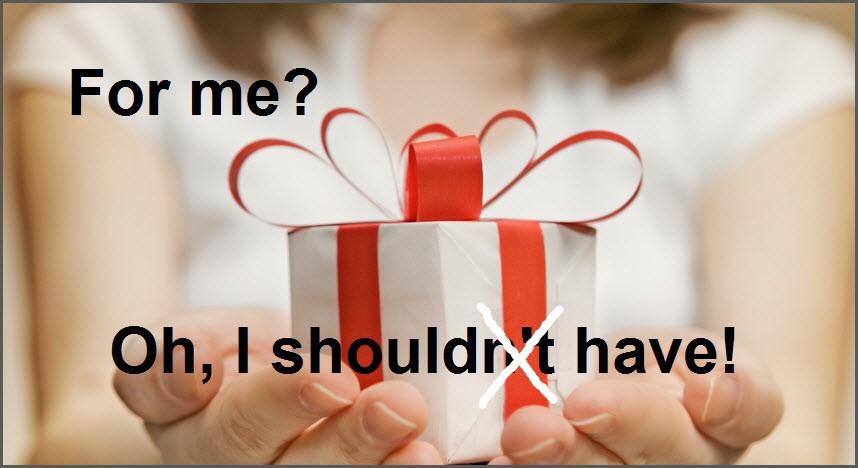 We're still in the throes of holiday shopping and enjoying the "most wonderful time of the year," but it's not too early to think ahead to New Year's Day and starting the year off right--especially if you've been so focused on gifts for family and friends that you have forgotten about yourself. Who better to get you the perfect New Year's gift than you?
A gift of lasting value
A gift of new decorative concrete floors from Concrete Craft® is not frivolous so you don't have to feel even a little bit guilty. They add unique beauty, real value and long-lasting functionality to your home. No one should have to live with boring concrete or ugly floors and that includes faded carpet, damaged hardwoods, chipped tile and waffling linoleum. All of those floor ailments can be cured with stained, stamped and resurfaced concrete overlays to revitalize your floors. Concrete Craft artisans have a real passion for turning boring concrete into works of art for both inside and outside surfaces, bringing a "wow" factor to your home.
Stained concrete for exceptional floors
This living room had badly worn carpeting removed, exposing a damaged floor underneath. Prepping the concrete, resurfacing with a concrete microtopping overlay to hide all imperfections, and applying a vibrant stain have created an elegant new floor. This floor will probably never need replacing (money saving!) and is impervious to cracks, chips, peeling and color fade since the UV protection stain actually permeates the concrete. The sealed surface makes the floor moisture resistant and you'll love how easy it is to clean; just a dust mop and an occasional wet mopping will keep your floor shining.
Our rich stains come in a wide range of colors and can mimic anything from polished marble to natural stone finishes. Neutral tones as well as bright colors can transform any room in your home with vibrant color. Amazing effects can be created using multiple stain colors, innovative techniques and stencil designs like a faux rug, family crest, or team logo to liven up a room.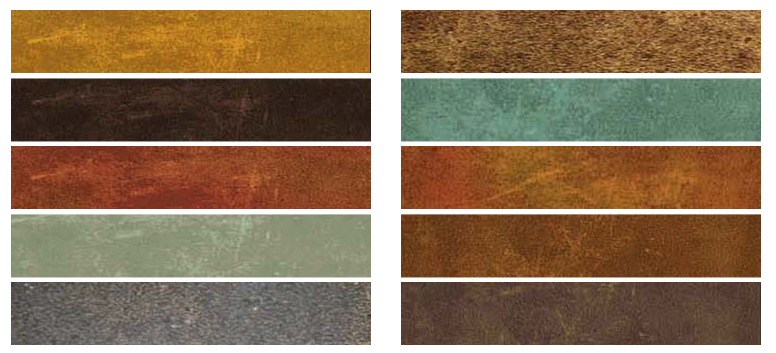 Stamped concrete for authentic designs
Stamped concrete is also called imprinted or patterned concrete because the design is pressed into the concrete before it sets, using rubber stamps. Concrete Craft uses "real" stone and woodgrain molds to bring the authentic look of natural stone, brick, slate, sandstone and wood patterns to your floors. Custom stains are applied to finish the look for any style you want. The image below depicts several popular wood plank styles that are perfect to grace an entryway, basement or family room. And, as you can see, a stamped concrete patio in a hardwood pattern is gorgeous!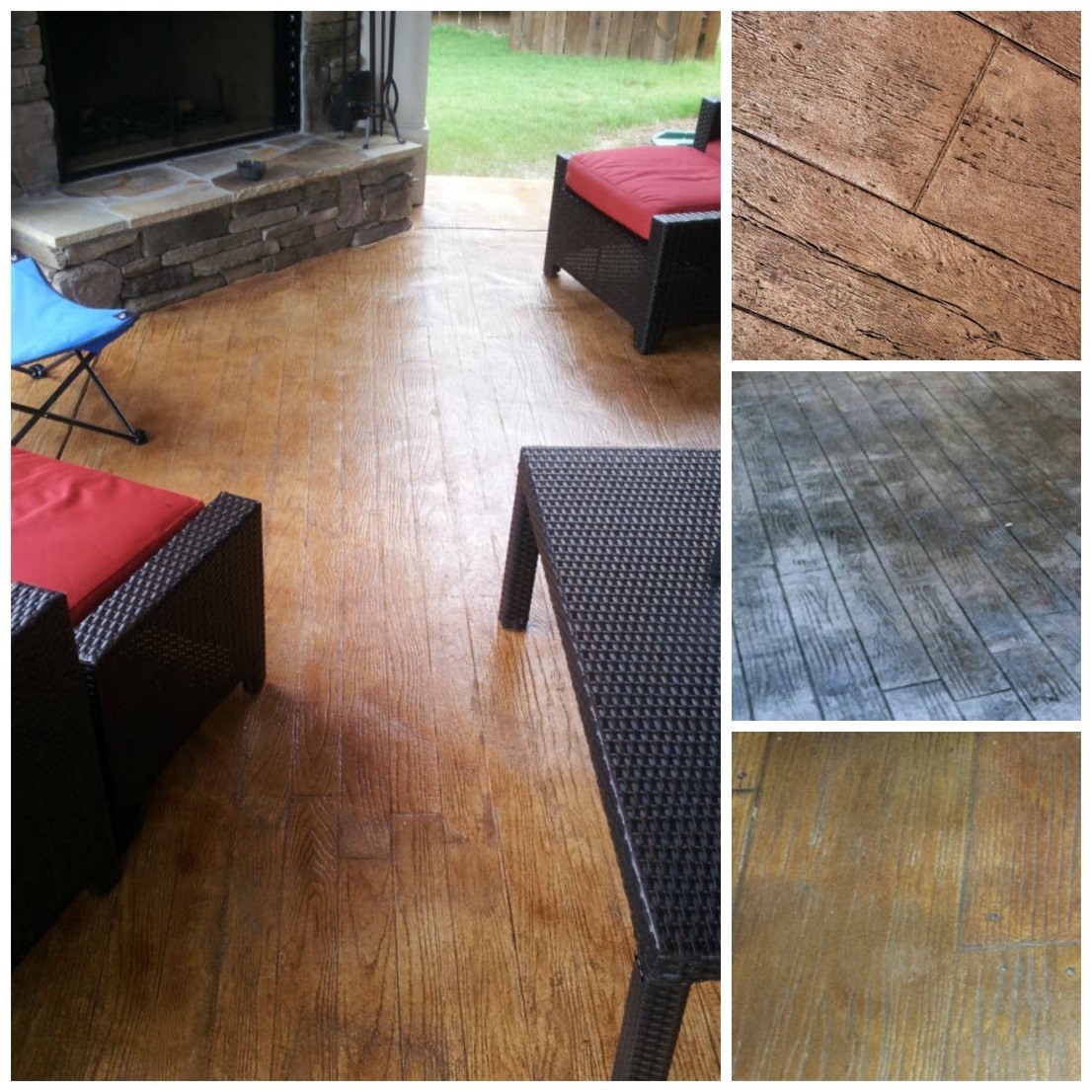 Stamped concrete is ideal for interior floors as well as for outside surfaces, including patios, pool decks, driveways and walkways. Give your yard an instant makeover with the look of real stone, wood or brick concrete overlays. The durability of decorative concrete means long life to your outdoor areas, retaining their beauty and function in hot and cold or wet and dry weather. Other "real-life" stamp patterns include Ashlar slate, Roman texture slate, brick, cut cobblestone and sandstone, with specialty designs such as a compass, geckos, turtles or a favorite custom image.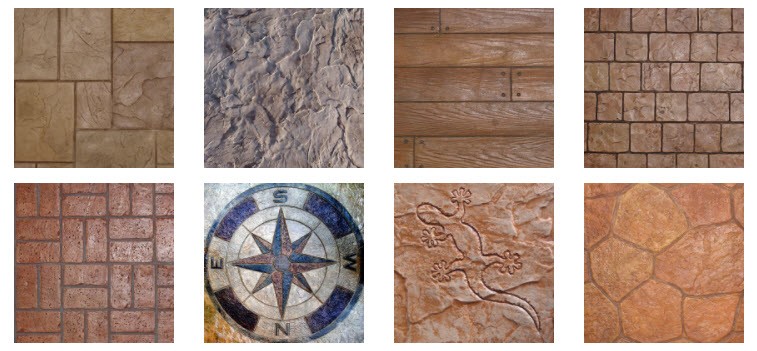 Hand-cut, custom-colored faux stone perfection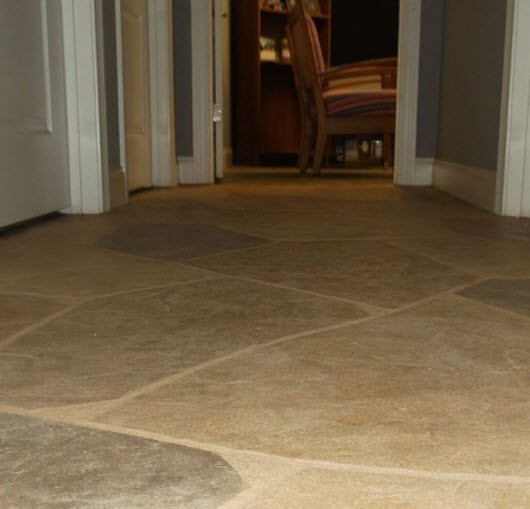 With Concrete Craft you are not limited to just a few designs. Our ability to hand-craft any type of stone or rock finish means you can acquire the look of high-end natural stone flooring options like flagstone, cobblestone, Ashlar slate and more, for a fraction of the cost. It also means you are not limited to colors or stones found in nature, we can customize to fit any stone pattern into any space.
This floor is finished in a flagstone design of very large stones. Stones this size would be cost-prohibitive for most homeowners, but as a hand-cut and custom-colored decorative concrete overlay, any floor can have exceptional style without breaking the bank. You don't have to worry about the issues of getting enough stones of the right/same colors, shipping costs of transporting stone from its place of origin, stones breaking, or whether the stones will fit together properly for the floor. With a resurfaced concrete overlay from Concrete Craft, it will be perfect every time! And unless you tell, no one will know it's not real flagstone.
Why not let 2018 be the year of new floors at your house? Gift yourself with easy-care, practically indestructible decorative concrete floors that will keep on giving year after year. Spring cleaning will be a breeze, summer sand whisks away, and winter weather won't be a worry. Interior floors can be installed year-round, so call 866-813-3699 today to find the Concrete Craft location nearest you to schedule a FREE, in-home design consultation.
Check out our digital brochure for the many decorative concrete options available to transform your home in the New Year, including interior floors, exterior surfaces, vertical concrete resurfacing like home siding, fireplace surrounds, accent and retaining walls, and seat walls and fire pits.