Rock Your Outdoor Concrete Spaces With Real Stone PebbleKoatTM Overlays
If your outside concrete spaces aren't quite ready for summertime fun, PebbleKoat by Concrete Craft® can transform your patio, pool deck, walkways, stairs, and driveway with real stone glamour in just a few days. PebbleKoat is an exclusive non-epoxy, 100% natural river rock concrete overlay that provides an artistic solution to repair and restore concrete gone bad. Installed as a stand-alone overlay, PebbleKoat can be used in a variety of different applications and in various thicknesses to enhance your outdoor entertainment areas with beautiful finishes you'll be proud of.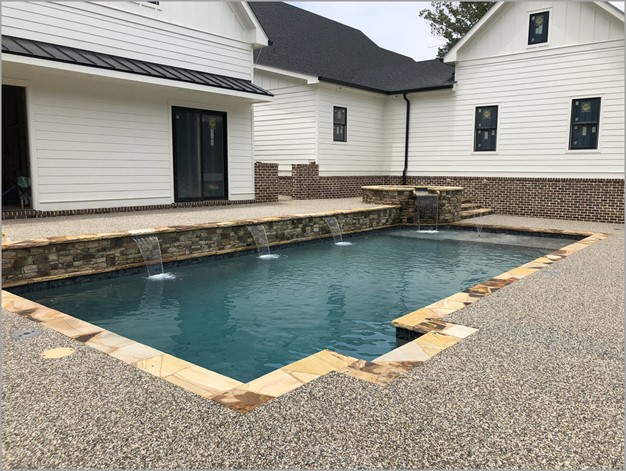 PebbleKoat will repair cracks and uneven surfaces, creating a seamless, decorative glossy finish of real stone
This PebbleKoat pool deck overlay erased years of use for a stunning new-look pool deck without the need for demolition and replacement, saving time and money. The durable surface resists abrasion and impact as well as spills and stains common to poolside like food, drinks, oils, lotions, and pool chemicals. PebbleKoat can stand up to year-round weather challenges, including freeze/thaw, rain, blistery heat, and UV light without fading, cracking, or peeling. Its moisture absorption helps eliminate puddles and standing water and the textured surface can be enhanced with a special additive for increased non-slip traction. PebbleKoat is low-maintenance and easy to keep clean since nothing sticks to the surface so the fun never has to stop.
Upgrade to a statement driveway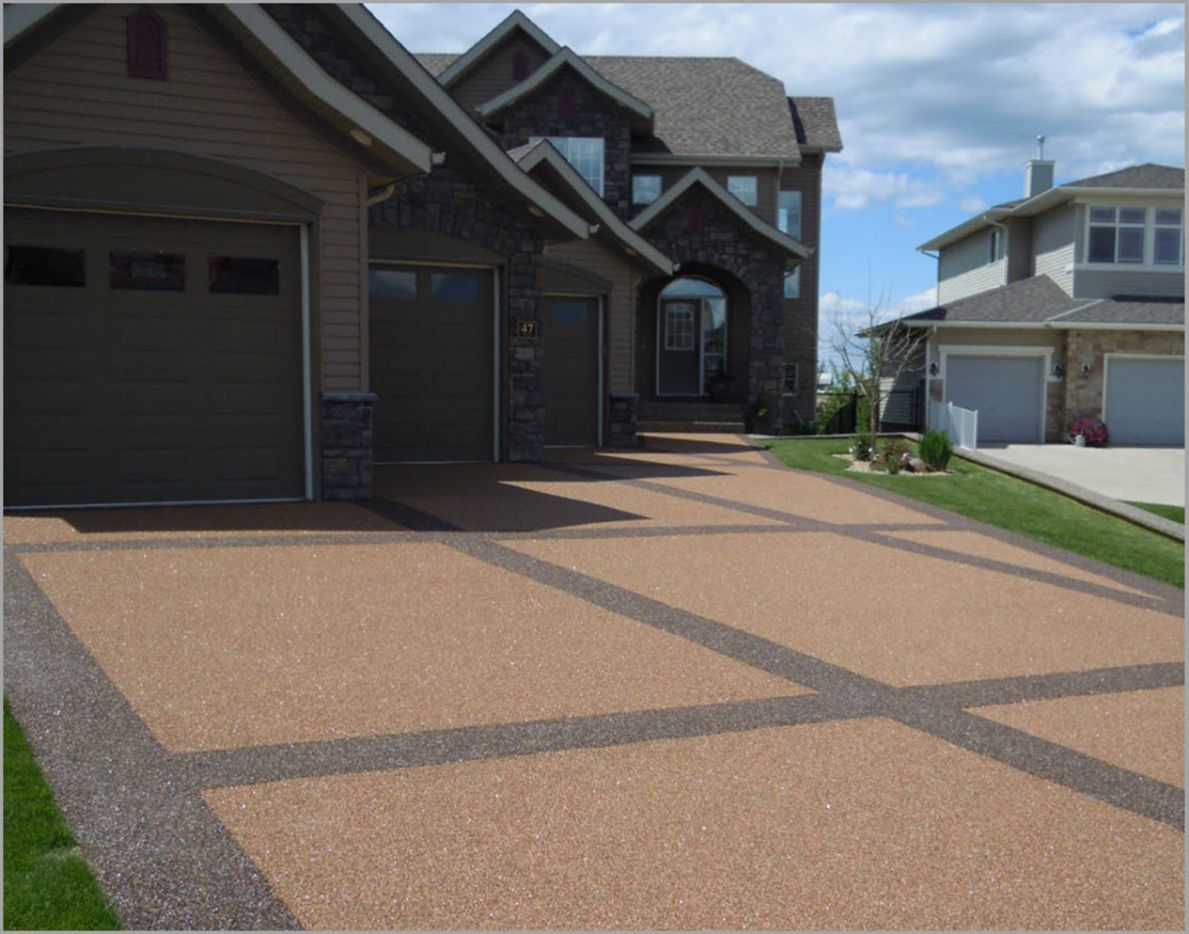 Choose one color blend or create a pattern using more than one color to complement your home's exterior
A hardworking driveway is another area that will eventually show age by cracks, discoloration, uneven sections, and exposed aggregate from years of vehicle traffic and harsh weather. A worn-out driveway detracts from a home's overall appearance, making it look old and outdated. PebbleKoat can transform your dull concrete driveway into a one-of-a-kind masterpiece in a matter of days, creating a seamless, decorative real stone finish that upgrades your entire home. The industry-tough finish cures in excess of 5000 psi (pounds per square inch) and can safely support cars, trucks, motorcycles, and RVs without damage. The textured surface repels stains, auto fluids, moisture, and mildew so it's easy to keep your driveway looking like new for an impressive welcome to your home.
Create a welcoming patio for all seasons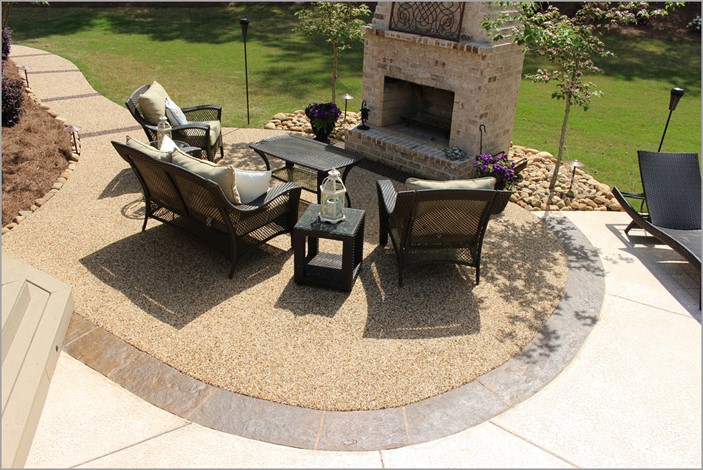 The last patio repair you'll ever need, PebbleKoat is resistant to moisture, stains, and cracks, keeping your space always ready for fun
A backyard patio is one of the most used areas of a home when the warm weather draws everyone outside, including kids, dogs, moms, and dads. Patio activities include games, gardening, reading, sun-worshipping, barbequing, and alfresco meals all day long. This much fun can take a toll on concrete with cracks, spills, and stains from dirt, grass, and mold where moisture lingers under potted plants and in shaded corners. The good news is that even a well-used concrete patio and adjoining walkways can be easily restored with a PebbleKoat river rock overlay to repair cracks, even out surfaces, and hide damage with the elegant look of real stone.
Function and durability never looked so good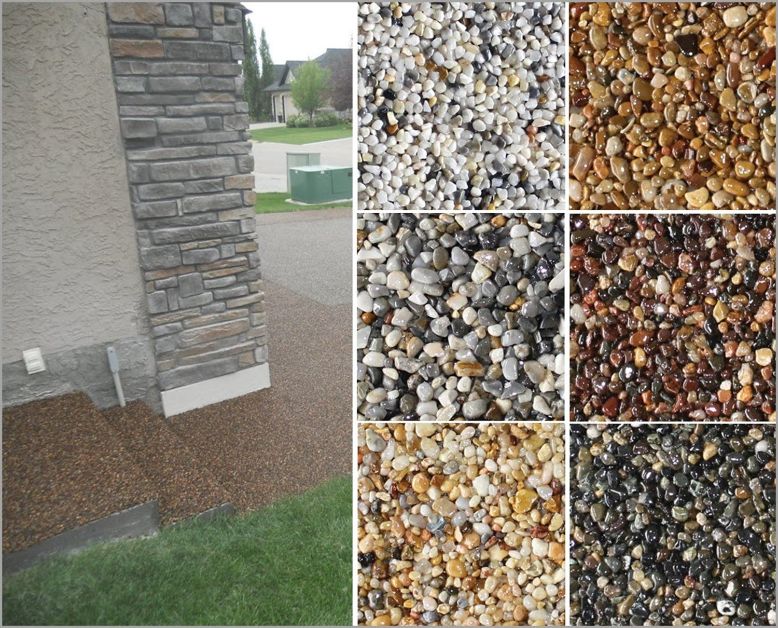 Have a designer-look yardscape with PebbleKoat transforming your driveway, walkway, steps, and front porch
PebbleKoat is a vibrant real stone finish that can restore practically any concrete surface that isn't in pieces. The singular overlay can fill cracks and level out uneven surfaces, creating a strong, durable finish that you can count on for years of beauty and functionality. Six standard color blends from light to dark include Frost, Pebble, Sandcastle, Brownstone, Espresso, and Midnight or you can create a custom blend for a signature look. Create borders or patterns with multiple colors or combine with other decorative concrete finishes like stained concrete and stamped concrete faux stone or tile designs.
Trust the professionals at Concrete Craft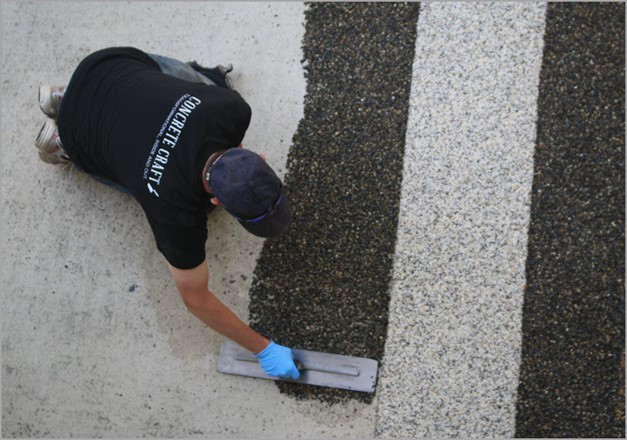 Superior product, expertise, and attention to detail guarantee a successful result every time
Don't let ugly concrete spoil your spring and summer plans. You may think your concrete is beyond saving and you can't afford replacement, but a call to your local Concrete Craft experts will open up a world of choices. They can evaluate your spaces and walk you through the best options for your desired result and budget, including repair, stained concrete, polished concrete, stamped and hand-cut resurfaced concrete overlays, restoration finishes, or a fabulous PebbleKoat decorative overlay. Our exclusive MasterProTM product line can return even your damaged concrete to "like-new" with proprietary products and processes without resorting to demolition and replacement. Contact us today or go to www.concretecraft.com to find the Concrete Craft location nearest you and request a free in-home or virtual* design consultation. Most decorative concrete projects take only a few days to complete and you'll have endless summer days to enjoy your beautiful new outdoors.
*Virtual consultations may not be available at every location