Shore Up Your Businesses' Bottom Line By Repairing Your Damaged Concrete
In business, there are many things that clamor for attention and sometimes facilities' maintenance can take a backseat to marketing, computer and internet demands, and business expenses in general. But it's important to keep your physical business and commercial spaces in good shape since they have a direct impact on your business and its bottom line:
Enticing curb appeal draws customers in
Attractive and stylish surroundings reflect a successful business
Comfortable working conditions encourage happier and more productive employees
Concrete Craft® can help transform and repair damaged concrete with beautiful new decorative concrete surfaces that won't break the bank. We can restore your old and outdated concrete surfaces like storefronts, walkways, hardscapes, indoor floors, and walls with decorative concrete.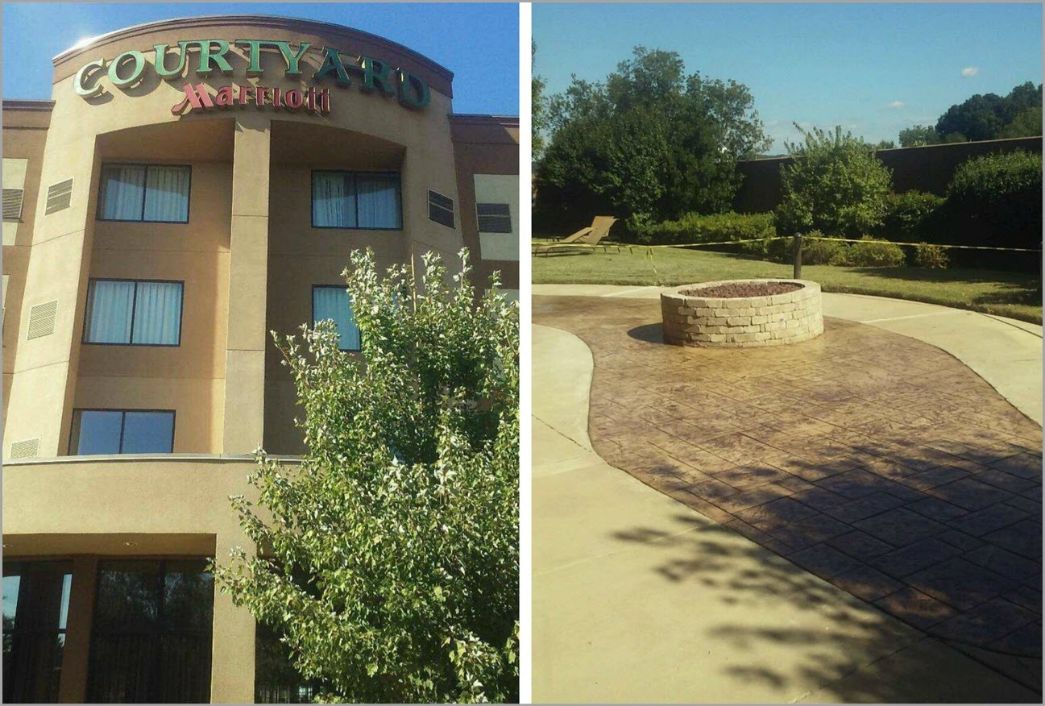 Whip damaged courtyards into shape
Expansive, heavy-use areas like driveways, courtyards, and community spaces eventually develop cracks and worn spots that detract from their appearance and may even create safety hazards. These distressed areas may well benefit from the unique beauty of stonework, but the cost can be prohibitive. Stamped and stained decorative concrete overlays eliminate the need for demolition and replacement of damaged concrete. Concrete overlays present a fresh new surface for exquisite faux stone patterns and textures to create impressive spaces for a fraction of the cost of real stone. This stamped concrete Ashlar slate pattern completely transforms the Marriott courtyard into an inviting area for the hotel guests by adding a distinctive touch of class.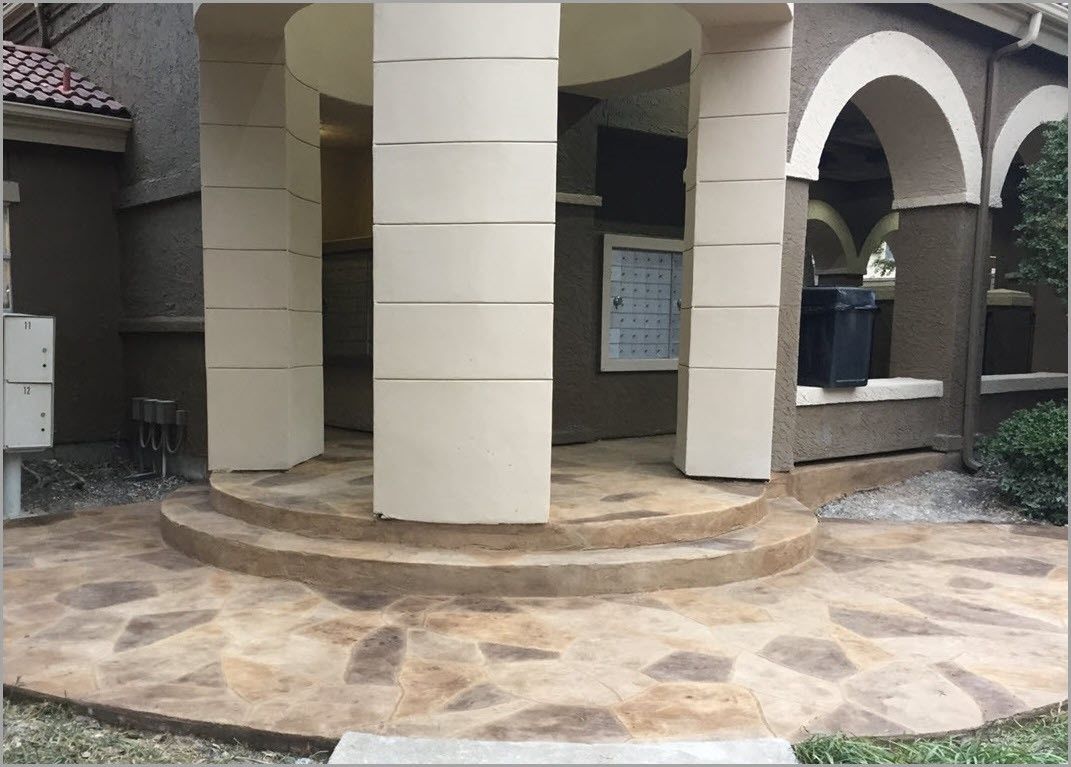 Here, a hand-carved faux flagstone concrete overlay upgrades this apartment's community area with the look of authentic stone, custom stained to complement the colors of the building. The continuous, sealed surface will be a safety factor in bad weather, the "stones and grout" will never deteriorate or lift as can happen with real stone, becoming a tripping hazard. The moisture-resistant finish makes ongoing maintenance easy since decorative concrete resists stains, chips, cracks, dirt buildup, and the growth of mold and bacteria that can create an unsightly mess on real stone in a very public place.
Vertical concrete resurfacing for realistic wood and stone finishes
Accent walls and hardscapes in wood and stone are popular for commercial properties as well as in homes. Challenges of decorating vertical surfaces with faux stone or wood plank go beyond just the cost of materials and complex installation to finding enough of the right materials and colors, the excessive weight of stone, and the probability that stone and wood veneers can detach from trapped moisture. Vertical concrete resurfacing creates 100% contact with the surface, applicable over wood, concrete, stucco, brick, and drywall for years of worry-free beauty.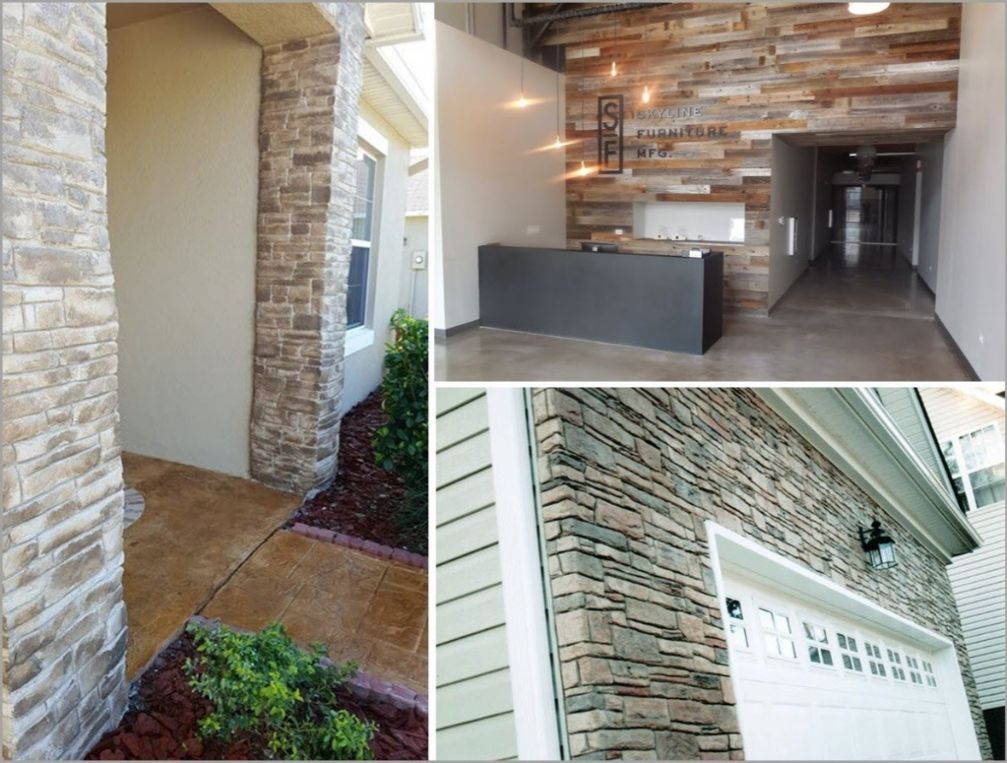 Vertical faux stone applications can adorn interior walls and exterior walls, enhancing storefronts and patios, as well as creating stunning accent walls of fabulous faux stone or wood plank for reception areas, conference rooms, and offices. Exterior patios, retaining walls, siding, and more, can be enhanced with vertical concrete resurfacing faux stone designs like Mountain drystack, sandstone, flagstone, cobblestone, Orchard stone, and more. Faux wood finishes range from smooth, polished oak to rustic timber and reclaimed wood.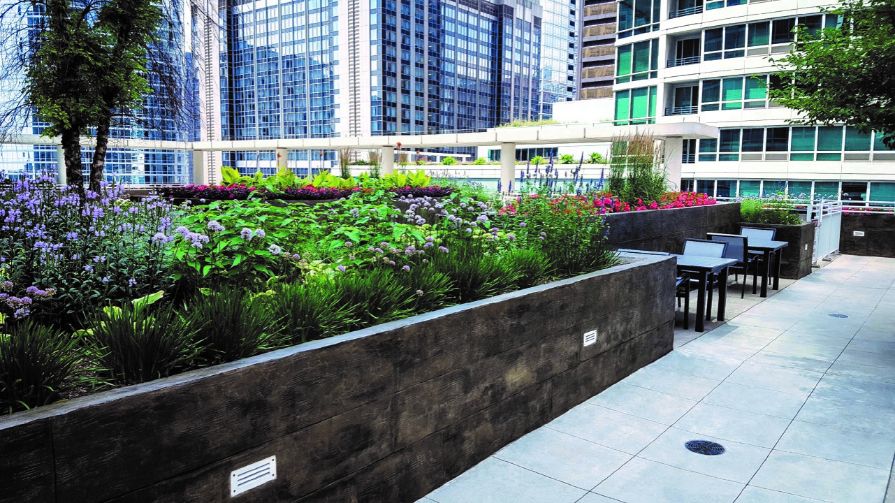 These garden planters are transformed with vertical concrete resurfacing in a wood plank design for a refreshing touch of nature among the modern high-rise buildings. Real wood will splinter and deteriorate from moisture and harsh weather, but decorative concrete gives the look and texture of real wood without its inherent problems. There's no limit to custom design and color for any stone or wood style, including rare rock colors and a wide range of wood tones.
A firm foundation with decorative concrete floors
From the penthouse to the warehouse, you want serviceable and attractive floors to enhance your business. For the warehouse, durability and easy care are important for a clean and safe workplace. In public areas, offices, and conference rooms, appearance is important. With stained concrete, stamped concrete, and hand-carved faux stone and wood finishes, you can have the best of all worlds for every floor. Transform restaurants, retail spaces, manufacturing plants, schools, hospitals, office buildings, condos and apartments, and independent small businesses with the beauty of decorative concrete.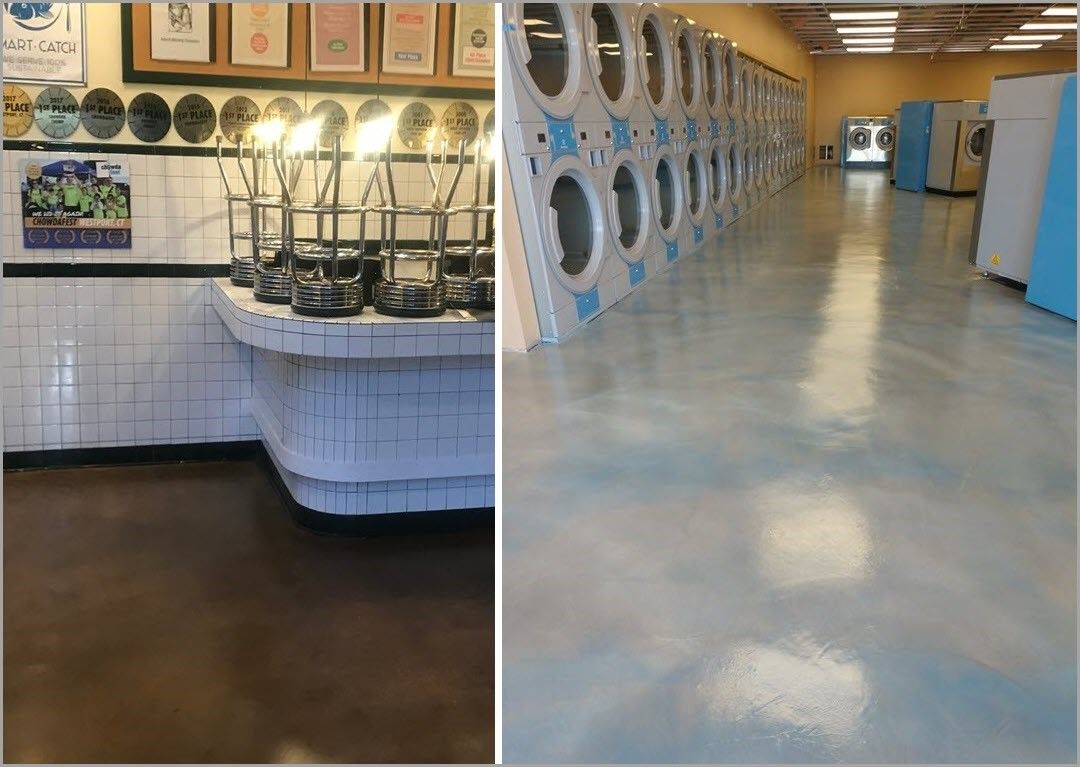 Durable concrete floors can create a very secure foundation for your business. No more replacing worn-out carpet or vinyl floors every few years, and the low-maintenance demands of decorative concrete floors will save both time and money. Decorative concrete can emulate the look of real hardwood and polished marble to natural stone, including flagstone, Roman slate, Ashlar slate, cobblestone, tile, brick, and sandstone, so you never have to settle for less than the floors you want. Custom stain colors let you get creative, as in the laundry room above where the blue on the machines was incorporated into the floor design. Your brand's colors can easily be implemented, even stenciling a logo onto the floor.
Bring new life to your business with textures, patterns, and colors
If your business could use a facelift for interior floors or its exterior spaces, you can have a whole new look for far less expense than you would expect by calling Concrete Craft. Plain surfaces can be transformed with beautiful decorative concrete overlays, concealing damage and creating beautiful, durable finishes to be proud of. Contact us today or go online to www.concretecraft.com to find the Concrete Craft location nearest you and schedule an onsite consultation. We can evaluate your concrete needs whether for repair or restoration, and suggest the best options for stained, stamped, or resurfaced concrete to enhance your business, inside and out.