Spring Gardens Come Alive with New Stone Walkways and Raised Flower Beds
Although you may still be dealing with the last vestiges of winter, Spring is here! In different parts of the country "first signs" vary, but universally the earth is waking up and putting on a beautiful new face.
First flowers include daffodils, hyacinths, snowdrops, and crocus
Bare tree branches explode with budding green leaves
Backyard birds sing their morning song while woodpeckers drum
Robins, hummingbirds, and red-winged blackbirds return and begin nest building
Canadian geese fly north and Snowbirds head home from Florida and Arizona
Spring peepers (tiny, very vocal frogs) send up a loud chorus of welcome
Gardeners collect all their tools and polish up their green thumbs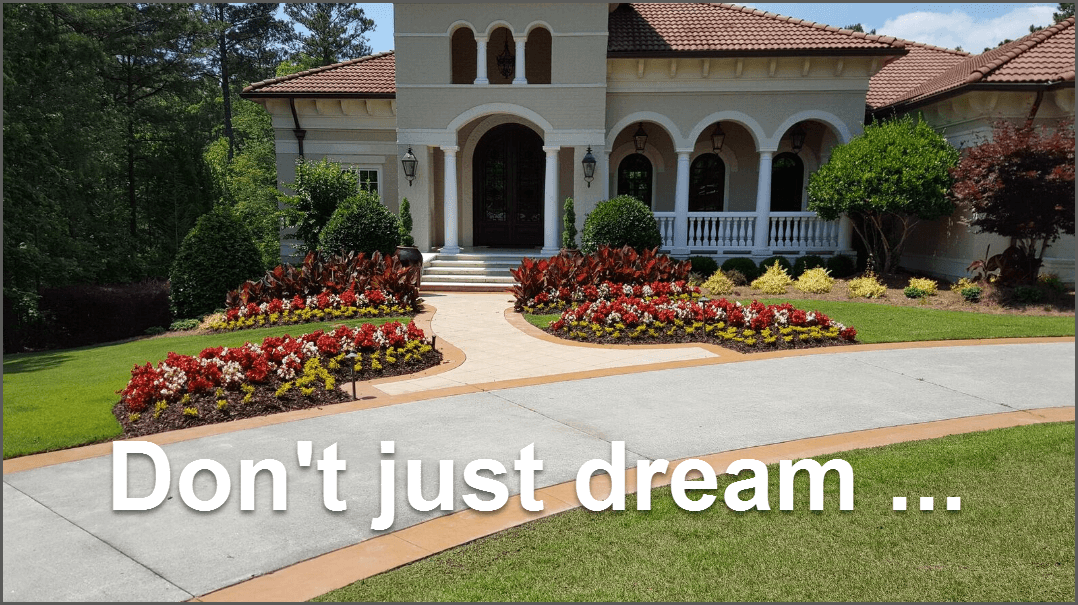 Show your gardens off in style
The artisans of Concrete Craft® can help you showcase all your gardens by surrounding them with elegant faux stone and decorative concrete designs for walkways, raised flower beds, patios, and driveways. Outdoor concrete surfaces get worn down and can develop cracks from everyday use as well as abuse from extreme weather conditions. If winter has left your walkways needing some renewal, Concrete Craft's proprietary repair and concrete resurfacing systems can have all your outdoor concrete areas looking like new, so you'll have a beautiful Spring.
RestoreKoatTM can repair severely-damaged concrete with complete resurfacing.
Resurfaced concrete overlays restore cracked and distressed concrete with a fresh surface for decorative concrete stain, stamped or stencil designs, or hand-cut and custom-colored faux stone finishes.
RenewKoatTMrestores a worn or faded finish with fresh new color, preserving its original design or character.
Every walkway becomes a masterpiece
Whether you have one front walkway or a network of walkways throughout your yard, unsightly concrete will detract from your yard and diminish your home's curb appeal. Decorative concrete solutions can upgrade all your walkways to beautiful faux stone designs and you'll never have to live with plain, gray concrete again!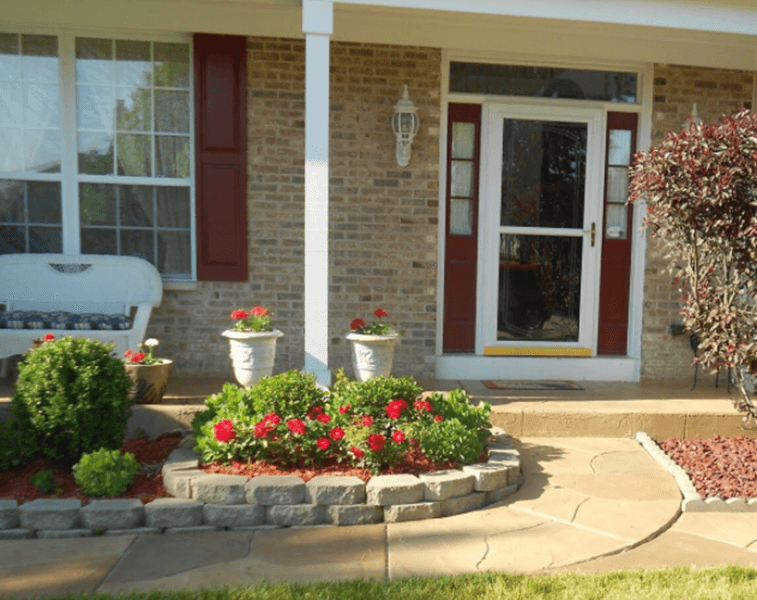 This entryway was transformed with a concrete overlay that created the look of a real stone walkway with a hand-cut and custom-colored decorative concrete design in a flagstone pattern. The warm sandstone colors complement the brick siding, framing and accenting the raised gardens and flower beds for exemplary curb appeal. The walkway stays clear and even heavy rains won't dislodge the rocks or bark ground cover in the surrounding gardens.

Large walkways make a big impact in a backyard so resurfacing with a faux stone design will upgrade the whole property. You can have realistic-looking stonework without the hassle of cement trucks and the mess, inconvenience, and expense of demolition and replacement. Our overlays cover up imperfections like stains, cracks, and chips so that surfaces look like new again, ready for any custom finish you would like, including real stone, pavers, flagstone, cobblestone, slate, tile, and brick.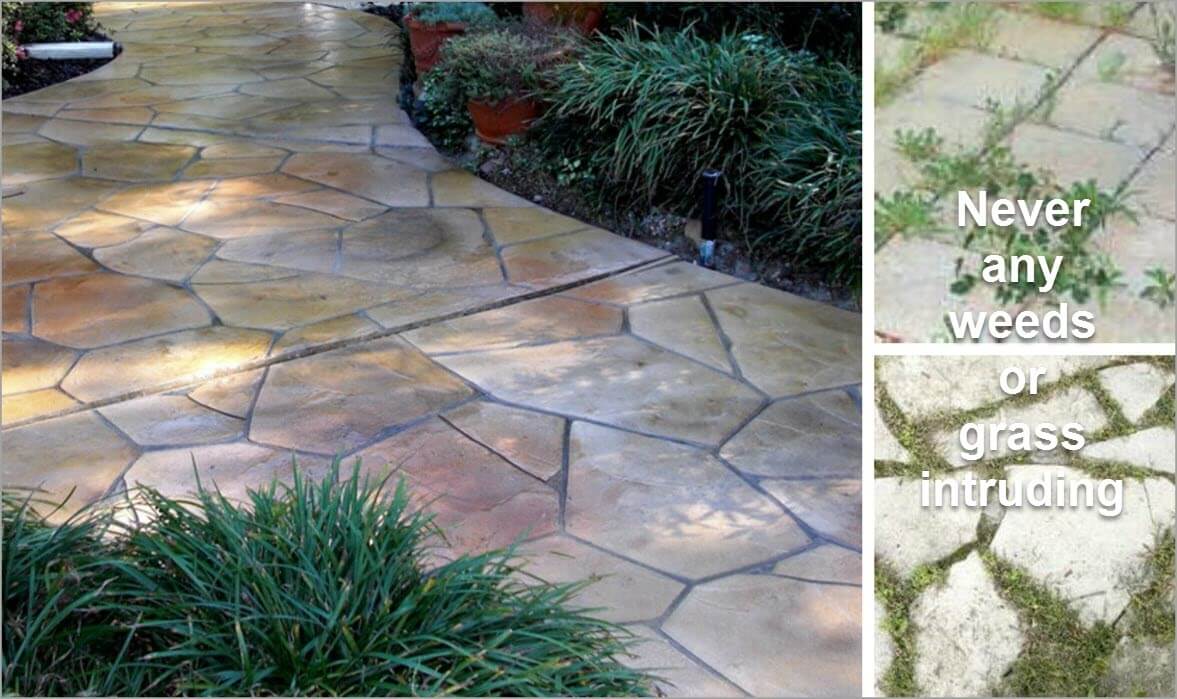 If you're not afraid of color, Concrete Craft can turn your walkways into an artistic statement like this walkway in a multi-colored flagstone design. You can border walkways with year-round gardens planted with a mix of evergreen flowering shrubs and your favorite Spring flowers. Although this walkway looks like real stones, the grout lines are part of a continuous, sealed surface so you never have the problem of grass or weeds intruding on your beautiful new walkway. That means much less upkeep for you!
Raised gardens and flower beds
Seat walls or retaining walls can become very fashionable gardens with vertical concrete resurfacing in faux stone designs like flagstone, mountain drystack, English cobblestone, sandstone, and castle rock. Vertical concrete overlays can be applied over brick, concrete finishes, stone, or wood and then hand-carved and custom-colored to create realistic faux stone finishes to enhance your raised flower beds.
Here the seat wall cap creates seating space, making it an easier task to plant, prune and weed the garden without breaking your back. The vertical faux stone design picks up the colors of the house exterior as well as other elements in the backyard for a cohesive look. Raised flower beds can control the growth of beautiful, but invasive, plants like bamboo, English Ivy, and Japanese Honeysuckle that would otherwise take over the whole yard.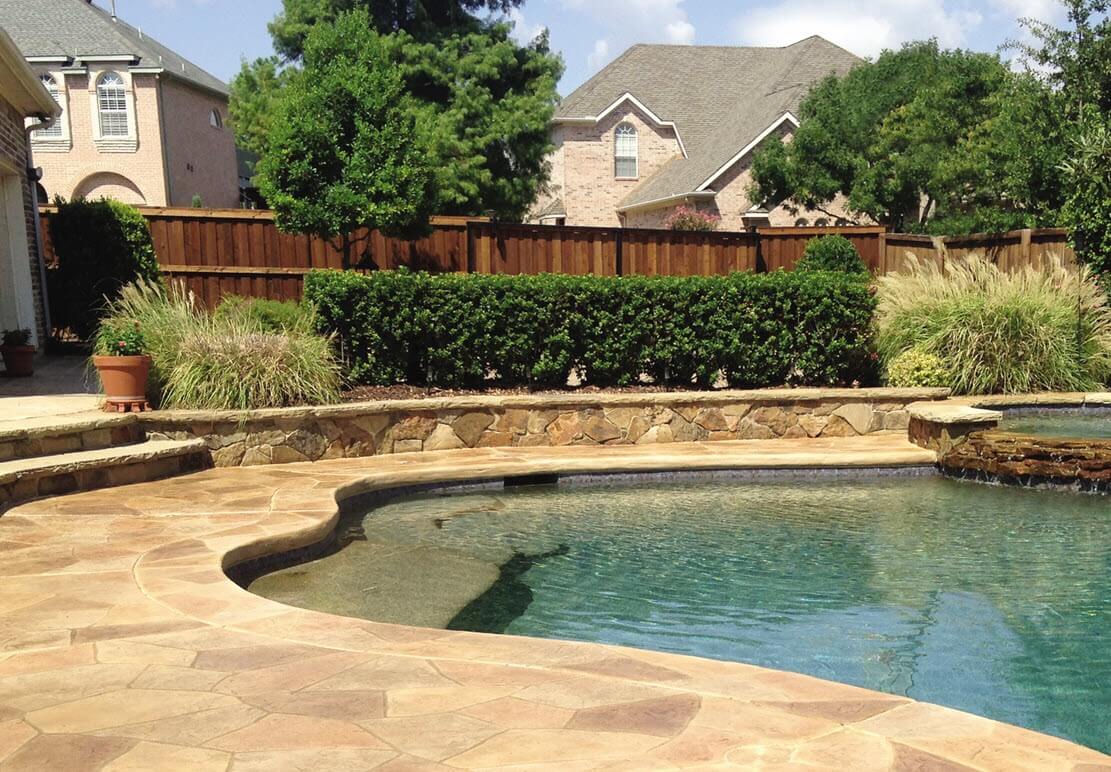 This decorative concrete flagstone pool deck is enhanced with seat walls serving as raised garden beds for plants and flowers. The raised flower beds bring texture and color close to the pool where trees, shrubs, and flowers create a lush atmosphere. The contained planting areas keep any garden debris safely away from and out of the pool, letting you enjoy the feeling of being in a garden.
Welcome Spring with new decorative concrete
Don't let all your hard work gardening be diminished by ugly concrete in your yard. Concrete Craft can transform all your concrete surfaces with superior decorative concrete finishes of stained, stamped, and resurfaced concrete applications to enhance your flower beds and gardens. Our high-quality overlays and restoration products will cover and conceal stains, cracks, and imperfections and give you the look of new concrete for your walkways, patio, pool deck, or driveway.
The sealed surface is stronger than bare concrete, with added protection against chips, cracks, or stains.
Finishes are resistant to all kinds of weather--hot and cold and wet and dry conditions.
UV protection in our concrete stains ensures the colors will remain beautiful for years without fading.
The unlimited design potential for beautiful, custom faux stone finishes with vibrant stain colors, realistic stamp patterns, and hand-cut designs lets you create the gardens you dreamed about all winter.
Contact us today or go online to www.concretecraft.com to find the Concrete Craft location nearest you and request a FREE estimate. Check out our " spaces gallery" to see more stained, stamped, and resurfaced concrete solutions for patios, driveways, walkways, pool decks, basements and interior floors, vertical surfaces, and commercial applications.