Step Up Your Modern Entryway with Polished Concrete
When it comes to a modern entryway, most people think of clean, elegant lines and an open space. While hardwood or tiles are popular choices for an entryway, they can wear out quickly and leave your entryway looking beat up or require costly updates to maintain. Polished concrete has steadily risen in popularity in modern interior design thanks to its customizable appearance, impressive durability, and ease of maintenance, along with other benefits.
What is polished concrete?
Polished concrete floors start off like any other concrete floor. Once the concrete is set, it's treated with chemical densifiers that fill the pores of the concrete. From there, the concrete is ground to a smooth finish with different levels of grit. This process is very similar to how you would sand wood to smoothness. This polishing process makes polished concrete stronger and more stain-resistant than nearly all other flooring types.
Homeowners can easily customize polished concrete to suit their modern interior design. Polished concrete also comes in different colors and patterns, and it can even be stained to mimic stone like granite or marble. Polishing the surface gives concrete a sleek, modern appearance and is easy to clean and care for in the home.
Polished concrete for a modern entryway
Modern interior design is characterized by clean lines, natural materials, neutral colors, and natural light. With a focus on minimalism, some flooring choices don't make sense for a modern entryway, like busy tiles and outdated carpet.
Wood is a popular choice for modern interior design, but it comes with a good deal of maintenance. Hardwood naturally wears down over time, especially in a high traffic area like an entryway. Inevitably, hardwood floors have to be sanded and refinished or ultimately replaced after a few years.
Polished concrete is a perfect choice for a modern entryway. It's incredibly durable and requires little maintenance aside from regular cleaning to look its best. The finish of a polished concrete floor is so durable when installed properly that it can last upwards of 20 years with proper maintenance and care. Not only that, but its simplicity complements the minimalism of modern interior design.
It's incredibly easy to customize polished concrete floors to perfectly match your modern style. They can be stained a variety of colors, and they can even be stained to mimic the natural elegance of marble or granite floors. Neutral stains or natural concrete hues work well for a modern style, too.
Polished concrete's glossy appearance can offer an ideal finish for a modern interior design style. Thanks to its finish, the polished concrete floor reflects natural light, making an entry look larger and more open.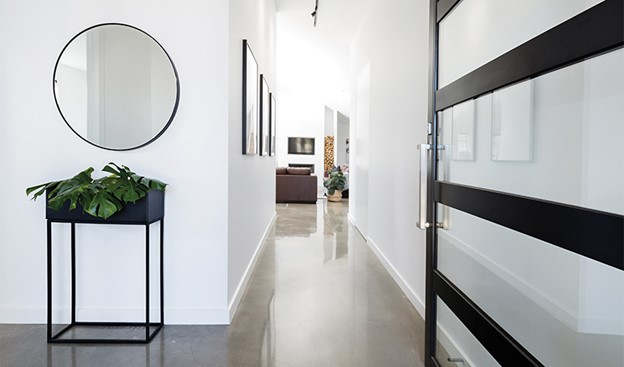 Customizing polished concrete
Homeowners can have polished concrete stained to customize its appearance. Stained concrete can mimic other flooring types like marble, granite, and wood tones. Warm colors like maple or dark walnut create a beautiful depth in a modern entryway. Another popular option for a fluid modern design would be to use a pearl gray stain that helps concrete mimic marble or slate. This elegant option goes well with black furniture.
You could try pairing wood-hued stains on your polished concrete floors to invoke warmth in your home. By choosing lighter wood tones, you can get the same natural look as hardwood floors without having to worry about the expensive upkeep. Rich mocha stains also create visual warmth.
Homeowners who prefer dark floors will love the sophistication of a deep slate stain for polished concrete floors. Some stains can be mixed to be nearly black. Slate-colored floors complement many features of modern decorating acting as a neutral to tie a room together.
Polished concrete vs. other flooring choices
Polished concrete is highly functional and durable, making it an ideal choice for an entryway or foyer. Since your entryway will likely see some of the highest amount of foot traffic in your home, it's important to choose a flooring material that will be able to hold up to regular use, moisture from outside, and dirt or dust.
Hardwood is extremely sensitive to moisture, whether it's from humidity or from getting tracked into your home by wet shoes. Humidity can cause harwood to expand and warp. It can also cause your hardwood flooring to buckle away from the subfloor, severely damaging your floor.
Wood flooring is also prone to growing mold if moisture seeps through. Hardwood floors are susceptible to scratching, staining, and scuffing from everyday use, as well.
Carpets share some issues with hardwood flooring. Any carpeted floor is prone to growing mold if moisture is present. Carpets also can hold large amounts of dirt and dust that's difficult to remove with only a vacuum. Sometimes this dirt and dust can only be removed with professional carpet cleaning.
Tiles don't have a sensitivity to moisture like hardwood floors or carpeting, but they present their own unique challenge with dirt. All tiles need to be grouted in order to be set in place and protect the subfloor. However, grout can quickly become dirty and is time consuming and difficult to clean.
Polished concrete doesn't have any of these issues. Because of the chemical densifiers used to seal the pores of the concrete, it's extremely difficult for mold to form on concrete. Due to its polished surface, dust and dirt sits on top of the floor, where it can be easily swept or vacuumed away.
Polished concrete's glossy sheen looks elegant and expensive. However, it's actually an affordable flooring option. Professionally installed polished concrete floors can last over 20 years with proper care and maintenance, so you know they're a great investment for your home.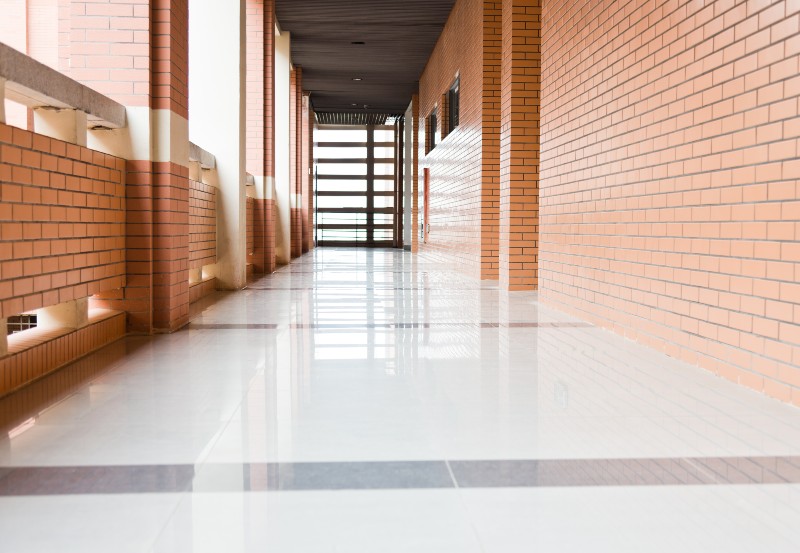 The importance of professional installation for polished concrete
Polished concrete needs a professional to install them. The challenging task of polishing requires experience, specialized equipment and knowledge. It takes a trained professional to assess your space and determine the right way to install or upgrade your current concrete floor.
If concrete is already in place, the process begins with a careful inspection. If you're getting new concrete floors, your installer will need to prep the space to pour the concrete. Then, highly specialized heavy machinery is necessary to polish the concrete.
Staining concrete can also be difficult for novice craftsmen or DIY-ers. Concrete installers know how to blend colors to get the right shade for any client. It takes a trained professional to stain concrete properly.
Improperly poured concrete can present serious problems. Fixing a DIY job gone wrong will often cost much more than having your floors installed professionally. Concrete's strength and durability make it difficult to remove.
Because these floors could potentially last a lifetime, it's important to have the job done right. Always use a professional for polished concrete floors.
Homeowners interested in adding polished concrete to their entry spaces should start with a professional consultation.
Concrete Craft offers free consultations, making it easy to get started on your concrete project. Reach out to learn more now. Concrete Craft has the experience and expertise to give any entry a sleek and modern look with polished concrete.