Storage Solutions to Help With Cleaning Up After Christmas and the Holidays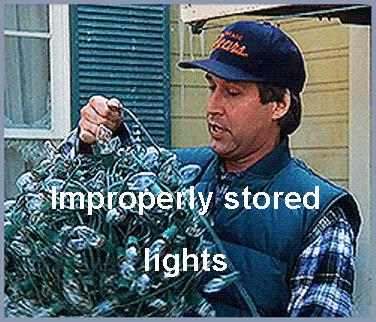 The flurry of opening presents is over and gargantuan trash bags are bulging with the debris—torn wrapping paper, ribbons, wadded up tissue paper and discarded boxes. A quick trip out to the trash cans and the cleanup is done.
But when it's time to tidy up the holiday decorations, that's not going to be such as easy task. If you're like most people, favorite decorations come out each year and new favorites get added; a box of sparkling ornaments, another six-foot pinecone garland, one more Nativity and a new wreath for the front door. Every year the problem of storing holiday decorations becomes a bigger problem whether you live with snow in Colorado or sunshine in Florida. Decorating is a big part of enjoying the holidays and that leads to the age-old question: What is the best way to store all those holiday decorations?
Here are some helpful tips for storing and protecting all your holiday decorations from Concrete Craft, your one-stop shop for custom resurfaced concrete overlays, including stained and stamped decorative concrete designs.
Ornament storage
Ready-made: Ornament storage boxes with removable trays and adjustable dividers can accommodate different-sized ornaments. Fitted lids and secure handles make for easy handling.
DIY: Use egg cartons to protect small ornaments.
DIY: Cut cardboard to fit into a plastic storage bin. Glue plastic or Styrofoam cups to the cardboard to create holders for individual ornaments. Stack the trays in the bin.
Ready-made: Protect sterling silver and silver-plated ornaments with tarnish-proof pouches available in different sizes or make you own from anti-tarnish silver cloth, purchased by the yard.
Ready-made: Use a crafts storage box or a plastic tackle box with compartments to store and organize ornament hooks, hangers and other small pieces, including extra light bulbs.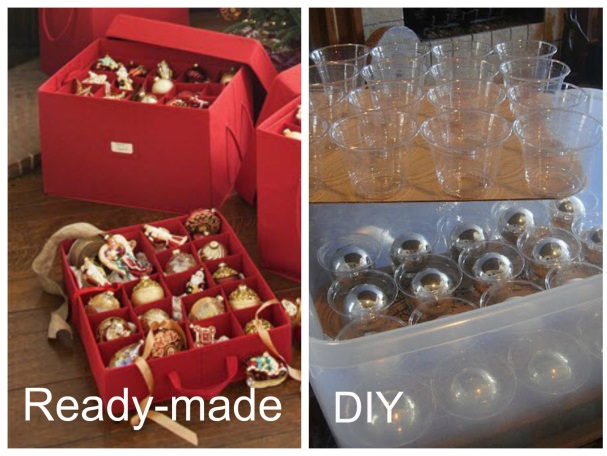 Strings of lights, beads and garlands
Ready-made: Padded, zippered cases with removable reels to secure light strands or garlands. For really long strands like outside lights, a garden hose reel will keep all lights from tangling.
DIY: For tangle-free storage, trim the lid of a shoe box and wrap lights or a garland around the lid and place it in the box. Or just use cardboard with slits to secure each end of a sting of lights.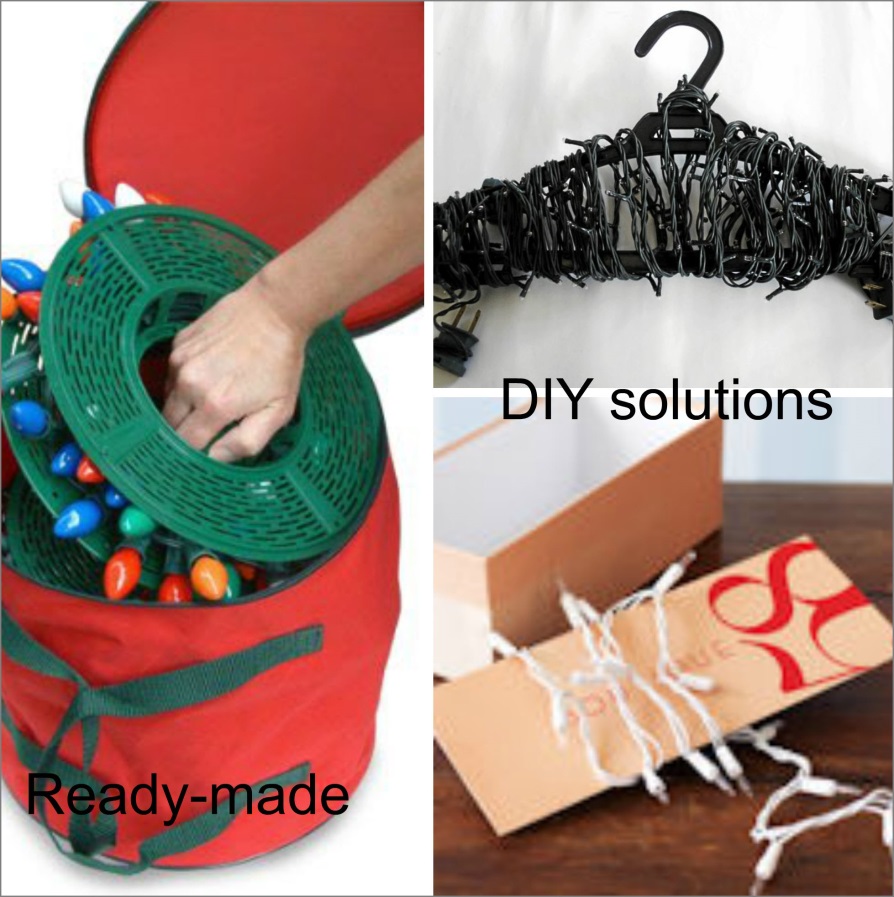 Artificial Tree and wreath storage
Ready-made: Tree storage bags are available with or without wheels, for standing or disassembled trees.
Ready-made: Crush-proof round containers can accommodate even fully decorated wreaths.
DIY: Store your wreath in a zippered plastic bag, garment bag, or padded fabric bag and hang it from a hook inside a cabinet, in the garage or in a storage shed.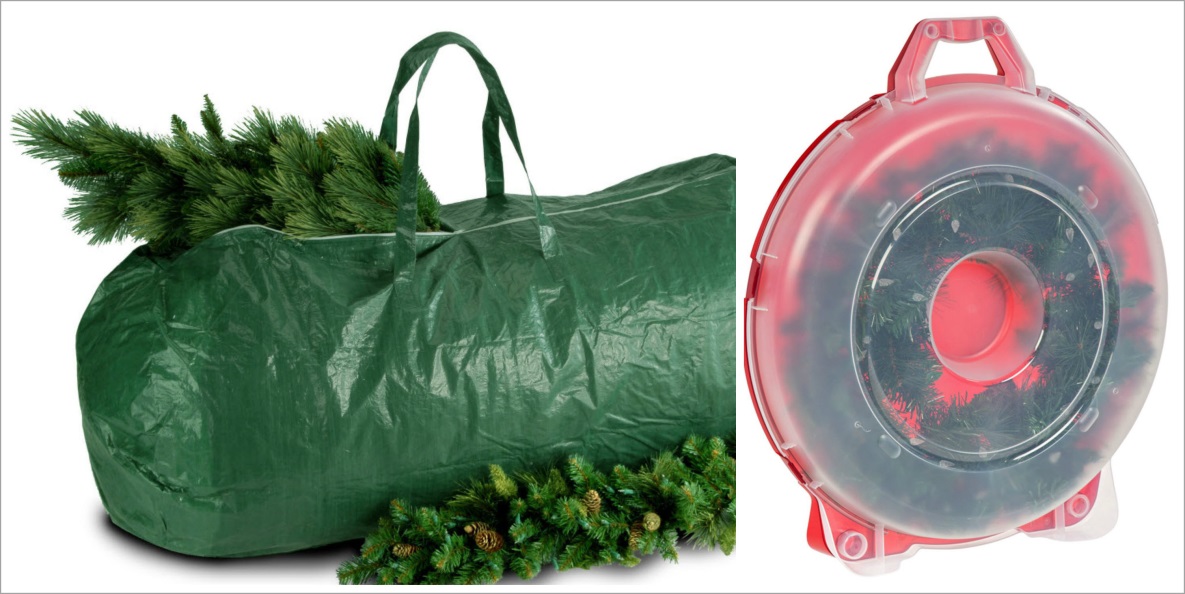 Holiday villages and large decorative pieces
Nativity scenes, holiday villages and train sets should have all pieces stored together.
Place heaviest items on the bottom and layer lighter ones on top.
Keep and reuse original boxes and packing.
Ready-Made: Specialty storage cases like this Village Keeper are available for boxed villages and all the extras, with features like rear wheels and padded handles for safe, easy moving.
DIY: Sew individual felt or quilted-fabric storage bags or buy a roll of bubble wrap so each item can be individually wrapped and safely stored in any bin.
Wrapping paper, ribbons and tags
Ready-made: Ribbon dispensers, specialty cases and hanging bags with pockets can safely store all your Christmas and holiday wrapping needs such as wrapping paper, ribbon, tags, tape and extras like silver bells, candy canes and tiny ornaments to top packages.
DIY: A zippered under-bed storage bag can hold all your holiday wrapping needs. A hanging garment bag for rolls of wrapping paper can store out of the way in the back of a closet.
Tree skirts, table cloths, and seasonal linens
Stored fabrics are vulnerable to moisture, dust and insects. Carefully clean and dry each piece before placing it into storage.
Store linens by holiday so they're easy to find when you need them.
Acid-free paper layers in sealed bins will prevent damage to delicate and vintage fabrics.
Space-saver bags can accommodate multiple pieces and hang in a closet, serve as under-bed storage or fold over to fit on a linen closet shelf.
Using these helpful tips, your treasured ornaments and decorations will survive year after year, giving enjoyment to you and your family and adding to the beauty of the holidays.
And if you're ready to beautify your interior floors, walkways, driveways, patios and more, be sure to call contact us or go online to www.concretecraft.com to find the Concrete Craft location nearest you and request a FREE estimate on stained, stamped and resurfaced decorative concrete overlays for your floors and vertical surfaces that will add year round beauty and utility to your home.