Summer Fun Begins with a New Resurfaced Concrete Patio
With the advent of Spring and Summer, thoughts turn to outdoor activities and making the most of the sunshine. Spring Fever has taken hold! Snowbirds are moving back to Southwest Florida from their winter residences and NASCAR fans are heating up in Charlotte, NC, digging out hats and tees proclaiming their favorite drivers. It's time to fire up the barbeques and let the fun begin!
A big part of summer fun is home entertaining, and having an attractive patio makes it easy to host successful get-togethers with family and friends. After a "long winter's nap" your patio may need a little sprucing up before it's ready for company. If you're seeing stains, cracks and chips on the surface of your concrete patio, don't despair. The artisans at Concrete Craft can make your patio like new with stained, stamped or resurfaced concrete at a cost you won't believe!
Take a look at some of the options for getting your patio ready for a busy, carefree summer. Find the design you like best among simulated wood planks, Flagstone, Slate, brick, random stone, tile and more, and give a call to your local Concrete Craft® for a free cost estimate and start planning that first party.
Versatile stained concrete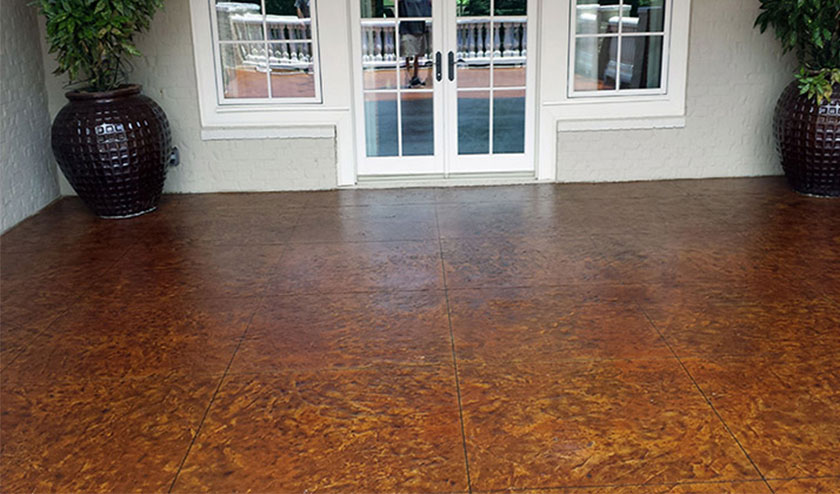 Acid-based stained concrete can create the mottled pattern like you see here, as well as other color effects. This custom-colored blend delivers a high-end finish, turning this Roman texture slate patio into beautiful extended living space.
---
Uniform color with stained concrete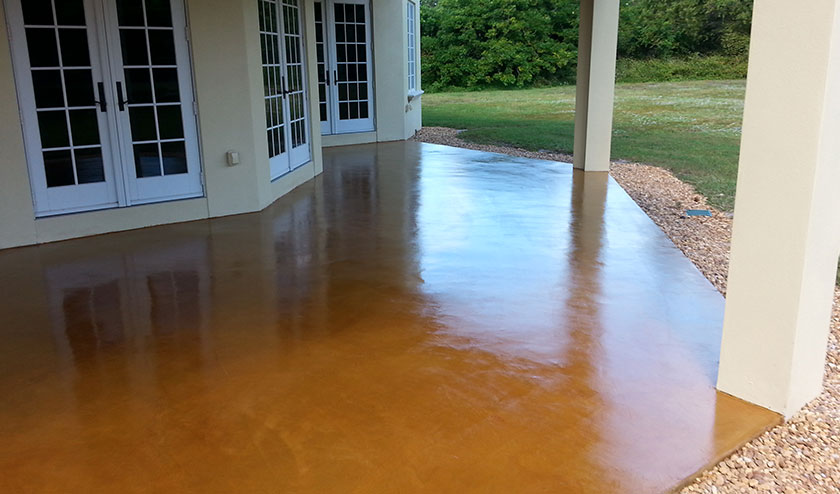 Water-based stained concrete gives a uniform, even color to a patio and will keep its shine and color for years. Resistant to moisture, stains and sun fading, it's practically maintenance free, with finishes from polished marble to natural stone.
Ideal for large areas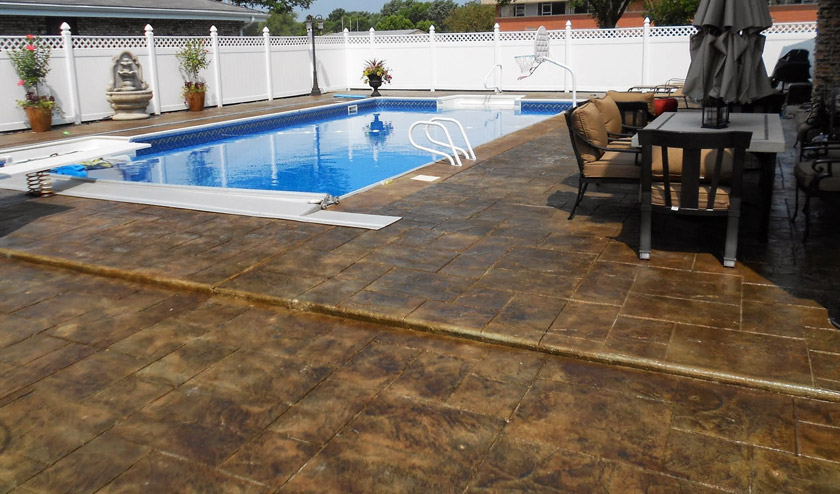 This stamped and stained concrete patio and pool deck looks just like expensive stone, yet costs much less than the real thing. Extremely durable and slip resistant around the pool, it's the ideal surface for this backyard entertainment area.
Resurfaced concrete for exceptional results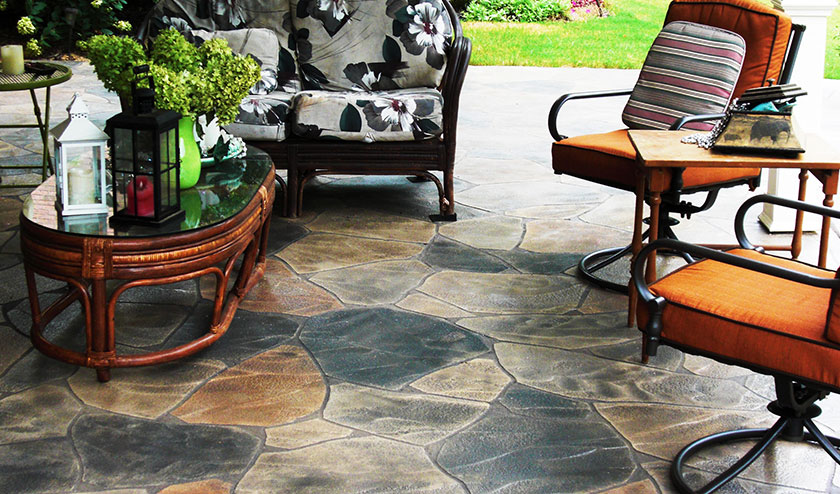 Flagstone is one of the most popular patio flooring choices for resurfaced concrete. Hand-cut and custom-colored, you can get any color you want in "real stone" patterns, including European cobblestone, brick and slate.
Expensive looks for less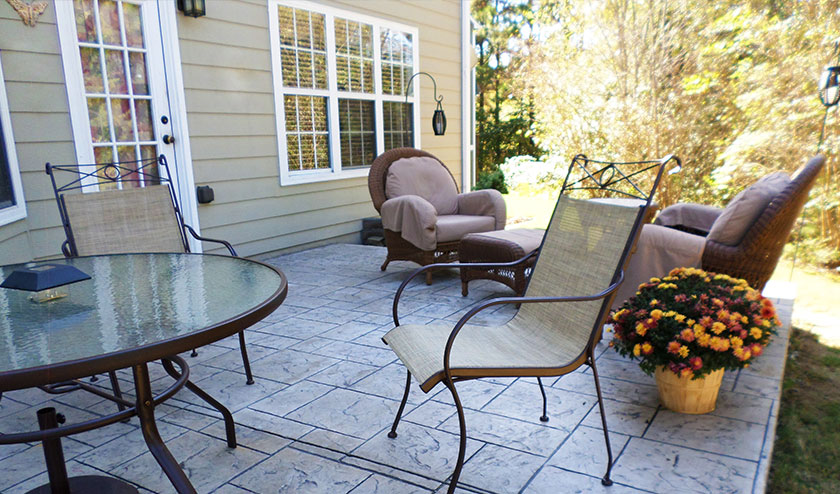 Concrete Craft can create just about any stone or brick look that you want. This stamped concrete Ashlar pattern looks authentic and will give years of beauty and enjoyment to any patio or walkway.
The appeal of wood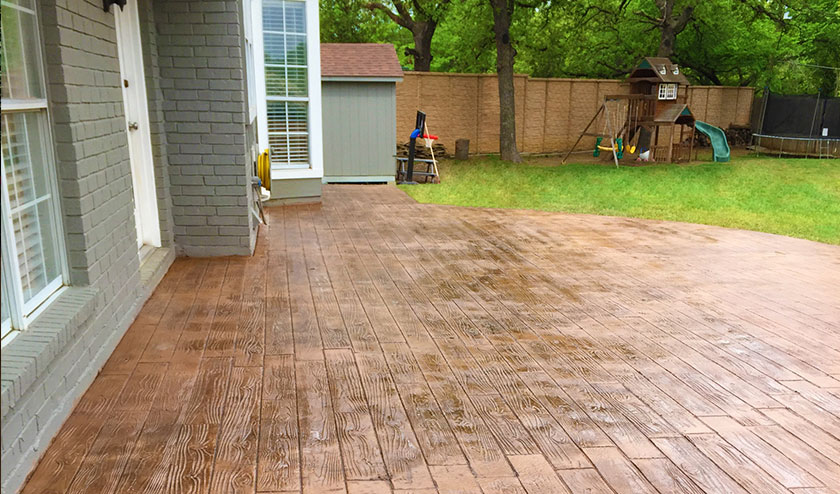 If you want the beauty of wood without the headaches of wood rot and splinters, our wood plank stamped patio is what you need. There will never be weather or termite damage, you'll have a worry-free "wood" patio for your family to enjoy.
Gray is trending for patios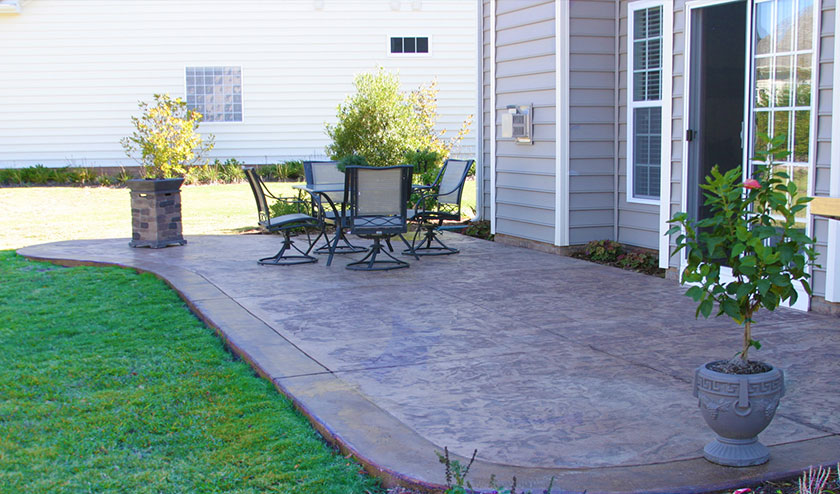 Gray is very fashion forward for 2016, but untreated concrete isn't stylish or practical. This stamped concrete patio uses a gray-on-gray custom design to present an elegant outdoor space that is beautiful and durable.
Make a statement on your patio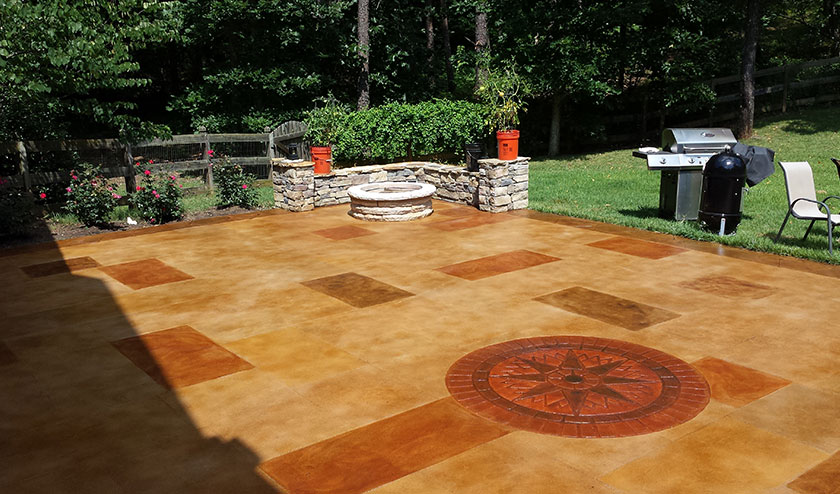 Add a little extra character to your resurfaced patio with a star medallion or other image. The resurfacing overlay can become a palette for your own unique creativity with stamp patterns and custom stains.
Color is never a problem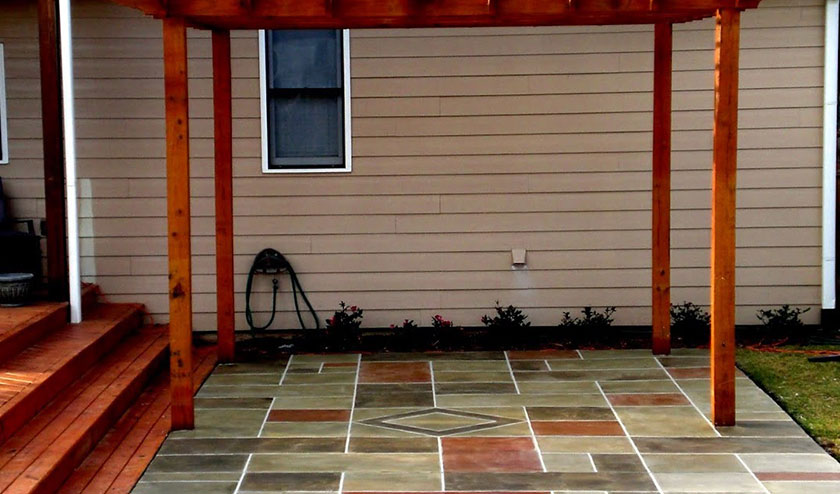 Colorful, custom patios are the hallmark of Concrete Craft. This hand-stenciled and custom-colored pattern pulls colors from the wood steps and surrounding landscapes for this one-of-a-kind patio. Imagine the possibilities!
Attention to detail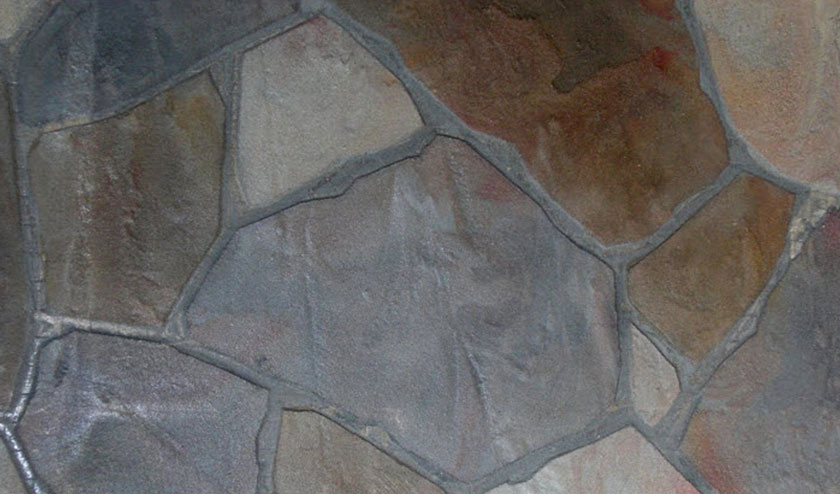 This close up of a custom-cut and colored Flagstone design demonstrates the attention to detail and authenticity that goes into each and every concrete resurfacing job. You may be the only one who knows your patio is not real Flagstone!
With Concrete Craft you are guaranteed to get a patio you love. Our experienced craftsmen can help you select styles and colors for any flooring surfaces, interior and exterior, such as driveways, walkways, basement floors, pool decks, commercial properties. We also do vertical surfaces for the beautiful look of natural stone on exterior walls, fireplaces, and bathroom shower stalls and more. Call 866-813-3699 today or go online to ConcreteCraft.com to find the Concrete Craft location nearest you and request a FREE estimate.