Three Smart Ways to Invest Your Tax Refund and Enhance Your Home
Tax time is here … are you ready? Have you filed for an early refund, or do you wait until the last minute because you have to pay additional taxes? Actually, over 60 percent of individual taxpayers do get a refund from Uncle Sam, triggering the national pastime of how to spend that refund.
Pay off debt (boring)
Put money into savings (no fun)
Take a vacation (fleeting gratification)
Go on a shopping spree (really fleeting gratification)
Invest in your home with a new decorative concrete overlay (lasting value and happiness)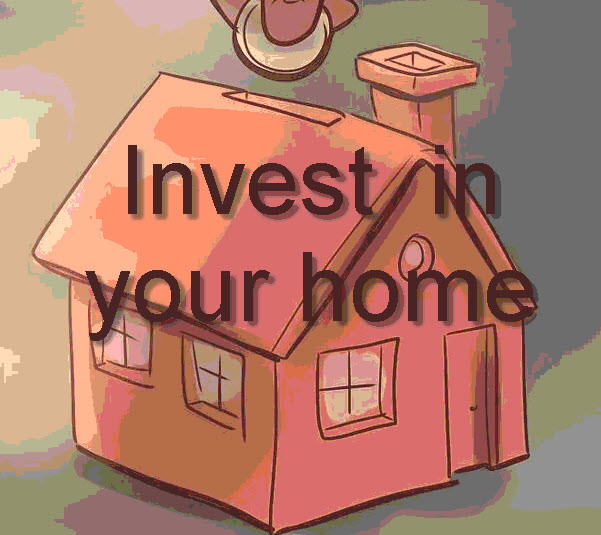 Local Concrete Craft®artisans are poised and ready to help you make a lasting investment in your home with stained, stamped and resurfaced concrete overlays to get your home and yard ready for Spring and Summer activities. After the ravages of winter rain and snow in Indiana and Kentucky, a new resurfaced driveway may be in order. Or, eliminate the humidity and sunbaked damage to patios and pool decks in Florida and Georgia with custom decorative concrete overlays, adding seat walls and fire pits to make your backyard look like new.
Here are three smart ways to invest your tax refund dollars that will pay dividends for years in beauty, enjoyment and increased home value.
A new driveway to upgrade your home
A driveway is a large part of your home's curb appeal, and a damaged one can detract from your home's appearance and appraisal value. Daily use, weather, vehicles leaking oil and fluids, and time itself can take a toll on your driveway's appearance, leaving the surface cracked, stained and dull. With a concrete overlay you have the option of turning your distressed and ugly driveway into high-end "stone" with the authentic look of flagstone, cobblestone, Ashlar slate, Roman slate, brick and tile. Other finishes include stained concrete in a variety of colors or a broom-finish for the look of freshly poured concrete.
Hand-cut and custom-colored flagstone is one of our most popular styles for driveways and walkways. This flagstone design has a non-porous surface that resists moisture, cracks, color fade and stains. A quick sweep or power wash will keep this driveway looking like new. Enjoy the look of real stone but without the problems of weeds or grass growing between the stones, since the grout is merely part of the overall design and will never crumble or dislodge the "stones."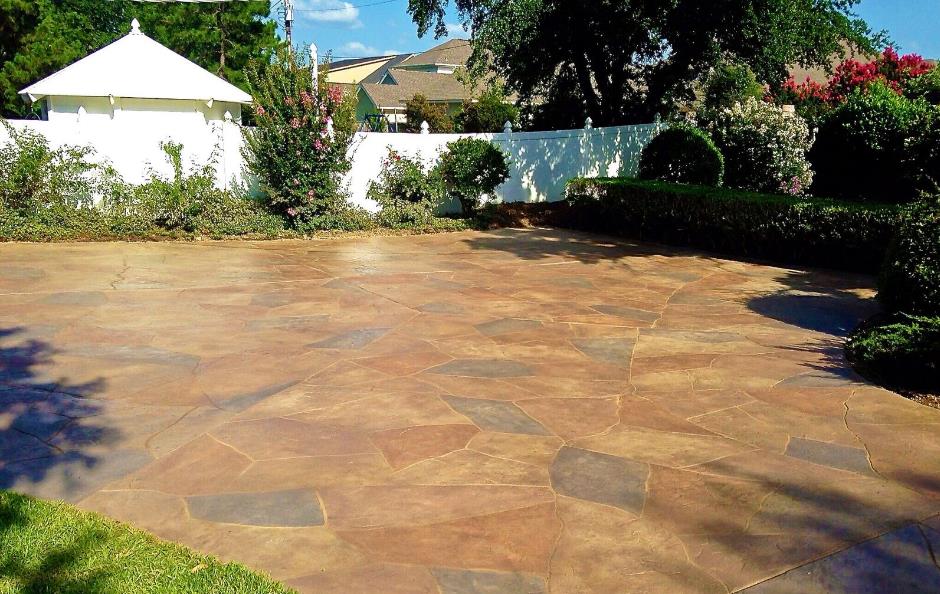 Stained concrete is one of the most economical ways to enhance a driveway or any large area, including interior floors and outdoor hardscapes. This stained driveway will hold its gorgeous color for years since our stain colors have built-in UV protection. Stained concrete is low maintenance with its industry-tough sealed surface and can withstand heavy vehicle traffic and any kind of weather. Stained concrete can mimic anything from polished marble to natural stone, and presents a smooth, continuous color from water-based stain or a mottled effect from acid-based stain.
Concrete overlays, including stained concrete floors, can be embellished with stamped and stenciled designs of geckos, turtles, Kokopelli, medallions, flowers or custom images to create a unique signature for your driveway.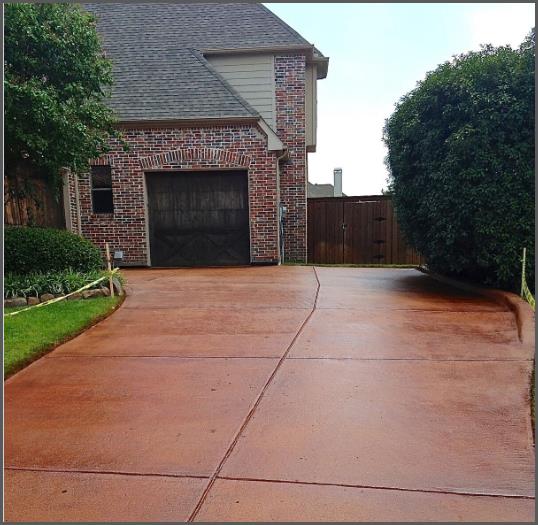 Revitalize your pool deck and backyard
Not surprisingly, the top 10 cities that have the highest percentage of home pools are in areas of the country where it gets REALLY HOT. Coral Springs and Clearwater, Florida; Plano, Texas, and multiple cities in Arizona take the lead in the estimated 5.1 million in-ground pools in the U.S. If you are one of those lucky pool owners, an attractive pool deck can definitely enhance your family's outdoor fun.
Concrete pool decks begin to show wear pretty quickly from water, suntan lotions and oils and food and drinks that can leave a mark on the porous surface. To keep your pool deck ready for entertaining at a moment's notice, a new decorative concrete overlay in a stained, stamped or hand-cut and colored design is the answer. You can surround your pool with the look of real stone for a fraction of the cost of the real thing and turn your backyard into a hotel setting with lounge chairs, umbrellas and drinks tables. All that's missing is the cabana boy!
This pool deck in North Carolina went from a total mess to a like-new finish in a matter of days with a concrete overlay. The sealed surface will remain clean for years of carefree family fun, resisting damage from wet feet, soggy towels, barbeque spills, and the family dogs.

A contrasting border around the pool is a popular style and it introduces a secondary design element that can be repeated in other areas. Here the pool deck is a Roman texture slate finish bordered with hand-cut and custom-colored flagstone that complements the colors in the pool wall. The overall effect is simple elegance, the exact result the homeowner wanted. As with all our concrete surfaces, the commercial-grade sealer will protect and enhance the finish, keeping this pool deck beautiful for years.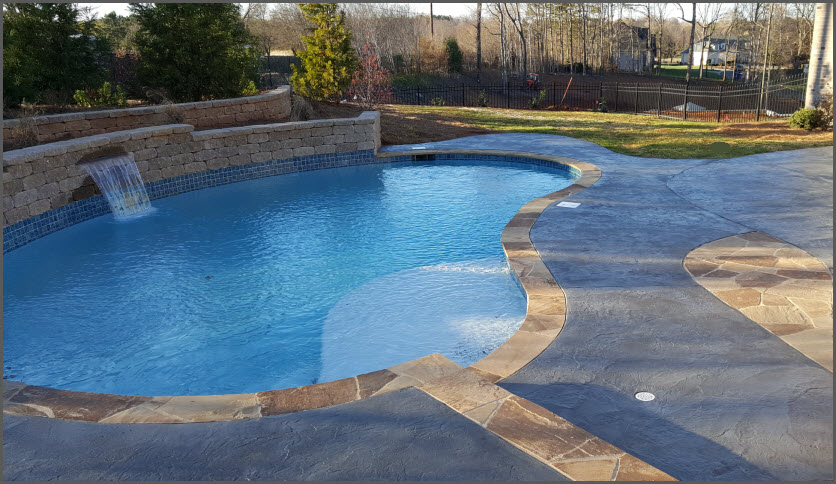 Live on your new patio all summer long
Concrete patios are interesting. If well-used, they can begin to look worn and old, showing signs of wear. If they aren't used, they can still look forlorn and dull, especially with a standard unfinished gray concrete surface. So what's the best way to make your patio a viable extension of your living space? Answer: make it functional and fun.
People spend time outdoors where it's comfortable and pleasant. Bringing your patio up to that status is as easy as installing a new decorative concrete overlay floor and some form of shelter from sun, wind and rain. Concrete Craft can help you design the perfect patio floor to beautify your home with a wide range of styles, patterns and colors, including hand-cut and custom-colored natural stone replicas, stamped patterns like brick, tile and wood plank, and rich, vibrant stain colors.
This backyard patio is ready for patio furniture and a good time. The flagstone design creates a stylish setting for entertaining or just kicking back with a good book and a cold drink. The continuous, sealed surface integrates the hot tub enclosure and the rest of the patio, and the roof extension provides a shaded area when the direct sun is too hot.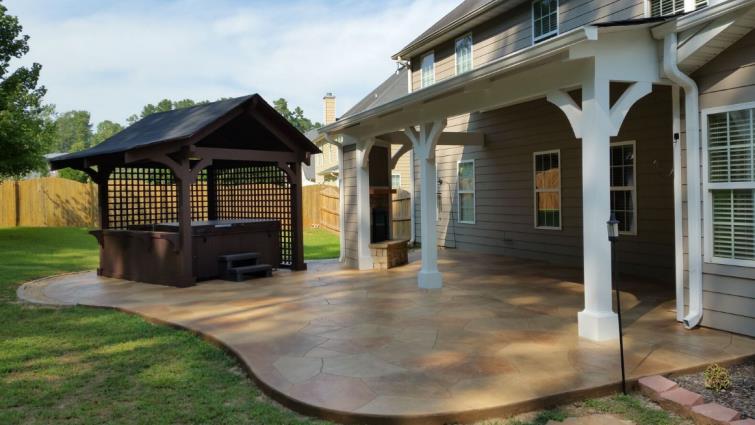 Seat walls and fire pits add extra interest to any patio and are especially helpful if space is limited. Seat walls help define the space as well as provide additional seating for guests. Our stamped concrete seat wall and fire pit system is a fast and economical way to get the look of real stone on your patio. Our stamped concrete surfaces are more durable than real stone, and there is never the problem of crumbling grout or stones shifting with our seamless, faux stone finishes.
With a fire pit, you may find that more evenings are spent outside on the patio, enjoying the sunset and family camaraderie. Even brothers and sisters can get along roasting marshmallows and making S'Mores and little ones can help make the treats, with adult supervision around the fire, of course.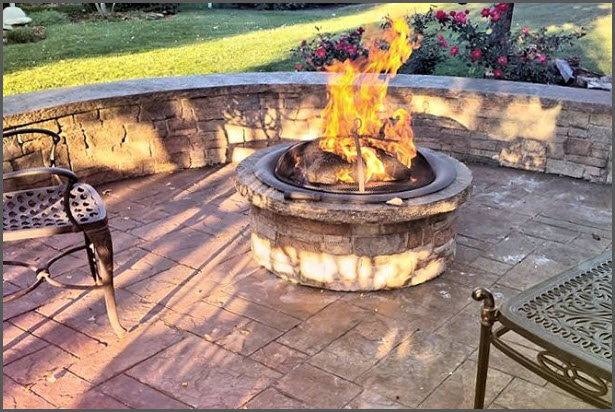 So put that tax refund to good use by reinvesting in your home and enhancing your family's lifestyle. Concrete Craft can help to upgrade your home in time for spring and summer fun. In addition to flooring, we offer the same innovative designs and exceptional quality for walls and other upright surfaces with vertical concrete resurfacing. Call 866-813-3699 today or go online to www.concretecraft.com to find the Concrete Craft location nearest you and request a FREE estimate.