Three Tips to Get Your Pool Deck Ready for Summer Entertaining
Swim weather is here and if you have a pool, you're one of the most popular people in the neighborhood! With kids out of school and staycation time scheduled, you'll want your pool in tip-top shape so it's ready for anything the summer brings.
Friends dropping by
Impromptu barbeques
Wine tasting on a lazy afternoon with BFFs
Playing with the kids all day long
Spending your vacation at home, relaxing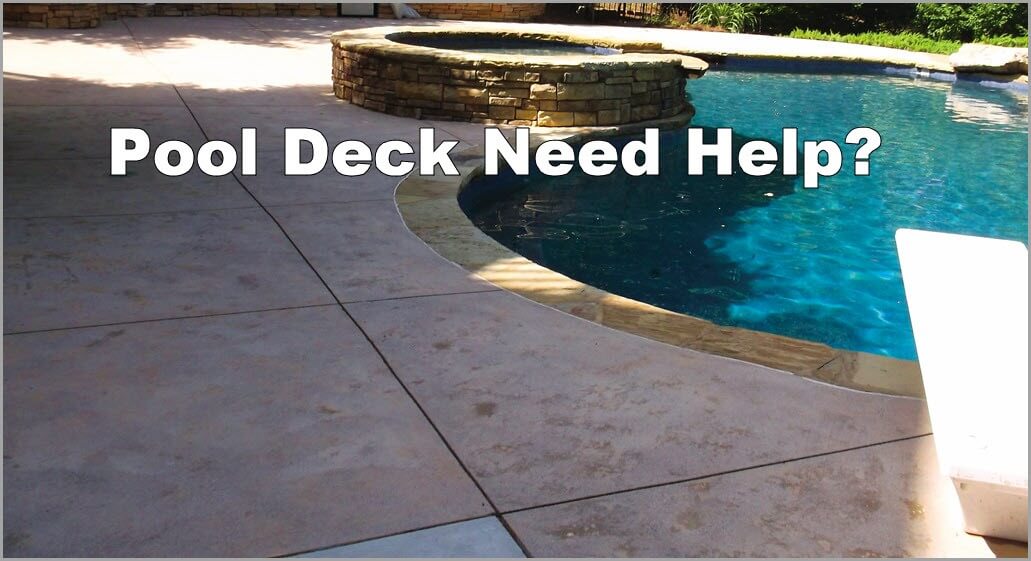 If your pool deck doesn't make you want to grab the suntan lotion and a beach towel and head outside, Concrete Craft® can help transform your worn and tired pool deck into a fabulous summer destination. With a pool, the fun pretty much takes care of itself, so here are three tips to get you on the road to effortless summer entertaining.
Tip One: Assess your pool deck
Since pool decks live outside in all kinds of weather, year after year they can take a beating. Add an active family that spends months of warm weather in and around the pool, and it's going to show wear. If your pool deck could use a facelift, there are two ways to beautify and protect your deck for years of worry-free functionality.
For concrete in good condition, a concrete stain application may be all you need
Damaged concrete with stains, chips, and cracks can be renewed with a mico-topping resurfaced concrete overlay that hides the imperfections and presents a new surface for decorative concrete staining, stamping, or hand-carved custom designs like flagstone, cobblestone, Ashlar slate, and Roman slate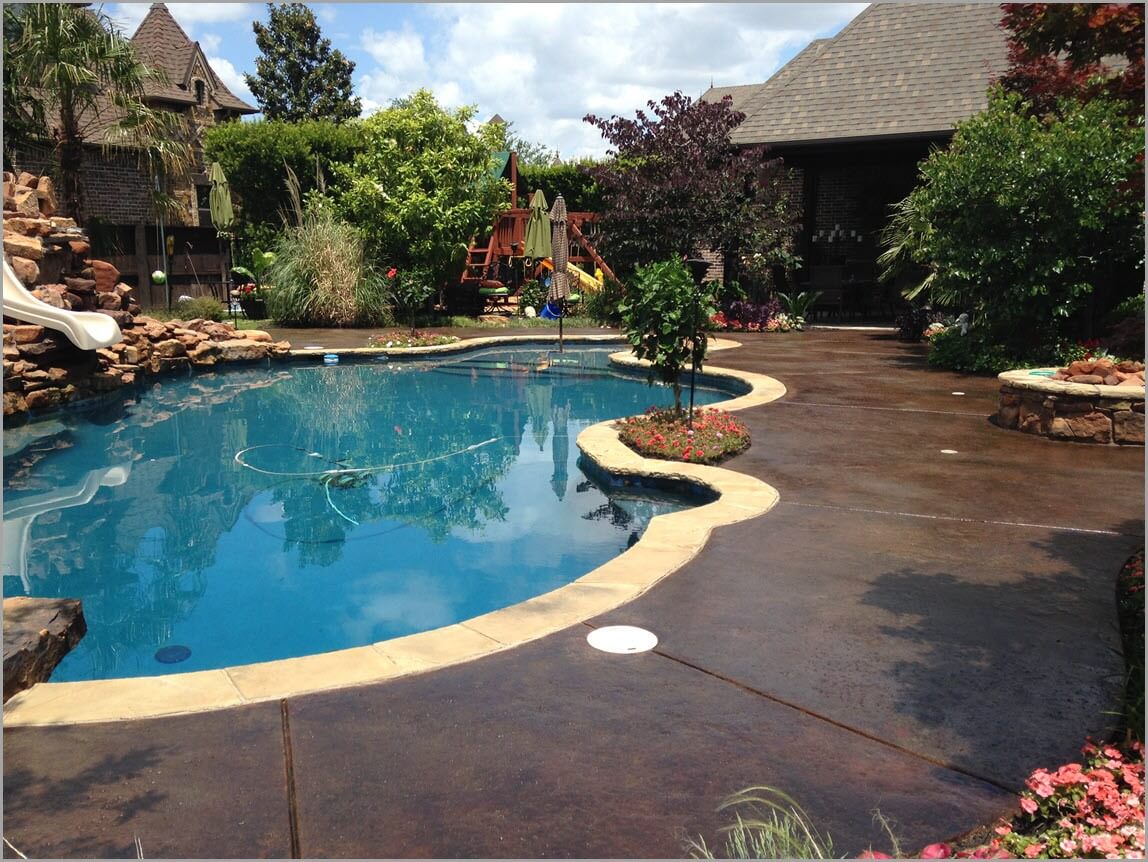 This brown-stained concrete pool deck makes the yard look like a jungle paradise. Whether directly staining your existing surface or applying an overlay, stained concrete is the most economical way to transform large areas with a durable surface that won't fade, chip or peel. The seamless, industry-tough sealed surface is moisture resistant—colors won't run or fade—and stains don't set. Stained concrete is extremely low maintenance, just sweep or hose away any debris to keep your pool area ready for action.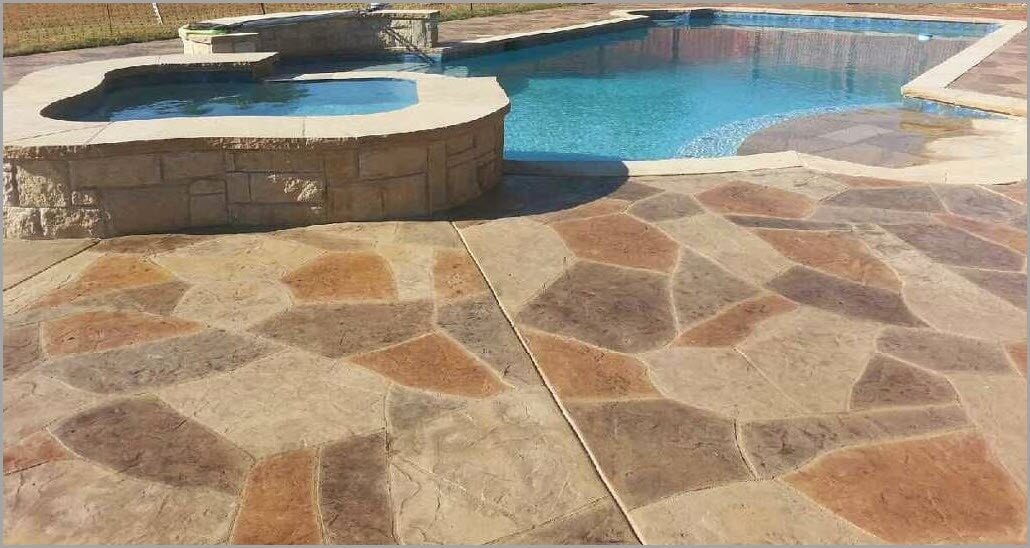 This pool deck received a concrete overlay that was hand-carved and custom-colored to emulate the look of authentic flagstone. Each stone is individually cut and colored for a unique, natural look. Unlike real stone, the faux grout lines will never crumble or discolor and the "stones" will never lift. As with stained concrete, it's a continuous, sealed finish that can withstand weather, water, heavy use, and years of outside entertaining.
Tip Two: Seating, eating, and comfort needs
With a fabulous new pool deck, it's time to consider patio furniture. Pool parties generally involve sunning, eating, cold drinks, and even napping. You'll want to have accommodations for your family and guests so everyone is comfortable for some fun in the sun.
Clean or refinish patio furniture you already have; buy new outdoor cushions if needed
Have chairs, lounges, ottomans, and tables so everyone can keep food and drink handy
Seat walls can define areas and add additional seating for pool and patio areas
Shade umbrellas or a patio cover will give relief from the sun
Picnic coolers can keep drinks cold and readily available
Stock extra beach towels and sunblock
Seat walls (pictured above and below) are an excellent way to add style and additional seating to your pool deck. To add seat walls, you don't have to go any further than your local Concrete Craft. With our seat wall system, we can create unique wall designs with durable and realistic stone facades for retaining walls, seat walls, garden walls, and more, in designs like Mountain Drystack, hand-carved stone, and random sandstone. Our vertical concrete resurfacing techniques can quickly and easily add decorative, permanent seating around your pool or patio.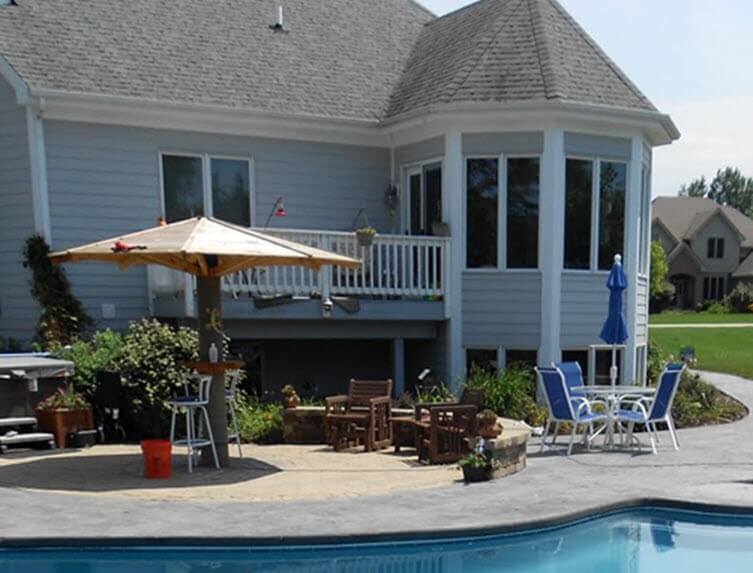 Tip Three: Add decorative touches
Create lush surroundings in your favorite outdoor style, including beach theme, island paradise, English garden, Club Med, or playground. Create a space you want to spend time in to relax, refresh and enjoy.
Plants and flowers add beauty and help provide privacy around your pool
Potted plants can add color and lively green anywhere
Solar lights create nighttime ambiance and increase safety
Tiki torches filled with citronella oil add light while helping to keep bugs away
Outdoor, natural fiber rugs like jute, seagrass, and sisal can add comfort underfoot

Don't let summer catch you unprepared with a not-quite-ready pool deck. Concrete Craft can help to get your pool in shape for safe and sane summertime fun. Talk to the craftsmen at Concrete Craft who can answer all your questions about updating your pool deck with a decorative concrete finish that is perfect for your needs in style, color, and cost. Contact us today or go online to www.concretecraft.com to find the Concrete Craft location nearest you and schedule a FREE estimate. We can also transform patios, driveways, entryways, walkways, and interior floors with beautiful decorative concrete.