Three Tips To Update Your Front Yard And Boost Your Home's Curb Appeal
How do you feel about your home's curb appeal? Do you think your front yard makes a good first impression or is it time for a fresh, new look? Upgrading your home's curb appeal is easier than you may think, and it can give your ego a lift when you realize your home is the most stylish in the neighborhood.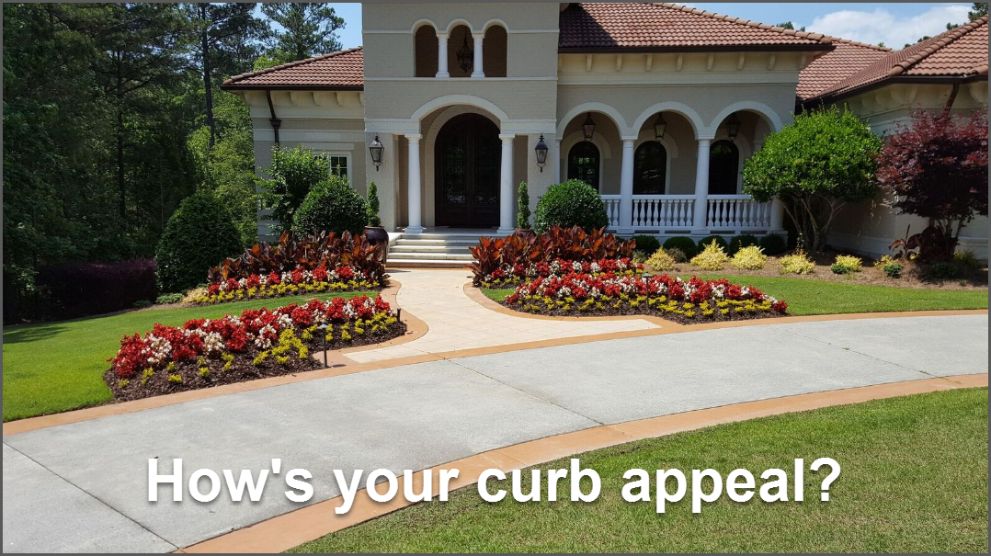 Here are three tips from your neighborhood Concrete Craft® to help with boosting your home's curb appeal to the next level.
Tip One: Implement cosmetic upgrades
Refreshing your existing presentation may be all you need to do in order to upgrade your home to show-stopping curb appeal. Weather and time can take a toll on outdoor surfaces like paint and wood finishes and a quick refresh can make a big difference. Also, take a stroll through your favorite home goods store and discover some new outdoor decorating trends to add character that may be more to your current taste. This baker's dozen of quick and easy upgrades that can be done in a weekend will get you started:
New outdoor light fixtures: wall sconces, pendants, and lanterns
Easy-to-read decorative house numbers
New, statement mailbox in black or bronze with metallic trim
Paint the front door an inviting color or refresh a wood finish; add new hardware
New or restored patio furniture and a cheery welcome mat
Decorative flowerpots by the front door, window boxes, and hanging plants
Solar-powered lights to light walkways and up-light trees
Artistic or outrageous doorknocker
Inviting, old-fashioned porch swing
Favorite furry friends or whimsical garden statues
Add a roof or awning over the front door
Power wash the exterior of the house to remove dust, cobwebs, and dirt buildup
Reseed bare grass patches, plant colorful flowers, trim overgrown bushes, and trees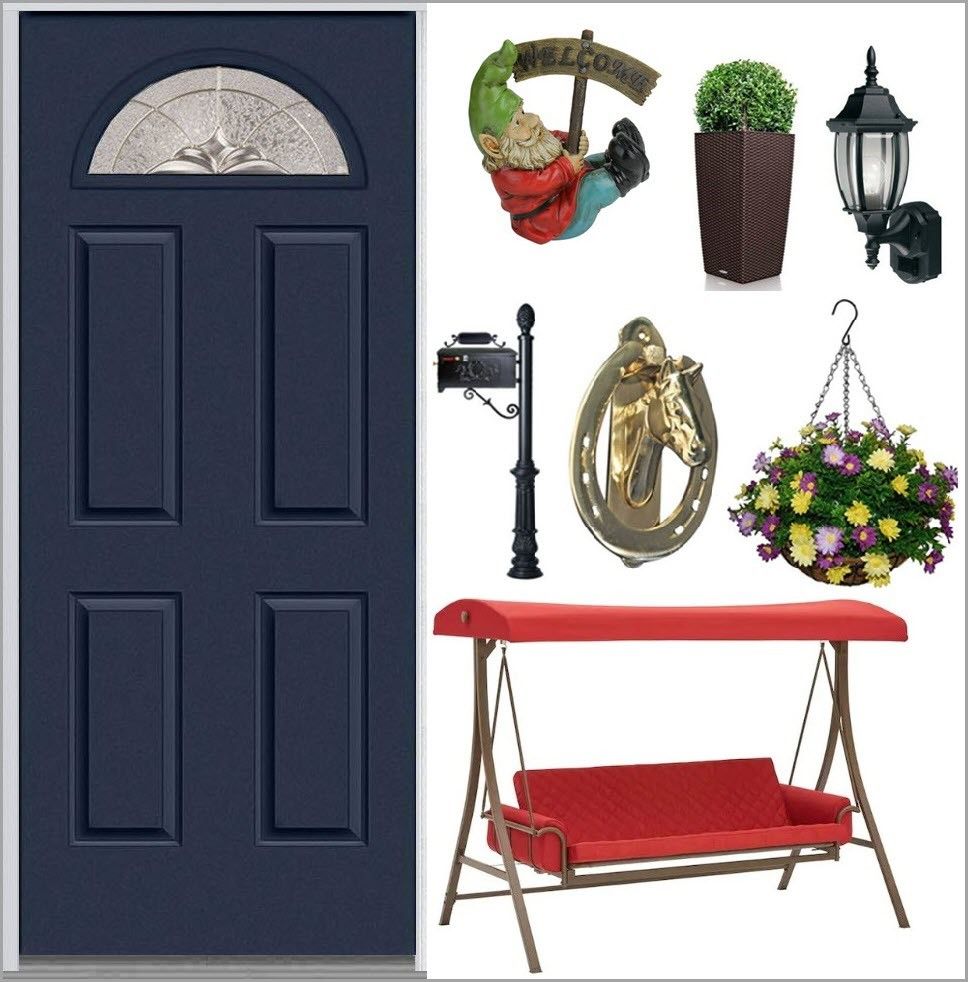 Tip Two: Renew the driveway
With most homes, the driveway is a major part of its appearance and a damaged driveway can bring down the overall beauty of your home. Driveways suffer daily abuse from constant use and can become unsightly with stains, cracks, and worn spots where the aggregate shows through. Contrary to common belief, a damaged driveway doesn't have to be replaced. At Concrete Craft, we absolutely love driveways and have several resurfacing processes to repair, restore and refresh even the ugliest driveway without expensive demolition and replacement. These before-and-after pictures showing a few of our MasterProTM resurfacing systems are worth a thousand words, so just imagine what such a transformation of your own driveway could do for your home's curb appeal! And since we use the existing surface, your new driveway will take only a few days to complete and it's back in service.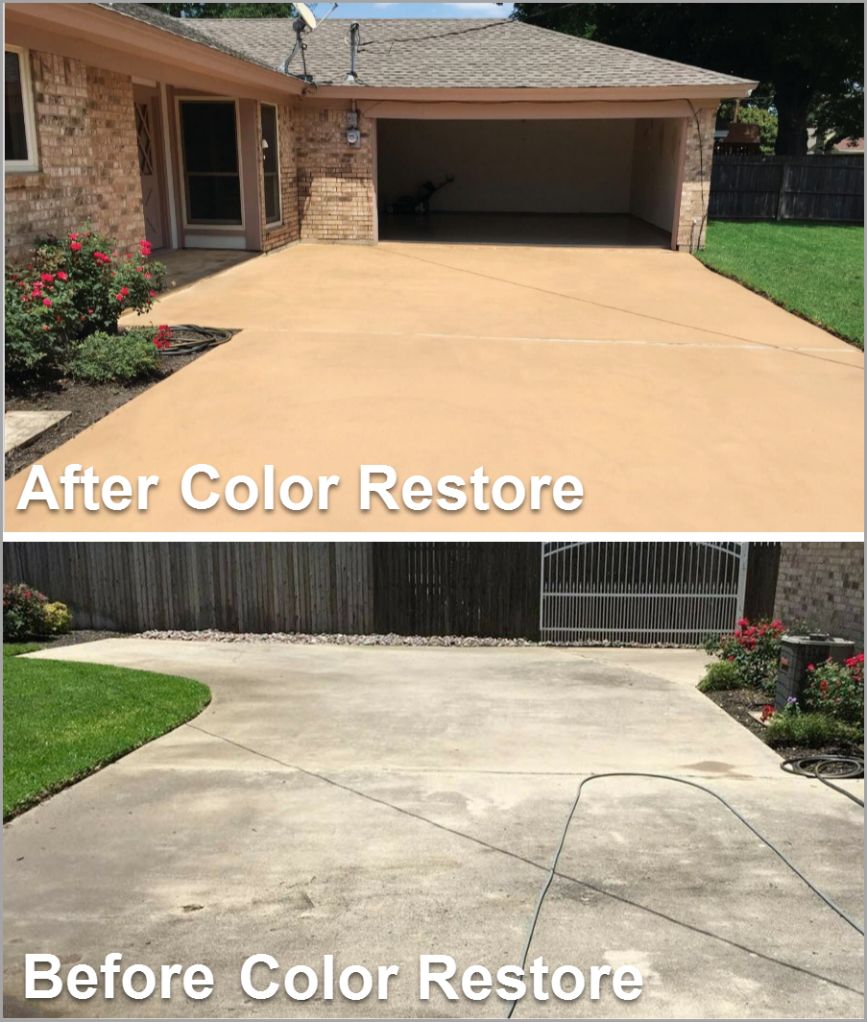 Color RestoreTM is a non-hazardous, ultra-low VOC, water-based stain that penetrates the surface of concrete, forming an opaque, breathable finish that does not require a sealer.
Pictured in Latte, there is a range of colors to choose from for a superior look of colored concrete for a more natural, durable finish for your driveway.
Easily rejuvenates a previously colored surface or a plain gray concrete driveway by minimizing discolorations for a better-than-new appearance.

RestoreKoat by Concrete CraftTM is a versatile repair mortar for deep cracks, spalling, and badly worn driveways.
A stand-alone overlay, it's an economical solution to restore to like-new a damaged driveway that appears hopeless.
Unlike regular concrete that will deteriorate over time, the RestoreKoat surface is industrial tough to resist abrasion, stains, cracks, and vehicular damage.

RenewKoat by Concrete CraftTM is a revolutionary overlay system to restore a faded, stained, or discolored stamped or plain concrete driveway to like-new condition.
Made with real cement and rolled on like paint, RenewKoat provides a natural concrete appearance over existing concrete surfaces, preserving the original design.
Available in a range of colors, you can completely change the look of your driveway and increase curb appeal at the same time.
Tip three: Introduce faux stone decorative concrete finishes
Faux stone enhancements have become a decorating mainstay for both indoor and outdoor spaces. Decorative concrete resurfacing lets you add the beauty of stone for classic curb appeal by transforming house siding, pillars, walkways, porches, steps, garden walls, and driveways. Decorative concrete overlays create a fresh surface that can become just about any faux finish you want with stained concrete, stamped concrete, and hand-carved designs. A new façade of decorative concrete faux stone can transform your home with the beauty of realistic stone textures and colors, adding style and personality.
Vertical concrete resurfacing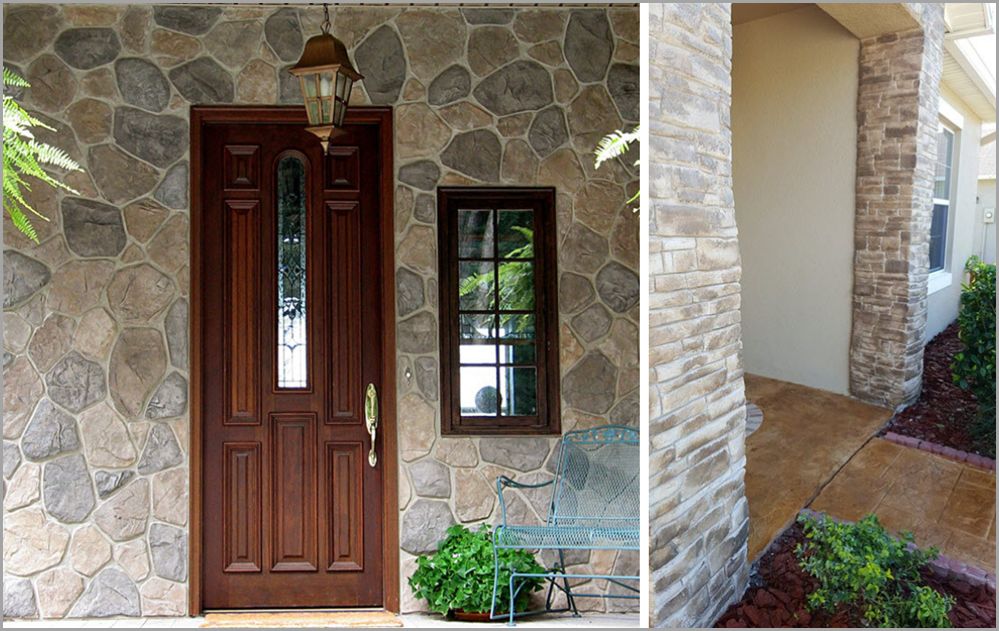 Vertical concrete resurfacing can be applied over concrete, brick, plaster, drywall, and wood to revive worn-out vertical surfaces with realistic-looking rock and stone finishes.
Sealed finishes resist moisture, mold and bacteria, stains, chipping, peeling, and UV damage.
Surfaces are easy to clean with no nooks and crannies to harbor dust, dirt, and insect infestation so common to real stone outdoor elements.
Shorter verticals such as steps, retaining walls, and raised flower beds can have the look of stone without the problems of grout deterioration and stones dislodging.
Decorative concrete floor surfaces
Upgrade your porch and entryway with a decorative concrete overlay of authentic-looking faux stone, including flagstone, cobblestone, and slate designs.
Boring gray walkways become an artistic statement with a decorative concrete overlay of a vibrant concrete stain or stonework.
Showcase your gardens by surrounding them with elegant faux stone and decorative concrete designs for walkways, patios, and driveways.
Give your driveway a faux stone finish with a decorative concrete overlay to cover imperfections and extend the pattern to create a seamless surface connecting the driveway and walkways.
Choose home upgrades with long-lasting impact
There are lots of ways to add interest and curb appeal to your home and decorative concrete enhancements from Concrete Craft will add beauty and functionality that lasts year after year. And, you'll find you enjoy your home more as you spend less time on upkeep. Consider the many benefits of decorative concrete for both indoor and outdoor spaces:
Unlimited design potential with our wide range of styles and colors with stained, stamped, and resurfaced concrete resurfacing options.
Custom designs include contrasting borders, multiple designs, stencils, and imprinted logos.
Sealed, continuous surfaces are moisture-resistant, inhibiting spills, stains, and mold.
Surfaces are guaranteed not to chip, fade or peel.
Impervious to hot, cold, wet, and dry weather.
Easy-care surfaces stay clean by sweeping, mopping, or hosing off, no strong cleaners are needed.
At half the cost of other materials, you can have the look of more expensive stone and wood finishes.
Integrated faux grout lines prevent pesky grass or weeds from appearing between "stones."
Concrete is the most durable surface you can have.
Now is the perfect time to improve your home's curb appeal to better enjoy the last weeks of summer and get a head-start on fall and the upcoming holiday season. (It's only 134 days till Christmas!) Go online to www.concretecraft.com to find the Concrete Craft location nearest you and request a free in-home or virtual* consultation. Your local craftsman is ready to work with you to evaluate your needs and help you choose the stained, stamped, and resurfaced decorative concrete finishes that will best enhance your lifestyle. Learn more about the many options for decorative concrete transformations by viewing our online catalogs:
*Virtual consultation may not be available at all locations.