Transform Your Basement Into A Comfortable Hideaway
Like no other time in history, 2020 has been the year of reevaluating home space. As everyone is sheltering in place, working from home, and homeschooling the kids, the need for more space has sparked home renovation projects around the country. Maximizing living space has become critical for families stuck at home who miss their out-of-house activities such as:
Gym
Movie theater
Library
Favorite coffee house
Video arcade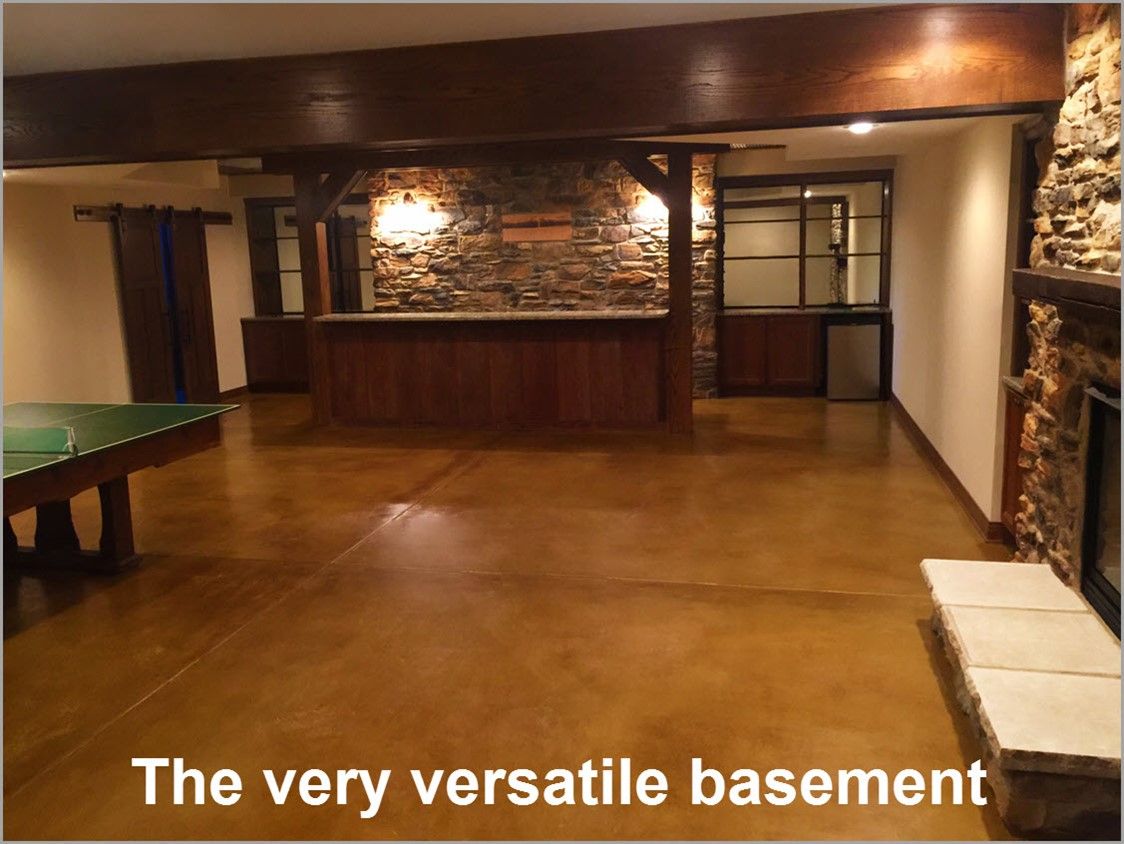 But, happily, many people are sitting on a goldmine of space, a basement that can be transformed into a beautiful, functional living space. Starting with a decorative concrete floor from Concrete Craft*, a basement can become whatever hideaway your family needs most: a game/media room, home fitness gym, personal home office, crafts room, man cave, she-shed, or kids' playroom. If you can't decide, here are three tantalizing ideas to help you reimagine your basement.
Build a home gym in the basement
Design a fitness room with the vibe of your regular gym. Set up different areas to accommodate everyone's style, with machines, floor exercise or yoga space, and a play area for little ones with a rug and storage for toys and games so they can participate while the rest of the family works out. A stained concrete floor is appropriate for all activities, easy to keep clean, and can withstand the weight and pressure of exercise machines and enthusiastic workouts. Building a home gym is a great way to orchestrate some quality family time while keeping everyone healthy.
Install a big screen TV for instructive programs, music, or to watch favorite movies to enhance the workout experience.
Wall mirrors give a spacious feel, reflect light, and let you check out your moves while exercising.
Create the ambiance you want with lights, color, candles, and scent, adjustable for high-energy sessions or soothing meditation times.
Paint a wall with chalkboard paint so everyone can easily track their progress or keep a schedule for personal use time.
Have proper storage for weights, jump ropes, resistance bands, balance balls, and mats with cabinets or shelves to easily organize everything and eliminate clutter.
Regulate the temperature with a ceiling fan, portable fans, or space heaters if there's no central air to keep the space comfortable.
Include amenities of a commercial gym like clean towels, mist sprayers, and a minifridge to keep water and healthy beverages and snacks handy.
Create a grownups' entertainment center
Family rooms tend to take on a casual appearance and with kids in the house, that's only natural. It's great for family nights of movies, games, sing-alongs, and tickle fights, but occasionally parents may crave the more sophisticated setting of their favorite restaurant/lounge which they can no longer patronize due to Covid restrictions. Turning your basement into an alternative entertainment space for the grownups will give breathing room to everyone. The kids can retain the family room for their style of entertainment, but mom and dad will have a space to invite their friends over or to enjoy a quiet dinner for two. It can also be a man cave for dad where he can indulge in weekend sports viewing and action movies or mom can claim it for a girls' night "in."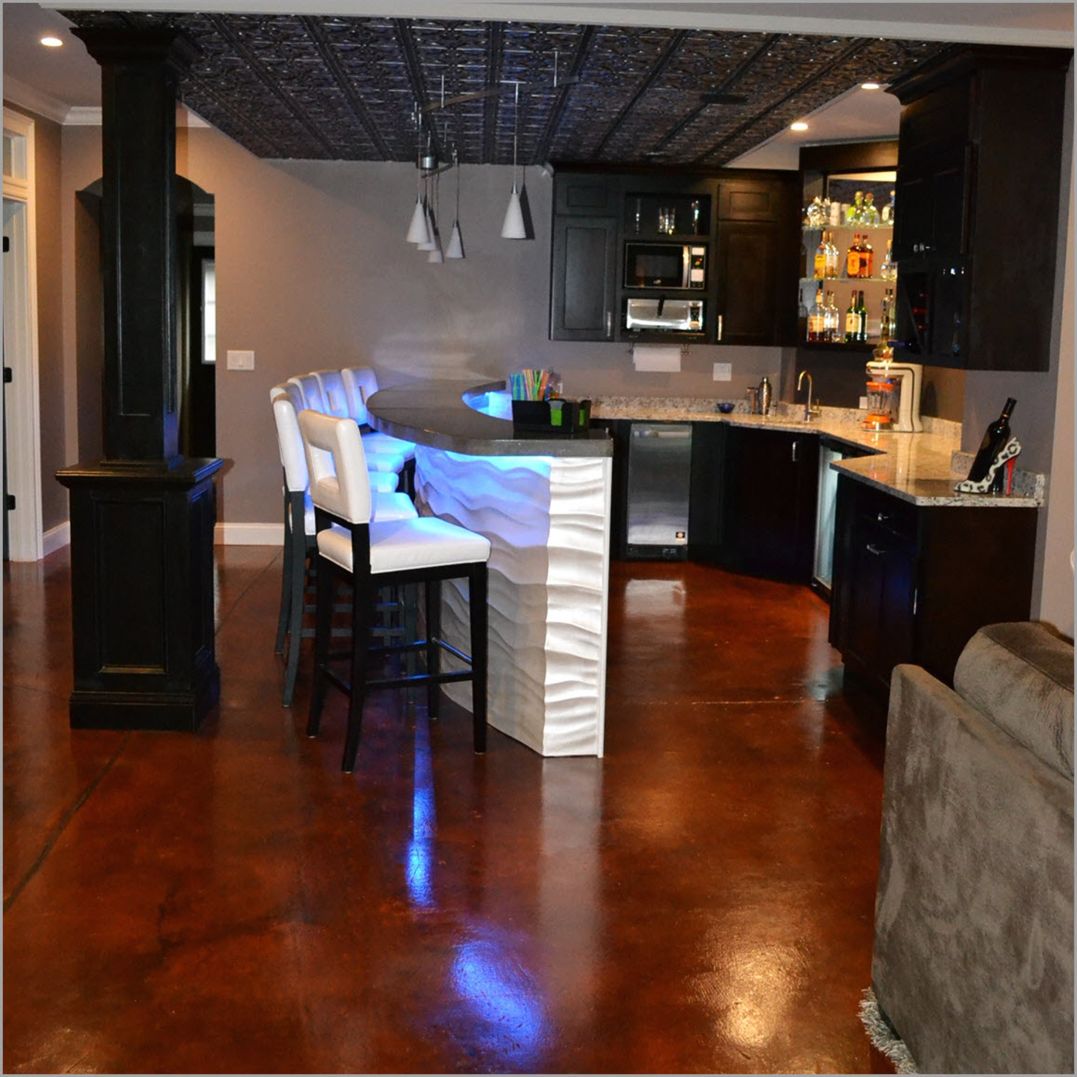 The high-gloss finish on the decorative concrete floor creates the look of a trendy nightspot and just happens to be the perfect dance floor.
A mini kitchen with a wet bar and espresso/cappuccino machine makes the space self-sufficient for any entertaining.
Keep beer or wine properly chilled in a wine refrigerator or build a wine cellar in a section of the basement and host wine-tasting parties.
Stock the wet bar with all the essentials to mix favorite cocktails and, for the coming holidays, 10 Warm and Soothing Hot Toddy Recipes to Try Tonight.
A TV area with a superb sound system, cushy couches, and snack tables creates an intimate setting for movies, music, or lively conversation.
Layered lighting or dimmer switches allow for bright lights when required or low lights for ambiance.
Convertible game tables can provide activity options or serve for sit-down dining.
A personal home office
If this year of change has altered the way you work and you find yourself working "mobile" at home—one day at the kitchen table and the next in the family room—now may be the perfect time for a home office in the basement. Or maybe you've had to give up a home office in a spare bedroom when it became needed as a bedroom. Whatever the reason, creating an office in the basement will provide an efficient workspace for one or more family members to get some serious work done! A decorative concrete floor with an industry-tough sealed finish is the right foundation for a worry-free office supporting desks, chairs, bookcases, and heavy filing cabinets.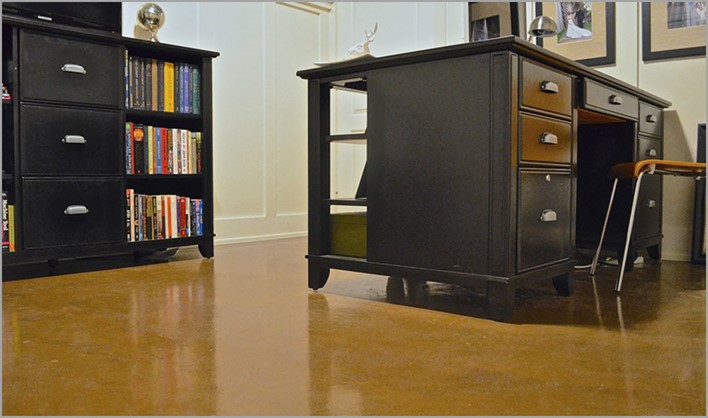 A large basement may have room for an office and a TV/media/game area for daytime breaks or after-hours family fun.
If you need multiple workstations, create a bullpen with each person having personal and desktop space to work undisturbed.
Address electrical and technology issues of internet access, connectivity, bandwidth, and equipment requirements, and be sure you're all powered up.
Factor in furniture needs for computers, monitors, scanners, printers, and storage for whatever else is required for all users, including homework stations for the kids.
Make the office bright with natural light and artificial light and don't forget a space heater if it gets cold.
Add artwork, personal mementos, and plants to make this office a beautiful place to spend time.
Define your basement's evolution
Once you've decided on your basement's future, if it's unfinished you'll need to finish it. This could mean insulation, drywall, and paint to transform it into a comfortable living space, along with lighting, internet, A/C, and sound control. If your basement floor is cracked and unappealing, Concrete Craft can repair the surface, add a moisture barrier, and finish the floor with a number of decorative concrete resurfacing systems. Our exclusive MasterProTM line of products includes custom stains, stamped concrete patterns, hand-cut resurfaced concrete overlays, restoration finishes, and even vertical concrete resurfacing for the look of faux stone and wood for extraordinary walls.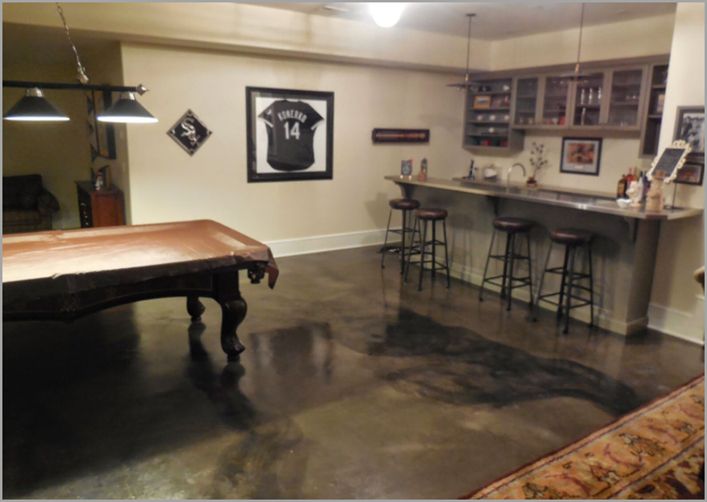 After your basement is transformed, you'll wonder how you ever got along without that awesome, new space. All of our flooring styles are extremely durable, resistant to moisture, stains, peeling, or cracking, and, oh, so easy to clean! Contact us today or go online to www.concretecraft.com to find the Concrete Craft location nearest you and request a free consultation to learn more about the many benefits of decorative concrete for your home. Your safety and peace of mind are top priority to us, and we offer either in-home or virtual* consultations. We meet all protocols for safe distancing and sanitation and will schedule the installation when the time is right for you.
*Virtual consultations may not be available at all locations.